Electric car-sharing service to hit roads in December
SINGAPORE - Singapore's first large-scale electric car-sharing service will begin in December with about 80 electric cars and 30 charging stations being rolled out progressively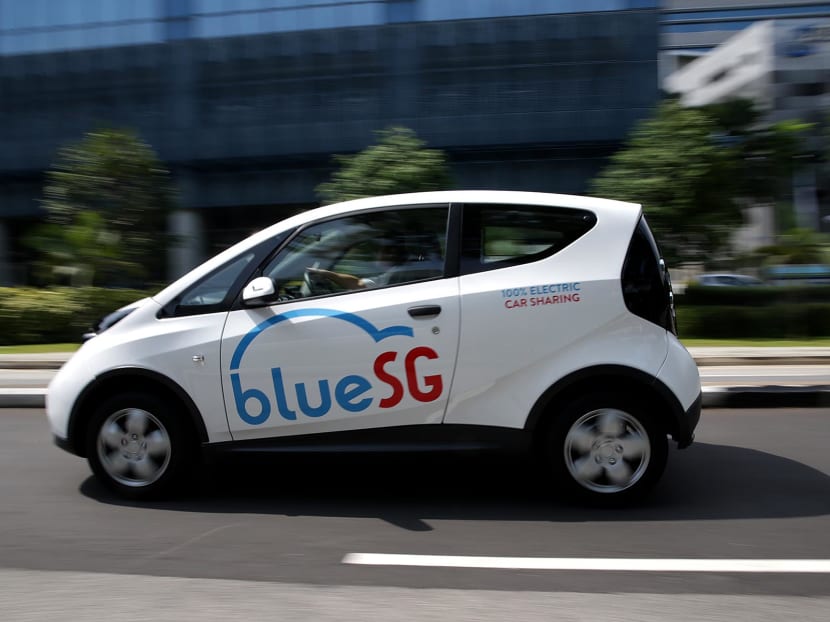 SINGAPORE — The Republic's first large-scale electric car-sharing service will begin in December with a smaller roll-out than initially planned, with operator BlueSG acknowledging that it was "behind schedule".
About 80 electric cars and 30 charging stations — offering 120 charging points — will be rolled out progressively from December, BlueSG announced on Wednesday (Sept 27). This is fewer than the 125 vehicles and 250 charging points previously planned to launch by the middle of this year.
Managing director Franck Vitte said streamlining the process for authorisation to build the charging stations — new to the market here — took slightly longer than expected. Various parties, such as the parking agencies and energy company SP Group, also had to be brought together. But he was quick to add: "Things have been streamlined, ironed out with the various parties, and we see a significant acceleration in terms of process."
The company said groundbreaking work to install the first 30 charging stations will start by the end of this month. Eighteen stations will be rolled out in public housing estates including Tampines, Bishan and Punggol. Ten stations will be situated in the city-centre and its fringes, and the remaining two at one-north and the Science Park.
Drivers will first pair an ez-link card — their mode of identification to book and collect a car — with the service via a charging kiosk. Users without an ez-link card can request a BlueSG card.
BlueSG commercial and network director Jenny Lim said the company was working to possibly integrate other cards with its system after December.
At the charging kiosk, users are required to enter a four-digit personal identification number and confirm they have a valid driver's licence, among other things. Tapping their ez-link cards near the side-mirror will unlock the car. Users may book their cars in advance via avenues such as BlueSG's mobile app or call centre, and reserve a parking space at their destination, which will be held for 1.5 hours.
"Even if you (are stuck in a) traffic jam, (there's) more than enough time … to arrive at your destination," said Mdm Lim.
The four-seat cars can run for about 200km with air-conditioning after a full charge. The company declined to disclose its rates, saying these will be unveiled several weeks before the December launch.
TODAY previously reported that the service will run on a subscription basis and members could be charged less than S$10 for a 15-minute journey. Pressed yesterday, Mr Vitte said the rates would be "around there".
Mdm Lim said users can take up either an annual premium plan — which comes with lower per-minute rates — or an ad-hoc one.
A subsidiary of the Bollore Group, which operates the world's largest fully electric car-sharing programme, BlueSG signed an agreement with the authorities in June last year to operate the service here for a decade.
Under the programme, 1,000 electric cars will be rolled out in Singapore by 2020, on top of 500 charging stations with 2,000 charging points — 400 of them for non-BlueSG users. When rolled out fully, it is set to be the world's second-biggest electric car-sharing service. Paris-based Autolib' service, which was launched in 2011, is the world's largest. Also run by the Bollore Group, it boasts 4,000 electric vehicles and 6,200 charging points.
On Wednesday, BlueSG also officially unveiled its Asia-Pacific headquarters at the Science Park. The focal point of its e-mobility, energy management and system integration business in the region, the hub will house more than 30 employees by the end of this year. The company, which will also set up a global innovation centre here for research and development in mobility and energy management solutions, aims to create about 250 jobs in Singapore by 2021.