8,000 slots at ActiveSG sports facilities snapped up in a day, as S'pore enters Phase 2 of reopening
SINGAPORE — About 8,000 slots have been snapped up for facilities at ActiveSG swimming complexes, gyms and badminton courts from Friday (June 19) to Sunday, as Singapore enters the second phase of its circuit breaker exit.
SINGAPORE — About 8,000 slots have been snapped up for facilities at ActiveSG swimming complexes, gyms and badminton courts from Friday (June 19) to Sunday, as Singapore enters the second phase of its circuit breaker exit. 
The slots were snapped up within 10 hours of bookings opening at 7am on Thursday. 
With all sporting activity resuming on Friday, online bookings must be made for all ActiveSG facilities, except entry into stadiums. 
But these facilities are not at capacity yet, national sports agency Sport Singapore (SportSG) said. 
As of 5pm on Thursday, 1,650, or 10 per cent, of one-hour lap-swimming slots had been booked at swimming complexes from Friday to Sunday. One hundred, or 30 per cent, of swimming coach slots — each lasting up to three hours — had been taken up for Friday.
Gym-goers had filled 3,400, or about 40 per cent, of the 1.5-hour slots available from Friday to Sunday. 
For badminton courts, 2,900 one-hour slots had been reserved for the same period. SportSG could not provide the percentage of slots booked for badminton courts.
SportSG provided these figures on Thursday, as it took the media through the safe distancing measures that will be in place at its facilities.
At all its facilities, the number of people will be capped at 50, or 10 sqm per person, whichever is lower. Group activities will be capped at no more than five participants.
The hours at some swimming complexes and gyms will also be extended. In view of this, Mr Sng Hock Lin, ActiveSG's chief, said that it has increased manpower by about 20 per cent.
The frequency of cleaning will also be stepped up, he told reporters during a visit to the Jurong East Sport Centre.
Not all ActiveSG facilities will reopen on Friday, with some to stay shut for now as they undergo renovation or house migrant workers. These include Chua Chu Kang Swimming Complex and Jurong West Sport Hall. 
Here are some changes you can expect when you head to an ActiveSG sports facility from Friday:
GYMS
Equipment across gyms will be spaced apart, and regular reminders for gym-goers to sanitise their stations will be broadcast over the gym's stereos.

At the Jurong East ActiveSG gym, for instance, visitors will use alternate machines, such as treadmills and stationary bikes. There will be signs to indicate which machines gym-goers may use.

In areas where visitors use equipment such as kettlebells and exercise balls, grids have been marked on the ground to ensure that people stay 2m apart.

To accommodate more gym-goers, a dance studio next to the Jurong East ActiveSG gym has been converted into a mini-gym. Two of the gym's bench presses, for instance, have been moved to the studio. 

Bookings across all ActiveSG gyms are limited to 1.5 hours, with a half-hour gap between groups. Equipment in the gyms will be cleaned during this window, a SportSG spokesperson said.

Gym operating hours will also be extended, from 10pm to 12.30am. But those in the Toa Payoh West Community Club (CC), Ang Mo Kio CC and the Enabling Village Gym in Redhill will shut at 10pm.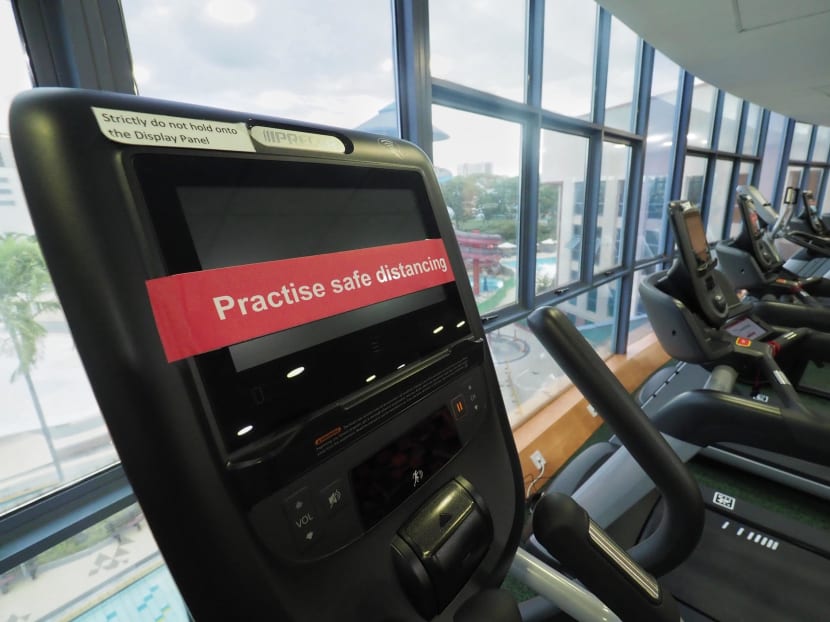 SWIMMING POOLS
Only training and competition pools will be open for use across all ActiveSG swimming complexes. 

Seniors may use the pools for lap swimming from 6.30am to 8.45am, and the general public may use the pools from 6.30pm to 9.30pm. Bookings for lap swims are limited to an hour, with a 15-minute transition for people to leave and the next batch of swimmers to enter the pool.

Five swimming complexes will have extended hours — until 12.30am — for the general public to do lap swimming. They are the complexes at Our Tampines Hub, Sengkang, Yio Chu Kang, Jurong Lake and Kallang Basin. 

Organised classes must be held from 9am to 6pm. But in line with nationwide safe-distancing rules, only groups of five may take part in lessons. This cap excludes the instructor, but includes parents who may wish to accompany their child for lessons. Pools will be split into "blocks" using buoy ropes. At the Jurong East Swimming Complex, for instance, the competition pool has been divided into 12 blocks, with one class allowed to occupy one block. 

Guidelines released by the Singapore Swimming Association state that instructors should put on personal protective equipment, such as face shields, at all times in the water. They should also demonstrate swimming strokes or use technology to teach new skills, instead of making contact with students.

Some buoy ropes will be removed for lap swimming sessions by seniors and the general public. But swimmers are advised to maintain a safe distance from one another and lifeguards will be stationed there to remind them about the rules.
BADMINTON HALLS
At ActiveSG's badminton halls, the biggest difference will be net barriers installed between courts.

Before the circuit breaker started in April to curb the spread of the coronavirus, alternate badminton courts had been shut so that different groups could keep a safe distance. But with the net barriers, more groups can use a badminton hall at any time, said ActiveSG's Mr Sng.

Users may book the court for an hour, and halls will open from 7am to 10pm. Each user may bring three other players. 
STADIUMS
No booking is needed to enter stadiums, although capacity at each stadium will be capped at 50. Users will be asked to return during non-peak hours if a stadium is full. 

While groups of five may exercise together, groups must stay 3m apart at all times. 

All stadiums will operate from 7am to 9.30pm. 
DANCE STUDIOS
Dance studios that usually host classes, such as those for Zumba and piloxing, will have markings on the ground to let people know where they should stand when they exercise. 

Activities in these studios will be limited to five people, excluding the instructor. 
MEASURES TO BE ADJUSTED OVER TIME
Mr Sng said that safe distancing measures would be adjusted over time, based on the response from the community.
Speaking at a Facebook livestream event on Thursday evening, SportSG chief executive officer Lim Teck Yin urged users of sports facilities not to linger after exercising. 
"The mindset is come in, get your exercise and enjoy the activity that you have not been doing during the circuit breaker, and then move on. 
"Do not stay behind to socialise," he said. ADDITIONAL REPORTING BY LOW YOUJIN