9 months' jail for driver who caused cousin's death after speeding, crashing into tree
SINGAPORE — While speeding along Upper Bukit Timah Road at about 126km/h to 165km/h, Mohamad Suhairi Samri crashed into a tree on the centre road divider.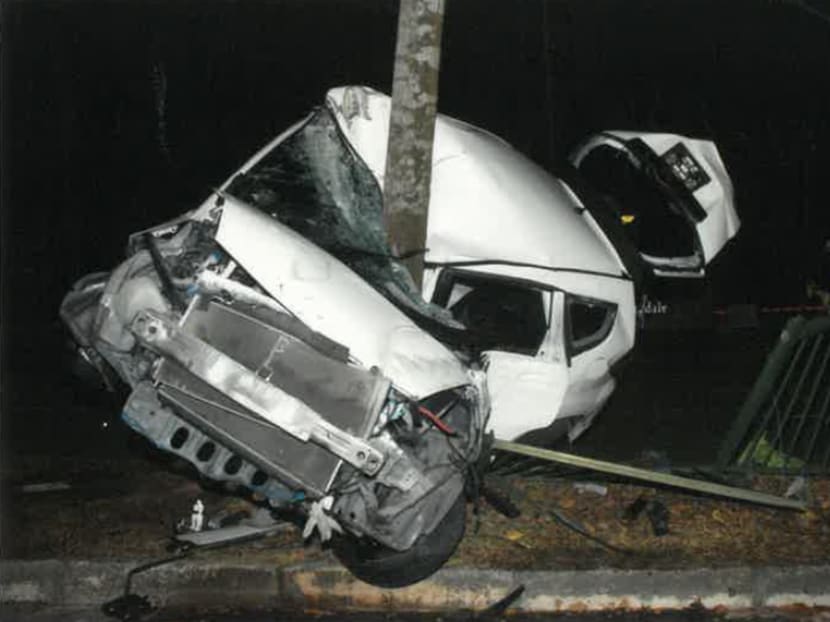 SINGAPORE — While speeding along Upper Bukit Timah Road at about 126km/h to 165km/h, Mohamad Suhairi Samri crashed into a tree on the centre road divider.
The accident claimed the life of his front passenger — his cousin and close friend.
On Monday (Feb 3), Suhairi was sentenced to nine months' jail and disqualified from driving all classes of vehicles for eight years following his release. The 30-year-old pleaded guilty to causing the death of Muhammad Raihan Rosman, 25, by a rash act.
In a letter addressed to the judge and read out by Suhairi's lawyer, Suhairi's uncle and aunt said that they have forgiven him for the death of their only child, and that they view Suhairi like their own son, too.
The two men were heading to supper on Oct 7, 2018 when the accident took place, his lawyer Mohamed Muzammil Mohamed told the court.
Court documents stated that Suhairi was driving along Upper Bukit Timah Road towards Clementi Road at about 1.30am and was weaving in between lanes. He then lost control of his car, veered to the right and mounted the centre divider before striking a tree.
The make of car was not specified in court documents.
He had earlier been driving alongside another car "at fast speed", estimated to be 126km/h to 165km/h, Deputy Public Prosecutor Stacey Anne Fernandez told the court. This was captured at the junction by a camera operated by the Land Transport Authority.
The speed limit along Upper Bukit Timah Road was 70km/h.
Both Suhairi and Raihan were trapped in the vehicle due to the impact. Singapore Civil Defence Force personnel had to extricate them, and pronounced Raihan dead at the scene at 3am.
Suhairi was taken to the National University Hospital in an ambulance. His doctor stated in a medical report that he suffered rib fractures, a puncture wound on his elbow, and other injuries to his knees and hand.
He was warded for about a week and given another month of hospitalisation leave.
Due mainly to the extent of the damage, a technical investigator who inspected the car was unable to determine if any mechanical failure contributed to the accident. The car's engine, transmission, steering and braking systems were all damaged.
In mitigation, Mr Muzammil asked for six months' jail instead, saying that Suhairi is still unable to give an account of how the accident took place as his "mind was totally blank".
He had sent his fiancee home that evening before picking Raihan up, but "cannot remember what actually happened, only after he mounted the divider and the car landed on its side".
The lawyer stressed that Suhairi had not been racing with the other car as well.
"His life is scarred by the loss of his cousin. His uncle wrote a letter accepting the fate of his beloved son, without any feeling of revenge for his nephew," Mr Muzammil added.
The letter read: "Both myself and my wife have already forgiven him and do not blame him. I considered him as my own son… We knew (Suhairi and Raihan) were very close to one another as brothers would be. Two weeks prior to the accident, they were spending time together almost every day.
"We witnessed the pain and suffering and feelings of guilt he has been carrying since that fateful night… He takes responsibility for his cousin's death and takes full blame for his rash driving."
While District Judge Ong Luan Tze said that she had "much sympathy" for Suhairi and that she had no doubt that the loss of his cousin would haunt him for some time, she could not give him a significantly lower sentence based on this alone.
"The fact is, driving on the road is an onerous responsibility because of the grave potential harm (that can be caused)," the judge added.
For causing death by a rash act, Suhairi could have been jailed up to five years, fined, or both.