About 1,000 homeless people sleeping rough in Singapore, first-ever academic study finds
SINGAPORE — About 1,000 people sleep rough on the streets of Singapore, the first-ever academic study measuring the scale of homelessness here has found.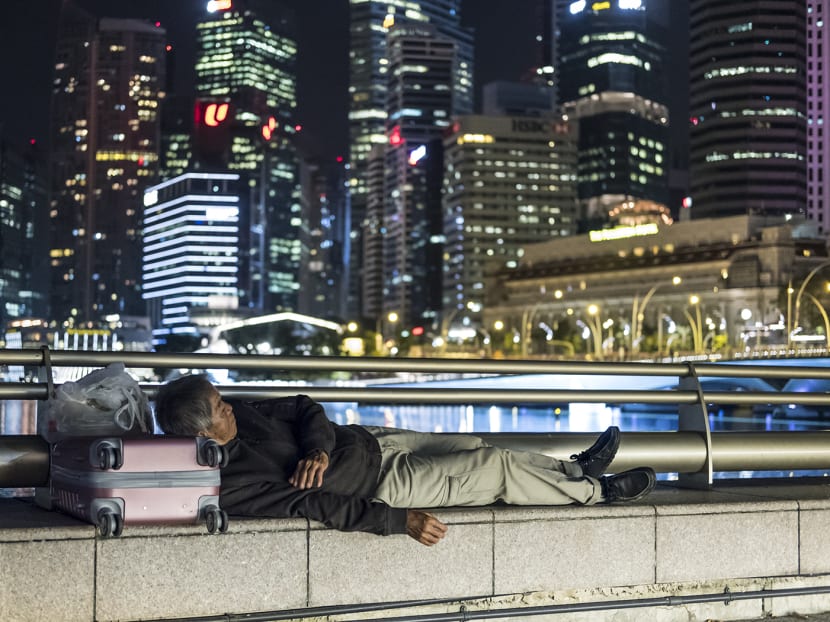 SINGAPORE — About 1,000 people sleep rough on the streets of Singapore, the first-ever academic study measuring the scale of homelessness here has found.
They are mostly older men, and 31 per cent of the sample interviewed — which would translate to more than 300 people — said they have been homeless for at least six years, according to the study, released on Friday (Nov 8).
At the time they were interviewed, which was after 11.30pm, one in four had eaten only one meal or none at all for the whole day.
The in-depth study, involving hundreds of volunteer fieldworkers, was led by Assistant Professor Ng Kok Hoe of the National University of Singapore's Lee Kuan Yew School of Public Policy.
The main reason for sleeping rough was unemployment, irregular hours or low pay – cited by 47 per cent of those interviewed. The other main reasons for homelessness were: Family relationship problems and lack of access to housing services.
The researchers also found that many homeless people defy stereotypes: They can be well-dressed and well-groomed, most hold down jobs albeit low-paying ones, and in some cases, they even own residential property.
Nearly one in 10 of the people, or 9 per cent, was observed to have health issues including visible injuries and ailments, physical disability, a frail appearance or possible mental health conditions.
HOW THE STUDY WAS DONE
A total of 480 volunteer fieldworkers including representatives from more than 20 non-governmental organisations (NGOs) and members of the public combed through some 12,000 blocks of residential flats and other public and commercial spaces such as parks and hawker centres over three months from April to June this year. In July, they combed the streets again and conducted interviews with 88 homeless individuals for a more in-depth study.
The study counted people as homeless if they were in public spaces after 11.30pm lying down to sleep, with some form of bedding — cardboard, floor covering, loose furniture, pillow or blanket — or with a lot of belongings. They were still considered as homeless even if they had residential property in their name.
The fieldworkers counted 1,050 homeless people. One in four was found in the downtown core of Singapore, also known as the Central Business District area, making it the district with the highest number of homeless individuals here.
Other areas with high numbers include Bedok, Kallang, Tiong Bahru, Ang Mo Kio, Jurong West, Toa Payoh and Yishun. At least 40 homeless people were identified in these districts.
TOP 10 DISTRICTS WHERE THE HOMELESS ARE:
Downtown core – 241

Bedok – 74

Kallang – 55

Tiong Bahru – 47

Ang Mo Kio – 46

Jurong West – 45

Toa Payoh – 41

Yishun – 40

Hougang – 39

Clementi – 38
A map showing the concentration of homeless people. The darker the red, the greater the concentration. Illustration: NUS
When measured against the resident population in each district, the locations with the highest concentration of homeless people are: Tiong Bahru, Clementi and Jurong East, which recorded 14 or more homeless people per 10,000 flats.
Bukit Panjang, Sembawang, Punggol and Sengkang districts had the lowest densities, with fewer than two homeless people per 10,000 flats.
The study also found that Housing and Development Board (HDB) void decks and commercial buildings are the most common spots for the homeless to lay down their heads at night. Close to a third — 31.9 per cent — of the homeless were found sleeping at void decks, while 28.6 per cent take refuge in commercial buildings.
A MORE IN-DEPTH LOOK — WHO ARE THE HOMELESS?
ON EMPLOYMENT: Six in 10 said they hold a job. They mostly work as cleaners (27 per cent), do odd jobs (15 per cent), work in security (10 per cent) or retail (8 per cent) — among the lowest-paying vocations here.
About half were paid monthly, getting S$560 to S$3,000 (the median is S$1,400). Those paid weekly received S$20 to S$600, while one in four said they get a daily wage of S$20 to S$75.
The wage levels, noted Dr Ng, were far below last year's median monthly work income of employed residents here, which was S$3,467.
The majority, or 70 per cent of the interviewees, said they did not receive income from non-work sources.
Join our Telegram channel to get TODAY's top stories on mobile: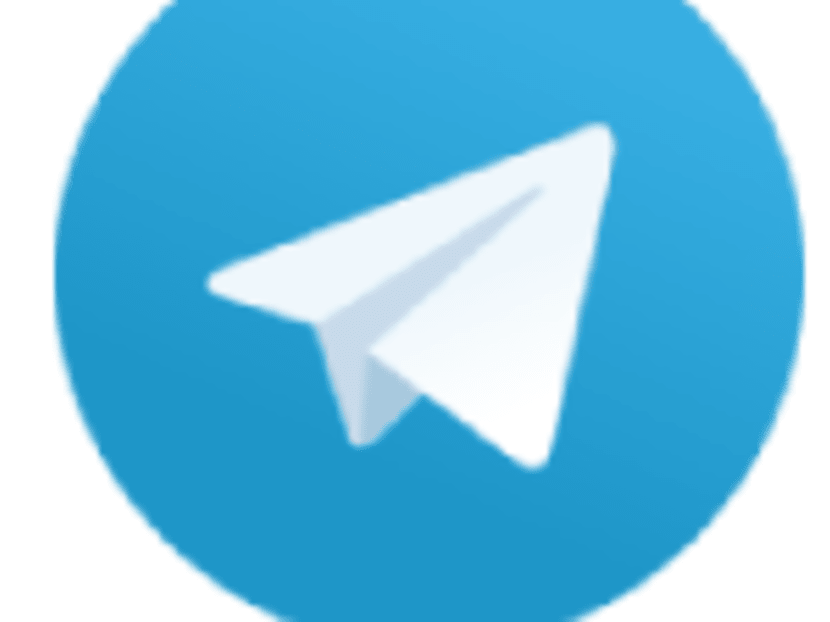 *TODAY's WhatsApp news service will cease from November 30, 2019.
Among the 30 per cent who did, some received public financial assistance ranging from S$200 to S$480 a month, Central Provident Fund payments of S$200 to S$570 a month, and money from family members ranging from S$80 to S$500 a month.
ON HOUSING: Just under 40 per cent said they had residential property in their name — 15 per cent said they have public rental flats as addresses, while 11 per cent said they own HDB flats. The rest mentioned having a hostel, or a residence overseas.
Similarly, 39 per cent said that they could live in a safer place, but did not do so because of:
Problems getting along with their co-tenants under the HDB's public rental scheme, which stipulates that a flat can be rented only to either two singles or a family unit

Their wish to be near their workplaces

Conflict with family members

Unwillingness to inconvenience their friends or employers
"Their accounts highlight the difference between theoretical and practical options, between legal occupancy rights and actual access," said Dr Ng, as he suggested that the joint-tenancy requirement in HDB's public rental scheme should be removed.
Under the scheme, "the eligibility criteria are strict, space is inadequate, and conflict between co-tenants due to the requirement for single occupants to share a 'one-room flat' with no bedrooms is well-documented", he said.
"Removing the joint-tenancy requirement as an immediate step will not only improve this exit path from homelessness, but will also help to realise basic standards of privacy for the poorest residents in the public housing sector," he added.
While Dr Ng pointed out that another way is to build more "overnight shelters" with a low barrier to entry and immediate availability, he said such a solution is unlikely to be adequate or well-received given the long-term nature of homelessness this study had also uncovered.
Only 18 per cent interviewed had been sleeping out for less than a year.
Half reported that they started sleeping rough between one and five years ago, while 31 per cent said they had been homeless for six years or more.
Four people reported being homeless for more than 20 years.
MANY ARE MARRIED, A FEW EVEN HAVE DEGREES
More than a third of the homeless interviewees (35 per cent) were married. About 30 per cent were either separated, divorced or widowed, and 34 per cent were single.
The study noted that one in five of them had not spoken with their family or friends in the past month.
Men accounted for 92 per cent of those interviewed. Their average age was 54 years old, with the youngest aged 20, and the oldest, 78.
In terms of education, about four in 10 had completed secondary school, while 35 per cent said they got only as far as primary school. Two of those interviewed had a university degree.
Dr Ng highlighted nutrition as a "serious concern" among the homeless. One in four said they had eaten just one meal or none at all on the day of the interview, conducted after 11.30pm. Almost half of them reported having health issues such as high blood pressure and diabetes.
Fieldworkers, meanwhile, painted a picture of homelessness that does not match up with simple stereotypes: Three in 10 were described to be "presentable", and only 15 per cent of them either appeared "untidy" or without a shirt.
The presentable homeless individuals include a "well-groomed" man wearing a short sleeve T-shirt with long pants and a belt, and a man with "neat" hair sleeping on a bench in a long-sleeve T-shirt and long pants. One in a batik shirt and black pants was described as "well-dressed".
Dr Ng said only 40 per cent of the homeless people interviewed sought help in the past year – mostly with Social Service Offices – adding that there is room for improvement in the current landscape of public and social services.
One improvement could come in the form of a revamp to the Destitute Persons Act, which he identified as "out of step" with the patterns of homelessness and homeless people's needs in contemporary Singapore, targeting only a minority of the homeless population.
The Act defines a destitute person as any person found begging in a public place, or any idle person who has no visible means of subsistence, place of residence, or is unable to give a satisfactory account of himself.
As for people who do fit the criteria, their inevitable admission to welfare homes is "both care and detention", noted Dr Ng, as their residents – which numbered more than 1,800 as of the end of 2017 – "do not get to decide when to leave".
Welfare homes have structured daily routines and programmes aimed at rehabilitating the destitute. These include addiction management and life skills therapy. Residents cannot leave the premises unless they are granted special permission or can show that they are ready to be reintegrated into society.
"The possibility of involuntary admission casts a shadow even on homeless people who cannot be considered destitute, causing anxiety when they encounter officers from public agencies and suspicion towards outreach workers," he said.
"It can prevent people from getting the help they need."
Past parliamentary responses revealed that the Ministry of Social and Family Development (MSF) intervened in an average of 385 cases per year between 2015 and 2017. Between 2005 and 2015, the number of interventions was lower, averaging at 300 cases per year.
In response to the finding that some 1,000 were found sleeping rough in Singapore, the MSF said that it recognises that homelessness is "a complex issue" that often involves multiple underlying social issues.
It said that it had been partnering community groups and government agencies to help homeless people over the past two years.
"Together, we engage and refer them to shelters and help agencies, such as Social Service Offices and Family Service Centres, to address their longer-term issues," said the MSF.
The ministry also said that it had launched in July the Peers Network (Partners Engaging and Empowering Rough Sleepers Network) involving 25 of its partners, including the police, HDB, and some NGOs, as well as churches.
MSF, HDB RESPOND TO DR NG'S SUGGESTIONS
Asked about Dr Ng's suggestion to update the Destitute Persons Act to make it inclusive for more homeless individuals, the MSF clarified on Friday that the Government mainly adopts a "social work approach" by referring homeless people to help agencies.
Only people who cannot care for themselves and have no family support are admitted to welfare homes, it said, noting that the rest would be directed to family service centres for social work intervention and Social Service Offices for financial assistance.
These destitute people are encouraged to admit themselves to welfare homes, and statutory powers are exercised "as the last resort" in instances where the individual's safety has been assessed to be at risk, or the person lacks mental capacity to make informed decisions for his welfare, said the MSF spokesperson.
As for Dr Ng's suggestion to remove its joint tenancy requirement for public rental, the HDB said on Friday that the current arrangement helps "as many needy singles as possible to have a roof over their heads".
"As the rent is split between co-tenants, the rent paid by each tenant will also generally be lower," it said, adding that the requirement further "ensures prudent use of limited public resources".
In its response, the HDB noted too that most tenants under the public rental scheme's Joint Singles Scheme are able to live together amicably and benefit from having company, and those who prefer more privacy can get partitions.
Nevertheless, the HDB is prepared to consider requests from those who need to stay alone for exceptional reasons such as medical conditions, a spokesperson stated.