Acne in adults a pain to manage; experts zoom in to study Singapore's cases
SINGAPORE — Unlike most millennials, community pharmacist Rachael Lee shies away from taking selfies even when she has makeup on. Neither does she have any close-up shot of herself in her photo albums.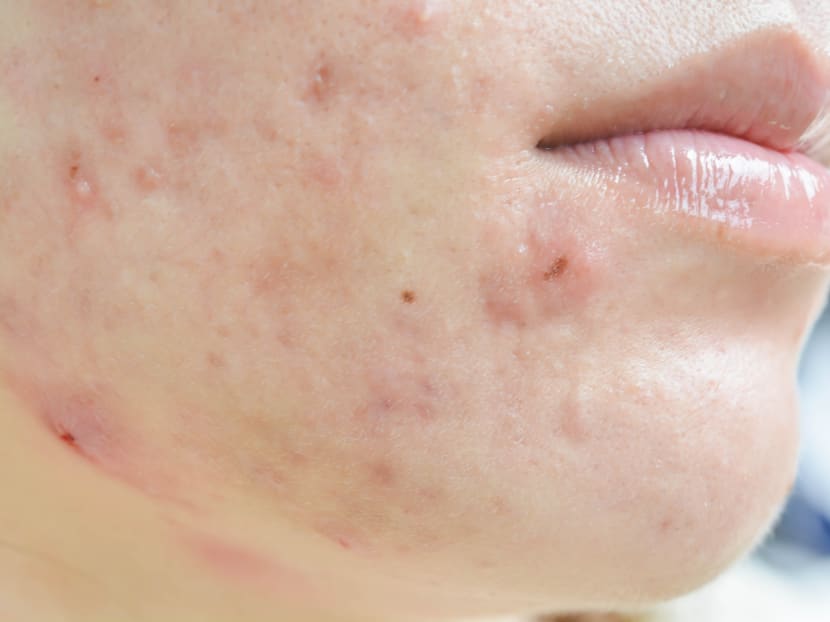 SINGAPORE — Unlike most millennials, community pharmacist Rachael Lee shies away from taking selfies even when she has makeup on. Neither does she have any close-up shot of herself in her photo albums.
The 26-year-old has something to hide: Under the layers of concealer are deep, pitted scars — remnants from painful cystic acne, the most severe form of acne.
Ms Lee, who declined having her photo published, said: "I thought the acne would go away when I turn 22 or 23 but it's still here. I feel like this is going to be with me for the rest of my life."
Typically seen during puberty, acne is thought to occur when dead skin cells and oil from sebaceous glands lead to blocked and inflamed hair follicles.
Ms Lee started getting pimples at the age of nine, but her skin condition worsened when she reached 15 and it has persisted into adulthood.
On bad days, there would be at least 20 huge, inflamed cysts on each side of her face. She has spent "thousands of dollars" on acne treatment, she said.
Data from around the world suggests that acne affects most if not all adolescents in developed nations. This can continue well into adulthood.
Professor Maurice van Steensel, research director at the Skin Research Institute Singapore, said published data suggests that up to 12 per cent of women over the age of 35 continue to have acne. Presumably, the same applies to men, he said.
Prof van Steensel was one of the speakers at the Asia Derma Conference and Exhibition 2019 that took place at Suntec Singapore last month.
Dr Michelle Liang, a consultant at the National Skin Centre, said that acne can take a few forms:
Mild – with whiteheads and blackheads, which are a mix of oil and dead skin cells sitting in pores, the top of which turn black due to oxidisation with air.

Moderate – with inflamed red pimples, sometimes with pus.

Severe – with large nodules and cysts, known as nodulocystic acne in its most severe from.
Despite its prevalence, acne is still a poorly understood skin condition. Some skin experts believe that acne has become more prevalent today than in previous generations, a phenomenon that has also been observed in other developed nations.
Dr Derrick Aw, senior consultant at Sengkang General Hospital's (SKH's) department of dermatology, said: "It is possible that certain factors (that trigger acne), mainly dietary and psychological influences, are more enhanced today compared to the past."
Hormones, stress and genes — some people are more predisposed to inflammation and oily skin — may contribute to the development of acne.
Diet may also play a role. While not conclusive, some studies suggest that high-glycaemic foods which make blood sugar levels rise rapidly, as well as dairy products, could trigger acne.  
Foods that have a high glycaemic rating include starchy foods such as white rice, French fries, white bread, cakes.
"There is emerging data that chocolate, especially dark chocolate, can trigger acne in acne-prone males. Junk food and processed foods have also been associated with higher acne breakouts in a Korean case-control study, but we need more data to be certain of the association," Dr Aw said.
SKIN STUDY IN SINGAPORE
In Singapore, research on acne in Asian skin types is underway.
Researchers from the Skin Research Institute Singapore are looking into the genetic basis of moderate to severe acne in ethnic Chinese to better understand how the disease works and identity new targets for intervention.
The study, under its Acne and Sebaceous Gland Program, aims to recruit around 6,000 participants aged 18 to 35 years old from Singapore and Malaysia, Prof van Steensel said.
It is expected to be completed before end-2020.
Most skin studies are carried out in Western populations. "To date, no organisation has looked at the genetic basis of acne in Singapore and its immediate vicinity," Prof van Steensel said.
"We want to understand if the genetics of the disease are different here from elsewhere in the world. If they are, effective treatment of acne in Singaporeans might require different interventions."
Prof van Steensel said that early results from the study confirm that acne is mostly genetic and may point to some lifestyle factors.
There are also hints that genetics in Singapore are different from elsewhere in the world, he added.
PERSISTENT PROBLEM IN ADULTS
Dr Aw said that the most common type of acne among adults here is post-adolescent acne in women, which is likely hormone-related.
In the case of Ms Lee, she was recently diagnosed with a hormonal disorder called polycystic ovarian syndrome, which can give rise to symptoms such as irregular periods and severe acne.
Dr Aw said that about two-thirds of the acne patients he has seen at SKH are adults, most of them in their late 20s and 30s.
He also said that adult acne tends to be more persistent.
The oldest patient he has seen is a 55-year-old man who developed acne while on immune-suppressing medication for a kidney transplant. One of the medications he is taking increases oil production on the face and causes breakouts, Dr Aw said.
He added: "In adults, the lesions are primarily inflammatory, with red and yellowish bumps, whereas adolescents tend to have more comedonal acne (form of whiteheads and blackheads)."
Adult acne also tends to concentrate on the lower parts of the face while adolescent acne often follows a T-zone distribution.
It is not known why the pattern of acne switches from the T- to U-zone, Dr Aw said.  
PSYCHOLOGICAL IMPACT
Untreated severe acne may lead to permanent disfiguring scars, but the impact of visible skin issues goes deeper than that.
Dr Aw said that the psychological complications of acne, such as depression and poor self-esteem, are often under-reported.
"Acne patients, particularly adolescents, can become suicidal. I occasionally see very socially withdrawn and teary patients. 
"I believe there are more psycho-socially affected patients in the community who do not have the courage to see a doctor (for issues related to acne)," he said.
During Ms Lee's decade-long battle with poor skin, she had avoided eye contact with people in the past: "I used to be a lot more self-conscious. I felt that if I look at them in the eye, they would see me like how I see myself in the mirror."
While she said that she does not have severe depressive symptoms, some of her worst acne breakouts have reduced her to tears and made her cancel meetings with friends. That the public perceives acne to be a cosmetic issue does not help matters.
"People don't really get why I (cancel meetings), and it is also quite embarrassing for me to explain it to them. How do I explain something that sounds so superficial but affects me so much?" 
She also dreads getting comments such as, "Eh, what happened to your face?" as well as well-meaning but unhelpful advice from visiting relatives during Chinese New Year.
"I know that acne is a glaring and visible problem, but that's not a nice thing to say to people with acne," she said.
"The thing that gets to me the most is when people you don't know well or strangers tell you to try this or that. Most don't realise that people with severe acne would likely have tried many things already."
To manage her acne, Ms Lee uses topical retinoids and topical antibiotics, and takes a course of oral antibiotics each time she gets a severe breakout.
TREATMENTS FOR ACNE
There are a range of treatments for acne.
For mild acne, there are topical creams containing tretinoin (a vitamin A derivative) and creams with antibacterial and anti-inflammatory properties, Dr Liang of the National Skin Centre said.
Oral medications are used when acne is more severe. Dr Liang said that the first line of treatment is usually a course of oral antibiotics taken over three to six months.
Oral retinoids (isotretinoin) may be prescribed for those with severe, including nodulocystic acne. However, it has more side effects than other oral alternatives and requires patients to undergo regular blood-test monitoring.
Possible side effects include excessive dryness of the skin, cracked lips and foetal abnormalities in women who become pregnant while on the medication.
Dr Aw said that there are certain medical-grade devices that use light, laser and radiofrequency to treat acne. They may be used when the patient is pregnant and does not want to take oral medications or has certain types of difficult acne, he said. 
From next year, a newer and more powerful topical gel that targets inflammatory and non-inflammatory acne will be available in Singapore on a prescription basis, Dr Aw said.
More good news for acne sufferers: Prof van Steensel said that the Skin Research Institute Singapore is developing skincare products that might help in the management of acne, by preventing blackheads from forming. The first of these products will be available early next year.
While genetic predisposition to acne cannot be changed, he said that lifestyles can be altered to prevent or lessen its impact.
"Based on the available data, it may help to reduce carbohydrates in the diet, eat enough fruit and vegetables, and exercise. Quit smoking. In short, have a healthy lifestyle," Prof van Steensel said.
WHEN TO SEE A DOCTOR
It is important to seek proper medical treatment for acne. Dr Aw advises seeing a doctor when:
Over-the-counter products fail to work satisfactory

There are moderate acne symptoms, such as when more than half the face is involved, with numerous whiteheads, blackheads, red and yellow bumps

There are large red bumps or cysts, or severe scarring

Acne involving non-facial areas such as the chest, back and shoulders, which tend to be harder to treat or may be a sign of other conditions

When feeling psychologically distressed by acne, such as becoming socially withdrawn, losing appetite or having suicidal thoughts