ACS (Primary) to relocate to Tengah, enrol girls in 2030 among MOE's moves to meet demand in new towns
SINGAPORE — Anglo-Chinese School (Primary) will be relocated to Tengah in 2030 and turn co-educational, the Ministry of Education (MOE) said on Thursday (Feb 9).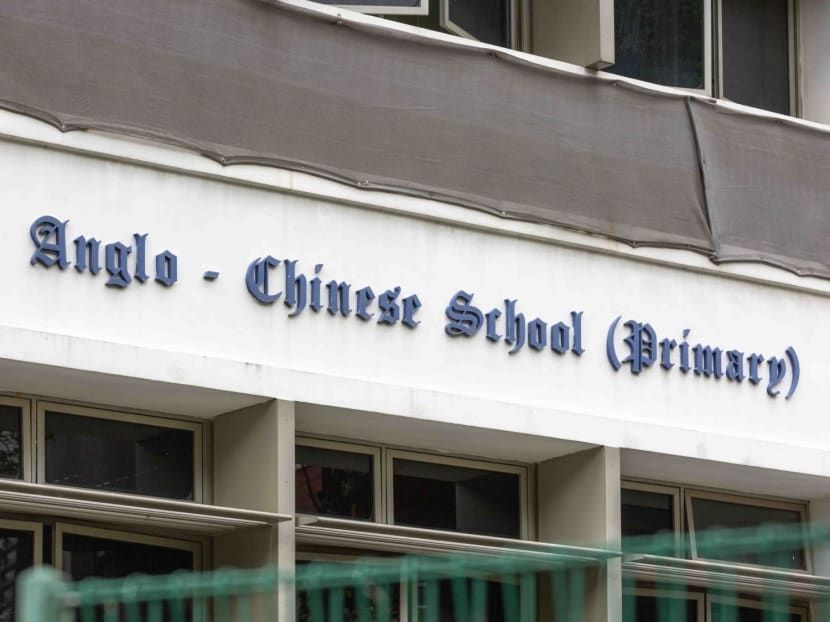 Anglo-Chinese School (Primary) will be relocated to Tengah in 2030
Students at its Barker Road campus will not have to move and their younger male siblings may continue to be enrolled there as long as the older brother is still in the school 
The new Anglo-Chinese School (Primary) in Tengah will admit girls from 2030 and open with just the Primary 1 cohort
Two new special education schools will be opened or relocated to developing regions in the western and north-eastern parts of Singapore by 2030
One of these will be run by Anglo-Chinese School in partnership with Methodist Welfare Services from 2026
SINGAPORE — Anglo-Chinese School (Primary) will be relocated to Tengah in 2030 and turn co-educational, the Ministry of Education (MOE) said on Thursday (Feb 9).
It will also be situated next to the campus of a new special education school, which will be co-run by Anglo-Chinese School (ACS) and Methodist Welfare Society, that will be ready in 2031.
The ACS board of governors and MOE had discussed and agreed on the relocation of the primary school from its current campus on Barker Road to more than 12km away at Tengah new town, to meet demand in the new and developing region, MOE said.
This was among several moves announced by the ministry, aimed at providing families living in these newer towns across Singapore with better access to mainstream and special needs education. 
Under the plan for ACS (Primary), students who are already enrolled in the Barker Road campus now will not have to relocate to the new Tengah campus. 
ACS (Primary) will also continue admitting younger male siblings of existing students into Primary 1 at the Barker Road campus from 2030 onwards, provided that the older sibling is still studying there as well. 
Only the Tengah campus will turn co-educational and admit girls, when it opens in 2030 with just a Primary 1 cohort.
The Barker Road campus of ACS (Primary) will then consolidate with Anglo-Chinese School (Junior) in the Newton Road area on Winstedt Road tentatively in 2033. 
The two ACS schools are similar but ACS (Primary) offers the Gifted Education Programme, which is a national education programme that caters to intellectually gifted students. 
This reconfigured ACS (Junior) will then shift all operations to Barker Road around 2039.
Mr Richard Seow, chairman of the ACS board of governors, said in a statement that the moves "allow us to strategically review and reorganise our primary schools to respond to wider national trends such as low birth rates and with more younger families moving to new and emerging estates".
ACS added that the decision for co-education at the Tengah campus was aimed at providing both male and female students "with the opportunity to receive a well-rounded primary school education without being constrained by school options in the new neighbourhood".
In response to TODAY's queries, Mr Seow said that the ACS board has been in discussions with MOE for "well over a year" to explore how the ACS family can better serve the needs of the community and inject more diversity in its student profile and it was MOE which suggested moving one of its primary schools to Tengah.
"We thought it would be a sensible move that will allow us the opportunity to expand the ACS family to a new residential estate, which is likely to have a diverse population comprising people of varied socioeconomic, ethnic and religious backgrounds," he added.
WHY IT MATTERS
ACS (Primary) is a popular school and has a reputation for drawing in students who come from families from higher socioeconomic classes, especially since its current location is one dominated by private housing.
The location of "elite" primary schools such as ACS (Primary) is also an issue of keen interest among parents, who are known to buy or rent properties near their desired school so that their children have a better chance of getting in, thereby pushing up property prices in such neighbourhoods.
Relocating such elite primary schools to developing areas of Singapore is a suggestion that has been proposed by property analysts to boost the popularity of these newer towns among young couples and families.
MORE SCHOOLS FOR DEVELOPING TOWNS
To meet increasing demand for schools in new and developing areas, MOE will be opening or relocating four mainstream schools and two special education schools across the western and north-eastern regions of Singapore.
The opening and relocation of new schools at these three regions, namely Tengah, Bukit Batok West and Sengkang, will also ensure a good geographical spread of schools and continue MOE's efforts in offering quality special education, the ministry said.
TENGAH
Aside from ACS (Primary), Pioneer Primary School will also be relocated to Tengah in 2026.
A new primary school will then be opened in Tengah in 2028, so that the developing area will have three primary schools by 2030. The name of this third primary school will be announced at a later date.
A new special education school focusing on students with autism spectrum disorder will be set up and run by the non-profit Methodist Welfare Services in partnership with ACS. 
The new special education school, which is the fifth to focus on students with autism, will be set up in 2026 at an interim site, the former location of Chua Chu Kang Secondary School, before moving to its permanent campus next to the new ACS (Primary) in Tengah in 2031. 
This is the first time that a mainstream school and a special education school are being located next to each other, which will allow greater partnership between the two schools and more opportunities for students to interact with each other, MOE said.
In its statement, ACS said that the new special education school will also allow ACS to "meet a great need in the community and introduce a more diverse student pool into the ACS family".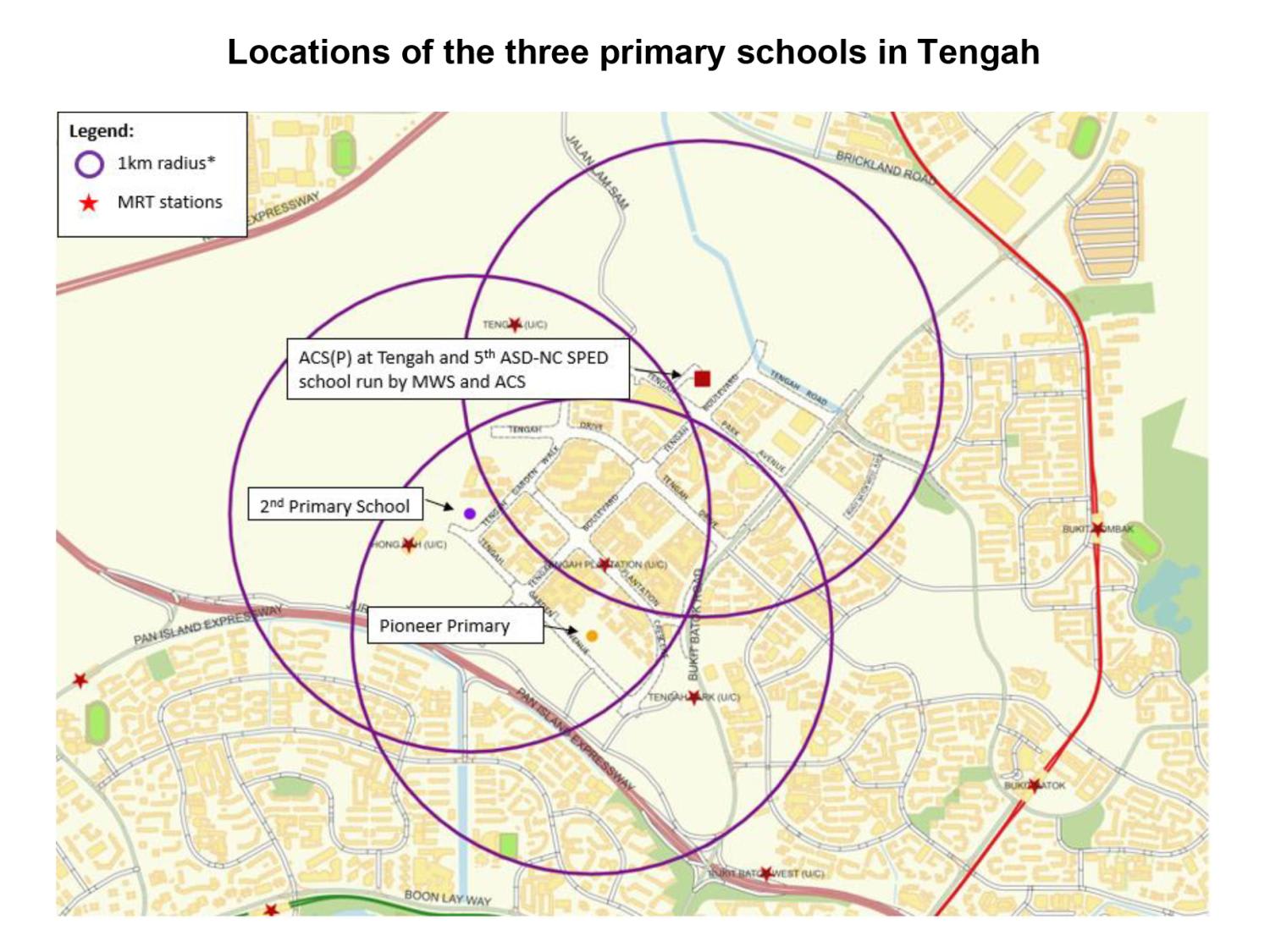 BUKIT BATOK WEST
Another developing area, Bukit Batok West, will receive Bukit View Primary School, which will relocate from its current spot in Bukit Batok East, about 2km away, in January 2027.
The new Bukit View Primary School campus will have new facilities and updated provisions to better support teaching and learning for students, MOE said.
The school will continue admitting new Primary 1 cohorts, and all students enrolled in the school will be moved to the new campus in Bukit Batok West in 2027.
SENGKANG AND PUNGGOL
Sengkang is expected to have a new secondary school in 2026 to meet growing demand from families in Sengkang and Punggol. The name of the school will be announced at a later date.
MOE will also set up the permanent campus of Pathlight School 3, a special education school, near the Punggol Digital District in 2032, instead of in Tengah as previously announced.  
The school will continue its ongoing operations in the former Chong Boon Primary and Chong Boon Secondary School sites until its relocation.