Adulting 101: I got burnt by a crypto boom as a student. It taught me to plan before investing
SINGAPORE — During military reservist training three weeks ago, a friend came up to me and proudly announced that he was getting 100 per cent yearly interest returns on his United States dollar savings.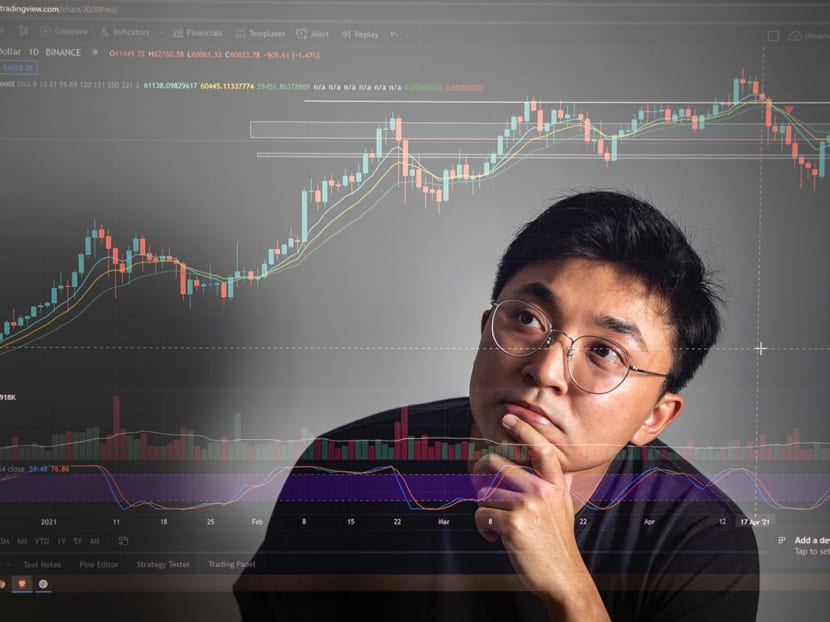 Adulthood is an invigorating stage of life as young people join the workforce, take on more responsibilities and set their sights on the future. But its many facets — from managing finances and buying a home to achieving work-life balance — can be overwhelming.
In this series, TODAY's journalists help young Singaporeans navigate this stage of their lives and learn something themselves in the process.
SINGAPORE — During military reservist training three weeks ago, a friend came up to me and proudly announced that he was getting 100 per cent yearly interest returns on his United States dollar savings.
I was immediately seized by this and wondered what kind of scam he had got himself into at a time when my savings account was netting a mere 0.75 per cent interest returns each year.
He was, of course, talking about cryptocurrency, which appears to be all the rage among people my age now.
I'll wager that a quarter of my friends are investing in cryptocurrency or have done so in the past. 
The returns that my fellow reservist was getting were through stablecoins, digital tokens pegged to the US dollar.
Bitcoin, another digital currency, has been on a bull run on the back of news that several institutions are adopting it. 
Many of my friends had also been eagerly awaiting the April 14 Wall Street debut of Coinbase, the largest cryptocurrency exchange in the US that allows people to buy and sell digital tokens such as Bitcoin. 
I dabbled in cryptocurrency as a university student. It was during the 2017 Bitcoin rally when its value skyrocketed from about US$1,000 (S$1,325) to US$20,000 in a year. 
I reaped a tidy profit then from my initial S$500 investment, but greed got the better of me and I kept depositing larger sums of my savings from part-time jobs.
I didn't have a plan. All I thought about then was how much more I could be making if I had more money.
Not long after, the price of Bitcoin plummeted more than 80 per cent from its peak in mid-December 2017.
I held onto my coins then, refusing to sell them at a loss. When I eventually withdrew, I lost about S$1,000.
'DIGITAL GOLD'
Cryptocurrencies are virtual assets that exist entirely on the digital ether. 
It is secured by cryptography (hence its name), which prevents counterfeiting and fraudulent transactions. 
Unlike cash, a key feature of many cryptocurrencies is that they are generally not issued by a central authority. 
Many investors regard Bitcoin as the original cryptocurrency. 
Introduced in 2008 by an unknown creator with the moniker Satoshi Nakamoto, Bitcoin is commonly termed "digital gold" and is seen by many as a store of value since it has a finite supply. 
Although Bitcoin remains the most popular and valuable cryptocurrency today, thousands of other coins have emerged such as Ethereum, Dogecoin, Binance Coin and Ripple.
In recent years, more institutions have boarded the cryptocurrency bandwagon.
Public companies such as Tesla have added Bitcoin to their balance sheets. Payment firm PayPal now allows its American users to buy and sell Bitcoin and other virtual currencies.
Closer to home, Vertex Ventures, which is backed by state investor Temasek Holdings, has invested in a cryptocurrency exchange, while DBS bank announced late last year that it would set up a digital exchange for a select group of investors to trade cryptocurrencies.
Some critics have argued that these coins are a fad.
Mr Terence Wong, chief executive of fund-management firm Azure Capital, begs to differ.
"If you asked me two years ago, I would think it's a fad," he told me. 
"But I've seen genuine demand setting in, so I guess it's going to be a part of asset allocation increasingly, whether for funds or personal investors." 
Mr Chia Hock Lai, co-chairman of Blockchain Association Singapore, said that many people now see Bitcoin as a hedge against inflation, at a time when the US Federal Reserve has been injecting large sums of money to bolster the economy during the Covid-19 pandemic.
SHOULD A YOUNG PERSON INVEST?
Mr Chia believes that retail investors should, however, still avoid cryptocurrencies, at least for the time being.
"It's simply too volatile," Mr Chia said. He is also a senior blockchain adviser at boutique equity firm Tembusu Partners. 
The price of Bitcoin tends to enter an explosive bull market every four years, which could see the digital currency's value multiply exponentially in a short period. 
But, even during these massive rallies, it is common for prices to plunge by double-digit percentages in a matter of hours.
"If you really want to buy them, don't allocate more than 3 to 5 per cent (of your investment portfolio), and just focus on the top five digital assets," Mr Chia said.
Senior Minister Tharman Shanmugaratnam, chairman of the Monetary Authority of Singapore (MAS), has also warned the public about the risks of trading cryptocurrencies.
He said in Parliament last month that they are "highly risky as investment products and certainly not suitable for retail investors". 
Right now, MAS regulates cryptocurrency service providers primarily for money-laundering and terrorism-financing risks.
The digital currencies themselves, however, are not regulated as they are not legal tender. This means that investors who lose money through these digital tokens will not get help from MAS.
Still, Mr Anson Zeall, chairman of the Association of Cryptocurrency and Blockchain Enterprises and Start-ups Singapore, believes that there is value in holding a small amount of cryptocurrencies as "insurance" against the falling US dollar and rising asset prices.
The key is not to start buying Bitcoin and diving straight into cryptocurrency trading. 
Investors must understand the risks and mitigate them by, for example, investing within their means and learning how to safely store their digital currencies, such as placing them in hardware wallets rather than leaving them on exchanges.
I don't consider myself a shrewd investor by any means, but at age 25 with many more years until retirement, would it be prudent for me to hold some cryptocurrencies?
Mr Wong of Azure Capital said that young people with limited funds can afford to be more aggressive with their investments, though he believes that most of these should be in stocks.
Financial adviser Jeremy Tian believes that I should look at investments from a goal-based perspective, rather than chase whatever gives me the highest returns. 
For example, if I want to retire at 60 or buy a home in the next decade, I should be working out how much money I would need in that time, before deciding which investment vehicles would best suit that goal.
And only when I am confident my investment portfolio can meet those goals should I start to channel small amounts into higher-risk alternative investments such as cryptocurrency trading, he said.
The idea is that any extra returns would be a bonus and, if I were to lose all the money I put into cryptocurrency, it wouldn't derail my life goals.
THE PLAN
After I graduated from university in June last year, I decided I needed a proper plan to manage my finances.
So I spent a large chunk of my free time working out how I would do so.
My rotten luck graduating in the depths of a global recession precipitated by Covid-19 meant that a fair number of those hours were spent worrying.
I found a job, thankfully, and the first thing I did was build up six months of expenses as my rainy-day fund, which I set aside for medical emergencies or for essentials, should I find myself out of work. 
After settling my insurance needs, I allocated 10 per cent of my remaining savings into bonds and 90 per cent into stocks. 
Having an investment plan firmed up, I felt more confident that my emotions wouldn't cloud my investment decisions.
So, six months ago, I returned to the dizzying world of cryptocurrencies and bought a small quantity of Bitcoin and Ethereum, and held them in an account that was giving me a 5 to 10 per cent yearly interest rate. 
For a young investor intending to stay invested for a long period, I believe the risks are worthwhile, in anticipation of potential rewards down the line. 
And, this time, I laid down a rule to put only 3 to 5 per cent of my portfolio into cryptocurrencies. 
That way, if my crypto investments grow way beyond the cap, I would be prompted to take the profits and not let greed carry me away.
I rode the bull market rally and, within a few months, the value of my coins doubled.
But in a sign of the volatility of digital currencies, as I was transferring my coins from one account to another, their value plunged 20 per cent while the transfer was being processed.
I am thankful that my cryptocurrency portfolio is still reaping a profit of about 50 per cent overall, but I am certainly more cautious now. 
Who knows when the next crash and the ensuing bear market might hit? 
ABOUT THE WRITER:
Daryl Choo is a journalist at TODAY, where he covers transport, defence, and crime and court.