Aerospace firm Pratt & Whitney axes over 400 workers in Singapore as Covid-19 batters industry
SINGAPORE — American aerospace manufacturer Pratt & Whitney will lay off more than 400 of its workers in Singapore as part of a retrenchment exercise, the firm said on Monday (Aug 3), blaming the Covid-19 pandemic and its devastating effects on the aviation sector.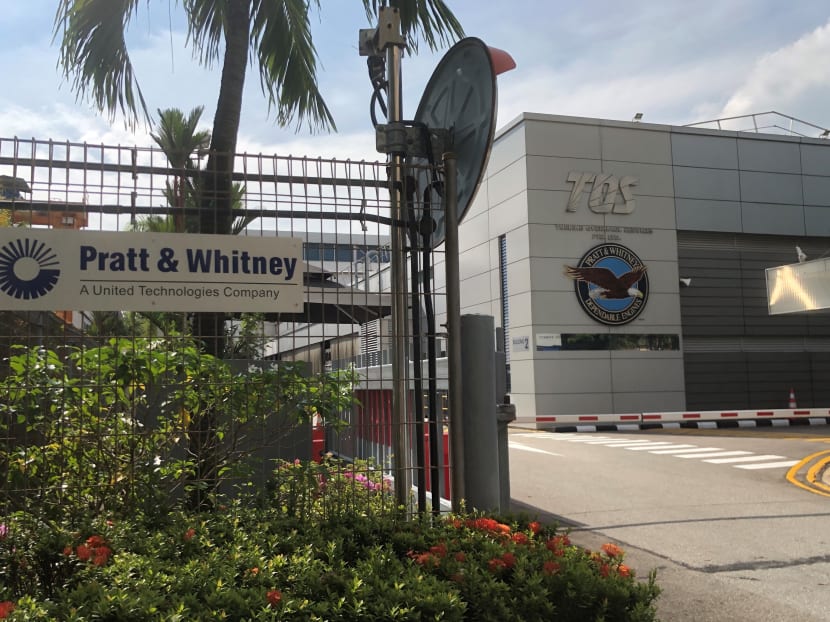 SINGAPORE — American aerospace manufacturer Pratt & Whitney will lay off more than 400 of its workers in Singapore as part of a retrenchment exercise, the firm said on Monday (Aug 3), blaming the Covid-19 pandemic and its devastating effects on the aviation sector.
The retrenchments will affect 19.3 per cent of the more than 2,000 employees in Singapore, the company told TODAY.
This figure includes axed workers from Pratt & Whitney's majority-owned unit Eagle Services Asia, which last week became embroiled in a dispute over retrenchment moves. Pratt & Whitney declined to reveal the exact number of workers retrenched, as well as the breakdown of axed workers in each of the subsidiary firms involved.
In a joint statement with the Singapore Industrial and Services Employees Union (SISEU), Pratt & Whitney said current forecasts indicate that it will take until 2023 at the earliest for the aviation sector to recover to pre-Covid-19 levels.
"The prolonged recovery timeline for commercial aviation forced this difficult but necessary decision by Pratt & Whitney companies, after implementing other cost-containment measures including temporary salary reductions and shorter work weeks, cancellation of merit increases, hiring freezes and discretionary spending cuts," the statement said.
Pratt & Whitney companies unionised under SISEU include: Turbine Overhaul Services, Pratt & Whitney Component Solutions, P&W NGPF Manufacturing Company Singapore and Component Aerospace Singapore.
Technicians formed the majority of the workers laid off at these companies, although retrenchments happened across a range of departments, SISEU executive secretary Sylvia Choo said in an interview with the media.
Workers at these four companies were informed about the retrenchment exercise through an online video conference call last week, when it was reported that more than 140 Eagle Services Asia staff would be axed.
A retrenched technician from Turbine Overhaul Services, Mr Ridzuan Abdul Hamid, said he did not expect to be laid off after working for the company for almost his entire adult life.
"Of course I feel sad with 30 years of memories here," the 53-year-old told TODAY, adding that he understood the company had to cut costs because of Covid-19.
The statement added that Pratt & Whitney companies began working with SISEU and the National Trades Union Congress (NTUC) in April on the cost measures it was taking. 
"With retrenchment taken as a last resort, all parties have collaborated to ensure that the exercise is carried out in a transparent, fair and responsible manner," the firm and SISEU said.
SISEU will continue to work closely with Pratt & Whitney companies to ensure that affected employees receive the necessary assistance.
Through its negotiations with Pratt & Whitney, SISEU managed to bring down both the number of workers axed as well as the proportion of Singaporeans affected from the retrenchment exercise, SISEU union leader Samah Husin said.
Pratt & Whitney said that the Singaporean "core" will continue to form more than 77 per cent of its workforce here after the cuts.
Affected employees will receive a retrenchment package equivalent to one month's salary per year of service up to 25 months, on top of one month's pay in lieu of notice.
In addition to retrenchment packages for affected employees, SISEU had asked the Pratt & Whitney companies to provide these employees with a one-off training grant, to help boost employees' efforts to upgrade their skills and better position themselves for future opportunities. 
Retrenched employees who are union members will also receive paid NTUC union membership until the end of this year, so that they can continue to be eligible for union membership benefits including union bursary awards, financial relief under NTUC's care and support programmes such as the NTUC Care Fund (e-vouchers) programme, insurance coverage, personal development and training assistance.
SISEU will also work with NTUC's Employment and Employability Institute to arrange for affected workers to attend job fairs and employability workshops.
The technicians who were retrenched have been advised to seek related jobs in other sectors less hard hit by the virus such as semiconductor manufacturing, Ms Choo said.
NTUC will also help affected workers through its Job Security Council, which matches retrenched workers with job vacancies in its unionised companies, she added.
"Today, I think the company and the union has managed (the retrenchment exercise) quite well," Ms Choo said, attributing this to the open communication SISEU has had with the Pratt & Whitney companies over recent months.
Last week, Eagle Services Asia was called out by NTUC for moving to axe workers while in the middle of negotiations with several unions.
Eagle Services Asia's workers are unionised under a set of different unions: Air Transport Executive Staff Union, SIA Engineering Company Engineers and Executives Union, and Singapore Airlines Staff Union.
The unions, together with NTUC, stepped in to halt what they regarded as the unfair plans to retrench 144 workers at the aircraft maintenance company and renegotiated better outcomes for affected workers.
After NTUC's intervention, the firm eventually reached a retrenchment deal with the unions.
Asked how SISEU managed to avoid the complications faced by these unions in their negotiations, Mr Samah pointed to SISEU's collective agreement and the "good rapport" the union has with Pratt & Whitney companies.
"The way I look at it, the company (Eagle Services Asia) (was) not doing the right thing," said Mr Samah , who has worked at Pratt & Whitney for the past 37 years.
He added: "All our affected employees will be well taken care of."
CLARIFICATION: An earlier version of this story stated that Pratt & Whitney said it was retrenching about 390 staff. The company later clarified that the figure was over 400.