'Affordable, simple process': Theory test for e-bike riders to cost S$5 for 2 attempts in first 3 months, says Amy Khor
SINGAPORE — To allay concerns that the new theory test for power-assisted bicycle (PAB) riders would impact the livelihoods of food delivery riders, Dr Amy Khor said on Tuesday (May 11) that test fees will be "kept affordable".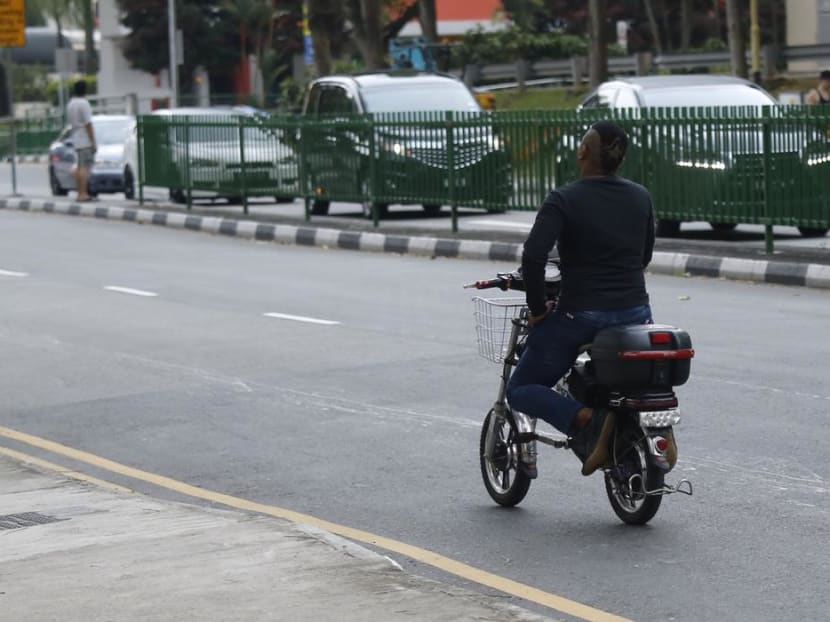 The theory test for power-assisted bicycle riders will cost S$5 for two attempts in the first three months
After that, each attempt would cost S$10
The process to take and retake the test will be kept simple, requiring minimal turnaround time, Dr Amy Khor said
A propose change to the Road Traffic Act allows non-police personnel to conduct frisk searches
Dr Khor said authorised persons doing such seaches have to undergo proper training before deployment
SINGAPORE — To allay concerns that the new theory test for power-assisted bicycle (PAB) riders would impact the livelihoods of food delivery riders, Dr Amy Khor said on Tuesday (May11) that test fees will be "kept affordable".
The Senior Minister of State for Transport told Parliament that those going for the test would be charged a discounted rate of S$5 for two attempts in the first three months. This means that those who fail the test on their first try may take the test again "for free" the second time, she said.
After three months, the test would cost S$10 for each attempt.
The process to register for and take the test, including retaking it, will also be "kept simple", requiring "minimal turnaround time", she added, easing the worries of those who fear long waits should they fail to pass the test at first try.
Dr Khor revealed these details in a debate on the proposed amendments to the Road Traffic Act, which includes a new section that would make it an offence for PAB riders who have not passed the theory test to ride on roads. The Bill was passed on Tuesday.
In February, Parliament passed a related Bill requiring riders of personal mobility devices and PABs to pass a theory test before they can ride on public paths.
The authorities have previously stated that the tests will start on June 30.
The Ministry of Home Affairs had also said that PAB riders, who would need to be tested on road usage as well, must pass a single theory test for both path and road usage.
Reiterating why a test is warranted for PABs to ride on roads as well, Dr Muhammad Faishal Ibrahim, Minister of State for Home Affairs, said: "As PABs are allowed on both public paths and roads, it is only logical that we need to require PAB riders to pass a theory test before they can ride on roads."
The test is being administered by the Land Transport Authority (LTA), and a handbook, which riders have to study before taking the test, can be found on LTA's website, Dr Faishal added. More details on the test will be announced next month.
HOW ACCESSIBLE WILL THE TESTS BE?
A number of Members of Parliament (MPs) sought to find out more about the test to assess its impact on food delivery riders.
Sengkang Group Representation Constituency (GRC) MP He Ting Ru, from the Workers' Party (WP), said that some residents had related to her their struggles in passing certification requirements, such as those required to work in the food-and-beverage industry or to operate a forklift.
"Many of them have been doing these jobs for decades and excel at carrying out these jobs on a practical level, but struggle to pass the paper examinations. The result is often an impact on their livelihoods as they are unable to be employed in the very jobs that they have been carrying out for years," she said.
She and other MPs, including Ang Mo Kio GRC MPs Gan Thiam Poh and Darryl David, asked if the test can be taken in other languages since older Singaporeans may be more conversant in them, and whether there will be options for illiterate riders or those unable to sit for a test.
Dr Khor said that the Chinese, Malay and Tamil translations of the handbook for e-scooters and PAB riders, which is now available only in English, will soon be available. The test will also be available in the four official languages.
She also reassured members that the test will be accessible to those with difficulties taking an online test, including senior citizens. Special provisions can be made for those who are not digitally savvy or illiterate on a case-by-case basis.
"We will provide an adequate transition period for riders to prepare, take and complete the test before enforcement kicks in."
The minimum riding age for PABs and e-scooters is 16 years old. E-scooter riders under 16 can ride under the supervision of an adult who will need to have passed the test.
Mr David asked if the Government foresees mandating PAB riders to take a practical test of some sort, given that some of them seemed to be travelling at speeds similar to those of small motorcycles or scooters.
Dr Khor said that the theory test is a "useful start" to address the lack of knowledge of rules and to tackle deliberate, errant riding behaviour.
"We will continue to monitor the landscape and update the testing requirements if necessary, while balancing against how onerous the regime will be on PAB riders," she said.
EXTENDING FRISKING POWERS TO 'AUTHORISED PERSONS'
During the parliamentary debate, a few MPs took aim at a proposed change that empowers police officers and other authorised persons to perform security searches on people using the public transport system, as part of Singapore's stepped-up counter-terrorism efforts.
Bishan-Toa Payoh GRC MP Saktiandi Supaat urged the authorities to ensure that the personnel involved are trained to conduct these searches as discreetly and politely as possible to avoid issues of perceived racial profiling, which could lead to the further entrenchment of stereotypes.
Aljunied GRC MP Sylvia Lim, who is from WP, asked if it is appropriate to enable actors who are not police officers to conduct frisk searches by force.
The Bill states that members of the auxiliary police, security officers engaged by the public transport operator, and outsourced enforcement officers would be allowed to conduct the frisk searches.
Pointing out that the Public Order Act reserves the power to search persons entering a special event area to police officers only, Ms Lim said: "This sensible demarcation is a recognition that a bodily search is an intimate security check that should only be performed by highly trained persons. This Bill today marks a departure from that approach."
Ms He said that the amendment "continues the trend of expanding key police powers to persons who may not be fully trained in law enforcement".
Dr Khor clarified that officers who would be authorised to carry out the security searches will have to undergo proper training and must complete the necessary security workforce skills qualification courses approved by the Singapore Police Force before their deployment.
And in their training, authorised officers will be taught how to spot anyone displaying suspicious behaviour "without bias against any race or religion", she said.
To prevent commuters from being taken advantage of by security personnel, all authorised officers will have to be in uniform and the frisk searches will be conducted within video surveillance coverage, she added.
And to safeguard the modesty of women, only authorised female officers will be able to conduct searches on females.
Mr Saktiandi also questioned how the authorities intend to guarantee that body searches remain safe when they are introduced in the middle of a pandemic.
Dr Khor replied that the authorised officers will be required to adhere strictly to prevailing safety regulations for Covid-19, as well as the Ministry of Health's health advisory.
The officers will be reminded to practise good personal hygiene, while ensuring that all security equipment will be sanitised after each use, she added. Hand sanitisers will also be provided for commuters.