After some confusion, Korean embassy says VTL travellers from Singapore exempted from South Korea's new quarantine rules
SINGAPORE — South Korea's newly imposed 10-day quarantine on all inbound international travellers will not apply to those who are arriving in the country via the vaccinated travel lane (VTL) scheme with Singapore.
The South Korean embassy here said that the VTL arrangement between Singapore and Republic of Korea will continue at the moment
This follows South Korea earlier announcement of a 10-day quarantine on all inbound travellers from Friday
The news initially caused a confusion which left airlines, travel agencies and those who had bought tickets scrambling
SINGAPORE — South Korea's newly imposed 10-day quarantine on all inbound international travellers will not apply to those who are arriving in the country via the vaccinated travel lane (VTL) scheme with Singapore.
The Embassy of the Republic of Korea in Singapore said on Thursday (Dec 2) that the travel arrangement between the two countries will "proceed without change at the moment".
"Given that the Covid-19 situation remains volatile, we advise all travellers to check our website regularly for the latest border control measures prior to travel," it said in an advisory on its website.
It added that any changes to the policy will be updated on its website.
The statement was put out shortly after the Civil Aviation Authority of Singapore said on Thursday afternoon that it was clarifying whether the new quarantine requirements apply to travellers on the travel lane.
South Korea's announcement on Wednesday about the new quarantine rule, imposed to combat the spread of the new Omicron coronavirus strain of Covid-19, had earlier sown confusion among airlines, travel agencies and passengers with upcoming trips to the country.
On Wednesday, the Korea Disease Control and Prevention Agency said that all travellers to South Korea, including citizens and foreigners, will have to be quarantined for 10 days on arrival regardless of their vaccination status.
The new rule will start on Friday and last for two weeks, the agency said.
TRAVELLERS TO KOREA RELIEVED
Before the South Korean embassy issued its clarification, several organisations, including the Singapore Embassy in Seoul and Singapore Airlines (SIA), had posted updates on Facebook on Thursday saying that they were awaiting confirmation with the Korean authorities on whether the quarantine would be applied to vaccinated travellers on the travel lane. 
Those who had bought tickets to South Korea told TODAY that the sudden announcement by the South Korean government on Wednesday had initially caused alarm, though they are now delighted that they can still go ahead with their trips. 
One of them was project manager Melina Chua, 30, whose flight to South Korea with three friends is scheduled to depart Singapore at 1.25am on Friday morning. 
"We have honestly been at the edge of our seats for weeks now, ever since we booked our trip, from having to do the necessary research to settling the multitude of pre-trip administrative tasks," she said.
"Each time I received a travel advisory update from SQ (Singapore Airlines), I would feel my heart sink a little, but thankfully none affected us."
When she and her friends read the news about South Korea's latest border measures on Wednesday, they thought it meant that their trip would have to be cancelled, so they cancelled the accommodation they had booked for the first leg of their holiday.
It was only when they read the Thursday evening clarification from the Korean embassy that they realised they could go ahead after all.
"So we are now scrambling to find another place of accommodation," Ms Chua said. "That said, I just feel relieved beyond measure knowing that weeks of preparation and anxiety have not gone to waste."
Advertising manager Natasha, 29, who declined to give her full name and has a ticket for the same flight as Ms Chua, said that she had initially planned to just "roll up to the airport" on Thursday night and hoped she would be told there that she is exempt from the 10-day quarantine. 
She had earlier tried to seek clarification from SIA but could not get through its hotline, she said.
"Do I board the plane? Do I finish packing my bags? I'm not about to get quarantined there for 10 days when my trip is 10 days long," she said of her initial worries.
Travel agencies approached by TODAY said that they began receiving queries from customers who had booked package tours to South Korea Thursday morning. 
Chan Brothers Travel said that the company began receiving calls the moment its retail offices opened and it said that it would update its customers with the official word from the authorities.
Ms Sheryl Lim, co-founder of boutique travel agency Travel Wander, said that her company's customers are booked for trips in January and that so far, none have expressed an urgency to cancel their trip. 
"We have advised them that we will help them monitor the situation and at the moment, our guests are still optimistic about their holiday plans next month," she added. 
OTHER TRAVELLERS SCRAMBLING 
SIA, in an advisory it put out on Thursday morning on the revised entry requirements to South Korea, said that its customer contact centres were receiving an "extremely high number" of enquiries because of the evolving Covid-19 situation.
The airline updated its advisory in the evening that the South Korean authorities have confirmed that there would be no changes to the travel lane arrangement with Singapore.
Indeed, the emergence of Omicron and the sudden and unilateral border measures now being imposed by various countries worldwide to stay ahead of the new variant have spread confusion among many travellers with flights planned to places all around the world.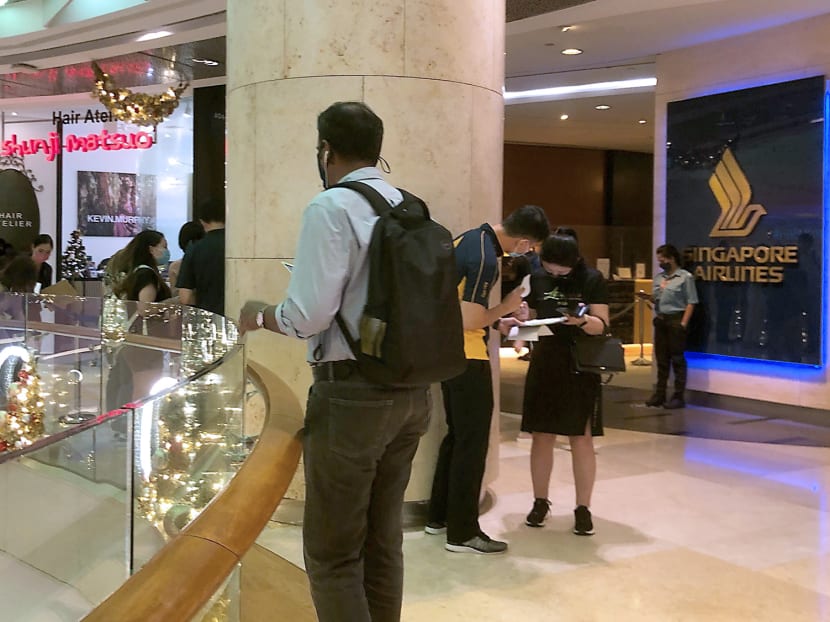 On Thursday, in a long queue snaking out of SIA's service centre at Ion Orchard mall were many customers who were there to change bookings for flights to places such as Indonesia, Hong Kong and the United States.
Among them was student Cathlin Theophilus, 19, who wanted to bring forward her flight home to Indonesia by a week, after the Indonesian authorities on Thursday extended the length of quarantine for inbound travellers.
"Many other students I know have cancelled their flights because of the changes in requirements," she told TODAY.
Investment manager Siddhant Mish, 30, was there to get a refund on his flight booking to the United States because he did not want to risk getting infected by the Omicron variant, since he has a medical condition.
He had gone to the centre at 10am but left the mall and tracked his queue number via the airline's Facebook Messenger service. His number was only called at around 5pm.