After three months at SMRT's helm, a CEO's reflections
SINGAPORE — Since taking the hot seat at beleaguered public transport operator SMRT about three months ago, Mr Neo Kian Hong has had friends from church and strangers giving him feedback and the occasional brickbat.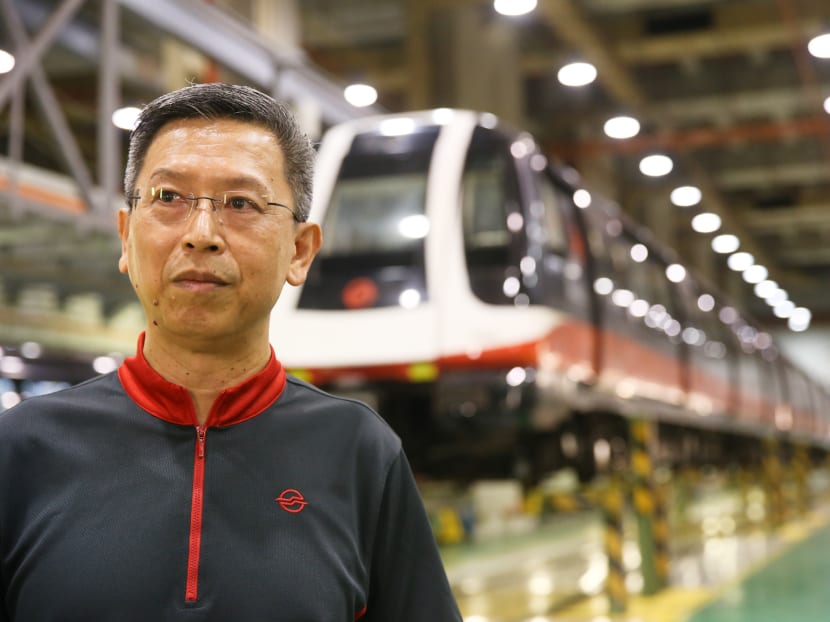 SINGAPORE — Since taking the hot seat at beleaguered public transport operator SMRT about three months ago, Mr Neo Kian Hong has had friends from church and strangers giving him feedback and the occasional brickbat.
He is taking it all in his stride.
In a wide-ranging interview with the media on Friday (Nov 16), the SMRT Group chief executive officer said he believed much of the feedback was well-meaning.
"For Singaporeans who are constructive and want to contribute, these (avenues of feedback) are important. The reason why we have high standards in Singapore is because we demand the high standards," he told reporters.
When news broke earlier this year of his appointment, some of his friends in church "come to me, (in) one queue, (and) they give me suggestions".
"We look at these feedback with great importance. I chair the feedback meeting every week, to listen to all the feedback. And I'm asking questions," added the former chief of defence force.
Being on the ground has helped him understand first-hand some issues commuters face on their journeys.
Mr Neo moved to Shunfu estate because of his new job. TODAY previously reported that he is renting an apartment about 10 minutes' walk from Bishan MRT station.
He sold his car during his previous stint as the Defence Ministry's permanent secretary for defence development as he was provided with transport, and opted not to buy a new car after taking up the job at SMRT.
"When I sit in a room and I listen to briefings about maintenance problems… and I see complaints from commuters about the heat or smell and all… I don't know what they are talking about," said Mr Neo, who takes public transport to work daily.
"Then when I am (at the station) at the gap of the North-South Line, I can smell it. When I smell it, (the issue) becomes totally personal," he added, without naming the station.
After taking over the role of CEO, he has also made it his personal mission to visit the stations in the day and view maintenance works at night.
It was during these sessions that he met staff members and noted their enthusiasm.
He has visited all 58 stations along the North-South and East-West Lines, and is in the midst of visiting all the Circle Line stations, which SMRT also operates.
"I have seen very enthusiastic people, very hardworking people, very innovative people giving suggestions on how to improve their process, and willing to engage," he said.
He disagreed that there was "a deep-seated cultural issue", a phrase his predecessor Desmond Kuek used to describe the work culture that contributed to human errors and failure leading to rail incidents and breakdowns.
Mr Kuek had also said last October, in the wake of the tunnel flooding incident near Bishan MRT station that disrupted service on the North-South Line for about 20 hours, that it would be wrong to paint everyone in SMRT with the same brush. Nine in 10 employees are committed, professional and commuter focused, he said.
"I personally… do not agree with the term 'deep-seated culture issues' because that is not my experience when I engage with the ground," said Mr Neo.
"I find that when people come to work, (they) want to contribute… and so based on (my) experience it is all about leadership, and engagement on the ground.
"If we are able to give them the tools, if we are able to support them on the ground, if we are able to see the bigger picture, and we are able to close the gap with the people, I am sure they can perform," Mr Neo added.
"If you take care of your people, they will take care of your business. This is our nation's business, which is our nation's public transport system," he said.
The issue of SMRT's workforce was among the three main observations Mr Neo highlighted, after his on-the-ground engagement sessions, on Friday morning at an internal townhall with SMRT employees.
He also noted that the MRT will be the "backbone" of the Singapore public transport system, and that the rail system's asset life cycle needs to be closely monitored.
That was why the company has re-adjusted its "mission outcomes" and embarked on a gradual re-organisation, Mr Neo said.
SMRT Group will be re-organised into five main groups, with trains as its "core", noted Mr Neo. A new engineering group will be formed to "build deep engineering capabilities", he added.
"We are clustering what we used to have... so there is clearer focus," Mr Neo said.
However, he stressed that it was "not about re-organising for the sake of re-organising", as there were "clear deliverables" for each group.
Asked by reporters how he felt the company was doing now for rail reliability, Mr Neo said "the numbers are improving". The authorities have set a 1 million Mean Kilometre Between Failure (MKBF) target for the rail operator by 2020, and SMRT said that it is now at 661,000 MKBF and is "on track" to meeting the reliability goal.
There was still much to be done, he said.
Mr Neo cited renewal works in the North-South, East-West Lines - the Republic's two oldest lines - that are still ongoing and set to complete in the years to come.
He explained a "bath tub curve" in the rail industry, named so for its shape, and how SMRT must be "ahead of the curve" when looking at its maintenance and reliability. The bath tub curve refers to a 30-year cycle in rail systems, where the onset is characterised by teething issues, followed by a prolonged, sustained period of reliability, and another round of issues at the end of the cycle.
"If we are slow in system renewal effort and in staying ahead of the curve, we will compromise reliability, which we have all witnessed in the past," Mr Neo told SMRT employees in Friday's townhall.
SMRT has, up to a year or so ago, been plagued by rail reliability issues.
"When I came on board... people asked me, 'Why did you come to this hot seat?' And I said that I see this as a public service. I don't see this as just a business," said Mr Neo.
"And I think this is the same view I hold for our people, and this is very important."