After Trump-Kim summit, North Korea invites Singapore firms to visit the country
SINGAPORE — Coming on the heels of the historic Trump-Kim summit, North Korea has invited Singapore companies to visit the hermit kingdom and pave the way for future business opportunities and tie-ups.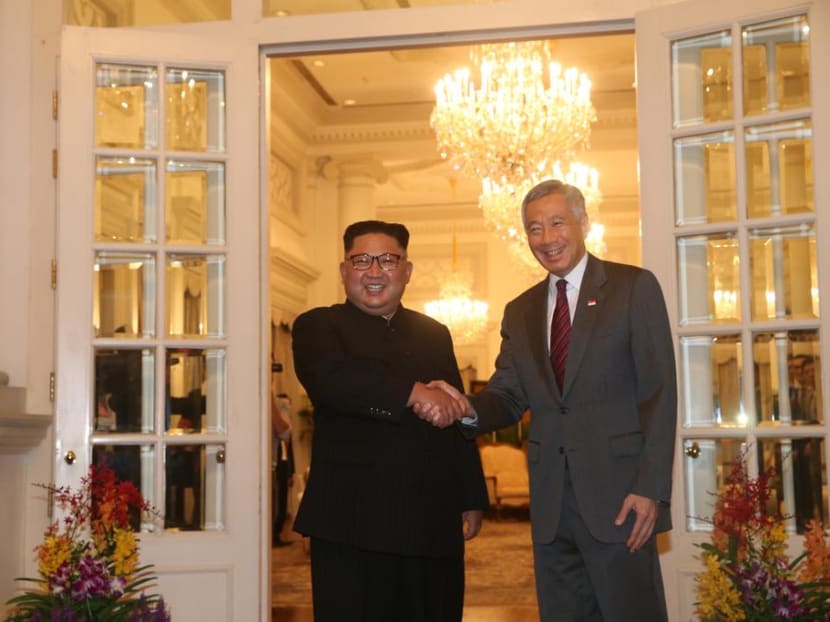 SINGAPORE — Coming on the heels of the historic Trump-Kim summit, North Korea has invited Singapore companies to visit the hermit kingdom and pave the way for future business opportunities and tie-ups.
The invitation from the Korea Committee for the Promotion of International Trade – a copy of which was seen by TODAY and dated June 13, a day after the summit – came despite United Nations sanctions being in force between Singapore and North Korea.
It was addressed to Dr Michael Heng, a former Nanyang Technological University associate professor who now heads a business consultancy firm.
Speaking to TODAY on Tuesday (June 19), Dr Heng said he will be facilitating a business mission which is set to take place from September 18 to 22.
The 63-year-old director of People Worldwide Consulting has personal ties with staff at the North Korean embassy in Singapore, and was in the midst of organising a personal trip upon the staff's invitation when he received the latest overture.
The trip can take up to 18 participants, said Mr Heng. The trip is exploratory – "almost like a tour to North Korea", he added.
Since he started reaching out to the business community last week, four companies — including VNT Global Consulting — have said they are joining the trip while three others are considering doing so. The trip will not involve any government agencies from Singapore.
Speaking to TODAY, VNT Global Consulting founder Velle Niqo Tay, 41, said the North Korea mission would be a relationship-building exercise. It is a "very good opportunity", after the summit — which was held at Capella Hotel on Sentosa — provided a "positive outlook" for a more open North Korea in the coming years.
She felt that it is a matter of time before the UN sanctions are lifted, and business deals between Singapore firms and their North Korean counterparts can be struck.
Singapore had trade links with North Korea for many years until last November, when the Republic cut economic ties with North Korea in line with toughened UN sanctions.
In 2015, Singapore was North Korea's sixth largest trading partner, with bilateral trade reaching US$29 million (S$39 million). But last year, the total amount of trade between the two countries amounted to just S$700,000.
The Singapore Business Federation (SBF) has led four business missions to North Korea in 2007, 2008, 2010 and 2012.
In response to queries, an SBF spokesperson said it "will consider organising business opportunity seminars and missions to (North Korea) in the future if there is interest from our members".
Dr Heng said he has reached out to SBF regarding the upcoming business mission but has yet to officially hear from the federation.
The invitation letter bearing the committee's official stamp said the trip would serve as a "good chance… to confirm our will (in) desiring to develop economic and trade relationship with Singapore and other countries".
It added that the participants will be exposed to business meetings "in open dialogue with key personnel", in order to find "possible ways to develop cooperation through projects, trade and investment".
Dr Heng said expenses incurred during the trip will be not covered or subsidised by North Korea.
Participants would each have to pay S$4,950 to make the trip from Singapore, and S$4,500 to make the trip from Beijing. This covers all expenses, including airfare, hotel accommodation, ground transportation and visa fees.
Dr Heng said the trip will focus on industries such as food retail and wholesale, information and communication technology, hospitality and tourism, property development and infrastructural development, among others.
He likened the current situation to how Singapore businesses were eager to make their forays into China in the 1980s, before the country opened up economically.
On North Korea, Dr Heng said: "True change will come beyond my time. But somebody has to start it… to spread goodwill, love and hope."
While there, he said he hopes to moot the idea of a "tripartite project" involving companies from Singapore, North Korea and South Korea. "Let's take a small project, low-hanging fruit, and demonstrate what we can do," he said.
Responding to queries, Singapore's Ministry of Trade and Industry reiterated that the UN sanctions are still in effect. "We will constantly review and update our legislation to implement United Nations Security Council Resolutions," it said.
The ministry added that individuals and entities engaging in business missions to North Korea should refer to the relevant regulations — namely the UN (Sanctions – DPRK) Regulations, the Monetary Authority of Singapore (Sanctions and Freezing of Assets of Persons – DPRK) Regulations and the Regulation of Imports and Exports Regulations.