Alternatives to Lasik becoming more popular
SINGAPORE – Amid recent concerns about the side effects and risks of Lasik surgery, eye doctors say more consumers are opting for alternative procedures although Lasik remains the gold standard for those looking to undergo laser vision correction.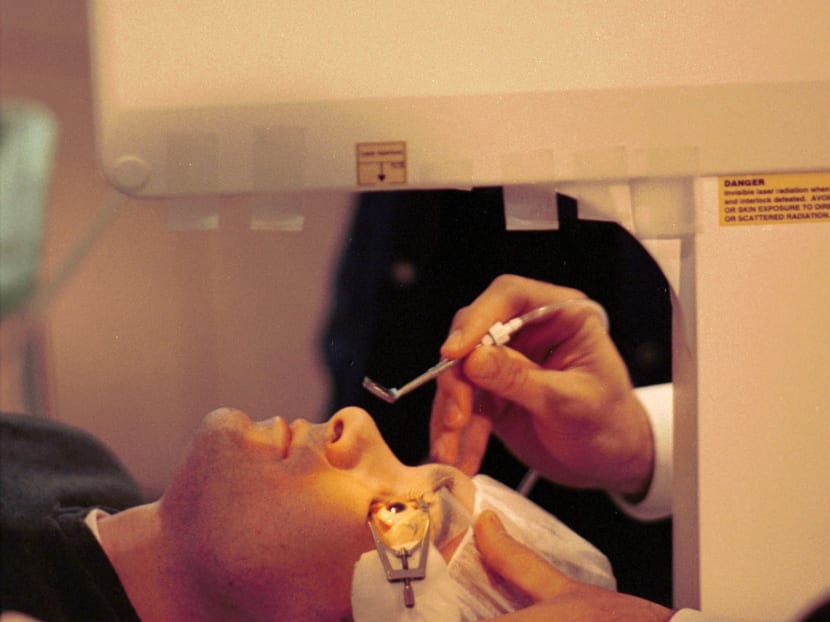 SINGAPORE – Amid recent concerns about the side effects and risks of Lasik surgery, eye doctors say more consumers are opting for alternative procedures although Lasik remains the gold standard for those looking to undergo laser vision correction.
The number of patients who underwent Lasik surgery at the Singapore National Eye Centre (SNEC) has dropped sharply in recent years, from 1,921 in 2012 to 696 last year. The drop is due to the proliferation of private clinics offering Lasik surgery, said Assistant Professor Mohamad Rosman, head and senior consultant at SNEC's refractive surgery department. "In the past (SNEC) was the only center that offered the surgery, so numbers are coming down and stabilising."
The numbers have also decreased because "the people who want to do Lasik have already done them", he said.
Lasik – or laser-assisted in situ keratomileusis – is a procedure that permanently changes the shape of the cornea, the clear covering of the front of the eye, using an excimer laser.
While studies have shown that the surgery is usually safe and effective, fresh concerns about its potential risks, including impaired vision and chronic pain, were raised in a recent New York Times article.
One of the studies cited was a paper by the United States Food and Drug Administration published in the JAMA Ophthalmology journal last year. It found that nearly half of the study participants reported new visual symptoms after surgery. About 28 per cent developed dry eye symptoms in varying degrees at three months.
Known post-Lasik side effects include dry eyes, halos and glare. They are often transient and improve over time, but may be permanent for some people, such as those with high levels of refractive error, large pupils or pre-existing poor corneal surface.
While the procedure used to be done with a blade, many clinics now do bladeless Lasik surgery, which uses laser to create a corneal flap. The SNEC began offering bladeless Lasik in 2007.
Some private clinics reported a stable or rising volume of Lasik procedures performed.
Dr Leonard Ang, medical director of Lang Eye Centre at the Mount Elizabeth Novena Hospital said there has been a "slight increase" over the past few years.
He sees between 500 and 1,000 patients seeking refractive surgeries every year, out of which a "significant proportion" are Lasik surgeries.
The Eagle Eye Centre, which has six clinics islandwide, performed about 3,150 Lasik procedures last year, up from about 2,900 in 2015 and about 2,600 in 2016.
PROS AND CONS TO ALTERNATIVES
Alternatives to Lasik are growing in popularity.
Doctors said the Relex Smile (small incision lenticule extraction) surgery and implantable contact lenses have become more popular in recent years, due in part to their short recovery period and less invasive nature.
This is in spite of their higher price tags compared to Lasik. Relex Smile surgeries usually cost 20 per cent more than Lasik, while implantable contact lenses cost S$6,800 to S$8,000 (for both eyes) at the Eagle Eye Centre.
Lasik procedures typically cost between S$3,000 and S$3,500 at the Eagle Eye Centre.
Dr Anna Tan, senior consultant at the National University Hospital (NUH) eye surgery centre, said patients who undergo Relex Smile surgeries can "avoid flap-related problems from Lasik surgeries", such as flap wrinkles or displacement during the healing period.
The option has "been shown to have fewer incidences of dry eyes," she added.
Unlike Lasik, Relex Smile – which has certain cornea thickness requirements – does not create a corneal flap. Instead of vaporising cornea tissue to correct the underlying short-sightedness and astigmatism, the procedure involves removing a small piece of corneal tissue, called a lenticule, through a small incision.
The Eagle Eye Centre only began offering Relex Smile surgeries last year, but they made up 9 per cent of its cases, said founder Julian Theng.
The procedure allows more leeway for patients who may tend to rub their eyes a little, or sleep on their side during the recovery period, he said.
The number of implantable contact lens cases seen by the Eagle Eye Centre increased from about 50 in 2015 to about 80 last year, while Dr Ang said they form about 10 per cent of the cases at his practice.
It is suitable for patients with extremely high myopia of more than 900 degrees, or patients with thin corneas who are unsuitable for Lasik, said Dr Ang.
Recovery time is short and patients are able to enjoy good vision and resume normal activities within two days of the procedure, he said.
Doctors, however, believe that Lasik will still remain the "gold standard" for patients looking to correct their vision.
"Lasik is still the front runner because it's safe, precise – correcting down to the last degree – and allows the surgeon to correct even the tiniest aberrations. It also has the fastest recovery period," said Dr Ang. 
CORRECTION: In an earlier version of this story, Dr Julian Theng was described as the co-founder of Eagle Eye Centre. He is its founder. We apologise for the error.