From Ang Mo Kio to Paya Lebar, residents in a flap over longstanding pigeon nuisance
SINGAPORE — For the past decade, Mr Brian Goh has had to contend with a dirty problem — pigeons keep excreting on his laundry when he hangs it out to dry.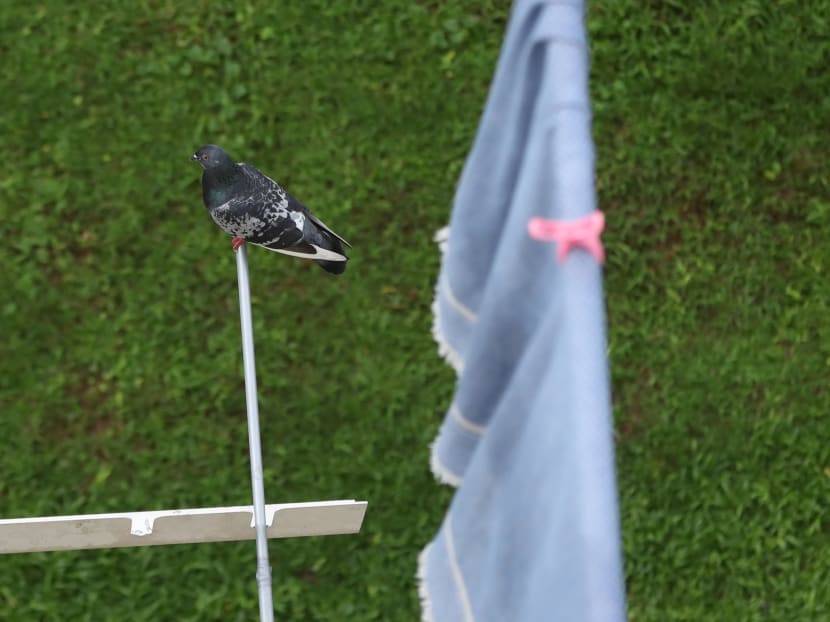 More complaints are being filed this year about pigeons
Residents in Ang Mo Kio and Paya Lebar say their laundry and windows are often dirtied by bird droppings 
Despite the nuisance, many residents do not wish for these birds to be culled
Authorities say the key is for people to stop feeding the birds and disposing of food scraps properly
SINGAPORE — For the past decade, Mr Brian Goh has had to contend with a dirty problem  — pigeons keep excreting on his laundry when he hangs it out to dry. 
Mr Goh, 47, who lives on the 12th floor at Blk 606 Ang Mo Kio Ave 5, said there is a pigeon nest right above his unit, which makes the problem particularly bad for him. 
"These birds always fly into my kitchen so I have no choice but to close my window. It is very frustrating and I have been going through this for 10 years already," said Mr Goh. 
Other residents in the block and surrounding area told TODAY that they, too, do battle with the pesky birds frequently. In fact, it is an islandwide problem.
The National Parks Board (NParks) said there has been a slight increase in the number of complaints it receives about pigeons — so far this year, some 4,400 complaints have been filed about the creatures, on track to outpace the 8,200 complaints received in all of last year. 
Dr Adrian Loo, the group director of wildlife management at NParks said that much of the problem stems from humans feeding pigeons, either directly or via food scraps that have been improperly disposed of. A recent study by NParks found that 70 per cent of the food consumed by feral pigeons were from anthropogenic  — that is, human  — sources.
He said that during the circuit breaker last year, when eateries were shut, pigeons were observed to spend more time searching for food and less time resting, which resulted in these pigeons mating less. 
This year however, food is more abundant. 
Ang Mo Kio Town Council (AMKTC) similarly has received an increase in complaints about the birds.
Mr Darryl David, the chairman of AMKTC, said: "As more people work from home since the start of Covid-19 in April 2020, we have seen an increase in public feedback on litter disposed of indiscriminately in the common area."
"Common litter such as food wastes, plastics, food wrappers, containers attract birds, pests such as rodents, cockroaches, ants, etc. Since then, AMKTC has stepped up the general cleaning at the common area daily, including attending to many ad-hoc requests to clean up areas which required cleaning due to littering." 
Still, the issue persists. 
Mr Muhammed Shuaib, another resident at Ang Mo Kio Avenue 5, said his mother has stopped hanging the laundry outdoors to dry and the family keeps their windows shut at all times. 
"The ventilation is not good and it gets very hot because the windows are always closed in our house but this has been the situation for about three to four years now," the 18-year-old student said.
Another resident, 71-year-old Raymond Anthony Fernando, has turned to the same solution of keeping his windows shut all the time, but added that this is not ideal.
"Circulation of fresh air is important for healthy living and we are advised to open our windows and doors to allow circulation of air to secure proper ventilation," said the motivational speaker and author.
"Every time I open my windows, the birds keep flying into my kitchen, with their droppings falling onto my windows, clothes hanger and air-conditioning. Our homes should be our sanctuary where we can find comfort and peace but sadly, this is not the case". 
Moreover, Mr Raymond said he has learnt that there are over 60 diseases that birds and their droppings can carry. 
He said: "This problem is especially worrisome in residential areas, as many of these diseases are airborne and can be transferred to humans just by being around these pigeon droppings".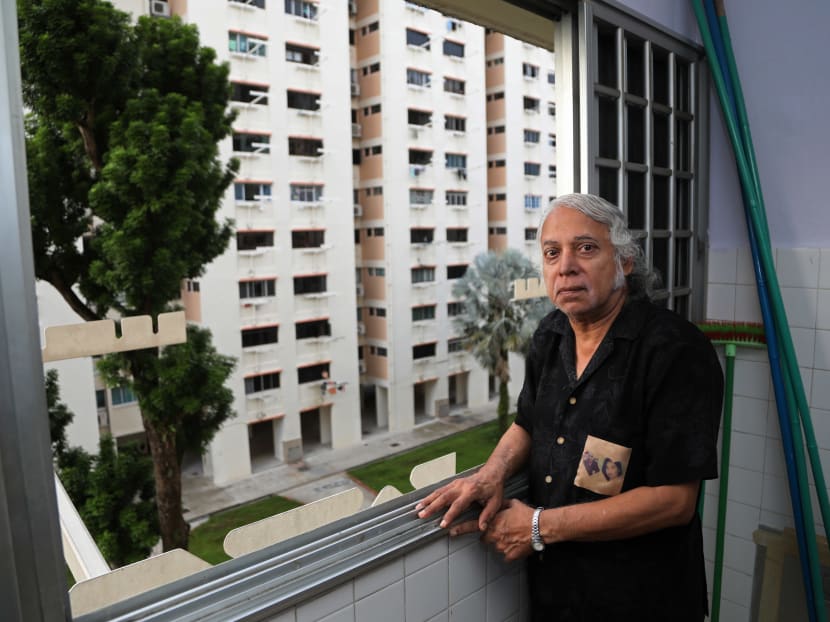 SIMILAR SITUATION AT PAYA LEBAR WAY
Residents at Paya Lebar Way can certainly empathise. When TODAY visited the estate, several residents complained that they, too, have had to deal with pigeons frequently flying into their homes and dirtying their surroundings.
Ms Ng Siew Lan, a resident in the area, lamented: "My windows always have so many pigeon droppings and sometimes my hands cannot reach out far enough to clean some parts of my window… Even the rain does not help to wash these droppings away." 
Like many other residents, the 60-year-old part-time sales assistant said that it is common for the laundry that she leaves out to dry to be soiled by pigeon droppings. 
"I just have to wash my clothes again," she said. 
Another resident, Ms Sim Mey Leng, recounted several incidents when pigeons flew inside her kitchen and dirtied her floor and washing machine. 
The 50-year-old housewife said she even recently changed the windows in her house because the pigeon droppings had dirtied the old ones so much.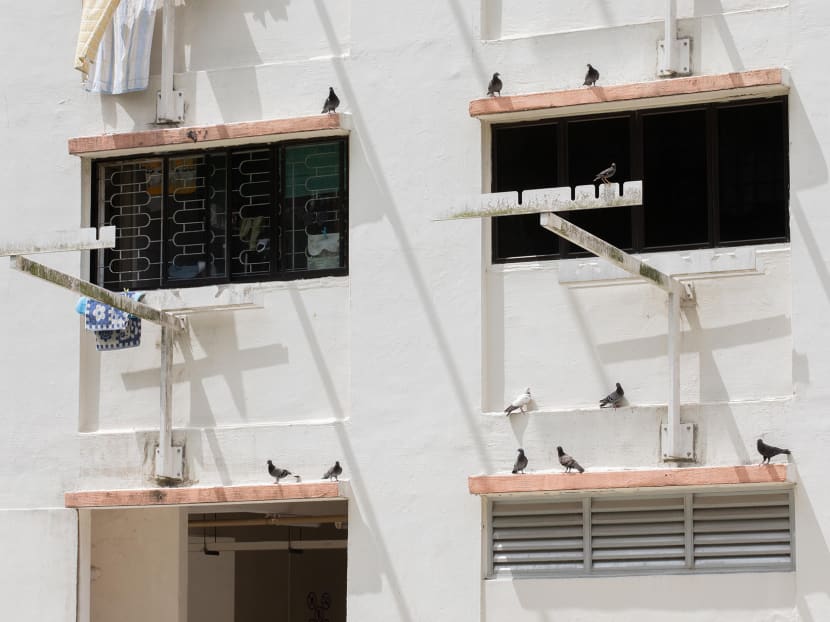 NO CULLING, PLEASE
Still, despite the nuisance, many residents said they do not want the birds to be killed and said they wished there were more humane ways to solve the problem once and for all.
In fact, when TODAY was at Ang Mo Kio Avenue 5 to observe the issue on the ground and take photographs of the pigeons, a resident approached the team to make sure that the birds were not about to be harmed.
The resident, Mr Guna, who only goes by one name, said that when he first moved into the estate 20 years ago, he was already unhappy with the unhygienic surroundings and pigeon nuisance, and had filed a complaint with AMKTC.
However, the 46-year-old civil servant said that when the town council officers told him that they would solve the problem by culling the pigeons, he withdrew his complaint.
He said that over the years he has observed people feeding the pigeons pellets that make them shiver and die slowly, which upsets him. 
"It is like slow poison you know? I have even seen birds who are flying in mid-air suddenly drop down dead," he said. 
Similarly, Mr Raymond said he once made a report about the pigeon nuisance to the authorities, but withdrew it when an officer suggested that he trap the birds in a cage that they would supply him, and said the birds would be culled afterwards.
"I refused to do that. To me, that is animal cruelty which I did not want to be a part of," he said.
REMOVAL OF FOOD SOURCES IS KEY
Dr Loo of NParks said that the agency takes a science-based approach towards the management of invasive bird species. 
"This requires an approach incorporating the removal of food sources made available by humans, habitat modification, population control strategies such as culling, and studies to understand the population ecology of the pest birds such as their roosting patterns and movements."
NParks works with other agencies to reduce food sources for pigeons, such as reducing high-rise littering and management of food waste at food establishments, he added.
"We have also been pushing out an anti-feeding campaign emphasising that everyone has a part to play. The public can help to mitigate population growth and congregation issues by not feeding birds and disposing of food scraps properly."
He noted that anybody caught feeding pigeons can be fined up to S$10,000 under the Wildlife Act.
Similarly, Mr Darryl David said AMKTC has worked with the National Environment Agency and NParks to step up efforts on various deterrent measures, including educating residents against bird feeding and littering.
He added that the town council's licensed pest control operators "adhere strictly to approved guidelines to ensure public safety and to safeguard animal welfare during bird control operations".  
Ms Tin Pei Ling, Member of Parliament of MacPherson Single Member Constituency, which includes Paya Lebar Way, said: "My grassroots leaders and I are aware of the ongoing pigeon issues in the estate and have been actively giving feedback to and seeking help from the relevant agencies in addressing the issues."
Ms Tin added that Marine Parade Town Council, which looks after the estate, has been working closely with other agencies to resolve the issue of pigeon nuisance, including educating residents against pigeon feeding.