Asean and regional foreign ministers to meet in S'pore
SINGAPORE — Foreign Ministers from the 10 Association of South-east Asian Nations (Asean) states and their regional partners will gather in Singapore from Monday (July 30) for six days of talks on key international developments and how to make the region more resilient and innovative.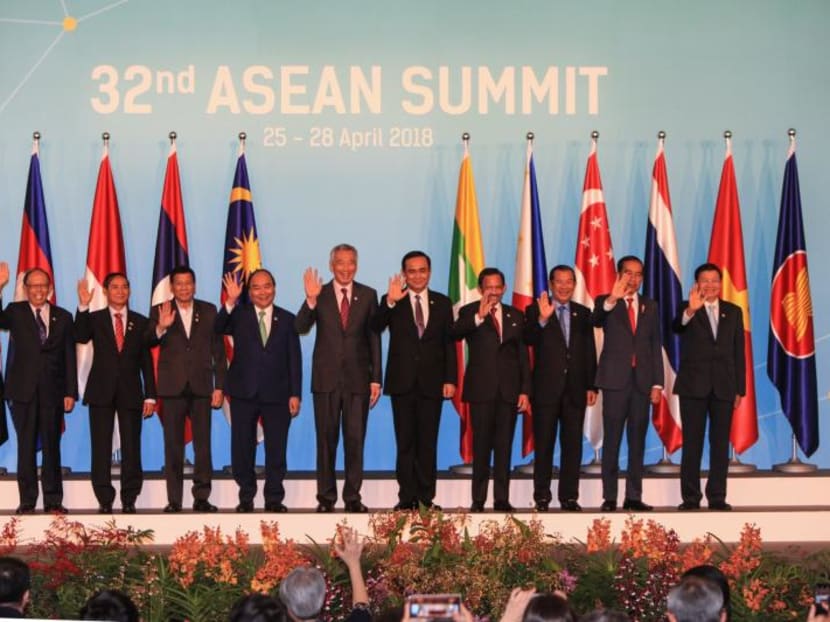 SINGAPORE — Foreign Ministers from the 10 Association of South-east Asian Nations (Asean) states and their regional partners will gather in Singapore from Monday (July 30) for six days of talks on key international developments and how to make the region more resilient and innovative.
In a statement on Sunday, the Ministry of Foreign Affairs (MFA) said Foreign Minister Vivian Balakrishnan will chair the 51st Asean Foreign Ministers' Meeting, as well as subsequent meetings involving Asean's various dialogue partners and the Asean Regional Forum.
The Asean Foreign Ministers will take stock of progress in regional cooperation and chart the way forward towards implementing the Asean Leaders Vision for a Resilient and Innovative Asean, said MFA.
"They will also discuss how to further strengthen Asean Centrality and unity, review Asean's external relations, and exchange views on regional and international issues." 
Asean's separate meetings with its dialogue partners  - Australia, Canada, China, the European Union, India, Japan, New Zealand, the Republic of Korea, Russian Federation and the United States - will focus on both ongoing and future cooperation while larger meetings involving some or all of these countries will also discuss "key regional and international developments and the evolving regional architecture", MFA added.
Singapore is chairing Asean this year, and has indicated that under its chairmanship, the grouping will focus on the themes of "resilience" and "innovation".
Asean watchers told TODAY that high on the agenda of this week's meetings will be a code of conduct in the South China Sea, denuclearisation of the Korean peninsula, trade tensions between the United States and China and the Rohingya issue in Myanmar.
"The elephants in the room are the same and the question is whether they (Asean member states) will go rogue or stay docile," said Mr Ong Keng Yong, Singapore's Ambassador-at-Large, in reference to the code of conduct in the South China Sea between negotiated by China and Asean and the issue of Beijing's militarisation of islands it has reclaimed in the strategic waterway.
He noted that the Asean meetings will be taking place amidst a looming trade war between US and China, with both sides slapping tit-for-tat tariffs on each other's imports, as well questions over the US concept of a free and open Indo-Pacific, geopolitical competition in the Indian Ocean and how China sees the East Asia Summit.
Whether discussions at the various Asean meetings will be contentious or smooth would depend on whether participating delegations take a constructive approach to the talks, Mr Ong told TODAY.
"In my opinion, no one in the room is prepared to take the hard decision to move a step ahead of the others in the room," he added.
"The main reason is that a big and unpredictable game is being played by those men in charge in the major countries which influence global and regional geopolitics," said Mr Ong, who is Executive Deputy Chairman of the S. Rajaratnam School of International Studies and a former Asean secretary-general.
"Asean cannot do much in these circumstances. It will be wonderful if Asean does not go under water."
Besides being Asean chair, Singapore is currently the coordinator for Asean-China dialogue relations, a role it has undertaken for three years and which it will hand over to the Philippines after this week's meetings.
China's claims in the South China Sea are contested by four Asean members - Brunei, Malaysia, the Philippines and Vietnam – as well as Taiwan.
The territorial dispute has divided Asean in the past, most notably in 2012 when the grouping failed to issue a joint communique for the first time in its history.
Tensions have eased somewhat in recent months. China and Asean agreed in August last year to adopt a negotiating framework for the code of conduct, a move they hailed as progress but seen by some critics as a tactic to buy China time to consolidate its maritime power.
Some Asean countries have said they want the code to be legally binding, while other negotiating parties do not.
Singapore's Defence Minister Ng Eng Hen said in June that talks on the code are progressing, but the issue is a complex one and will need the countries involved to accommodate one another's interests.
Dr Tang Siew Mun, head of the Asean Studies Centre at the Iseas-Yusof Ishak Institute, noted that with US Secretary of State Mike Pompeo making his Asean debut at the Asean Regional Forum, all eyes will be on what he says on the South China Sea issue.
"Will he do a "Clinton" to put the South China Sea issue at the forefront of Washington's regional engagement? What meat would he put on the barebones Indo-Pacific proposal?" added Dr Tang.
"In light of the brewing trade war with the US, China will be ready to respond forcefully to any perceived US interference in regional affairs."
The Donald Trump administration has touted its Indo-Pacific strategy as one that upholds the rights of countries and the rule of law, and promotes prosperity, but many have questioned what the policy actually entails. 
Dr Tang noted that it would also be the first Asean meeting attended by Malaysia's new foreign minister Saifuddin Abdullah and it is interesting to see what new perspectives Malaysia brings to the discussion on the South China Sea issue.
Prime Minister Mahathir Mohamad has said that Malaysia does not want "too many warships" in the South China Sea as they can "create tensions", hinting that the country could take a more muscular approach on the issue than the previous government.
Malaysia-China ties have come under the spotlight after Putrajaya said it would review mega bilateral projects such as the RM81 billion (S$27.44 billion) East Coast Rail Link.
Chinese foreign minister Wang Yi will visit Malaysia for talks before attending the Asean meetings in Singapore.
MFA said in a separate statement yesterday that Mr Saifuddin will make an introductory visit to Singapore from Monday and Tuesday and will call on President Halimah Yacob, Prime Minister Lee Hsien Loong, and Deputy Prime Minister and Coordinating Minister for National Security Teo Chee Hean during his visit.
Mr Saifuddin will also meet and be hosted to lunch by Dr Balakrishnan.