Asia's first baby born here using new slow-release fertility technique
SINGAPORE — The first baby in Asia conceived using a new fertility technique known as Evie Slow Release Insemination was born in Singapore on September 7.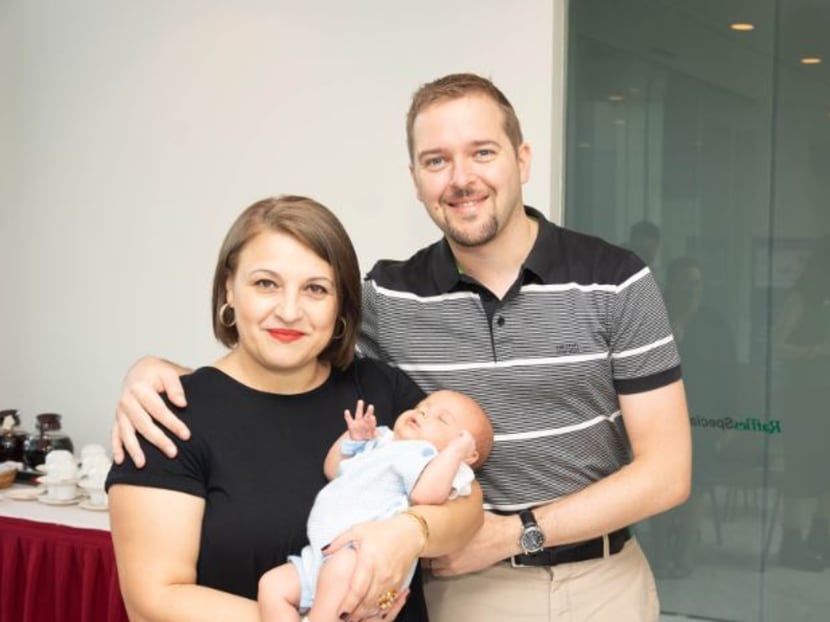 SINGAPORE — The first baby in Asia conceived using a new fertility technique known as Evie Slow Release Insemination was born in Singapore on September 7.
Now almost three months old, baby Damian Verheyen was conceived after his parents' long struggle with unexplained infertility.
When Damian's mother, Dr Fanija Panovska, who is in her early 40s, decided to try the new fertility treatment last year, she had already spent more than a year trying unsuccessfully for a second baby.
The medical practitioner from Macedonia, who is currently living in Singapore, had also gone through two failed rounds of standard Intrauterine Insemination (IUI), which involves placing prepared sperm directly into the uterus.
The Evie Slow Release Insemination, which was offered as a pilot treatment at Raffles Fertility Centre at the time, was Dr Panovska's last hope. She knew that age was not on her side and did not want to try in-vitro fertilisation (IVF) as it involved undergoing many hormonal treatments.
Evie is given in the same manner as IUI – through a catheter inserted into the uterus – but uses a device that delivers sperm to the uterus via a small mechanical pump over a period of four hours. This ensures that the sperm are available over a longer period, ready for when a viable egg is released during ovulation.
The Slow Release Insemination is the first major IUI development in the last five decades, and "an exciting new alternative to standard IUI", said Dr Seng Shay Way, a specialist in obstetrics and gynaecology and consultant at Raffles Fertility Centre.
During the four-hour treatment, Dr Panovska wore the small, discreet device on the thigh. She was able to perform light duties such as driving and walking, but was advised to avoid sudden vigorous movement, physical exercise and intercourse. Some patients may experience mild cramping but most report no significant discomfort or pain.
Raffles Fertility Centre is currently the only centre in Asia to introduce the Evie Slow Release Insemination, which was recently approved by the Health Sciences Authority for clinical use here, said Dr Seng.
Evie is currently one of the standard treatment options offered at Raffles Fertility Centre.
Associate Professor Tan Heng Hao, director of KKIVF Centre at KK Women's and Children's Hospital (KKH), said the Evie Slow Release Insemination is not performed at KKH as it is not an established fertility treatment.
Randomised controlled multi-centre clinical trials have shown that the slow release technique doubles the success of pregnancy when compared to standard IUI for women under 35, and costs less than traditional IVF. The mean pregnancy rate for conventional IUI is around 5.6 per cent per cycle, according to some studies, said Dr Seng.
"Some standard IUI cycles are thought to fail because the sperm (that is delivered to the uterus) misses the egg when it is released. (The slow release technique) increases the chances of sperm meeting the egg for fertilisation," said Dr Sheila Loh, consultant and specialist in obstetrics and gynaecology at Raffles Fertility Centre.
The technique decreases the risks of sperm discharging into the abdomen, through the fallopian tubes, and back into the vagina, said Dr Seng.
The slow and gradual process also reduces the risks of possible polyspermia, a process whereby too many sperm fertilise an egg, rendering it non-functional, he added.
Three out of 10 patients who have tried the Evie treatment during the pilot phase, from September 2017 to September this year, successfully conceived, said Dr Seng.
To date, two babies conceived through Evie have been born in Singapore, he said.
MORE 'NATURAL' THAN IVF
Infertility is a growing problem in Singapore. It is estimated that about 15 per cent of couples of reproductive age have infertility but some studies suggest the number may be as high as 20 per cent, as people are delaying having babies, said Dr Loh.
A woman in her late 20s has a one in five chance of conceiving every month, which decreases to 8 per cent if she is in her late thirties and is more likely to suffer a miscarriage.
For women aged 40 and above, the chance of conceiving each month is 5 per cent.
IUI is currently one of the most common first-line fertility treatments. About half of the patients undergoing fertility programme at Raffles Fertility Centre undergo IUI, which is viewed to be more "natural" by some patients than IVF, said Dr Loh.
IVF involves a process of fertilisation outside the body, in a laboratory.
According to Dr Seng, Evie may be recommended as a first-line fertility treatment for couples with non-tubal problems who are experiencing unexplained infertility, and women suffering from cervical mucus problems and endometriosis.
It is also suitable for men with mild infertility, who have ejaculation problems due to impotence or their partners' vaginismus (when involuntary muscle spasms prevent vaginal penetration), or retrograde ejaculation (where semen travels backwards to the bladder).
Dr Panovska was initially sceptical about the new treatment but now finds it "relatively painless and affordable".
She said she was fortunate that the Evie device was available in Singapore when she decided to undergo her third and final round of fertility treatment.
The Evie treatment costs around S$2,700 to S$3,500 per cycle at Raffles Fertility Centre, compared to S$15,000 to S$20,000 per IVF cycle. Standard IUI costs around S$1,800 to S$2,500.