Aussie bushfires: Tour agencies report no cancellations from S'poreans; may issue masks if haze worsens
SINGAPORE — Despite the bushfires raging around Sydney that have caused the air quality in Australia's largest city to be downgraded to among the world's worst, travel agencies here say tour packages to the area have so far been largely unaffected.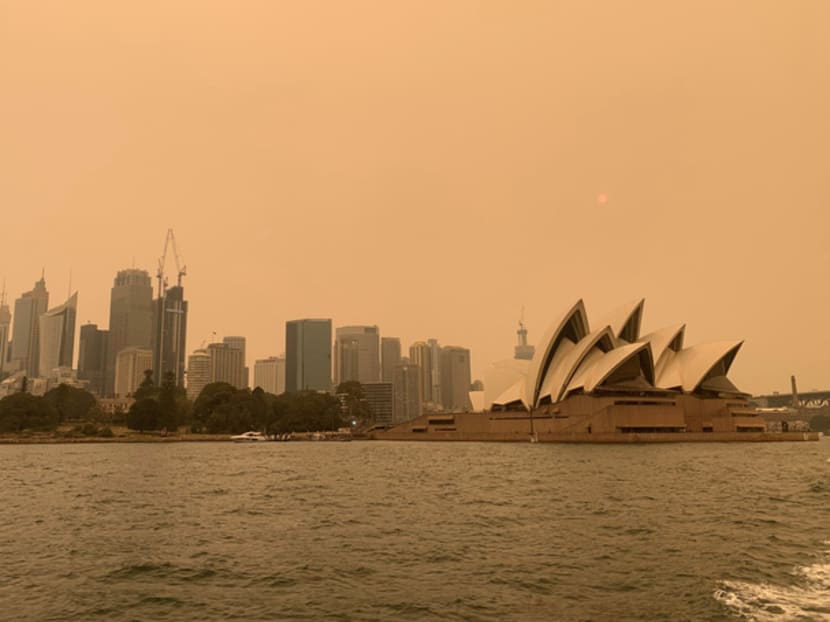 SINGAPORE — Despite the bushfires raging around Sydney that have caused the air quality there to be downgraded to among the world's worst, travel agencies in Singapore say tour packages to Australia's largest city have so far been largely unaffected.
But they warn that tour itineraries may be changed if the haze worsens, in a bushfire season shaping up as one of the hottest and most severe in years. One travel agency said it is ready to provide masks and restrict visitors to indoor attractions if necessary.
Over the past week, firefighters have been battling several blazes ringing Sydney, as unusually dry conditions led to a second wave of fires, following an outbreak in November, well before the official start of summer on Dec 1.
The bushfires have killed at least four people and destroyed more than 400 homes since the start of November, Reuters reported. It has left the harbour city periodically blanketed by smoke that can linger for days.
As of Sunday (Dec 8), there were 96 fires burning across the state of New South Wales, of which Sydney is the capital. About half of the fires were contained with more than 1,600 firefighters deployed to do backburning and create fire containment lines.
Several Singaporeans living in or visiting Sydney have said that though the haze, which comes and goes, is an inconvenience, they understand that Australian authorities are doing what they can to alleviate the situation.
Some also noted that due to the windy conditions, the hazy conditions are often erratic, descending upon the city and clearing up within a few hours.
FOR TRAVEL AGENCIES, THE SHOW GOES ON
Travel agencies told TODAY that they have not seen any cancellations to tours or travel plans there.
For STA Travel, which caters primarily to students, it is business as usual.
Ms Averil Lim, its marketing and product senior executive, said that the agency has not seen any change to the numberof students travelling to Sydney, or received complaints from customers there, or cancellations from those about to travel there.
Ms Alicia Seah, director of marketing and communications at Dynasty Travel,said that its Melbourne and Sydney tours, which last eight days, were not affected. Melbourne, about 900km southwest of Sydney, has been largely unaffected by bushfires so far this season.
Ms Seah said that none of the 20 travellers who had signed up for its Nov 29 to Dec 6 tour has cancelled or altered their reservations. The itinerary went on as planned over the past week, with the group visiting attractions such as the Blue Mountains, Sydney Harbour and Phillip Island.
According to Austalian news site news.com.au, at least one fire on Dec 1 had come "incredibly close" to the iconic three sisters — a rock formation in the Blue Mountains, which is about 100km west of Sydney.
"It is the year-end holiday peak season and we will continue to monitor the situation and advise our customers accordingly," said Ms Seah.
"Hazy conditions are (a) temporary impact and we will provide masks and change tour itinerary if necessary to stay indoors such as museums or retail shopping outlets."
Chan Brothers Travel has similarly received no requests for cancellations on its Sydney-bound tours, its marketing communications executive Victoria Chong said.
She added that the agency has taken the necessary stepsto keep customers informed of the situation in Australia.
The group tours will be accompanied by tour leaders who can provide round the clock on-the-road assistance, and travellers not on tours can contact a 24-hour hotline during emergencies, she added.
WEATHER ERRATIC
Singaporeans who have been living for years in Sydney for work or study said that the hazy conditions around the city have been erratic, with low visibility giving way to clear skies in a matter of hours.
Mr Oxy Ooi, a medicine undergraduate at the University of New South Wales, said that along with air quality, the air temperature would fluctuate aggressively.
"During the worst of the haze, the sky is just covered with smoke, and the sun is visibly red in colour," said the 24-year-old. "(Sometimes) there's a sudden spike in the temperature — it can be 23°C and then (suddenly) it becomes over 34°C."
"All of a sudden you feel very stuffy, and your throat is dying." The change could happen within a matter of hours, he added.
For many Singaporean residents of Sydney, the haze over the past month is unprecedented.
Mr Ooi said that there had been "no haze at all" in his last four years living in Sydney, while another Sydney resident Dinah Khair, who works as a physiotherapist, had not seen anything like it in seven years living in various cities around Australia.
Bushfires are common in Australia, but this year's fire season has begun much earlier than usual, with temperatures soaring regularly above 40°C before the start of the southern summer and high winds scouring the drought-parched landscape.
Mr Ooi said that he has had to skip outdoor activities, such as playing ultimate frisbee — which he usually does at least twice a week, over the past month when the haze was too severe.
Similarly, Ms Dinah, who is 29, has avoided outdoor activities as much as she can. She also drives to workinstead of taking public transport to avoid exposure to the haze.
Mr Asaad Fazah, 27, who arrived in Sydney on Sunday on a work trip, said that the skies around the city were clearand that the sun was visible.
He hopes to have an unobstructed view of some of Sydney's most popular landmarks.
"We will be doing a Sydney harbour cruise on Friday morning (Dec 13), where hopefully the sky will be clear. But we will see if there are any changes."