Authorities turn to public shaming of litterbugs, again
SINGAPORE — Litterbugs beware, the authorities are turning to public shaming again to get you to stop tossing your trash indiscriminately.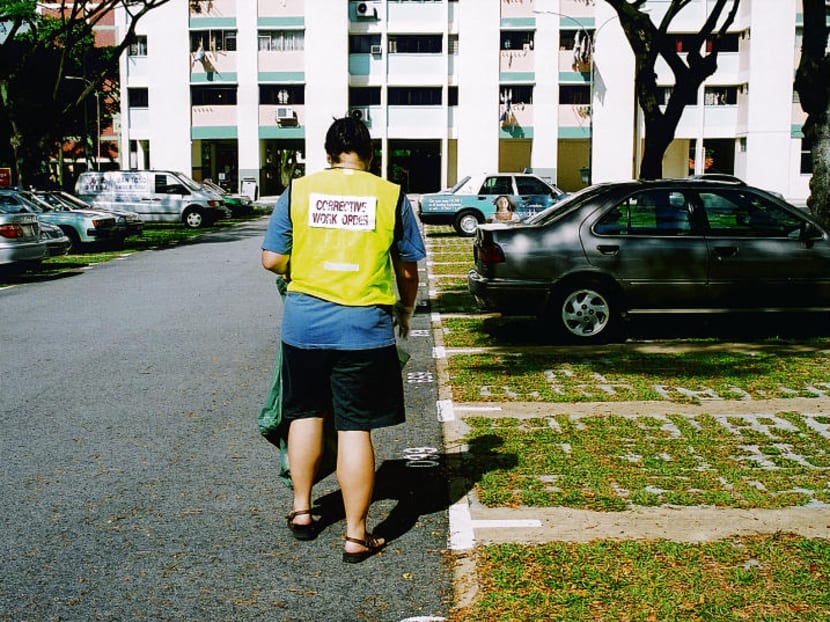 SINGAPORE — Litterbugs beware, the authorities are turning to public shaming again to get you to stop tossing your trash indiscriminately.
In the first half of this year, 318 Corrective Work Orders (CWO) have been imposed by the courts, surpassing the 261 in the whole of last year, figures from the National Environment Agency (NEA) showed.
CWO, a penalty added to anti-littering laws here in 1992, involves making litterbugs pick up trash at places with high human traffic, such as neighbourhood centres. The punishment is meted out in lieu of or in addition to fines, which were doubled in April.
Littering has been thrown under the spotlight again in recent months, partly because of a spate of killer-litter incidents, including one that caused the death in June of an elderly woman, three weeks after she had been struck by a bicycle wheel allegedly flung from the 14th floor of a building by a teenage boy.
The authorities have tried various measures in the past year or so to tackle this anti-social behaviour, including installing surveillance cameras to catch litterbugs red-handed and enhancing fines. They have also considered giving volunteer littering police the power to book offenders.
The authorities are out in force to punish litterbugs: From January to June this year, the NEA issued 9,271 littering tickets, nearly as many as the 9,346 issued in the whole of last year. In 2012, 8,195 littering tickets were issued.
Various solutions to tackle littering have been thrown up in the media, ranging from punitive — such as splashing litterbugs' faces on websites to shame them — to softer approaches, such as increasing education efforts. To the latter's end, a Keep Singapore Clean Movement in Schools to get students to take ownership of community spaces was launched last month as an updated version of the Use Your Hands campaign, which started in 1976.
In response to TODAY's queries, Mr Derek Ho, NEA director-general of the environmental public health division, said: "There is undoubtedly an element of public shame in being identified as litterbugs sentenced by the courts to perform supervised cleaning of public areas under CWOs."
The NEA added that only 3.3 per cent of offenders who had performed CWO in the past two years have been caught littering again.
Asked if it would be a bigger deterrent if litterbugs were made to perform CWO at more public and crowded places, general-secretary of the Singapore Kindness Movement William Wan said that as a "shaming approach, the more public, the better". However, he noted that CWOs alone will not be effective as they have other undesirable psychological consequences on offenders.
Instead, he noted that CWOs should be stepped up and sustained over a short period, so people get the message, after which other efforts such as education can be taken to tackle the problem.
Chief executive officer of the Singapore Environment Council Jose Raymond added: "Ultimately, it is still down to personal behaviour, community ownership and responsibility."
Both Dr Lee Bee Wah and Mr Liang Eng Hwa, chairperson and deputy chairperson of the Government Parliamentary Committee for National Development and Environment, respectively, also agreed that littering boils down to an attitude problem.
Dr Lee said: "When people are not socially disciplined (or) responsible, when people do not regard public areas as part of their own, they will be inclined to litter."
Noting that there are numerous dustbins scattered in public places here, president of the Singapore Institute of Planners Evlyn Cheong said it is not as if people have no choice but to litter. She also cited the example of Japan, where it is difficult to find a dustbin, yet people do not litter because they take pride in keeping their surrounding environment clean.
Singaporeans can be less civic-conscious, thinking that someone will clean up their mess, she said, adding that Singaporeans need to be mindful of the need to dispose of litter into a dustbin even in places where they cannot be found.