Authorities urge public not to share Preetipls video; police report filed against e-payment ad
SINGAPORE — The authorities have urged the public not to share a rap video that is currently the subject of investigations for its allegedly offensive content.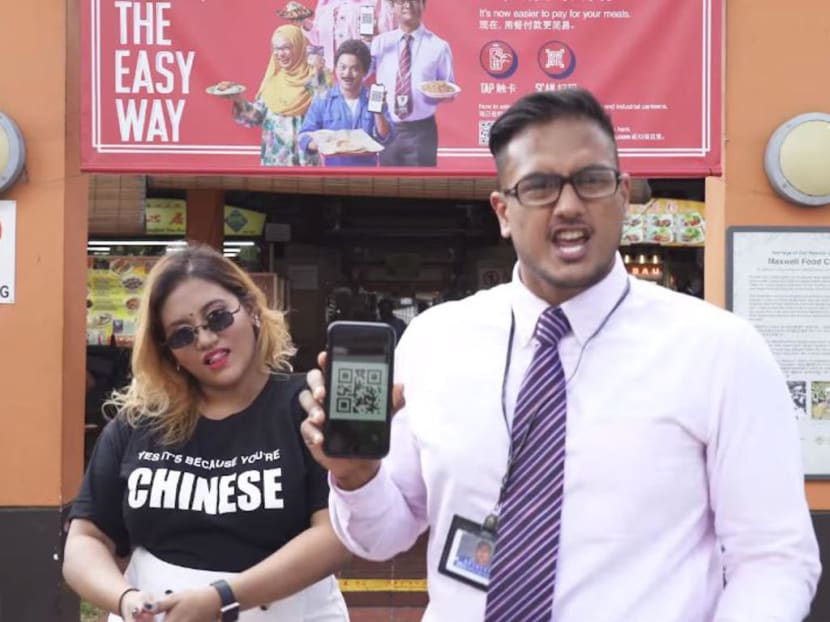 SINGAPORE — The authorities have urged the public not to share a rap video that is currently the subject of investigations for its allegedly offensive content.
The three-minute video features YouTuber Preeti Nair, better known by her username Preetipls, and local rapper Subhas Nair using four-letter words and vulgar gestures against Chinese Singaporeans.
"The Police and IMDA (Infocomm Media Development Authority) note that there has been an attempt to circulate and share the Preetipls video, which is the subject of Police investigations," police said in a Facebook post on Wednesday (July 31).
"Police and IMDA would advise members of the public to refrain from doing so."
Civil rights activist Jolovan Wham said on Facebook that he has received an order from the authorities to take down the video from his wall.
In the rap video, the Nair siblings had slammed an advertisement by Singapore electronic payments provider Nets, which featured artiste Dennis Chew dressed up as four characters, including a Malay woman and an Indian man. To portray these characters, Mr Chew's skin was made up to look darker.
On Wednesday, police said in response to media queries that a report has been lodged against the advertisement.
Mr Nabil Khairul Anwar, 25, a Public Policy and Global Affairs student from the Nanyang Technological University, told TODAY that he lodged the report as he believed that the publication of the advertisement has "seditious tendencies".
He added: "I trust that the Police will carry out the investigations in good faith."
On Tuesday, Law and Home Affairs Minister K Shanmugam said the video had "crossed the line" because it contained vulgarities directed at Singaporean Chinese and could turn minorities against the majority community.
TODAY understands that the police are investigating the case under Section 298 of the Penal Code, which covers uttering words with deliberate intent to wound the religious or racial feelings of any individual. It carries a punishment of up to three years in prison, or a fine, or both.
Wading into the issue, Workers' Party secretary-general Pritam Singh said in a Facebook post on Wednesday that it "usually is very difficult to find the sweet spot of equanimity" on matters concerning race and religion.
"It is for this reason a fair amount of understanding should be extended to the authorities to manage and pre-empt potentially problematic issues," he said.
"After all, different people have different thresholds on free speech."
Mr Singh noted that the "status quo on race and religion" in Singapore is a result of tolerance, compromise and give-and-take among different communities and racial groups.
"And the system — its safety valves and even perceived hair-triggers — play their part in keeping the peace," he said.
Describing his reaction to the e-payment ad as "non-pulsed", he said: "That is probably a reflection of my own threshold for what I consider to be distasteful or offensive or perhaps even how thick my skin is. But my lived experience is different from someone else's."
TODAY has sought comment from Nets.