Automated waste system will remain 'affordable', cleaners to get mandatory annual bonus
SINGAPORE — Some 40,000 cleaners who are citizens or permanent residents will be assured of higher wages under changes to the law passed on Tuesday (Oct 2).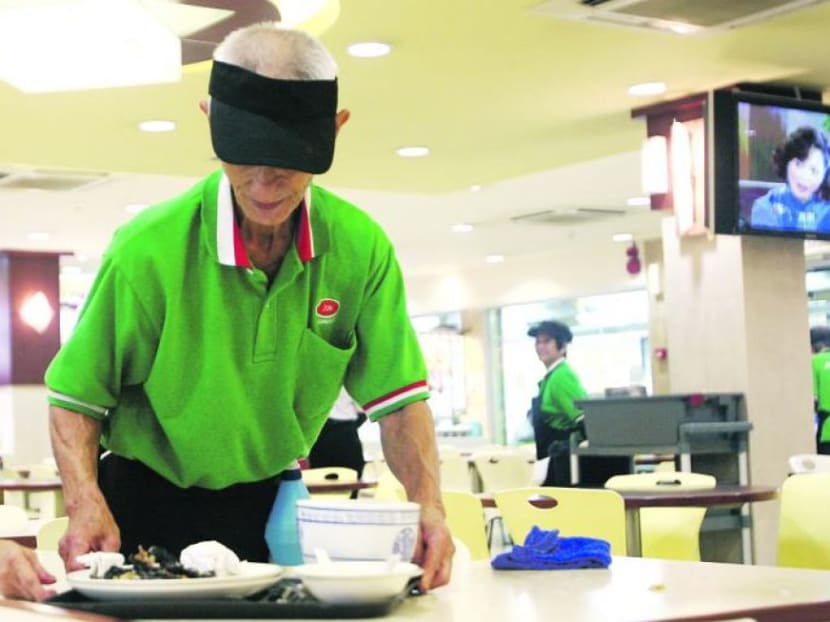 SINGAPORE — Some 40,000 cleaners who are citizens or permanent residents will be assured of higher wages under changes to the law passed on Tuesday (Oct 2).
The amendments to the Environmental Public Health Act also herald the wider roll-out of a waste conveyance system that will replace the need for cleaners to manually collect, and transport, rubbish from individual apartment blocks to a bin centre.
Members of Parliament (MPs) questioned Dr Amy Khor, Senior Minister of State for the Environment and Water Resources, on the cost of the pneumatic waste conveyance system for residents, as well as issues related to smells and chokage.
The pneumatic waste conveyance system — which may be deployed district-wide — works on an air-suction system that carries waste from individual buildings through a network of pipes. The waste is then collected from a central location.
Fees for residents will remain affordable in districts where it is implemented, Dr Khor said.
Assuring the House that the system is a "tried-and-tested" technology, she said the Government has to "balance short-term costs with long-term sustainability".
Even with 78,000 workers, cleaning and waste management companies are struggling to meet demand for their services.
Waste generation in Singapore has grown from 5.6 million tonnes in 2007 to 7.7 million tonnes in 2017, a 40 per cent increase over the last decade. The trend is likely to continue, Dr Khor added.
"Over the longer term, as (the pneumatic waste conveyance system) is used more extensively in Singapore, and with technological advancements, we can expect the costs… to decrease," she said.
"At the district level, premises will also enjoy more cost savings due to economies of scale through shared bin centres, air and ventilation equipment, and pipe networks."
Currently, more than 140 private residential and commercial developments are using the system, while new non-landed private residential developments with 500 units or more have been required to implement it since April this year.
The system was first rolled out at the district level to 38 retrofitted blocks in Yuhua estate in Jurong East in 2015. The first District Pneumatic Waste Conveyance System will be located at the future Kampong Bugis.
Laws are needed as private developers, on their own, are unlikely to come together for a district-level system, Dr Khor said.
The Government does not have plans to implement the district-level system nationwide in existing developments, or at landed estates.
"Let me also assure everyone, including residents of existing developments, that we will not declare a District Pneumatic Waste Conveyance System area lightly. It will be carefully and judiciously considered; we will work with the planning agencies, taking into account not only site and technical considerations but also costs. We will only do it if it benefits the residents, and cost will be a key consideration," Dr Khor said.
Twelve MPs took part in the debate. Mr Murali Pillai (Bukit Batok) and Mr Zainal Sapari (Pasir Ris-Punggol) asked about issues such as suction noise and the smell from choked pipes, which have been seen at Yuhua estate and cities overseas.
Dr Khor said that the developments in Singapore have only encountered "minor operational issues", and changes have been made when they crop up. For example, odour filters are now regularly replaced.
At Yuhua, the Housing and Development Board (HDB) introduced "acoustic mitigating measures and odour treatment solutions" to address noise and smell issues at the bin centre — which had to be located in the middle of the estate due to space constraints.
Learning points from Yuhua have been incorporated into upcoming projects. The bin centre at the new Tampines North HDB estate, for instance, will be located at the edge of the district, away from residents.
Residents should avoid throwing bulky or long items into the chutes, and signs could be put up to educate residents on proper usage, Dr Khor added.
BONUS FOR CLEANERS
Another key amendment to the Act: Making it mandatory for licensed cleaning businesses to pay their employees an annual bonus, under the Progressive Wage Model for the cleaning sector introduced in 2014.
The current minimum sum, recommended by the Tripartite Committee for Cleaners, is two weeks of the basic monthly wage.
Businesses will need to start doling out the bonuses from January 2020, and the Commissioner for Labour will specify the minimum amount, frequency of payment, and those eligible for it.
Some 40,000 resident cleaners may receive up to 4 per cent more in salaries every year with the bonus, Dr Khor said. Together with scheduled annual wage increments, their salaries could increase by up to 7 per cent each year from now until 2020.
On how the bonus will be enforced and how errant businesses will be flagged, Dr Khor said the National Environment Agency and Ministry of Manpower routinely inspect businesses' records, including ensuring that pay slips are issued.
Nee Soon MP Louis Ng asked if the Government would consider encouraging companies to adopt progressive wage principles for foreign cleaners and cleaners who are not directly employed by cleaning companies, such as those hired by food-and-beverage establishments.
Dr Khor said that the Government encourages employers to "adopt the key principles" of the model when paying such cleaners.
Sign up for TODAY's WhatsApp service. Click here: