Animal welfare groups hail authorities' nationwide push to sterilise stray dogs
​SINGAPORE — In a move welcomed by animal welfare groups, the authorities will embark on a nationwide effort to sterilise the bulk of about 7,000 street dogs in Singapore from the second half of next year.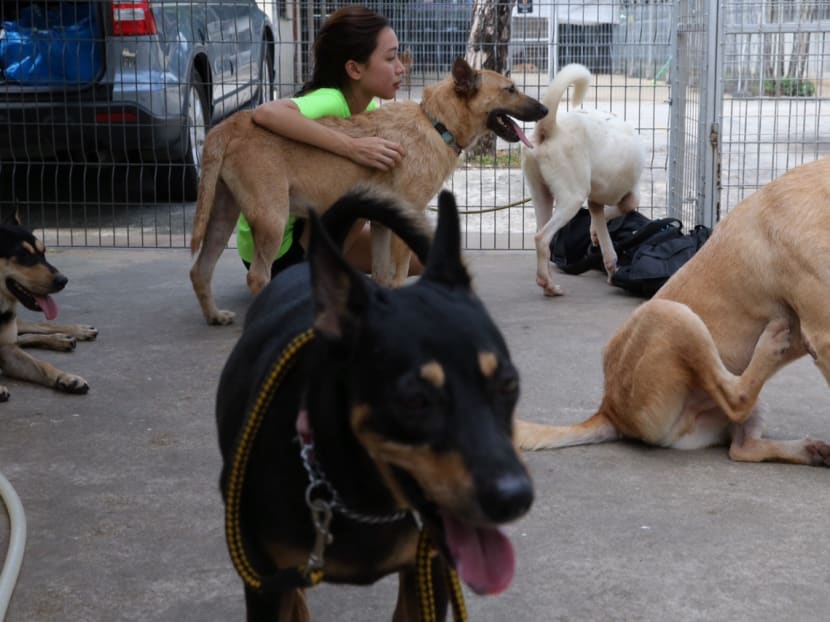 SINGAPORE — In a move welcomed by animal welfare groups, the authorities will embark on a nationwide effort to sterilise the bulk of about 7,000 street dogs in Singapore from the second half of next year.
The five-year programme will be funded by the Agri-Food and Veterinary Authority (AVA), with the support of 11 animal welfare groups such as Action for Singapore Dogs (ASD), SOSD, Animal Lovers League and Exclusively Mongrels.
The target is to sterilise more than 70 per cent of the stray dog population here, said the AVA. Based on scientific literature and modelling, this rate is needed to stabilise the population before it begins to decrease. 
The AVA's announcement on Thursday (Dec 21) was dubbed a "game changer" by Dr Jaipal Singh Gill, executive director of the Society for the Prevention of Cruelty to Animals, one of the participating groups.
For 30 years, various groups here have carried out sterilisation of stray dogs but efforts have not been large-scale or concerted, said SOSD president Siew Tuck Wah.
"We believe that this will be the turning point for stray animal management in Singapore," said Dr Siew.
Sterilisation costs are hefty for independent groups. AVA's funding would relieve groups of the cost of pre- and post-surgery care, as well as trapping of the animals, said president of Voices for Animals Derrick Tan. 
Hiring dog trappers costs between S$300 to S$600, while sterilisation costs about S$200 to S$300 per animal, with some vets providing subsidies, said co-founder of Animal Lovers League Mohan Div. 
Going by a back-of-the-envelope calculation, sterilisation costs alone of about 4,900 stray dogs – 70 per cent of the estimated population – would add up to about S$980,000 to S$1.47 million.
The AVA said it is working out the detailed costs of the initiative. "If stray dog numbers can be reduced in the long run, resources to be spent thereafter will be saved," said a spokesperson.
The AVA's budget for animal management operations in 2016 was S$800,000, said then-Senior Minister of State for National Development Desmond Lee in Parliament in February. Culling is a last resort, he said.
In 2015, the AVA euthanised nearly 2,500 animals – 942 dogs, 888 cats and 623 monkeys – National Development Minister Lawrence Wong said last year.
Under the new Trap-Neuter-Release-Manage programme, stray dogs will be humanely caught and sterilised and as many as possible will be rehomed. Those that cannot be rehomed will be released in "suitable locations" to live out their lives, said the AVA.
The animal welfare groups will help galvanise volunteers and stray feeders.
Mr Mohan said space to house the dogs temporarily could be a challenge, while ASD president Ricky Yeo said getting the buy-in of stakeholders such as stray feeders may be difficult. 
"The people on the ground, the feeders, are still suspicious of the government's real intentions, so the animal welfare groups will have to be the mediators, persuading them and rallying them to understand that this is for the greater good, that with this (programme), there will be much less culling or no culling in the future," he said. 
The results of current animal management measures show they have not been effective in reducing the stray population, added Mr Yeo. "Rather, it is just maintaining it. Rather than putting an expensive plaster on a festering wound, it is well-worth investing in a long-term solution, where tangible objectives can be met."
From ASD's experience with a similar Jurong Island project, Mr Yeo reckoned a combination of methods to trap the dogs would be needed, as the creatures wised up quickly to the use of cages.
The AVA, which began seeking feedback on the programme from the groups and vets in June, is in the midst of engaging them on operational aspects, such as areas that each group would oversee.
The programme will be "complemented by regulation of the pet industry to enhance traceability of dogs, control over import and export of pet dogs, licensing of pet dogs at source and tough penalties on pet abandonment", said Ms Jessica Kwok, group director of AVA's animal management group. 
"We would also like to assure the public that during the implementation of this programme, AVA will continue to safeguard public health and safety," she said.