A&W, Pokemon Center and Shake Shack draw queues on Jewel's official opening
SINGAPORE — For an 84-year-old granny, queuing for an hour can be an arduous experience. Fortunately for her, a stranger made the wait easier.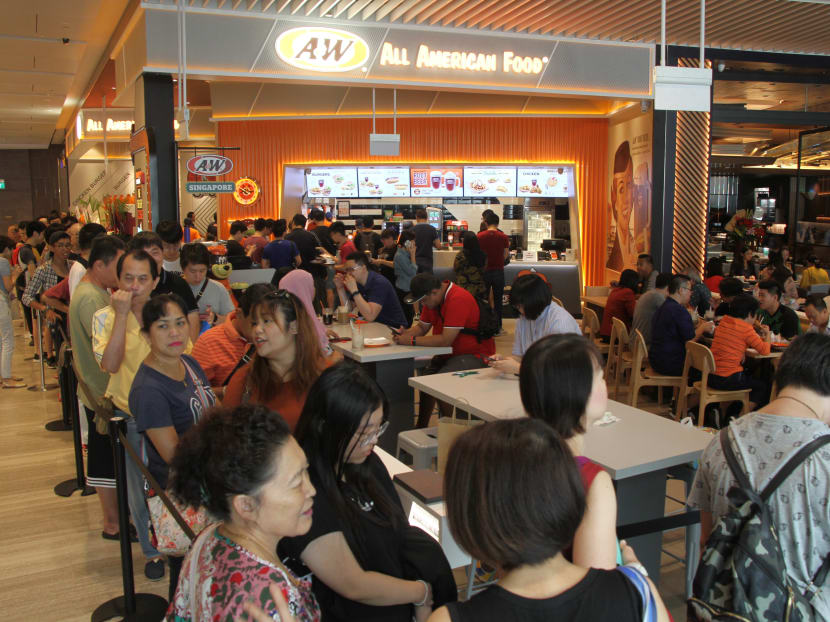 SINGAPORE — For an 84-year-old granny, queuing for an hour can be an arduous experience. Fortunately for her, a stranger made the wait easier.
"A very kind man stood up and offered me (his stool)," said Mdm J Lew.
Both were in the queue outside A&W at Jewel Changi Airport. The man, however, was better prepared as he came with a foldable stool in his bag.
"Ah Ma needed the stool more so I just lent it to her. It was nothing," said Mr Jimmy Neo, 26.
They were among the crowd who were at Jewel on its official opening on Wednesday (April 17).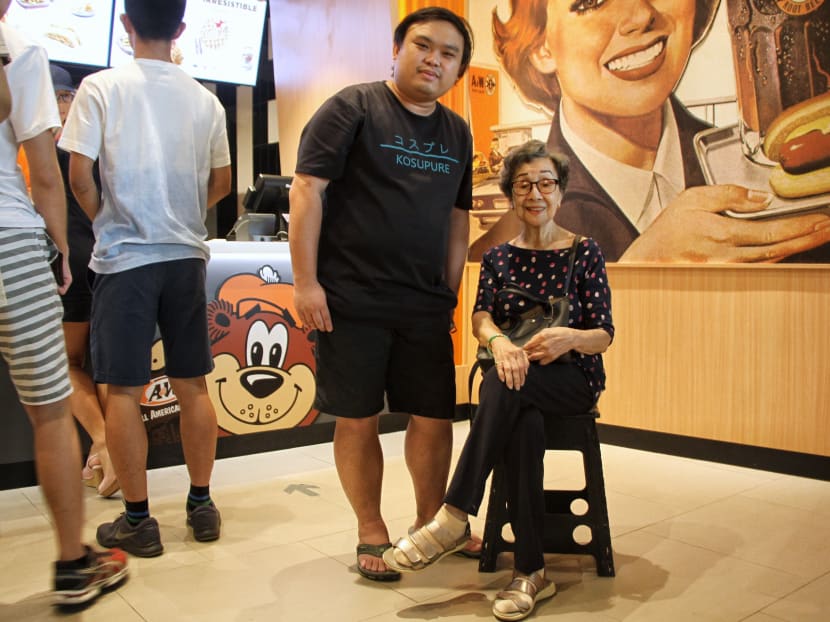 Popular brands such as A&W, Pokemon Center and Shake Shack saw snaking queues, with waiting times ranging from one to two hours.
It took Mdm Lew an hour before she was seated in the A&W outlet, and another 30 minutes for her food to arrive.
"I am here to reminisce those good old days, when Bukit Timah had the A&W drive-through many, many years ago," said Mdm Lew, who came alone.
For Mr Neo, he arrived at the airport at 10.30pm on Tuesday and stayed overnight at Terminal 1. He was the first in line at the Pokemon Center, when Jewel opened to the public on Wednesday.
However, he quipped that he was unable to purchase the limited edition Pokemon ez-link card, which sold out during the preview period.
"They (Pokemon Center) said they will restock, but I think I will only be back (in Jewel) the next time I fly out of Singapore," said the Bukit Batok resident. "Changi is too far to revisit."
Other early birds include Mr Justin Zheng, who arrived at the airport at 4.30am and was only allowed into Jewel's premises at 6am. He was the first person in the Shake Shack queue.
For foodie Watt Zhong Qing, 28, he arrived at Jewel at around 8am and was the fifth person in the queue at Shake Shack. The outlet opened at 10.30am.
"I am always hyped about new restaurants and cafés in Singapore. I have been keeping track of this (Shake Shack) since last year's announcement," said Mr Watt, who left his house at around 5.40am to catch the first bus.
"It was definitely worth the queue, worth the wait, worth the money and worth my time."
Apart from locals, Shake Shack's first outlet in South-east Asia attracted tourists, too.
Ms Gabrielle Hanusi, a 19-year-old undergraduate, touched down in Singapore at 9am and joined the queue upon learning about its opening.
"I am excited to try out the local menu, which you cannot find in other countries," said the fan of the burger franchise.
Another tourist, Ms Maria Neno, 22, thought that the crowd was "well spread out".
The Portuguese postgraduate student said: "The airport is impressive. In Portugal, or at least in all the airports I have been to, it is nothing like this."
A spokesperson from Jewel Changi Airport Development said that it worked closely with its tenants to "manage potential queues expected, including exploring spaces beyond the tenants' units that can be used as areas for queuing" in preparation for its official opening.
However, some travellers felt that there is room for improvement.
Media professional Wang Fei Fei, 33, from Beijing, China, hoped that Jewel will create more rest areas for passengers with long stopovers.
Mr Shahrizan Ihsan, 38, an executive from the Malaysian capital Kuala Lumpur, said he had not come across a flight-information monitor and suggested that Jewel could install more such screens to remind passengers of their departing flights.
To this, Changi Airport Group spokesman Ivan Tan said that Jewel's 140 store directories come with a flight-information tab.
He acknowledged, though, that "not many passengers are aware of this" and Jewel will do more to make this known to travellers via social media and by informing customers who use its early check-in facility. ADDITIONAL REPORTING BY KENNETH CHENG