Baby endured 10 tubes in prostate for cancer radiation therapy at KKH, done first time for a child
An 11-month-old boy from Vietnam is the first child to undergo a novel radiation therapy in Singapore to treat a rare cancer in his prostate
Called interstitial brachytherapy, it allows radiation to be delivered directly inside a tumour through plastic needles or catheters
Using this internal radiation method, surrounding healthy tissue is spared radiation's harmful side effects 
At one point, 10 catheters were inserted into the baby's tumour and left there over five days
The boy's mother said she came to Singapore because treatment options in Vietnam for babies with cancer are "limited"
SINGAPORE — When he is much older, little Nguyen Hai Dang could possibly tell of how brave he was when he was a mere 11-month-old baby.
While undergoing a new radiation therapy for a cancerous tumour in his prostate, his testicles were relocated for a while and 10 tubings were inserted into his prostate and left there for several days.
It was a sight that would make any adult feel faint. So how did this Vietnamese boy end up there on the hospital bed at KK Women's and Children's Hospital (KKH) in June 2020?
The first child of Madam Nguyen Hong Nhung, he kept vomiting after drinking milk, so she thought at first that he had acid reflux, where stomach acid flows backwards from the stomach to the oesophagus. Acid reflux is common even in healthy infants.
An ultrasound scan later showed that nothing was wrong with his stomach but it detected a kidney infection. This was caused by a tumour in his prostate, obstructing urine flow, the mother said.
The baby was later diagnosed with a rare type of soft tissue cancer called embryonal rhabdomyosarcoma of the prostate.
In an email interview with TODAY, Mdm Nguyen, 31, an accountant, recounted the shock and fear that she and her husband Nguyen Ngoc Sanh had gone through, from the time their only child was diagnosed to their desperate search for treatment. Mr Nguyen, 33, works in sales.
She said: "At the time, we felt hopeless. We could not believe that our three-month-old baby had been diagnosed with cancer."
They decided to have their child treated in Singapore after consulting with doctors in their home country. That was because treatment options in Vietnam for babies with cancer are "limited", Mdm Nguyen said.
When the Nguyens arrived in Singapore in late-2019 and stayed with a friend, they started Hai Dang on chemotherapy at National University Hospital (NUH) before he was later referred to KKH in June 2020 for consideration of surgery and brachytherapy.
The first Covid-19 wave peaked around that time and it complicated matters.
"What was difficult was that when he had a fever as a side effect of chemotherapy or an infection, he had to go to the hospital. There, he would be isolated and tested for Covid-19, which frightened him," Mdm Nguyen recounted.
For his cancer, baby Hai Dang underwent interstitial brachytherapy, which allows radiation to be delivered directly inside a tumour through a delivery device such as plastic needles or catheter.
This is unlike conventional external beam radiation therapy, which delivers radiation to an area of the body and which also often affects the surrounding healthy tissue.
FIRST CHILD PATIENT TO GET TREATMENT
Now three years old, Hai Dang is the first child in Singapore to have received interstitial brachytherapy for childhood cancer treatment.
He was only 11 months old at the time of treatment in June 2020.
A Singaporean girl, Kristal Yong, 12, is the second child to receive the internal radiation therapy for her cancer treatment, which took place last year (see separate report below).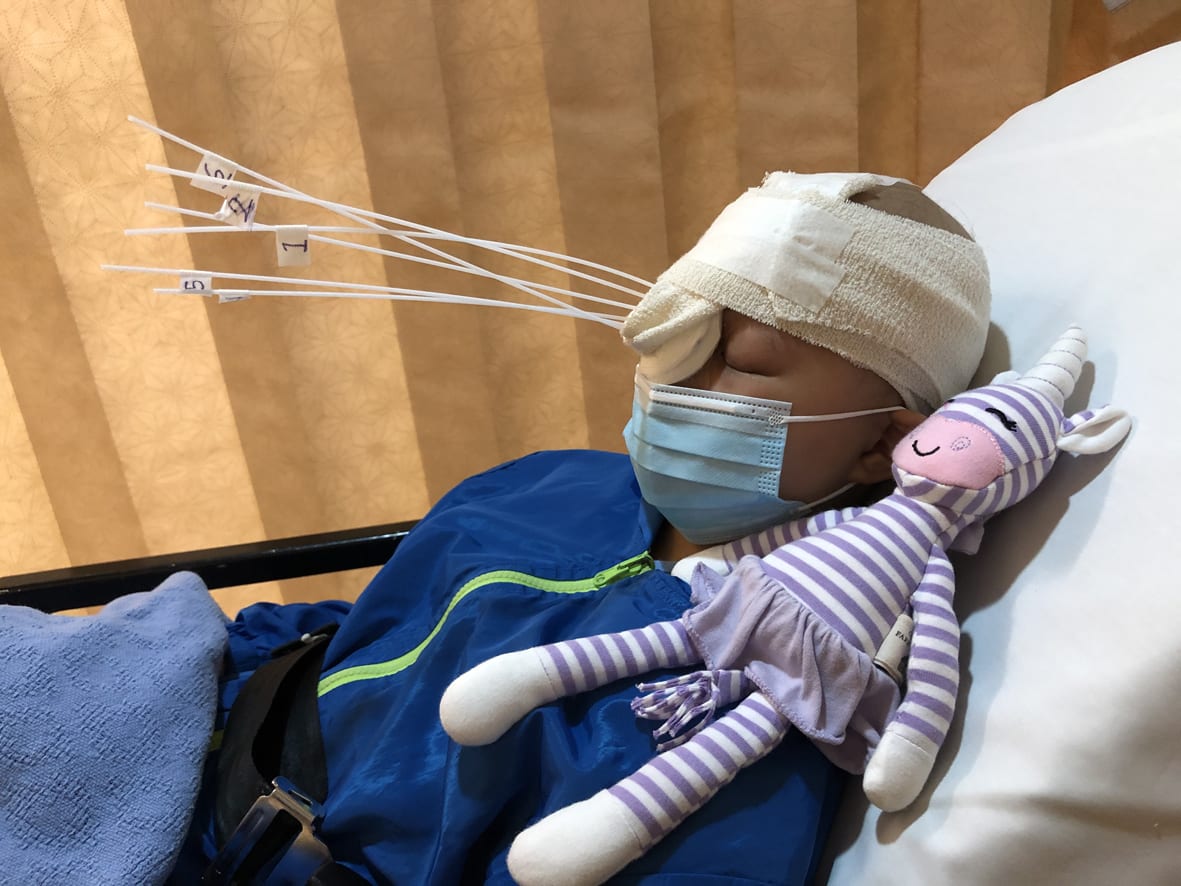 She also had rhabdomyosarcoma, but in her case, the tumour was in her right eye socket (called orbital rhabdomyosarcoma).
Both Hai Dang and Kristal are patients at KKH.
The hospital sees around 100 cases of childhood cancers each year, of which two to three cases are rhabdomyosarcomas.
Due to the complexity of Hai Dang's and Kristal's illnesses, their treatments were planned and carried out by multidisciplinary teams from public healthcare group SingHealth, including KKH, National Cancer Centre Singapore, Singapore General Hospital and Singapore National Eye Centre.
Evidently, there was some hesitancy at first for the parents.
"We were very worried because there had never been a case like Hai Dang before for this treatment in Singapore," Mdm Nguyen said, but she and her husband decided on interstitial brachytherapy because the internal radiation method would target the tumour directly, and there would be fewer side effects than conventional radiation. 
SPARING HEALTHY TISSUE
At a media briefing on June 21, Associate Professor Joyce Lam Ching Mei, a senior consultant at KKH's haematology-oncology service, said that an advantage of using the internal radiation method is that the patient's surrounding healthy tissue is spared the side effects of radiation.
"Traditionally, interstitial brachytherapy is performed on adult patients with prostate cancer or gynaecological cancers of the breast or cervix. But in highly experienced tertiary centres, brachytherapy is sometimes used on children," she said.
Assoc Prof Lam explained that due to the location of Hai Dang's tumour in the prostate, the team devised the treatment plan in the hopes of preserving the child's fertility while maintaining quality of life, as well as reducing the long-term impact on urinary function.
Mdm Nguyen said that the other proposed treatment option —involving surgery to remove the bladder — would severely affect her son's quality of life.
"It made sense for us to try (interstitial brachytherapy) before deciding to remove the entire bladder because it would affect his quality of life later on, especially when Hai Dang is so young," she added.
Dr Amos Loh from KKH, who is one of the doctors caring for Hai Dang, explained that the child would not be able to urinate normally if the bladder was surgically removed.
The senior consultant from the department of paediatric surgery explained: "He would require surgical reconstruction of a neobladder, which is a fabricated bladder fashioned from his own intestine, to store urine. (The urine) would then flow out via an opening on the abdominal wall.
"Often, also, erectile function is affected due to the erectile nerves being removed as part of surgery to remove the bladder."
The boy's testicles were moved back to the normal position in the scrotum, after his cancer treatment was completed. The surgery is unique to our paediatric oncology patients and not commonly performed.

Dr Amos Loh, senior consultant from the department of paediatric surgery at KK Women's and Children's Hospital
To preserve Hai Dang's reproductive functions from the harmful effects of radiation exposure, Assoc Prof Lam explained that the surgical team temporarily relocated the boy's testicles "as far away as possible" to the thigh area before radiation was delivered directly into the tumour.
Dr Amos Loh said: "The boy's testicles were moved back to the normal position in the scrotum, after his cancer treatment was completed. The surgery is unique to our paediatric oncology patients and not commonly performed."
The way in which interstitial brachytherapy is carried out can be daunting and frightening even for adult patients.
The catheters that deliver the radiation to the tumour are placed and temporarily stay in the patient's body during their inpatient treatment.
After a surgery to relocate his testes to the thigh, Hai Dang had 10 brachytherapy rods (or catheters) inserted — under general anaesthesia — into his tumour and left there for the entire duration of the treatment over five days.
To prevent the catheters from dislodging, the child's hips were immobilised in a cast.
Dr Enrica Tan, senior consultant at KKH's haematology-oncology service, who is also on Hai Dang's care team, said that painkillers such as paracetamol and morphine were given to help relieve pain and discomfort.
Hai Dang's parents were heartbroken to hear their baby crying during his treatments to express his pain and discomfort. 
"He cried a lot," Mdm Nguyen recalled.
"I also do not know how I made it through (the difficult days). It's all thanks to the love I have for my child."
His parents were counselled before the procedure to help them anticipate the caregiving needs.
Dr Tan said: "His mother who was the main caregiver was well-prepared and played a big role in soothing the child, helping to clean his perineum (the area between the anus and genitals) together with the nurses, deftly positioning herself to breastfeed him to comfort him while he was immobilised and lying down."
Over two years, Hai Dang's medical expenses came to about S$250,000, of which more than half was paid through money raised from crowdfunding, the Nguyens said, adding that they are thankful for the financial help. 
The sum was for bills paid to KKH and the initial chemotherapy treatments at NUH.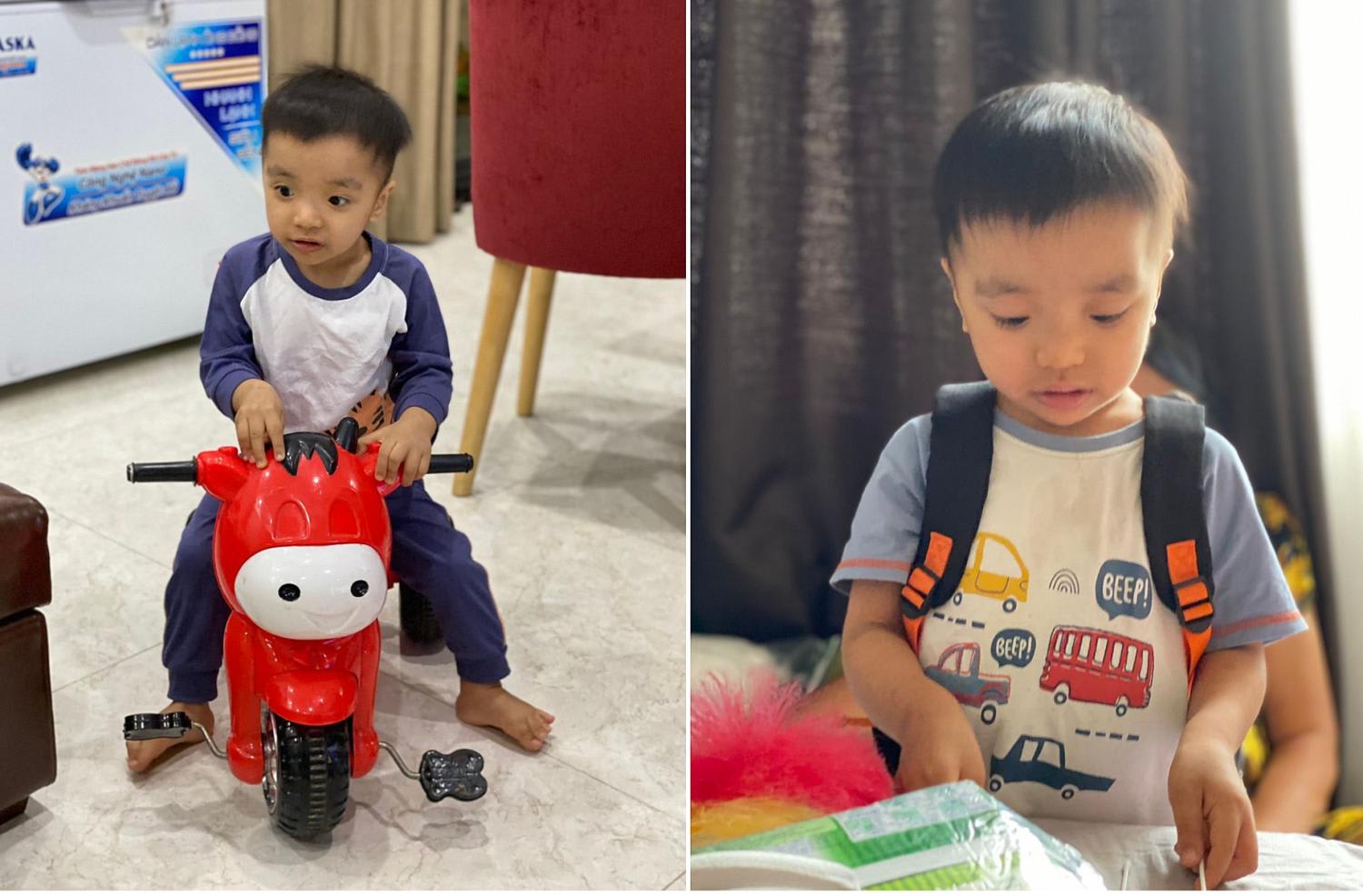 Hai Dang will be back in Singapore at the end of the year for a check-up. There have been no active cancer cells detected after the treatment.
Mdm Nguyen said that her son is now very active and likes watching cartoons and horsing around the playground.
"We hope he will always be healthy, grow up well and be happy by our side."
A CHANCE TO PRESERVE SIGHT FOR 11-YEAR-OLD GIRL
The second child to receive interstitial brachytherapy at KK Women's and Children's Hospital (KKH) for cancer treatment was Kristal Yong.
However, her case is the first time that interstitial brachytherapy is performed in a child with orbital rhabdomyosarcoma in Southeast Asia and Singapore.
Kristal's cancer was discovered after her parents noticed a small pimple-like but painless swelling near her eye.
Her mother, Madam Lim Hwee Ping recalled that she had to agonise over whether to let her daughter undergo interstitial brachytherapy or go for the more conventional external radiation method.
The 43-year-old homemaker said: "To be honest, we were not keen (at first). Our main concern was, was it safe for her?"
"Second, was the team confident enough to do it because we didn't want her to be a guinea pig.
"An experiment can fail, you can do another experiment, but she has only that one chance. I only have one daughter."
Mdm Lim said that they finally decided to choose interstitial brachytherapy.
"We just want her to have the best chance in life because she has a long runway," the mother said, adding that the doctors' dedication to Kristal's case gave her and her husband the confidence to go ahead with their decision.
In Kristal's case, Assoc Prof Lam said that interstitial brachytherapy was proposed because its advantage of reducing complications to surrounding normal tissue is crucial in preserving the child's sight.
Clinical Assistant Professor Kiattisa Sommat from National Cancer Centre Singapore (NCCS) said that this "concentrated way" of delivering radiation to a tumour would also minimise the risk of the patient developing a second cancer due to radiation exposure of normal tissue.
Assistant Prof Kiattisa is a senior consultant at NCCS' division of radiation oncology and one of the doctors involved in Kristal's treatment and care.
She added that interstitial brachytherapy is not widely available now because it requires a level of technical skills to place the radiation source into the area of treatment. The cost is dependent on the site of treatment.
When asked about the risks of interstitial therapy, Asst Prof Kiattisa said one of the things that could "go wrong" is during the process of inserting the brachytherapy catheters, which requires precision control.
"A difference of a few millimetres may mean injuring the optic nerve," she said, referring to Kristal's case.
Kristal's mother recalled breaking down in tears after seeing the brachytherapy catheters in her daughter's eye for the first time in February last year.
She had six plastic catheters inserted into the tumour in her right eye.
For a week, radiation doses were delivered at fixed times of the day.
"I was too shocked. I already mentally prepared (myself) but when I saw my daughter, I couldn't take it. I just cried until I could accept it," Mdm Lim said.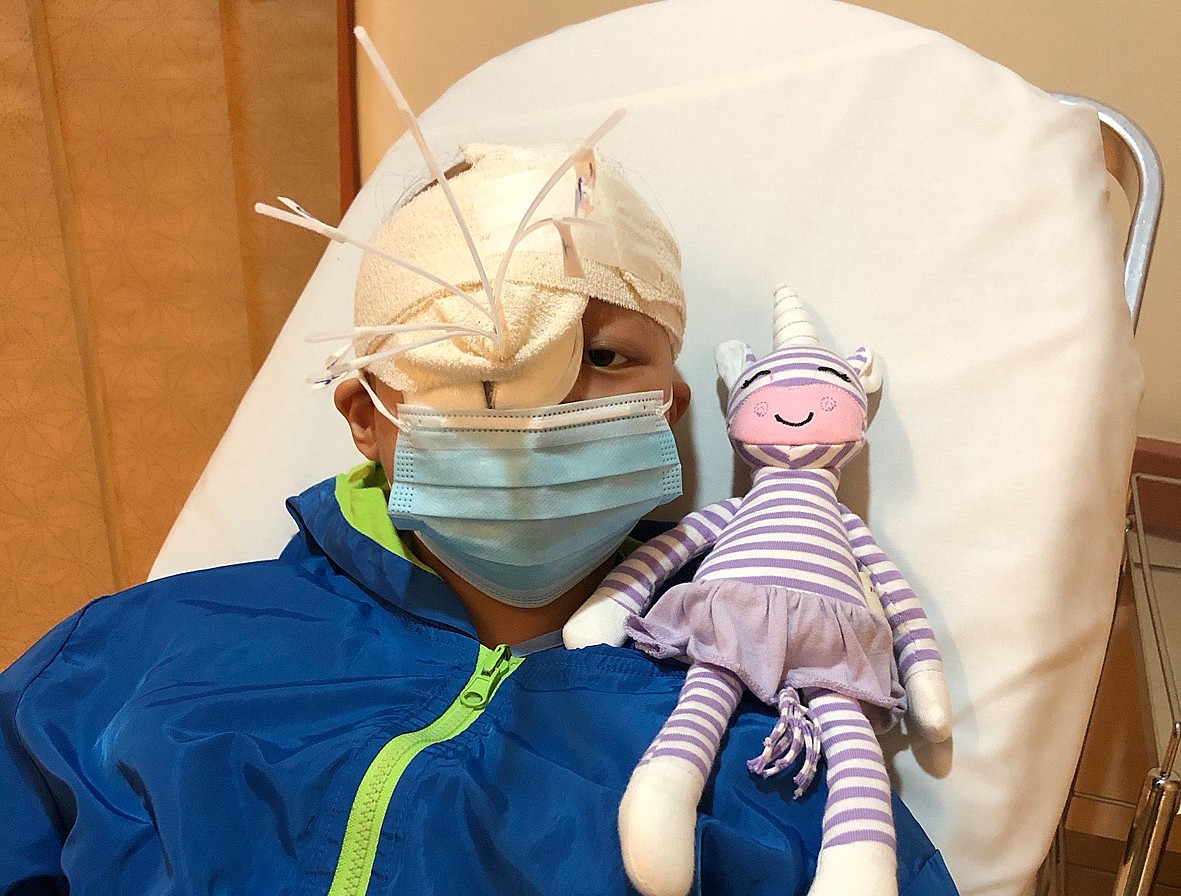 To avoid causing distress to Kristal, the medical team taped up mirrors in her room.
However, as the days went by, Mdm Lim said that she "got used" to seeing the catheters sticking out of her child's eye. Kristal's ability to adapt to the strange situation also made her feel more at peace.
"Kids tend to be more resilient than what we think they are," the mother said.
The girl, who had shown bravery and maturity beyond her years throughout her cancer ordeal, played games on her iPad while being confined to the hospital bed.
Kristal said: "When I'm scared (during my treatment), I'd play with the soft toy that my mother bought me."
Now back at school and with no active cancer cells detected, Kristal will be taking her Primary School Leaving Examination this year.