Baby likely suffocated to death after mother fell asleep breastfeeding him: Coroner
SINGAPORE — A 15-day-old baby likely died from suffocation after his mother fell asleep while breastfeeding him, but the state coroner has declared an open verdict because the medical cause of his death could not be determined with certainty.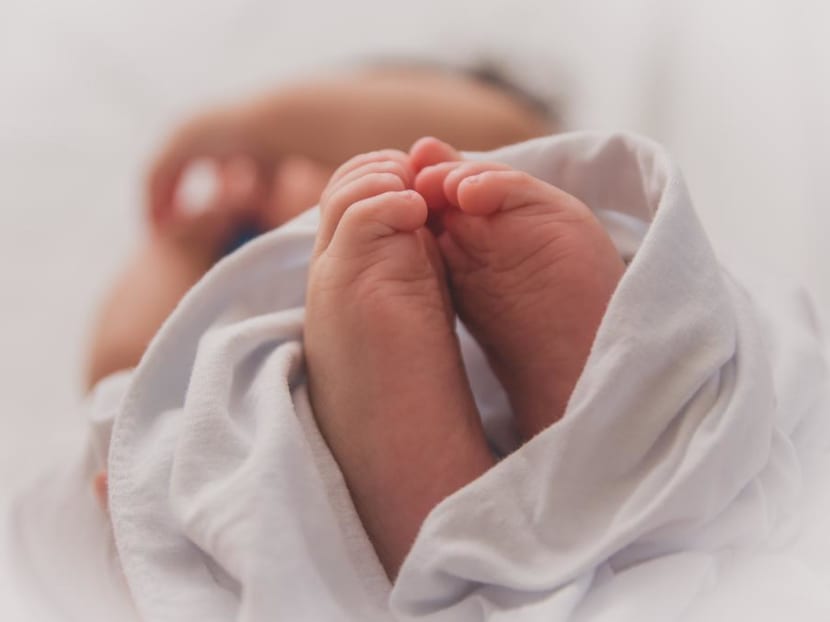 SINGAPORE — A 15-day-old baby likely died from suffocation after his mother fell asleep while breastfeeding him, but the state coroner has declared an open verdict because the medical cause of his death could not be determined with certainty.
In her written findings on Wednesday (Oct 2) following a coroner's inquiry, State Coroner Kamala Ponnampalam said that unintentional suffocation is a "known hazard of the side-lying method of breastfeeding".
This is when a mother lies on her side in bed and nurses her baby alongside her.
This method should be practised only if a third person is there to observe mother and child, the coroner added, referring to the testimony of a senior nurse manager at KK Women's and Children's Hospital (KKH), where the baby was born in August last year.
MUM LEARNT HOW TO BREASTFEED
The baby's mother began breastfeeding him soon after his birth by an emergency Caesarean section on Aug 17 last year. They were discharged from the hospital three days later.
She told the coroner's court that while in the hospital, she declined the nurses' offer to teach her how to breastfeed as she remembered how to do so from breastfeeding her firstborn child, a daughter, who was about one-and-a-half years old then.
The nurses also observed the mother breastfeeding the boy in KKH and saw that it was progressing well.
The mother said that she would tuck the baby under her arm, like a football, when she fed him. Alternatively, she would lie on the mattress side by side with the baby.
She learnt both methods in KKH after giving birth the first time. She also said that after giving birth to her son, she was often tired and would fall asleep with him in her arms while breastfeeding. The nurses would take the boy away after seeing this.
USUALLY ALONE WHILE FEEDING HIM
After being discharged from KKH and returning home, the mother continued breastfeeding the boy about six to seven times a day on average. Her husband would not be with them as he was busy taking care of their daughter.
Fifteen days after his birth, in the wee hours of Sept 1 last year, the boy cried to be fed and she began breastfeeding him using the side-lying method — the first time she had done so during a night feeding.
She carried him out of his crib, placed him on the bed on her left, and fed him using her left breast. Her left arm was stretched out above her head underneath the pillow.
She fell asleep while doing so. About an hour later, her husband got up to use the toilet, which woke her up.
When she moved her left hand to lift her son, she found vomit and bloodstains on the baby's swaddling cloth. His face was pale and there was vomit residue on his cheeks, as well as a bloodstain at his right nostril.
She immediately called for an ambulance and he was taken to Sengkang General Hospital in an unresponsive state.
When he arrived there, he was in critical condition and was not breathing. Resuscitation efforts proved futile and he was pronounced dead that morning at 5am.
SIDE-LYING METHOD NOT ENCOURAGED: NURSE
An associate consultant forensic pathologist with the Health Sciences Authority stated that she could not determine the baby's cause of death, following an autopsy.
In considering the circumstances of how the baby was found, she added that it was plausible that he suffocated when his mother fell asleep breastfeeding him.
However, the pathologist could not prove this based on autopsy findings as suffocation "may not be associated with any physical findings". She added that an infant could be suffocated when his nose and mouth is obstructed by pillows, bedding material or other people.
Ms Teo Puay Ling, the senior nurse manager at KKH, said that the nurses conduct regular breastfeeding classes before deliveries.
Nurses in the wards also teach the mothers breastfeeding techniques after they give birth, and give them general advice during their rounds every two hours.
After mother and child are discharged, they are given a breastfeeding booklet containing basic techniques. Hospital staff members will also contact mothers within three days of their discharge to check on them.
Ms Teo said that they do not encourage mothers to breastfeed using the side-lying method in order to avoid unintentional suffocation. Mothers may doze off when a relaxing hormone, oxytocin, is released during breastfeeding.
As some mothers recovering from surgical wounds may find this method more comfortable, Ms Teo said that it was important for another person to be there to put the baby back in the cot if the mother falls asleep.
Ms Teo added that KKH emphasises two breastfeeding techniques — the "football hold" position and "modified cradle hold" position where a baby is held in the crook of the arm opposite the breast from which he is feeding.