Being clear-eyed about risks of Lasik surgery
SINGAPORE — When she was 18, Ms Aza Wee Sile shelled out over S$2,000 to correct her 1,000-degree myopia. She was tired of wearing thick glasses that made her eyes look "microscopic" and battling recurrent eye infections from contact lens wear.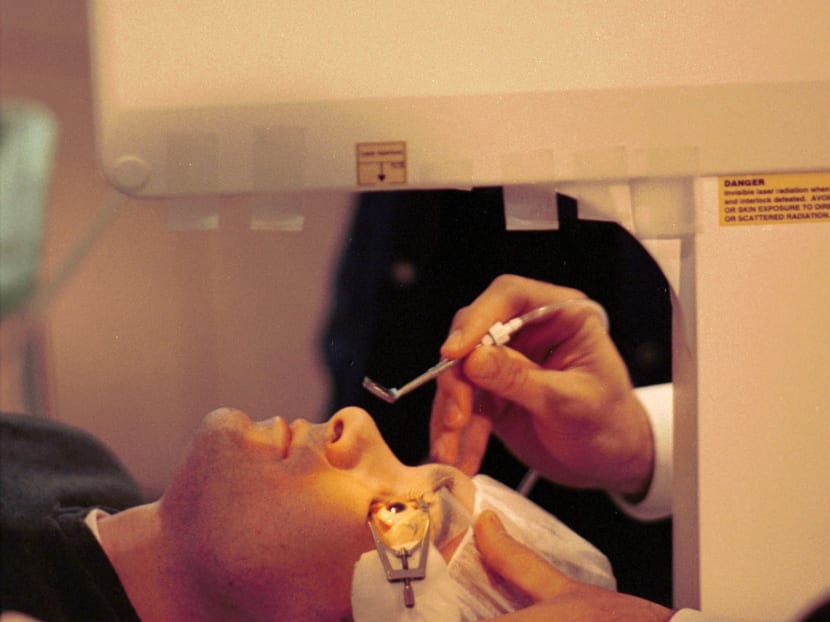 SINGAPORE — When she was 18, Ms Aza Wee Sile shelled out over S$2,000 to correct her 1,000-degree myopia. She was tired of wearing thick glasses that made her eyes look "microscopic" and battling recurrent eye infections from contact lens wear.
The Lasik surgery put an end to her severe shortsightedness but led to other vision woes. Right after the procedure, which permanently alters the shape of one's cornea, the clear covering of the front of the eye, Ms Wee developed night blindness and started seeing halos around light sources.
"I thought it was a temporary symptom after Lasik, like dry eyes. During my post-treatment follow-up, the doctor said it would go away but it did not," said the communications specialist.
A decade on, the 28-year-old is still living with the side effects. She has to be hyper-vigilant when driving at night and, three years ago, started wearing spectacles to correct her shortsightedness of over 200 degrees.
Post-Lasik woes have surfaced hand-in-hand with the approval in the late 1990s of the first excimer laser for Lasik eye surgery by the United States' Food and Drug Administration (FDA).
Since then, the procedure has become one of the most popular elective ophthalmologic procedures in the world. The global personalised Lasik surgery market is estimated to reach US$3.69 billion (about S$5 billion) by 2022, according to a new report by Grand View Research, Inc.
The Singapore National Eye Centre (SNEC), which carries out one of the highest volumes of refractive surgeries here, has conducted over 50,000 Lasik procedures in the last 20 years. There are no formal statistics on the total number of procedures performed across all centres in Singapore.
HOW SAFE IS IT?
While studies have shown that the surgery is usually safe and effective, fresh concerns about its potential risks, including impaired vision and chronic pain, were raised in a recent New York Times article .
One of the studies cited was a paper by the US FDA published in the JAMA Ophthalmology journal last year. It found that nearly half of the study participants reported new visual symptoms after surgery. About 28 per cent developed dry eye symptoms in varying degrees at three months.
Known post-Lasik side effects include dry eyes, halos and glare. They are often transient and improve over time, but may be permanent for some people, such as those with high levels of refractive error, large pupils or pre-existing poor corneal surface, said Dr David Chan, senior consultant eye surgeon and medical director of Atlas Eye Specialist Centre.
The more serious vision-threatening problems are infection and corneal ectasia (abnormal bulging of the cornea), which have been reported in a small group of patients here.
Dr Chan occasionally comes across patients seeking a second opinion, having developed corneal ectasia that requires a treatment, known as collagen cross-linking, to stabilise the cornea.
"However, this complication is becoming rarer with reported incidence as low as 0.04 per cent, due in part to improved diagnostic technologies and matured selection criteria," he said.
A 10-year study on 37,932 eyes of 19,753 patients who underwent Lasik from 1998 to 2007 at the SNEC reported eight confirmed cases (0.02 per cent) of post-LASIK ectasia.
All cases were done between 2000 and 2002 using a microkeratome, according to the study published in the journal Opthalmology in 2010. There were three confirmed cases of infection during the 10-year period (0.008 per cent). More recent studies or statistics are not available.
Optometrist Titus Wu sees approximately 30 patients with post-Lasik issues every year, some of them referrals by ophthalmologists. The consultant at Titus Eye Care has encountered some cases of de-centred ablation, a complication that occurs when the treatment zone is not aligned properly.
The majority of complaints involve less serious symptoms of dry eyes, blurred vision and regression, which can be addressed with simple eye lubricants and/or regular spectacles or contact lenses, he said.
At Mr Wu's specialised practice, an estimated 20 to 30 per cent of his patients who require intervention would have more complex issues where regular glasses or contact lens may not be able to help.
SIDE EFFECTS USUALLY TEMPORARY, EXPERTS SAY
Experts highlighted Lasik's high success rate and noted that most post-surgery side effects are temporary.
A 2006 Ministry of Health information paper that looked at Lasik surgery outcomes here found that success and safety rates in mild to moderate myopia patients across four centres here "compare favourably with those achieved by established international benchmarks".
The centres (National University Hospital, SNEC, Tan Tock Seng Hospital and Jerry Tan Eye Surgery) achieved excellent results with success rates (vision better than 6/12) exceeding 98 per cent. Safety rates exceeded 99 per cent.
The authors of the SNEC 10-year study wrote that the centre's data suggests that Lasik is safe and effective. Outcomes were comparable or even slightly better than other large, well-controlled international studies.
"There will be instances whereby patients are not happy with their Lasik results, but many patients do benefit from it," said Assistant Professor Mohamad Rosman, head and senior consultant at SNEC's refractive surgery department.
Dr Chan said the complications stated in the recent FDA study, such as dry eyes, halos and glare, tend to improve gradually after surgery. In the study, the follow-up period was for only three months in one group and six months in another but improvements can occur beyond those periods, he said.
"Crucially, in spite of all the reported side effects in varying levels of severity, less than 1 per cent of the subjects in the study reported difficulty performing activities due to symptoms, suggesting that the vast majority of patients' visual function had not been significantly impacted," Dr Chan added.
The risk of severe complications, which are rare to begin with, have gone down with newer technology, say experts. For instance, traditional Lasik using microkeratome blade is associated with higher rates of complications than newer bladeless procedures.
"We know Lasik better now. For instance, one of the feared complications back then was corneal ectasia… we now know that for certain people with certain corneal shapes or thickness, Lasik should not be done on them," said Dr Rosman.
The SNEC has not seen any post-Lasik cases of corneal ectasia in the last 10 years, or infection "in a long time", he added.
Patients should note that Lasik cannot account for changes that may occur to the eye as one ages, said Dr Chan.
Most patients Mr Wu sees had many years of good vision and improved lifestyles after their surgery before developing symptoms after a few years.
This was the case with one of his patients, Singapore-based actor and game show host Allan Wu, who underwent Lasik surgery 20 years ago in Los Angeles. The 46-year-old had more than a decade of good vision before it regressed about seven years ago. Besides power regression, he also has issues seeing well at night.
"My Lasik doctor indicated that this can happen over time due to ageing and our eyes changing," said Mr Allan Wu via email. He is not suitable candidate for another Lasik surgery and is currently undergoing orthokeratology, which uses customised cornea moulds to temporarily reshape the cornea, to correct his myopia.
WHO'S A SUITABLE CANDIDATE?
Thorough pre-op screening and evaluation is key to minimising Lasik complications. According to Dr Chan, this may take up to three hours and involves a dozen tests, none of which are invasive.
It helps eliminate patients who are not suitable candidates, such as those with very high levels of refractive error, large pupils or pre-existing poor corneal surface – these groups may be predisposed to long-term or permanent side effects, said Dr Chan.
About one in five patients Dr Rosman sees may not be suitable candidates for Lasik but may still be able to explore other options such as implantable contact lenses. About 2 per cent would not be suitable for any vision correction surgeries.
Collagen cross-linking, which was used as a treatment for post-Lasik ectasia, is now available as an add-on preventive measure for patients undergoing Lasik. It has been increasingly popular since 2012, and has the potential to improve safety and long-term stability, said Dr Chan.
However, there is currently no long-term data on its efficacy, said Dr Rosman.
He said about 10 to 15 per cent of Lasik patients may benefit from this add-on procedure. At SNEC, it costs about S$835 (with GST) per eye, on top of the price of Lasik surgery.
Both doctors cautioned against having the eyes lasered on the same day as the suitability assessment, during which the pupils are dilated.
"This makes it more difficult for the laser to track your eyes accurately during the Lasik treatment," said Dr Chan.
Patients should look for centres that can provide a wide range of refractive surgery options, said Dr Rosman.
Besides Lasik, other laser vision correction options include advanced surface ablation and Relex Smile, each with its set of advantages and limitations, said Dr Chan.
"Avoid centres that promote only one treatment type as 'the best'. There's no such thing as a single best treatment. What's more important is for the surgeon to recommend the treatment that suits the patient best," Dr Chan advised.
Lastly, Lasik patients should tailor their expectations of outcomes. Dr Rosman said the surgery can help do away with spectacles, but may not be able to help achieve "pilot vision".
"Understand that the aim of Lasik is to give the patient good vision without contact lens or glasses. For example, a residual result of 25 to 50 degrees is not 'perfect' but still an excellent result," said Dr Chan.
Despite her long-term side effects, Ms Wee does not regret her decision to undergo the procedure. "The results are not ideal but it is still better than living with 1000-degree myopia," she said.
Mr Allan Wu said people considering the procedure should not make hasty decisions. "I don't have any regrets doing Lasik. However, there are risks of complications, side effects and the long term efficacy of the treatment. Take the time to decide whether this irreversible treatment is for you," he said.
WHEN MORE COMPLEX REMEDIES ARE NEEDED
At optometrist Titus Wu's specialised practice, an estimated 20 to 30 per cent of his patients who require post-Lasik intervention may have more complex issues where regular glasses or contact lens may not be able to help.
"Depending on the corneal shape after surgery, regular contact lens may not fit well. And in more serious cases where corneal ectasia is present, there is a huge challenge to correct the vision as well as obtain a good lens that fit," said Mr Wu.
In some cases where all other options like eye drops, regular glasses or contact lens do not improve symptoms, prosthetic scleral lenses may be used as part of the management plan, he said.
Unlike regular contact lenses, it is a type of rigid lens that creates a tear layer to "smoothen" the irregular cornea and helps with vision symptoms such as glare, he said.
"The tear reservoir also helps address dry eye symptoms. The positioning of the lens can help patients whose cornea is too sensitive to support regular contact lenses, such as in instances of extreme dry eye or corneal ectasia," he said. Specialty lenses cost between S$1,000 to S$2,000 per eye, depending on the complexity of each case.
Patients should note that there are risks with every contact lens use. A good fitted lens and proper compliance are integral to minimising risks.