Benefits tagged to debit cards can help with savings
Even though credit cards usually get the most attention in credit-card-crazy Singapore, debit cards offer more benefits than you might expect and provide hidden advantages as well.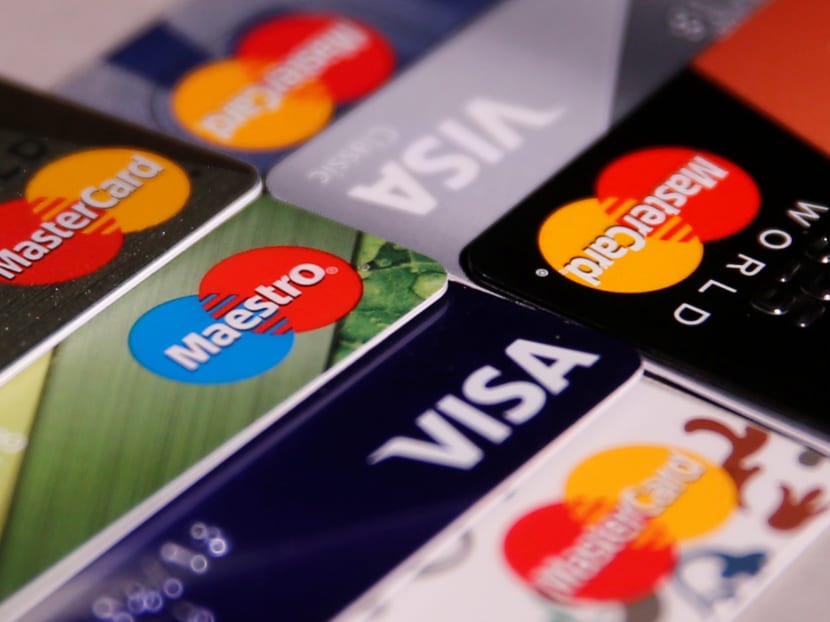 Even though credit cards usually get the most attention in credit-card-crazy Singapore, debit cards offer more benefits than you might expect and provide hidden advantages as well. Choosing the right one can help your finances.
In the past, debit cardholders didn't usually get the same perks and discounts as credit cardholders. To receive rewards points, 10 per cent off your meals or a slew of other benefits, you had to have a credit card.
Now, however, many debit cards offer very similar benefits. Debit cards from many banks offer discounts, reward points, cash back and more.
And realistically, there is not much difference in how you use a debit card or a credit card.
You may tap or swipe the card when you make a payment, online or at a store, and walk away with your purchase.
You may also use many of the cards for rides on MRT trains, payments with Apple Pay or Android Pay and taking cash out of the ATM here or abroad, sometimes with no withdrawal fees overseas.
The key difference is that for a debit card, you will be paying with your own money rather than paying later with the bank's money.
Read also
Credit cardholders get a bill each month and can pay all or part of it long after they make a purchase, whereas debit cardholders have to have money in their savings or checking account when they use their card.
For many people, that is an advantage. Rather than being tempted into spending more than they have and paying 28 per cent interest every year, debit cardholders cannot borrow and do not pay interest. They may well avoid unnecessary purchases, too.
While you can get plenty of benefits with debit cards, one that you are unlikely to see is air miles. In reality, though, the points or cash back on debit cards can be better than miles, since it can take spending of S$40,000 or more to get a short-distance economy class ticket with mileage.
DIFFERENT CARDS, DIFFERENT BENEFITS
It's a common question that people ask: "So, which one is the best debit card?"
There is no single right answer, since which card is best depends on your lifestyle.
It is important to look at the deals on some of the best cards then, so you can get the one that gives you great benefits you will use.
One popular card is the DBS Visa Debit card, which gives 5 per cent cash back when you tap for your purchases. You can get up to S$50 back a month as long as you spend at least S$400 a month, which can be easy here even with the bank's limit of S$200 a tap.
Another is the UOB Direct Visa Debit Card, which gives a 10 per cent "Smart$" rebate at many merchants and a 1 per cent rebate when you travel with Grab. You will get most of the same discounts as credit cardholders at restaurants, retailers such as Lazada, services such as ClassPass, and plenty of other merchants.
If you frequently use a PAssion card which is issued by the People's Association, you may want the free membership that comes with the PAssion POSB Debit Card. You will also receive a 4 per cent rebate at Cold Storage and Giant supermarkets if your spending exceeds S$400 a month.
Read also
With the OCBC Plus! Visa Debit Card, you will get a 4 per cent discount at NTUC FairPrice supermarket and a 3 per cent discount at FairPrice's online portal, as well as 3 per cent off at Popular bookstores or Cheers convenience stores.
One hidden gem is the Citibank Debit Mastercard, which automatically switches to different currencies such as Euro or pounds when you are overseas if you have an account in another currency. You will also get e-commerce protection for many online purchases, an 8 per cent discount on hotel bookings, and up to 20 per cent off at retailers and restaurants. Access to Mastercard perks worldwide allows you to buy benefits such as riding in a supercar along the Formula One circuit here or watching batting practice on the field at Yankees Stadium in New York.
Another surprise is the HSBC Debit Card, which now offers a 5 per cent rebate on rides with Grab and taxi operator ComfortDelGro, savings of up to S$35 on cinema tickets, and 8 per cent off hotel bookings. Perks change periodically, though, so you will need to make sure you get what you expect.
DECIDING ON THE CARD YOU WANT
These cards and others clearly offer a wide variety of benefits. The key question, then, is how to choose the right one?
The best way is to compare the benefits, figure out where you will use the card, and compare the total rebates or discounts you're likely to get. Your choice may vary depending on whether you shop at Cold Storage or FairPrice, travel overseas often, watch movies, use Grab or prefer other benefits.
Once you decide which card suits you best, you can open up an account at the bank if you don't have one already and get a card that allows you to start enjoying your privileges in about a week.
Whichever card you choose, you will get benefits you may not have expected simply by taking a close look at what the cards offer and getting one. You can save lots of money and get cash back, too.