The Big Read: Educators flag absentee rate of children of low-income families as a concern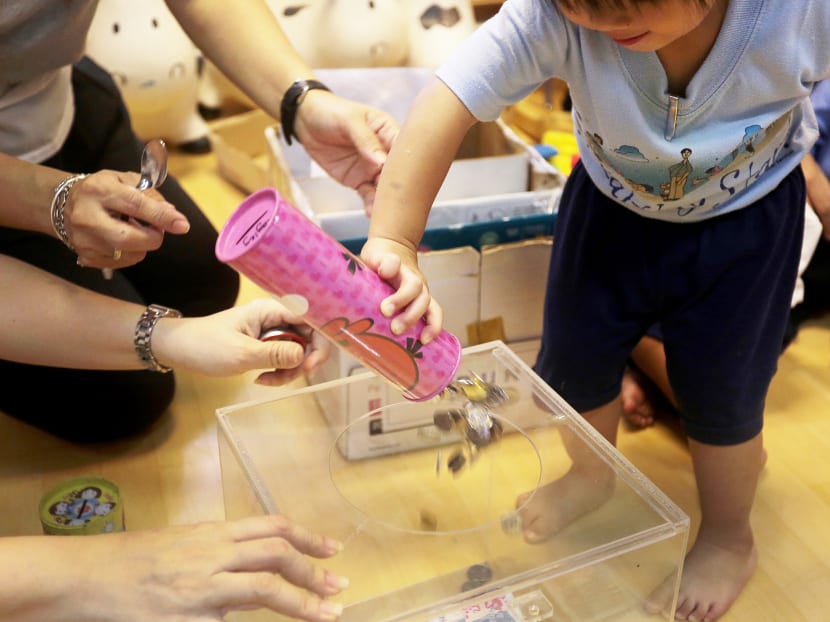 SINGAPORE — While there is almost full participation rate for pre-school education here — 99 per cent of children here are enrolled in pre-schools by the age of six for each cohort — the reality on the ground paints a different picture.
Educators and social workers say it is a challenge getting the children of lower-income families to attend pre-school regularly, with higher rates of absentism among these children despite the readily available financial support.
Due to the lack of exposure to the English language at home, the children are further handicapped in their learning, given their weak grasp of the main language of instruction, they said.
They added that the self-confidence of children might be affected when they find themselves lagging behind their peers. If their families face issues such as domestic violence or if a parent is in jail, the children could also develop behavioural issues.
With the middle- to high-income families increasingly sending their children for enrichment activities from a young age, there is also a growing concern that kids from low-income families would be left behind from a young age.  
Working with the community, the Early Childhood Development Agency (ECDA), pre-schools and voluntary welfare organisations (VWOs) have been tackling the problem with various initiatives including roping in neighbours to help bring the kids from low-income households to the pre-schools, and chip in with money for these families. 
Two years ago, Sharon (not her real name), who was then five years old, would be absent from her pre-school at Lengkok Bahru for weeks or months - at times, due to sickness or because her parents, who do shift work, have no time to bring her to school.
Her worried teachers discussed the situation with social workers and educational therapists attached to the centre.
The pre-school is experimenting with a multi-disciplinary approach under its Circle of Care project - to improve children's overall socio-emotional well-being and learning abilities.
Social workers started knocking on Sharon's door to explain to her parents on the importance of early childhood education. They also linked up the family with financial assistance schemes and job opportunities.  Her teachers and the educational therapists also discussed intervention strategies and held dedicated learning sessions for her. Their efforts paid off, as Sharon started attending Kindergarten Two regularly, and showed improvements in literacy and numeracy skills. Sharon entered Primary One this year. 
Care Corner social worker Geraldine Foo, who is leading the Circle of Care project, said:  "Often, lower-income households might be overwhelmed with other issues and don't see attending pre-school as a priority."
She noted that children from some of these families might only come to school in the afternoon, missing out on language and numeracy lessons in the morning. "Their academic abilities might also lag behind as they don't speak as much (English) at home and do not get as much stimulation in terms of books and toys," she said. Thanks to the Circle of Care project, the centre saw attendance rates increase from about 50 per cent to about 80 per cent. By the end of K2, learning intervention programmes have also resulted in nine in 10 of their children acquiring sufficient numeracy and literacy basics.
At another childcare centre, Beyond's Healthy Start Child Development Centre, more than 90 per cent of its children are from households in the lower income bracket. The centre started operations in 2007, and initially, the average yearly attendance rates hovered around 50 to 60 per cent.
The centre's home partnership coordinator Lim Shaw Hui said it soon saw the need to tap on the community to improve attendance rates.
Among other measures, it roped in neighbours to bring children who missed classes frequently to the centre, and to take them home.
The centre also holds bi-weekly tea sessions with parents. In 2013, it launched a programme where every child brings home a piggy bank. The children and their families will contribute to a common pool of money, which will be distributed equally to all the families every month.
Said Ms Lim: "There is this 'gotong royong' spirit to let families feel everyone is in this together to work things out…sometimes you contribute more, other times less but everyone shares in this."
Volunteers from international schools, tertiary institutions and companies also conduct daily activities for the children.
Over the last two years, the centre's average attendance rate has since gone up to 75 per cent.
"The lack of exposure to English and sometimes the lack of structures in the family contribute to the learning, social and emotional challenges of the children," Ms Lim said. "Having an understanding of the (children's) backgrounds…will enable the teachers to better appreciate the behavioural issues.. (and) be creative in engaging the children."
To help low-income families, the centre also hires the parents - as teachers or cleaners, for example - of children who are on its books.
Mdm Darshan Kaur, 41, works at the centre as a part-time cleaner. She said she has noticed an improvement in her five-year-old daughter's behaviour, which she felt might have been influenced by the marital problems between her and her husband. Her daughter would talk back to her in the past. "Now, she will always tell me not to worry and ask me why I am sad," said Ms Kaur, who converses with her daughter mainly in Punjabi at home. "She can also speak and read more confidently in English now."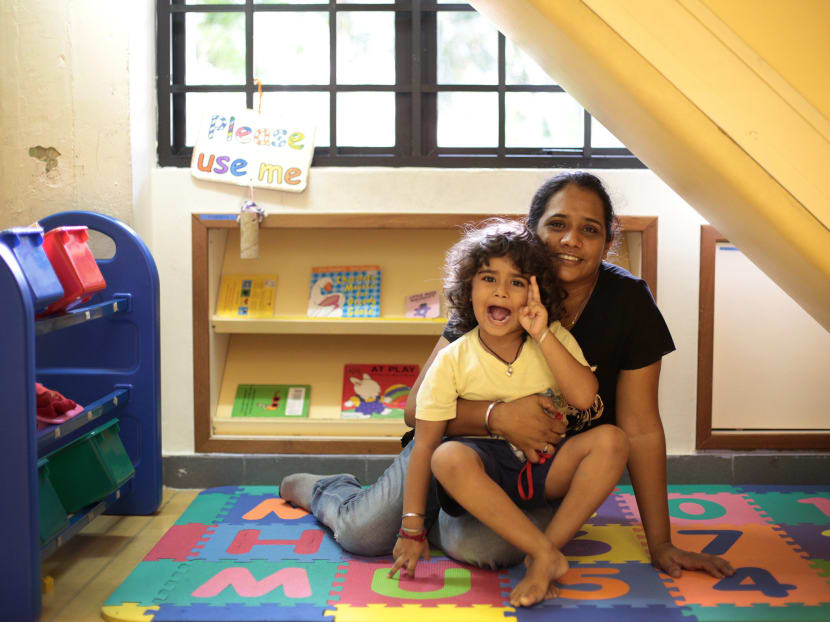 An NTUC First Campus spokesperson said it has about 1,500 children - or 16 per cent of each centre's enrolment - who are from lower-income households. She added that factors that affect these children's attendance rates include constant shifting of residence or big families with expecting mothers finding it difficult to send the children to school, for example. As a result, these children are not only unable to catch up academically, they could be affected socio-emotionally because they see their classmates sporadically, said the spokesperson.
NTU First Campus has programmes such as financial assistance schemes, and engagement initiatives to reach out to disadvantaged families.
At one of its pre-school in Sengkang West, children from disadvantaged homes - they make up about 30 per cent of its enrolment - used to go to school only two to three times a week. The centre's principal Sharmini Mohamed Sharif said the key is in getting parents to understand the importance of pre-school. "We involve (parents) in our programmes so they know what we do and how it makes a difference to the child," said Ms Sharmini, who added the centre deliberately use recycled materials in the children's craftwork so that the cost will not deter lower-income families from sending their children to school.
Another anchor pre-school operator, PAP Community Foundation (PCF), said that one-third of its children are on financial assistance schemes. "Whilst our centre encourage all children to attend school regularly, some of these children do have irregular or low attendance," said a PCF spokesperson. 
The factors include parents' lack of understanding of early childhood education, and social and medical problems. PCF centre closely monitors the children's attendance and tries to conduct house visits. It also enlists the help of social service agencies.
With greater awareness of the importance of pre-school education and higher subsidies, the participation rate has been on an upward trend.
Nevertheless, pre-schools serving lower-income families said the high participation rate is not reflective of the poor attendance rates of children from disadvantaged homes.
Responding to TODAY's queries, the ECDA said it works closely with grassroots and voluntary welfare organisations (VWOs) and the efforts have contributed to the high participation rate. It reiterated measures to improve the affordability and quality of pre-school options, including financial assistance schemes. Learning support initiatives such as the Development Support Programme which has been introduced in more than 300 pre-schools are also in place, ECDA said.
Pre-school experts and observers agreed that school fees today are no longer an issue for lower-income families, thanks to the wide range of financial assistance schemes. But they noted that while parents will enroll their child in pre-school, it does not mean they are coming to school regularly or on time.
There is a need for Government to intervene and put in more resources to ensure children from lower-income families are not left behind in their early developmental years, the experts and social workers said.
Among other things, they suggested more funding to sustain community programmes to help the child holistically through classroom intervention and outreach to families. Touch Community Services, for example, runs a five-session programme to provide pre-schoolers from lower-income households with simple reading skills before they enter Primary One. The programme's director Anita Low-Lim said that while the programme has been effective, funds are needed to expand it. She said: "You can see the children more confident in speaking after the programme…it is not just about the skills but they also are very happy to receive personalised attention that they might not be getting at home."
Another gap that has to be addressed is the transition between pre-school and Primary One where there is currently a lack of an official communication channel to share information on the child.
NTUC First Campus' Ms Sharmini suggested an online portal for pre-school teachers to upload a child's portfolio so that it can accessed by primary school teachers.
Early childhood expert Khoo Kim Choo said a seamless transition from preschool to primary school requires cooperation between all pre-schools and neighbouring primary schools, and policies need to be set at a national level for this to happen. For children-at-risk, preschools could submit a report on them to identify areas of and highlight their potential in non-academic aspects such as sports, she added.
Pre-school leaders noted the growing trend of affluent families sending their kids to expensive pre-schools or enrichment activities, and the increasingly pervasive use of technology in early years learning. Touch's Ms Low-Lim said: "A child from a poorer family has to catch up even more especially when the home environment does not have all these external influences."
Dr Khoo, who is a consultant to the Circle of Care project, said that for pre-schools to have a multi-disciplinary team to look after children from lower-income families, it could add to operation costs. As such, Government funding support would be required to encourage more pre-schools to have these teams in place, she said.
Primary school educators interviewed pointed out that given the rising educational levels, children who do not attend pre-school regularly will find it increasingly difficult to catch up.
An educator, who has been teaching lower primary for the last two decades, said she is still seeing children who cannot count up to ten when they enter Primary One. Most of these children subsequently end up in the foundation stream, she said. She suggested the Government make the final year of pre-school compulsory so as to equip children with some basic literacy and numeracy skills. However, Dr Christine Chen, President of the Association for Early Childhood Educators, said that making pre-school mandatory has to be exercised with caution because it would reduce the age at which formal schooling starts, and might intensify the pressure cooker environment here.
Instead, she urged pre-schools to raise their game by making their programmes more enjoyable for the children. "The children can be the ones to break this poverty cycle. If they are so motivated to go to school, which parent won't be moved?" said Dr Chen.
Agreeing, Dr Khoo noted that in the larger scheme of things, only a small minority of children do not attend pre-school here for a variety of reasons. Many families also face complex issues regarding employment, health and marriage, for example, which require a more comprehensive support to get their children to attend pre-school. "Mandatory pre-school implies that if you don't (get your children to attend pre-school), you get punished for it and many of these parents are already struggling with a lot of life's issues.  It is not necessary," Dr Khoo said.
The Lee Kuan Yew School of Public Policy's social policy academic Tan Poh Lin said that to ensure children, in general, attend pre-school regularly, the programmes have to be "of high quality and that parents appreciate the value (the programmes) bring to their children's education".
She also pointed out that the family unit plays the ultimate role in the development of a child. Instead of regulating parents' behaviour to get them to send their kids to pre-school, the Government can increase the parents' awareness of early childhood education or help them cope with challenges that they are facing, she said.
Dr Khoo stressed the importance of helping disadvantaged children from the start. "Investing on services in the early years… will save a lot of economic and social costs subsequently when the child fails to catch up in the later years (and) drop out of school," she said. "Early guidance and support would give the child a better chance of (fulfilling) his or her potential."