The Big Read: Far from people's minds, but food security a looming issue
SINGAPORE — In the eyes of many, Singapore is a food paradise.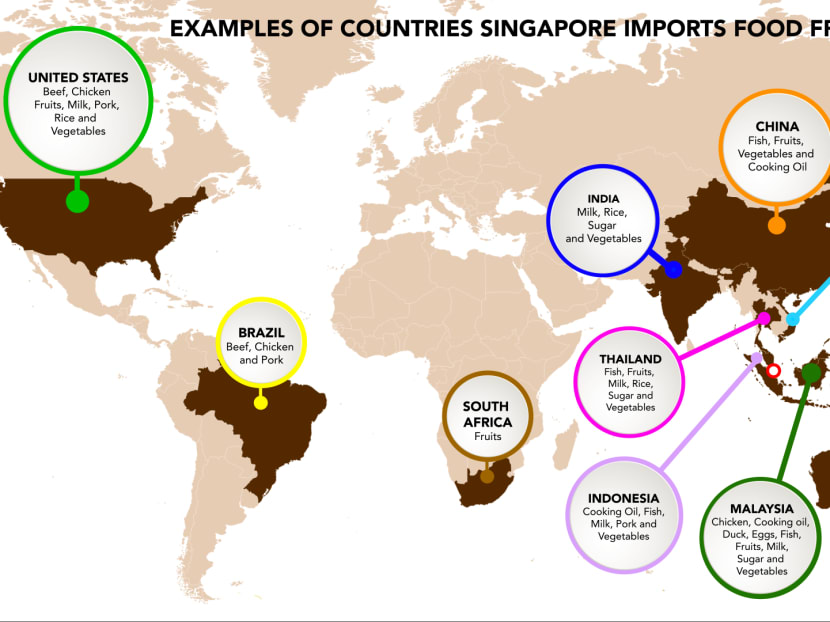 SINGAPORE — In the eyes of many, Singapore is a food paradise.
When hunger pangs strike, affordable food is readily available: Hawker centres, coffee shops, eateries, and supermarkets - chock full of fruits, meat, vegetables and all other kinds of food - dot the island, with many operating around the clock. One need not even step out of the house to get food, given the array of delivery services.
With such abundance of food - indeed managing food waste is a headache for policymakers - food security is probably the last thing on Singaporeans' minds. An irony, some experts noted, given that more than 90 per cent of the food needed to feed the Republic's population comes from overseas.
"Supermarkets are full of food… (but) Singapore (becomes) very vulnerable when there are major disturbances to the production of food," said Professor Paul Teng, a food security expert at the S Rajaratnam School of International Studies (RSIS). "In that sense, it's easy (for Singaporeans) to get a false sense of food security... If there is a big pandemic tomorrow, nobody can move (food) around, how is Singapore going to react?"
Earlier this month, the issue of food security came under the spotlight, when the Government announced that new plots of farm land with longer leases have been set aside to promote high-tech farming. National Development Minister Lawrence Wong noted that growing food locally is another way to enhance food security, apart from diversifying Singapore's food sources.
Food security has shot to the top of many countries' agenda in recent years, due to the havoc on farmlands caused by climate change, explosive growth of the middle class in Asia and the resulting spike in food consumption, as well as unpredictable geo-politics and international relations - to name but a few factors. Over the past decade, the Government has embarked on extensive efforts to diversify its food sources. As a result, Singapore today imports food from 170 countries, up from 160 in 2007, according to data from the Agri-Food and Veterinary Authority of Singapore (AVA). Over the same period, the number of countries from which Singapore imports fish increased from 70 to 80, for example, while the figure for fruit imports went up from 40 to 60.
Malaysia and Brazil are the top sources, with substantial supply from several other regional countries: More than a third (35 per cent) of Singapore's supply of chicken, 17 per cent of fish, 93 per cent of duck and 76 per cent of eggs come from across the Causeway. Brazil accounts for almost half (47 per cent) of Singapore's imported chicken, 30 per cent of pork, and 53 per cent of beef. Vietnam, India and Thailand are the major suppliers of rice to Singapore. In terms of fish imports, Indonesia (21 per cent) and Vietnam (20 per cent) are the other the main sources, although 77 other countries provide 42 per cent of Singapore's supply.
While Singapore's food security is not under any immediate threat, experts stressed the need for policymakers to start relooking its strategy - including ramping up domestic supply - in light of evolving global trends. While Singapore has a sound policy of building resilience in its food supplies, more needs to be done in an increasingly uncertain and volatile external environment, they said. "To talk about food security at (this) point in time without recognising (Singapore's) vulnerability is kidding ourselves," said Prof Teng, who stressed the need for better risk management by having key food sources that are more geographically diverse.
Policymakers will need to come up with new strategies, said Associate Professor Christopher Vas from Murdoch University. "They say, when things are not broken, don't try and fix it... But as things continue to evolve, bilateral relations might get tenuous, sources of supply could be challenged," said Assoc Prof Vas, who noted the risks of over-reliance on a country for one particular product.
THREATS AND CHALLENGES
In recent years, there was no shortage of global food scares and supply disruptions.
During the 2007 and 2008 global food crisis, which was caused by a myriad of factors including droughts and rising oil prices, Singaporeans had to pay more for food, as prices of imported food spiked 12.1 per cent on average. The authorities stepped in by reassuring the public that there was ample supply - including a two-month stockpile that rice importers are required to keep in government warehouses - and advised people against hoarding rice. Help was also on hand for less well-to-do families.
In 2014, prices of eggs rose when Malaysian farms were suspended from exporting eggs to Singapore after their eggs had been found to contain Salmonella Enteritidis — a bacterium that causes food poisoning. Most recently, Brazil was involved in a rotten-meat scandal in March, after its police found that major meatpackers had bribed health inspectors to keep rotten meat on the market.
Gradually, climate change and changing dietary preferences would tilt the balance of global food demand and supply, the experts said.
One of the biggest changes in the global food security landscape has been the dependency on trade for countries to secure their food supplies, noted Prof Teng, an adjunct senior fellow at RSIS' Centre for Non-Traditional Security Studies. "Even in the most secure countries like the US, they also import food. The reason is that no country produces everything it wants, mainly because the consumers, the society, has gotten more diverse in its demands for food," he said.
This is particularly so in countries where a middle-class population is growing quickly, he added.
Globally, more protein is being consumed by people. To meet this demand, countries have to import even more animal feed, such as corn and soybeans, from countries in the Western Hemisphere.
On the supply side, there is also declining land and water resources for farming - the latter partly due to contaminated water, and the longer dry seasons or late monsoons which are symptoms of climate change.
Farmers around the world are also growing older but not enough millennials are willing to take over the job.
"The net result is that, from year to year, we're not as certain of our food supplies as previously," Prof Teng warned.
Apart from health scares, RSIS research fellow Tamara Nair, who does work on food security and hunger in the region, pointed out that geopolitical tensions and developments in countries where Singapore import food from could disrupt its supplies and affect prices, given how inter-connected the world is today. "Any socio-political tension in one of our major source countries will inevitably affect us in one way or another. They might decide to temporarily stop exports for instance, which can affect our supply briefly, at least until we activate our other sources," she said. Neverthelesss, she noted that while there is rising protectionist sentiments, food trade is unlikely to suffer given that all countries benefit from it.
Apart from diversifying food sources, Professor William Chen, the director of Nanyang Technological University's food, science and technology programme, noted the need to uphold food safety as well through stringent regulations. In extreme cases, food imports could potentially be used as a weapon if countries let their guard down, he said. "It is very important that we can pre-empt rather than react," he said. This means developing new technology to detect suspicious substances in food, he added.
INCREASING ROBUSTNESS
Despite its high dependence on food imports, Singapore is regarded as one of the most food-secure countries around the world.
In the Economist Intelligence Unit's Global Food Security Index last year, Singapore slipped one position to third compared with the 2015 rankings. The index measures the affordability, availability, quality and safety of food in over 100 countries.
"There is plenty of food (in Singapore), because it is affordable... People have access to clean food, safe food and can eat more than three times a day if they want," said Dr Cecilia Tortajada, a senior research fellow at Lee Kuan Yew School of Public Policy. "The only way for Singapore to be unsecured (in food supplies) is if all trade fails."
Still, other experts including Prof Teng argued that Singapore's food security has to be measured more holistically, and take into account the Republic's ability to withstand disruptions to its food supplies.
Working with Syngenta Asia Pacific and Frontier Strategy Group, he helped develop the Rice Bowl Index which measures the "robustness" of countries' food security. Singapore fared poorly because it is unable to produce a significant amount of agricultural products domestically. "It is based on a concept of robustness, and what robustness means is the ability to withstand disturbances to your food security system," he said.
The global food crisis in 2007 and 2008 prompted the Singapore authorities to conduct a study to analyse the country's food supply resilience.
In recent years, they have conducted sourcing trips abroad and started the practice of overseas contract farming. An example was the Sino-Singapore Jilin Food Zone in northeastern China.
First mooted by Prime Minister Lee Hsien Loong and then Chinese Premier Wen Jiabao in 2008, the idea was for AVA to provide technical advice to the Jilin authorities to maintain a disease-free zone and subsequently, diversify Singapore's food sources by regularly exporting key food items to the Republic.
But the 1,450 sq km food zone – roughly double the size of Singapore – has been hit by delays.
An integrated pig farm was initially slated to start exporting pork to Singapore by the end of 2014 but construction works for the project only began last month. As the zone's first livestock project, it is expected to rear up to one million pigs, of which, some will be exported to Singapore.
Nevertheless, the initiative exported its first product to Singapore towards the end of last year, with the Fragrance 43ºN japonica rice being sold at FairPrice Xtra and FairPrice Finest outlets.
Responding to TODAY's queries, Mr Yeo Chun Cheng, Ascendas-Singbridge Group executive vice-president of sustainable urban development, said the integrated pig farming project will be developed in two phases and the first batch of pork is expected to reach Singapore by 2019.
Other ongoing projects include a processing plant for cheese-related products.
Mr Yeo said: "There is certainly no one-size-fits-all approach to tackling food security and safety, but we hope that the Sino-Singapore Jilin Food Zone will prove to be a strong component of that solution by promising to produce safe, sustainable and high-quality food for Singapore."
Farms here provide less than 10 per cent of Singapore's overall food supply - namely fish, vegetables and eggs. Some experts felt there is scope to double it.
To that end, AVA has also urged local growers to invest in technology to maximise their agricultural produce, which is meant to be a buffer when overseas food supplies are disrupted.
Earlier this month, the Government announced that it would be releasing 60ha of land in Lim Chu Kang and Sungei Tengah for farms to boost the local food supply. This comes as the leases of 62 farms in Lim Chu Kang will expire in 2019.
The Government's long-standing targets are for local farmers to provide 30 per cent of Singapore's supply of eggs, 15 per cent of fish and 10 per cent of leafy vegetables. But the farms here have so far fallen short on two counts: They are producing 24 per cent of eggs and 10 per cent of fish. Nevertheless, the target for leafy vegetables has been exceeded (12 per cent).
GOVT EFFORTS
Responding to TODAY's queries, Mr Melvin Chow, group director of AVA's food supply resilience group, reiterated that given its heavy dependence on food imports, Singapore is "considerably exposed" to global price and supply fluctuations, as well as persistent threats of food supply disruption and food contamination internationally.
The country is also vulnerable to global driving factors, such as population growth, rising urbanisation and incomes, climate change, disease outbreaks and scarcity of resources, he added. "These trends are intensifying, and their interplay is heightening food security challenges more than ever," he said.
To overcome these challenges, the AVA adopts three strategies: Food source diversification, internationalisation and local production.
Diversifying food sources would mitigate disruptions to food supply from a particular region, which can be caused by extreme weather and climate events. "By buying from many different sources, Singapore is better buffered against potential food shortages and price volatility," said Mr Chow.
AVA said it is constantly exploring new overseas sources of food, provided that their internal food safety standards meet its criteria. Some new food sources include Sarawak where Singapore has been importing frozen pork from since 2015. Other examples include importing quail eggs from Malaysia since last year and hen eggs from Thailand from this year.
By venturing overseas, local farmers can open up new markets and overcome the land constraints in Singapore. They can also help enhance Singapore's food security by, for instance, exporting their produce back to the Republic. Having our local food producers successfully operating overseas will strengthen our food security," said Mr Chow. He cited the examples two local farms which have gone to other countries to develop vertical farms: Apollo Aquaculture in Brunei, and Sky Greens in Thailand and China.
Turning to the local agricultural production in Singapore, Mr Chow said this remains an important aspect of food security and forms a "crucial buffer" should overseas food supplies be disrupted.
AVA has been working with farmers to raise production through modern practices and technology, improve productivity, manage animal diseases, monitor water quality and promote local produce to consumers.
Farmers can also tap on AVA's S$63million Agriculture Productivity Fund to modernise and invest in innovative technologies and advanced farming systems.
While these strategies have served Singapore well, Mr Chow said AVA will continue to "review current measures and develop new ones". "We recognise that understanding and building resilience to the effects of climate change is an on-going effort," he added.
MAKING FOOD SECURITY A PRIORITY
With local growers producing less than 10 per cent of Singapore's overall food supply, Assoc Prof Vas felt that farms here can meet up to 20 per cent of the country's needs. While raising domestic agricultural produce would strengthen the country's food security, the authorities need to also take into account the farmers' business considerations, said Assoc Prof Vas, who is the director of the Singapore Centre for Research in Innovation, Productivity and Technology.
Adequate leases are needed to give farmers more certainty and this in turn, would enable them to invest in research and development, he added.
"I don't think we've maximised our (potential) at all and for the longest time, Singapore has been dependent on the supply chain," he said, adding that Singapore is a perfect laboratory for agri-tech ventures.
Beyond national strategies, Dr Tortajada said that attitudes have to change as well, in order to enhance Singapore's food security. Citing the problem of food waste, she called for more investments in public education. "(Food wastage) is putting more pressure on the planet, in terms of land and water and you pollute more to bring food to the people who will throw it," she said.
Last year, Singapore generated 791,000 tonnes of food waste. Of this amount, only 14 per cent was recycled.
Some experts pointed out that Singapore faces similar vulnerabilities when it comes to food and water. And while both are considered strategic resources critical to national security, there appears to be greater impetus from the Government to strive for self-sufficiency in water.
Others, such as Dr Nair and Prof Chen, however, pointed out that the approach has to be different, Unlike water, there is a variety of food items, they noted.
"How would you use the same policy as you would with water when you are dealing with so many different sources and the commodities are so varied?" said Dr Nair. Still, Prof Chen added: "But for food, we really take (it) for granted. There's so much wastage."
Going forward, Prof Teng argued that food security should be given the same priority. "Singapore securitised water... many, many decades ago... (But) with food, I would argue that we have not securitised food at all," he said.