The Big Read: Join the rat race? Youths would rather pound the books first
SINGAPORE — Despite having five internships under his belt before he even completed his bachelor's degree, Mr Nicholas Eng found himself at a loss about what to do when he graduated in July this year.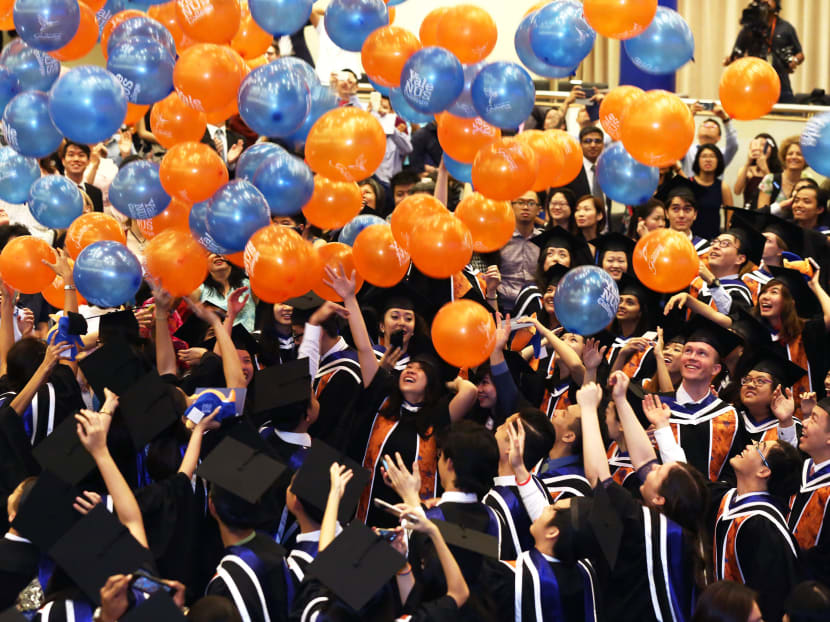 SINGAPORE — Despite having five internships under his belt before he even completed his bachelor's degree, Mr Nicholas Eng found himself at a loss about what to do when he graduated in July this year.
The communications graduate from Nanyang Technological University (NTU) then hit upon an idea: Why not figure it out by continuing to study?
Mr Eng, 25, is now pursuing a master's degree in communications in the United States on a teaching assistantship, and has his heart set on a career in academia. "My dad told me that he thought (getting a master's degree) was a good idea because the job market in Singapore is quite abysmal," he said.
When she was 23 years old, Ms Jocelyn Neo decided to put off entering the workforce after completing her mechanical engineering degree at NTU, as she wanted to gain more knowledge and skills in the field. After getting her master's degree in the same subject, the 26-year-old is currently working as an aerospace engineer at ST Engineering.
Ms Neo and Mr Eng are among the increasing number of young Singaporeans furthering their studies for various reasons: The desire to learn more specialised skills, or secure a better job and higher paycheck, or simply spending the time constructively while figuring out their next step.
Some decide to go back to the books, after having a taste of the working life and realising they ought to switch fields. One of them is Ms Faith Yang, who worked for three years in public relations after graduating with a degree in linguistics from NTU. But the desire to help children with speech problems drove her to enroll in the National University of Singapore (NUS)'s master's programme in speech therapy. "During my undergrad years, I didn't know what I wanted… I stumbled upon speech therapy when I was volunteering," said Ms Yang, 28.
And while there have been calls for employers and society at large to reduce their fixation with academic qualifications, having a degree remains the way in some industries for diploma holders to gain the necessary skills and knowledge in order to climb up the ladder.
Ms Priscilla Ong, 24, said she did not intend to further her studies after getting her diploma in real estate business from Ngee Ann Polytechnic.
When she began working at a marketing research firm, however, she realised there were gaps in her business knowledge that could only be filled by getting a bachelor's degree. At the age of 20, she took up a three-year part-time degree in marketing awarded by Australia's RMIT University at SIM Global Education. While she has switched to working as a marketing executive for a food and beverage distributor, having a degree would have given her a significant pay bump in her previous job, she said. "To me, having a degree is a bare minimum. Others may argue that it doesn't mean much since it's common nowadays, but I think not having one surely makes your resume less attractive," she added.
Pre-university students taking the profile test at Nanyang Technological University Business School. Photo: NTU
AN UPWARD TREND
Last week, the Ministry of Manpower made the observation in its advance 2017 labour force report that young people here are more inclined to go for further studies and are starting work later.
Among other things, the report showed that employment rate fell between June last year and June this year for residents aged 15 to 24, due to the young having a "higher propensity to pursue further education and postpone entry into the labour force".
Data from NUS, Singapore Management University (SMU), and the Singapore University of Social Sciences (SUSS) also showed that the number of individuals opting for further studies has been on an upward trend in recent years.
At NUS, those pursuing postgraduate studies — including master's degrees, PhDs and graduate diplomas — have increased from about 9,300 in 2007 to about 10,400 this year.
Meanwhile, SMU has seen the number of Singaporeans and permanent residents enrolled in its postgraduate programmes go up by more than two-fold over the last 10 years, from 280 to 670.
For SUSS, its number of postgraduate students has more than doubled from about 210 in 2012 to about 440 in July 2017, with Social Work, Gerontology and Counselling being the more popular programmes.
Singapore University of Technology and Design (SUTD), which started taking in postgraduates since 2013, and NTU said their numbers have been fairly constant. For example, there were almost 2,800 people pursuing postgraduate studies at NTU and the National Institute of Education in 2006, compared to about 3,000 this year, said NTU associate provost for graduate education Yue Chee Yoon. At NTU, the number peaked at 3,300 in 2008 and 2009 during the global financial crisis.
Beyond the Republic's shores, more Singaporeans are pursuing postgraduate studies overseas in the United Kingdom and Australia. Statistics from the British Council showed that the number has been rising steadily, from 775 to 1,150, between 2007 and this year.
Data from the Austrade and Australia's Department of Education and Training showed that almost 600 more Singaporeans enrolled in postgraduate programmes in Australia as of October this year, compared to a decade ago.
Bucking the trend was the United States, where the number of Singaporeans pursuing postgraduate studies dipped from 1,589 in 2011 to 1,418 this year.
It is a similar story for diploma holders: The Ministry of Education said last year that the local university intake in 2015 reached the highest ever proportion of polytechnic graduates at nearly 34 per cent, up from 24.7 per cent in 2011.
Latest data on fresh polytechnic graduates also showed an increase in the number of them on part-time, temporary, or freelance employment — from 31 per cent in 2015 to 34.8 per cent last year. Many of these diploma holders indicated that they were pursuing or starting further studies.
Graduation ceremony of the inaugural class of Yale-NUS College. TODAY file photo
SUPPLY AND DEMAND
In response to the burgeoning demand, universities here have been setting up more postgraduate courses, especially in specialised areas.
For example, NTU launched about a dozen new postgraduate degrees in the past five years, focusing on interdisciplinary programmes and emerging areas such as future healthcare and sustainability.
Additionally, it has introduced a variety of scholarships for postgraduate students including the Nanyang President's Graduate Scholarship and the Interdisciplinary Graduate School Premium Scholarship.
NUS began offering three new specialised master's degrees last year: Chemistry for energy and environment, Chinese culture and language, and international arbitration and dispute resolution.
At SMU, the number of postgraduate courses has jumped from 10 master's degree and PhD programmes in 2007 to more than 30 courses so far this year, including PhDs and the Juris Doctor programme for aspiring lawyers. SUTD also started its master's in security by design course this year, aimed at addressing current cybersecurity needs.
Enrollment in some specialised courses has increased. The number of people taking a master's in applied economics at SMU, for example, jumped from 12 in 2007 to 56 this year. Over at NUS, 150 people are taking a master's in statistics this year, compared to just 34 a decade ago.
To give more support to Singaporeans pursuing postgraduate studies, the Government has rolled out several initiatives. From 2015, Singaporean postgraduate students began receiving a 17 per cent monthly Central Provident Fund contribution from their universities and increased monthly stipends. Those aged 25 years and above can also use their S$500 in SkillsFuture credits to pay for postgraduate courses which are listed in the SkillsFuture course directory.
Graduates at the SMU Commencement ceremony. TODAY file photo
CONFLUENCE OF FACTORS
Economists whom TODAY interviewed said that underlying reasons behind the trend could be the ongoing economic restructuring, and growing demand from businesses for specialised skills.
CIMB economist Song Seng Wun noted that the labour landscape has become increasingly digitalised and competitive. Citing the finance sector, he said that banks are pushing for e-banking and e-commerce services, and would prefer hiring people with not just traditional banking skills but also those trained in information technology. There are also greater opportunities for people to specialise, he said. "Whether you're talking about, say, engineering, sociology or even social work for instance, there is more demand for product specialisation in professional services as well."
Maybank Kim Eng economist Chua Hak Bin also pointed to changes in the job market, as well as the different kind of skills that companies are looking for. "There are a lot of disruptors to traditional areas in the job market now… there may be new skills required in particularly IT and programming, healthcare, finance, law, and others," he added.
The trend could be partly cyclical or partly structural, said DBS senior economist Irvin Seah. "Restructuring could be a reason, but people's aspirations in life may also gradually change, so it's hard to be sure what the real reasons are. But this is worth observing, and we can see where the trend is heading in the long run," he added.
Then, there are also social factors, the economists said. For example, the rising affluence of Singapore society meant that parents are able to financially support their children's pursuits for a longer time, Mr Song noted.
SUSS economist Walter Theseira said youths today also have a "greater desire for personal fulfillment", which spurs them on to learn more about a subject they are interested in. "For good students, (there is) the fact that education is a comfort zone — an area where they know how to excel and enjoy performing well in," he added.
Mr Song also referred to the growing gig economy which offers young people flexibility and a source of income, so they can earn money while furthering their studies, for instance.
Graduates at Singapore University of Social Sciences (SUSS). TODAY file photo
IMPACT AND IMPLICATIONS
But what could this mean for the workforce and economy? The implications are wide-ranging, though it may be too early to tell what the long-term impact will be, said the economists.
Already, Singapore will be adversely affected by its demographics shift, said Dr Chua. Two in five in the workforce here will be older than 50 by 2030, and with more young Singaporeans starting work later, the shrinking workforce will be further strained. Mr Song added: "For a small economy which is feeling the impact of ageing, just as when you need young and energetic labour, it becomes a problem (for businesses) when they leave to further their studies."
More worryingly, a report by UOB economist Francis Tan released on Wednesday (Dec 7) revealed that next year, the size of the elderly population here who are 65 years old and above will match the number of youths under 15 for the first time in Singapore's modern history. In the worst-case scenario, the dependency ratio — the proportion of working age adults to dependents comprising children and the elderly — will drop to almost 1:1 by 2030. The economy will also stall because of a lack of workers, said the report.
Mr Song noted that while young individuals will benefit from furthering their education, policymakers and businesses will be "tearing their hair out". The problem is exacerbated by the tighter restrictions on foreign labour, which reduce the size of the total workforce and discourage foreign companies from setting up shop and creating jobs here.
"In theory, a better and more educated labour force, with a broader and wider skill set, can better adapt to the new landscape and be more productive… but now, when you need all hands on the pump, so to speak, it doesn't help when your hungry young boys and girls are going away," Mr Song added. But he noted that the circumstances will get businesses to think of more innovative ways to manage their work, such as through automation.
However, Dr Theseira felt that the implications of young people entering the workforce will not be serious unless they enter "very late, such as from pursuing multiple consecutive degrees". He pointed out that many workers already take voluntary breaks when starting a family or exploring new careers. "One or two year's difference is not very significant when considered in context of the fact that people are likely to work for close to 50 years or more today, due to longer lifespans and the fact that most jobs no longer rely on manual strength and dexterity," he added.
Dr Theseira said he would be "a lot more concerned" if people are furthering their studies based on the assumption that they would get more pay, or if they do not find job prospects attractive. "Some types of graduate programmes have little market value, meaning that people would be better off income-wise simply starting work and gaining experience. Of course, people take up further studies for many reasons, including personal fulfillment," he added.
DO IT FOR THE RIGHT REASONS: HR EXPERTS
Human resource practitioners interviewed stressed that young people need to think about what they want to achieve with a higher degree, as it may not mean a fatter paycheck or better job.
Mr Erman Tan, president of the Singapore Human Resources Institute, advised youths to work one or two years before embarking on further studies. "You should use education to enhance your training experience and competitiveness… if you work before studying again, you can also contribute to good discussions in the educational institute," he said.
He noted that these days, employers tend to value job experience more than paper qualifications, and assess candidates based on whether they have done on-the-job training, possess leadership qualities and have an "innovative, lifelong learning mindset". He added: "No academics can replace real life experience."
NeXT Career Consulting Group managing director Paul Heng said getting a postgraduate degree only "helps to a limited extent" at the workplace. Having the right mentality and not being restrictive in the responsibilities one can shoulder is more important, he pointed out. "Employers would ask: 'Why did you want to enter the workforce so late?'. I would expect them to look more at your soft skills, too. There is a misperception that you have to be head and shoulders above everyone, since everyone has a basic degree. Postgraduate education is not as pertinent as work experience," Mr Heng added.
Ms Neo agreed, saying that "taking up higher degrees should be seen as improving oneself instead of just solely for the sake of a better job".
A 30-year-old who declined to be named said he found out the hard way. He could not get a job for six months, after obtaining a master's degree in international relations from a local university. While he had furthered his studies out of passion and interest, he had hoped that it would help him specialise in a particular field and improve his career prospects.
He said he did not expect the job search to be "so challenging". After sending out 50 applications and only hearing back on 10 of them, he was finally hired for a research position in NUS two months ago. "I think in general, the job market out there is so competitive, you need to be really unique or useful to employers," he said. Nevertheless, he does not regret getting his master's degree, he added.
Social media manager Kayleen Ang, 24, reiterated that for those seeking to further their studies, having paper qualifications alone is insufficient. It has to be backed up by work experience in some cases.
Speaking from her own experience, she recalled how she found it difficult to get a well-paying job after graduating with a diploma in media and communication. She then pursued a part-time degree in communications. Since getting her degree, she has seen her pay go up by about 30 per cent. "Now, even a degree doesn't help you stand out among all the other graduates. You need to have prior work experience and the degree before you even get shortlisted for a job," she said.