The Big Read: As more people add zip, congestion moves from roads to the pavement
SINGAPORE — Under the harsh sunlight at noon, Mr Shawn Chua, 33, will — on most days — hop onto his two-month-old electric scooter and zip along the pavement from his Bedok North home to his workplace in Kaki Bukit.
The 6km journey takes him about 15 minutes on his portable transportation device, just five minutes longer compared to driving. "I use it (the electric scooter) as an alternative mode of transport," says Mr Chua, who works in the events industry. "It helps me to save on petrol and time." Unlike cycling, he hardly breaks a sweat when commuting on his electric scooter.
During lunch time, he calls upon the device again to get to the nearest canteen which is about 400m from his office. "Maybe five minutes to walk (there), one minute to scoot," he adds.
Mr Kua Sin Siong, 45, is another who swears by his Personal Mobility Device (PMD). Since July last year, he has been using an electric unicycle — which can travel up to about 18kmh — to get from Castle Green Condominium at Yio Chu Kang Road where he stays to Yio Chu Kang MRT Station about 1km away.
From there, Mr Kua, who works in the banking industry, takes the MRT to his office at the Marina Bay Financial Centre.
"It's very easy to bring the unicycle on the train, I just put it between my legs when I am standing (or sitting), so it doesn't really obstruct anyone," he says.
Like Mr Chua, he uses the device during lunchtime, too. "It only takes me 10 minutes to reach Chinatown, which is about 3km away," says Mr Kua. "I will not even perspire much … and there is wind when I am on (the unicycle)."
Mr Chua and Mr Kua are part of a growing group of people — both young and old — zipping around the island on PMDs as part of their daily commute, be it in housing estates or Central Business District.
While bicycles — and occasionally, skateboards — are a common sight on the streets of Singapore, there is a mind-numbing array of devices that are seen these days, such as electric unicycles, electric scooters, kick scooters and self-balancing scooters, just to name a few. Interest groups have also been formed, organising outings and trips for PMD users.
For some time, PMDs have been used by the elderly and people with disabilities to help them get around, but these devices are fast becoming an alternative mode of transport here for short distances, especially for first- and last-mile trips to public transport nodes.
Apart from setting commuters free from being at the mercy of infrequent or crowded feeder buses, the relative affordability of such devices, and the convenience and portability that they offer are some of the factors behind their increasing popularity.
In many ways, the PMDs are helping to make public transport a more palatable option for commuters. However, as these devices become ubiquitous and more powerful — some can reach top speeds of 25 kmh, or even more after modifications — concerns have arisen about the safety of users themselves and pedestrians who share the limited pavement space.
In July, a panel chaired by then-Parliamentary Secretary for Transport Muhammad Faishal Ibrahim was set up to look into creating a set of rules and norms for the use of footpaths and cycling paths, including regulations on the use of bicycles and PMDs. The Activity Mobility Advisory Panel, which Associate Professor Muhammad Faishal continues to head even though he has recently left the transport ministry, comprises
14 representatives from various groups such as seniors, youth, grassroots, cyclists and motorists. It is expected to compile a report by the second quarter of next year.
Among the 20 users of PMDs whom TODAY interviewed, most of them say they do not wear any safety gear on their trips as the distances are short. Some say they wear gloves to protect their hands from abrasion if they fall.
"I always wear gloves because when we fall off the unicycle, we will fall from the front and our hands will be the first to get hurt," says 41-year-old information technology executive Kirby Ong, who takes public transport and uses an electric unicycle enroute to work.
Some of the PMD users such as Mr Ong install mobile applications on their smartphones that can show how fast they are travelling. While they seldom monitor their speed on the apps, they stress that it is about common sense and having regard for the safety of themselves and pedestrians.
"You will know the feeling of going too fast or too slow ... Eyes should look forward and be aware of the surroundings rather than looking at the (smartphone to check the speed)," he says.
In any case, his electric unicycle has an in-built warning system that beeps when it reaches its top speed of 18 kmh. "(It) will tilt the pedal backwards slowly, so the rider cannot lean forward to go faster," Mr Ong explains.
Stressing the importance of safety, Mr Kua adds: "We don't always measure (the speed) but from previous experiences, we can judge (how fast) we are going." He estimates that he rides his unicycle at about 16 kmh, on average.
A comprehensive network of cycling paths — which some PMD users try to make use of — has been built in several Housing and Development Board towns such as Tampines, Pasir Ris, Sembawang, Yishun and Taman Jurong. Ang Mo Kio is also being transformed into the model town for being bicycle- and pedestrian-friendly, with plans to carve out an extensive network of dedicated paths segregating the different groups of users, for example.
However, in most estates, pathways are becoming increasingly congested with pedestrians, cyclists and PMD users sharing the common space.
Senior marketing executive Syareena Ahmad, 37, uses her kick scooters at least once a week to travel from her house at Simei Street 1 to Eastpoint, which are about 400m apart. She says she will slow down when there are many pedestrians or when there are children on the pavement. Unlike electric scooters, the speed of her PMD "really depends on your fitness level", she notes.
Singapore Armed Forces (SAF) regular Yamani Syed, 36, who uses an electric scooter every evening to go to Causeway Point from his home at Woodlands Avenue, adds: "I don't ride too fast on the pavement because there are people walking and it is just too dangerous for me to do so."
Residents, especially the older ones, say they are concerned about the safety hazards that PMD users pose, especially those who are reckless and inconsiderate.
Retiree Albert Kwek, 68, a long-time resident in Toa Payoh Central, says: "It's fairly dangerous to the pedestrians, especially the older folk. They may be hard of hearing and sometimes (the PMD users) come from behind, and you won't even notice. If you make a wrong turn, you can get knocked down."
Another Toa Payoh resident, Mrs Yvonne Sim, 51, feels that PMD users should be mindful of pedestrian safety, but she notes that pedestrians also have a part to play. "Everybody should start with themselves ... to set the example," she says.
Agreeing, Mr Marcus Tan, 32, who lives in Bedok South, points out that having dedicated lanes for bicycles or PMDs would only be effective if the different users are considerate to one another. "For example in Tampines and Simei, there are some bicycle lanes but pedestrians also stray (into them) … If they stick to their designated walkways, I guess it's pretty safe," he says.
Under existing rules, bicycles are allowed only on roads and park connectors. Most motorised personal mobility devices — except for motorised wheelchairs — are prohibited in parks and on footpaths, roads and park connectors. For non-electric mobility devices such as kick scooters, the rules are unclear.
For electric bicycles, only models approved by the Land Transport Authority (LTA) are allowed on the roads and these will be affixed with a blue seal. Electric bicycles have a speed limit of 25kmh and are not allowed to be used on the pavement. The electric motor can cut in only when the rider starts to pedal, and it must cut off when the bicycle reaches a speed of 25kmh or when the pedalling stops.
It is also illegal to use or keep an unapproved e-bicycle. The offender can be fined up to S$1,000 or jailed up to three months.
For those who illegally modify an electric bicycle, they could be fined S$2,000 or jailed up to three months.
Singapore is not the only country having to rethink its rules and regulations because of the proliferation of PMDs. However, as several analysts whom TODAY spoke to point out, the situation in the Republic is unlike other countries that are less densely populated and where only the cities are heavily built up.
In any case, there is no standard set of regulations, which varies from country to country. In the United States for instance, the California Motor Vehicle Code states that PMDs are allowed on roads and pavements but are required to have safety features such as front, rear and side mirrors, as well as horns or bells. But these safety mechanisms are not required in Florida, which instead imposes a minimum age requirement of 16 years old to operate PMDs.
In the United Kingdom, it is illegal to use PMDs on public streets. Only electric bikes approved by authorities are allowed. Mobility scooters and powered wheelchairs for the elderly or disabled are also allowed — these are classified under two categories based on their speed, and only those in the higher speed category are allowed on roads.
Dr Alexander Erath, a transport researcher at Singapore-ETH Future Cities Laboratory, points out that there is limited scope for Singapore to draw lessons from other countries in this area. He adds: "Generally, compared to other cities, the uptake of PMDs in Singapore is particularly fast and pronounced … (And) because the built environment (and the) way sidewalks are designed might be different in other places."
Welcoming Singapore's move to set up a panel to study the issue, he adds: "I think both academia and policymakers around the world were quite surprised with the quick uptake of PMD. There are a lot of research and knowledge gaps, therefore it is good that the panel brings together experts from different fields with planners and the community to explore potential ways to regulate it in a collaborative manner."
The experts say crafting regulations will not be a straightforward task, not least for the fact that enforcement will be tricky.
Nevertheless, National University of Singapore (NUS) transport researcher Lee Der Horng says the Government will first need to decide if the use of PMDs should be banned or encouraged. He recalls how when Segways were first available in the market, the authorities limited their use to specific areas such as Sentosa. Professor Lee feels that this time round, the Government's move to convene a panel indicates that it could be looking at a more liberal regime on the use of PMDs.
Dr Paul Barter, an adjunct professor who teaches transport policy at Lee Kuan Yew School of Public Policy, says that while there are certainly dilemmas for society, "it would be a shame to be too harsh in regulating such devices which offer a useful new option to many people".
Safety concerns notwithstanding, the experts note that Singapore provides a conducive environment for the use of PMDs.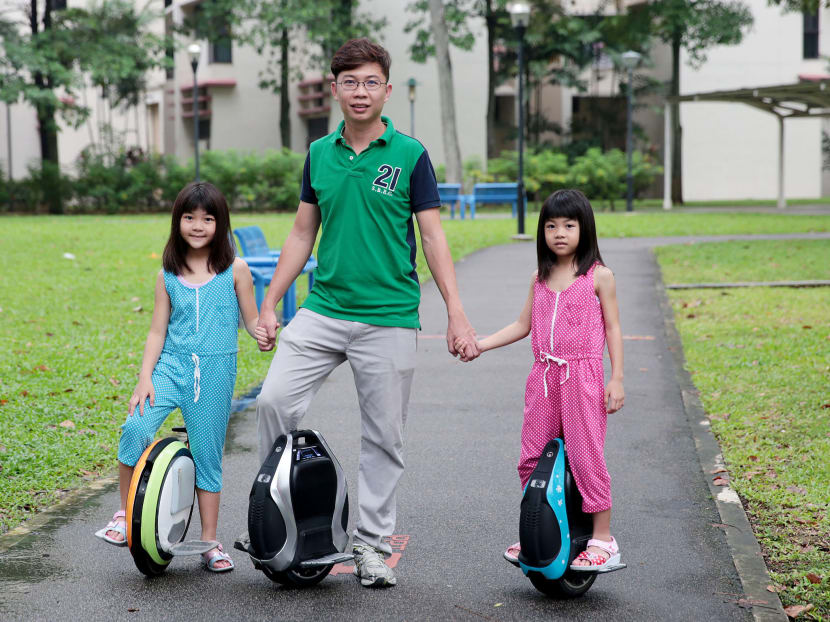 Dr Erath says: "Since walking can be challenging given the tropical climate and the way streets are designed, PMDs are a viable option to make commuting with public transport more convenient." To him, pavements here are by and large not designed in a way that encourages people to walk long distances.
Prof Lee reiterates that PMDs enable people to move around easily within their neighbourhoods. In fact, he and his wife are considering one themselves, he says. He adds that by grouping residential blocks together and concentrating activity hubs — such as shopping malls, bus interchanges and MRT stations — in town centres, the modular designs of housing estates here also encourage the use of PMDs.
"Other than the town centres … what do you have (in a housing estate)? There may not be that many amenities and activities to attract residents to walk around … People like to walk in the interesting areas," he says.
Fundamentally, the analysts note that two main issues need to be resolved as far as public safety is concerned: The speed of the PMDs and segregating users from pedestrians.
For PMD users themselves, they feel that, among other things, there should be dedicated lanes for PMDs, and the use of safety gear — such as helmets and elbow guards — ought to be made compulsory. They also hope for clearer rules that allow PMD users to travel on park connectors, for example.
Mr Thomas Hoon, 37, who founded unicycle group called The Wheelies, hopes that there will not be onerous rules on the use of PMDs. His group was started in August 2013. To date, it has about 3,600 members. Allowing PMDs on park connectors would reduce the travelling time for many of his members, he says.
For example, a unicyclist would take less than half the time it would take if he could use the park connector to travel between Bedok Stadium and City Hall, he notes.
Mr Dennis Koh is the chairman of Big Wheel Scooters Singapore (BWSS), the largest online community of electric scooter enthusiasts here with about 7,000 members. He sits on the panel tasked to come up with new regulations. Adding that speed is a "primary factor" for most accidents involving PMDs, he says: "It is the responsibility of the PMD user to keep within the speed limits and commute safely."
Dr Barter suggests, for example, redefining higher powered electric bikes and subjecting them to existing rules governing motorcycles, such as requiring riders to have a licence and wear a helmet.
Dr Walter Theseira, a senior lecturer at SIM University, says areas that the Government should look into include a calibrated scale of punishment, similar to those used for driving-related offences. With the increasing likelihood of accidents or property damage caused by PMDs, there should also be some "organised means" of providing compensation to victims, he adds.
But Dr Theseira says the issue is not so much about regulations but whether these can be consistently enforced. He notes that apart from weak enforcement of dedicated lanes, people are already openly flouting the existing rule stipulating that the motor for electric bikes can only be activated when the rider starts pedalling.
"Before implementing additional regulations, one has to look at whether there is political will and a practical means of enforcing the regulations. Otherwise, the law will become something that people routinely flout, which is undesirable," says Dr Theseira.