The Big Read: Nerds and geeks no more, computing graduates now rule the roost
SINGAPORE — They were once derided as geeks or nerds in the not-too-distant past. But these days, computing graduates are having the last laugh.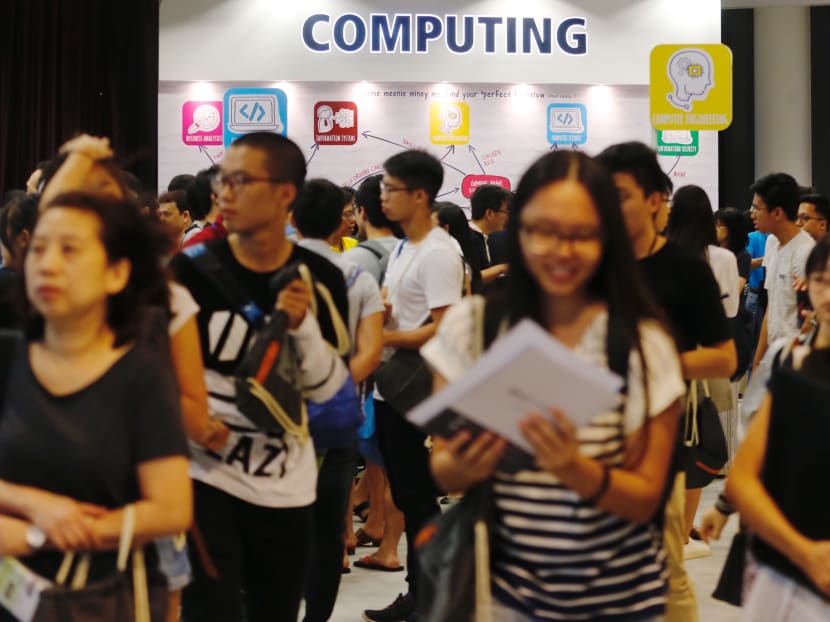 SINGAPORE — They were once derided as geeks or nerds in the not-too-distant past but these days, computing graduates — many of whom decked out in T-shirts, bermudas and slippers in their swanky offices — are having the last laugh.
The latest graduate employment survey released a fortnight ago by three local universities showed that fresh graduates from Nanyang Technological University's (NTU) business and computing science double degree programme commanded a median starting salary of S$5,000 last year, up from S$4,600 in 2016 — matching that of their peers from the law and medicine faculties.
Fresh computer science graduates were also among the highest paid last year. Those who graduated from the course in NTU got a median starting pay of S$3,850 last year, up from S$3,500 in 2016. Their counterparts from the National University of Singapore (NUS) received S$4,285 – S$285 more than in 2016.
Even before they leave school, computing undergraduates are snagging lucrative internships at Silicon Valley giants such as the likes of Apple and Google. 
Mr Zeng Ye, 27, graduated from Nanyang Technological University (NTU) with a double degree in computer science and business two years ago.
He recalled that the computer science programme was not a popular choice among his peers when they were mulling over which course to enrol in, compared to "hotter" courses such as chemical and biomolecular engineering, or aerospace engineering.
Right after graduation, Mr Ye snagged a job as a quantitative researcher at high-frequency trading firm Grasshopper. On the trading floor, he performs the work of a trader, generating trading strategies.
Speaking to TODAY at his office in China Square Central, he said that as part of his work, he tests his idea using his programming skills, before coming up with algorithms for computers to buy and sell shares automatically based on the market patterns.
He is tasked to "automate everything" so that the 20 or so traders which his firm hires can be freed up to do research on trading strategies.
And it is not just the new entrants to the workforce who are benefiting from the digitalisation wave, which has resulted in the convergence of technology and finance, which observers noted has significantly driven up salaries and demand among other factors.
While industry veterans who had lived through the dotcom bubble about two decades ago are wary of getting carried away, experts pointed out that it is different this time.
Large amounts of money were flowing into dotcom companies during 1997 to 2001, with investors banking their chips on the rise of the Internet even though infrastructure and technology in general had yet to catch up. This time round, the advent of high-speed connectivity and vast technological advances have permeated the entire economy, transforming almost every industry.
Reiterating that the ongoing technology boom is underpinned by fundamentals, CIMB economist Song Seng Wun pointed out that for the foreseeable future, computing skills are needed everywhere for simplifying processes that run the gamut, from day-to-day life to security and defence.
WANTED: TECHIES
Amid the technological disruptions affecting almost all industries, companies big and small are turning to techies, and banking their chips on them to help their business succeed.
Energy firm SP Group and DBS bank, just to name a few, have built up their own technology departments from scratch.
In the past five years, DBS tripled the headcount in its technology and operations department to 10,000, hiring software engineers, data scientists and cloud specialists among others. The number of employees in the department with a degree in computer science or related courses has more than doubled, the bank said.
The bank, which is the largest in Southeast Asia, has gone beyond the Republic's shores to scour for talent, given the challenge of a "comparatively smaller talent pool" in Singapore.
As part of its hiring drive, it launched a hackathon last year, called Hack2Hire, which helped the bank recruit 100 coding talent from among more than 12,000 applications received from Singapore and India, said DBS group human resources executive director James Loo.
This year's edition will seek to hire at least 200 more for roles such as scrum masters, mobile app developers and full stack developers, Mr Loo added.
The aggressive hiring is all the more important given that "financial technology and non-traditional banking players like Alibaba are attacking the financial services value chain", said Mr Dave Gledhill, DBS chief information officer and group head of technology and operations.
He added: "In such an environment, our future success depends on our ability to innovate, harness the digital revolution and completely re-imagine the role of banks and the customer's experience."
In the middle of 2016, SP Group started its technology arm, SP Digital, which has grown to a staff size of 100.
Led by Mr Chang Sau Sheong, a computer science veteran of 23 years who had run teams at Paypal, Yahoo and Garena, SP Digital has worked on building greater customer engagement, among other projects. "There is technology now that enables you to track how much energy you use every half an hour. We want to bring some of these things up to the consumer (so) they can watch their wastage and consume less," said the 46-year-old.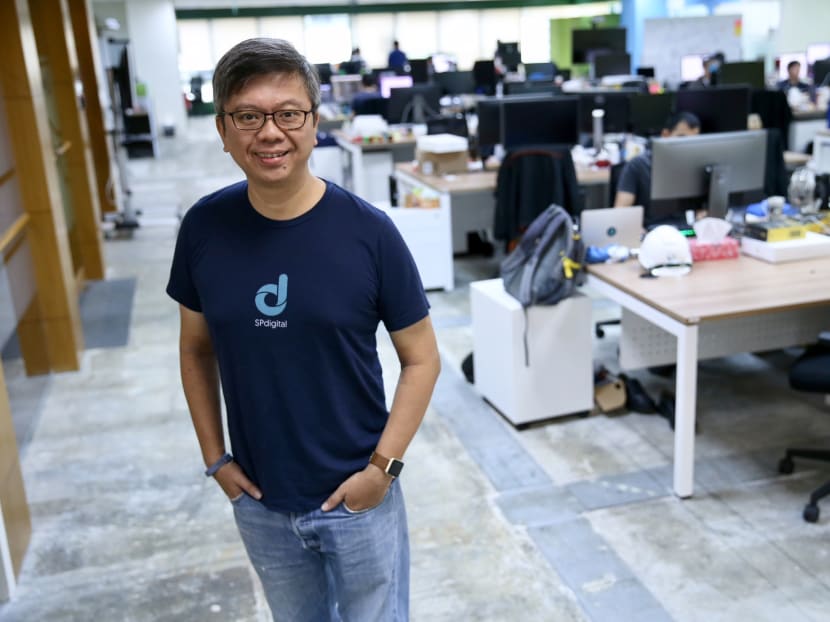 It is not just the big companies which are jumping onto the bandwagon. The advances in technology has also allowed smaller companies to transcend their limitations and compete with the big boys.
For example, Grasshopper hires only about 50 employees. But its chief investment officer Tan T-Kiang pointed out: "In the past, it was more of big companies with big budgets and access to technology who were able to achieve what we can achieve today at our scale. We are now able to compete with bigger companies, or even with the biggest of our field… That's the exciting part."
As a result, there is a dizzying array of career opportunities in the field, offering good prospects.
Dr Jovian Lin, who is the lead artificial intelligence (AI) scientist at Dentsu Aegis Network, graduated with a computer science degree from NUS in 2009.
In his work, he builds features powered by machine-learning, such as AI-powered machines to learn and understand marketing and advertising concepts.
He noted that some years ago, titles such as data scientist, cloud solutions engineer, and database engineer were "generally scarce". But these are more common now, he said.
The growth in job options is due to developments in machine learning — deep learning, in particular — which has become central to the product strategy of tech giants such as Google, Facebook and Baidu, said Dr Lin, who is also an adjunct lecturer at the NUS School of Computing where he teaches data analytics and machine learning.
"And like a domino effect, this drove other companies, small and medium enterprises and startups, to follow suit," he said.
UNIVERSITIES' INTAKES SURGE
In tandem with the insatiable thirst for talent, universities here are also seeing a surge in interest in computing-related courses, with the cohort sizes growing significantly in recent years.
NUS offers computing-related undergraduate courses in business analytics, computer engineering, computer science, data science and analytics, information security, and information systems. Over the past two years, enrolment for these six courses has increased by 65 per cent to 730. Over the same period, the intake size for the university's Master of Computing programme also grew 60 per cent to about 220.
In the new academic year starting in August, the intake for NUS' undergraduate courses will be raised to about 900 places, a university spokesman said.
Over at NTU, the enrolment at its computer science course has increased 40 per cent to 460 between 2015 and this year. It plans to raise the cohort size further by offering 200 to 300 more places over the next five years.
The intake for its business and computer science double degree programme has also gone up up 2.5 times to 50 places this year, compared to 2013.
Despite the universities opening up more places for these courses, it is getting more competitive to get in. Previously, students could get into the NTU computer science course with two Cs in their A level scores. Now, applicants require at least two As. Similarly, the bar has been raised at NUS, where it would now require straight As to get a spot.
TOP DOLLAR FOR BEST TALENT
Industry players say one of the key drivers behind the high wages is the recognition among companies, especially those in Silicon Valley, that they must pay top dollar for the best computing talent. San Francisco-based tech giants are said to be paying at least US$100,000 (S$132,000) a year for the brightest computer science graduates.
While there may be cheaper programmers or coders available for hire, including in developing countries, these are not the people that companies are looking for to propel or transform their business.
Mr Chang said: "A lot of the more conservative companies in the past don't realise it… they always thought that coding and programming was a laborious job, (that) it's a blue collar worker kind of thing… but it is actually not a low level job. You need to have a high level of intelligence and capability."
Apart from needing to think on one's feet to solve problems, a good programmer has to work well in teams, he added.
"In a software developer environment, it is one of the most social, and most community-driven kind of activity because no one can really code on his own. You can, but the work that you produce is not the same as a work that has been produced in a team," said Mr Chang.
In fact, coding ability and the number of programming language which a candidate knows are not the main attributes he looks for in potential new hires.
Using an analogy of carpentry, he said: "You can be very good with using a saw or a hammer, but you are not a real carpenter unless you can create furniture that customers want."
While getting a university degree is not a pre-requisite to becoming a top programmer, Mr Chang — who had previously hired someone with a music degree as a programmer — noted the benefits of having a proper grounding in the field.
"There are things called fundamentals, which can be self-taught, self-learnt, but it requires you to spend time on them… Just like how you spend time on piano scales. It is a lot of muscle memory, a lot of tedious work," said Mr Chang, who added that he makes it a point to ask job applicants to explain the basics of Hypertext Transfer Protocol during interviews.
"If you don't really understand the underlying infrastructure of the Web, then there are a lot of things which you don't understand."
In fact, he has a term of programmers who take the shortcut — "code monkeys".
"You only copy what people do… That means that you can't go beyond what is really done to solve problems. You are basically a copying machine. Change some code here and there, and it works. Why it works, you are not quite sure," he said.
Computer Science students and interested applicants at the NUS Computing Open Day on Saturday (March 10). Photo: Najeer Yusof/TODAY
DIGITAL REVOLUTION
Like it or not, the digital wave will directly affect everyone's job scopes including lawyers and accountants for example, said Professor Ong Yew Soon, who chairs NTU's School of Computer Science and Engineering.
Prof Ong said his school is, for instance, working on a project with the courts, where AI uses data on past cases to make recommendations for sentencing.
"Every area right now needs some form of computing, some form of digital literacy, whether you go into chemistry, mechanical engineering or any other field, you still need some form of computational model to assist you in your work," said Prof Ong. "Not knowing computing nowadays is as good as not knowing how to read or how to write — illiterate, so to speak."
At NTU, its new president Subra Suresh has made it compulsory for all freshmen to take modules on Computational Thinking and Introduction to Data Science.
"(He) sees that this new digital revolution is setting upon us, this new era of the Industrial 4.0 (where) you have the convergence of the physical world, digital world and the biological world," Prof Ong said.
He cited a report by Chinese tech giant Tencent which found that there are only 300,000 AI engineers worldwide, even though millions are needed in the market. To address this shortfall, NTU is introducing a new four-year bachelor's degree course specialising on data science and AI.
With just 30 places available for its inaugural intake, the new programme — which integrates computer science and mathematics — has been oversubscribed more than 10 times, with 350 applicants as of Thursday (March 8).
Such a renaissance was last seen during the ill-fated dotcom boom. Back then, equity markets were fuelled by investments in Internet-based companies, and startups proliferated while intakes for computer science courses spiked.
VslashR founder Chan Chi-Loong, 41, who graduated from NUS' computer science programme in 2001, recalled: "It went so crazy that many lecturers left to do their own startups and we had a shortage of lecturers, and all the final-year students were required to help out with the teaching for (freshmen). We all became teaching assistants during the dotcom boom."
But within a few years, the bubble burst. Dubbed as one of the largest financial fiascos in United States history, the dotcom collapse saw the tech-heavy Nasdaq falling from a high of 5,132 in March 2000 to 1,470 four months later.
Mr Chan was one of the many people affected by the fallout. Two years into his first job as a software engineer, he switched to writing game reviews for tech publications after the energy IT startup which he was working at ran into financial troubles.
Still scarred by that painful experience, Mr Chan could not help but wonder if history could repeat itself.
But the consensus among experts is that there is little to worry this time.
Calling data the "black oil" of today, Prof Ong said: "If you look at the last Internet boom, it was very much fuelled by all the dotcom startups. But I don't think this current boom is very much driven solely by startups, but rather the arrival or availability of so much data out there."
Professor Mohan Kankanhalli, who is the dean of the NUS School of Computing, felt the dotcom bust was "a sneak preview that went wrong".
"Last time, it was premature," he said. "I think a lot of services and the transformation of the economy, which were envisaged (then) were true but that presupposed a computing infrastructure, like massive amount of storage, computational power, and a very high bandwidth connectivity."
In contrast, high-speed connectivity, computational power, and cheap storage are available today. Companies which are not normally associated with computing are also getting into the field, he noted. "A lot of our traditional companies now have a significant technology component," he added.
Dr Joon Edward Sim, who chairs the computer science department at the DigiPen Institute of Technology Singapore, added: "If your company is not on technology, your problem-solving skill is going to be behind time, less efficient… that's why these companies are reimagining themselves as big technology companies to put (technology) at the heart of what they do."
Which means the future will continue to look bright for computing graduates like Mr Zeng.