The Big Read in short: The perks and peeves of staying at home
SINGAPORE — No more jostling with the rush-hour crowd, having time to do laundry and whip up something in the kitchen in between conference calls. One can even attend virtual meetings in pyjamas.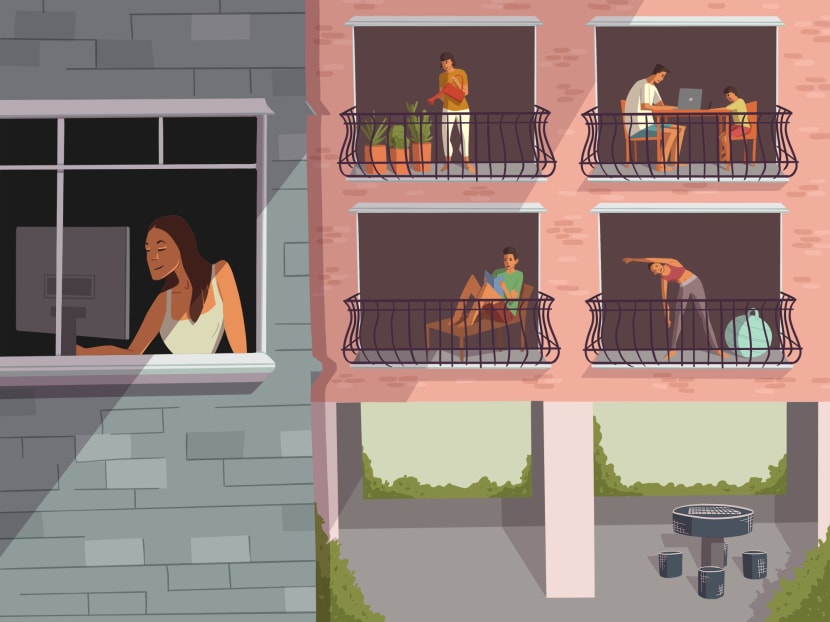 SINGAPORE —  No more jostling with the rush-hour crowd, having time to do laundry and whip up something in the kitchen in between conference calls. One can even attend virtual meetings in pyjamas. 
Amid the Covid-19 outbreak, many employees in Singapore have seemingly been liberated from the conventional office space, especially after the Government's "circuit breaker" measures — entailing the shutdown of non-essential workplaces and schools — took effect earlier this week to stem a rising tide of infections.
But they have come to realise that working from home has its own set of challenges such as technical problems, unreliable internet connections or unconducive environments. 
For some, their biggest challenge comes in the form of a screaming toddler or a needy elderly parent.
So much so that it could drive Ms Josephine Tan, a 53-year-old public servant, crazy.
The mother of three children aged 27, 23 and 16 told TODAY that on top of having two children working from home and one on home-based learning, she also has to keep an eye on her 87-year-old mother who has dementia.
"Everyone will be sitting around the dining table and it can get very chaotic. My eldest one sometimes has to call her boss and my mum will be screaming for my helper.
"At the same time, my son is trying to finish his homework and I'm trying to clear my pending tasks," she said.
For mother-of-two Chris Tan, a writer and editor for an engineering consultancy, working from home means she has to take a conference call with a six-month-old strapped on her in a baby carrier and a toddler screaming in the background.
"Sometimes during the call, everyone could hear my four-year-old screaming for me in the background...so I forgo the conference calls and just tell (my co-workers) to update me afterwards," said Ms Tan, whose husband works in essential services. 
JUGGLING CHILDCARE AND WORK 
Parents who work from home told TODAY that they now have to divide their time between working and looking after their children at home. For those with younger children, they are constantly looking for ways to keep them entertained. 
Ms Noretta Jacob, who teaches a literacy programme for children aged five to seven, has planned puppet shows, musical performances  and storytelling sessions with her two daughters.
Since the circuit-breaker took effect, her husband — who is an essential services worker as a private-hire driver — has to work daily, leaving her to tend to her children, aged three and seven, who are on home-based learning.
"I see the beauty of sitting at home with my kids, but kids are kids, their attention spans are so limited... they have been pushing me out of my comfort zone as an educator to come up with more creative activities," she said.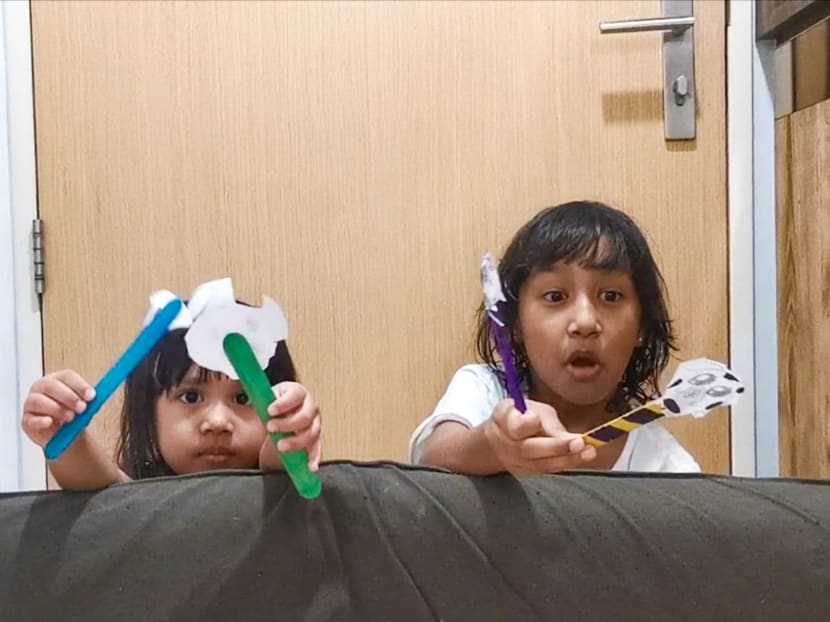 To keep her four-year-old daughter occupied, Ms Chris Tan bought her a gardening kit.  
"She tends to it everyday so that frees up some of my time to actually work… because seriously working from home isn't easy, especially with kids," she said.
Some parents such as Ms Bianca Loo say the silver lining to working from home is to be able to witness their children's milestones.
Ms Loo heads technology company Criteo's sales team for big customers in South-east Asia, Hong Kong and Taiwan.
"If this was any given day where we were not working from home, I would be travelling once every month to some South-east Asian countries and missing some important milestones (of her child's development). Or if I were working in the office, I would feel the fomo (fear of missing out)," said Ms Loo, who recently witnessed her nine-month-old son pick up a sippy cup, clap his hands or dance to a song for the first time. 
TENDING TO THE ELDERLY AT HOME 
While children are already a handful for parents working from home, an equally — if not more — daunting task awaits those who suddenly find themselves having to double up as a caregiver to elderly parents. 
A 27-year-old public servant, who wished to be known only as Ms Hanis, said she has become the caregiver to her 83-year-old grandmother.
Her grandmother's helper had returned to Indonesia late last month. 
While waiting for a replacement helper, Ms Hanis' aunt, who lives nearby, used to send her grandmother to stroke rehabilitation sessions while she and both her parents — who are in essential services — are at work.
But with non-essential activities halted and contact with other households discouraged, Ms Hanis has taken over the caregiver's role since her aunt has to stay at home now. 
"Managing the mountain of work I have plus looking after an elderly is definitely more difficult than I thought.
"There was once I had to take a call from my boss and my grandma was fussing over her lunch. A minute later, she kept poking me because she wanted to go to the toilet… I ended up talking to my boss while propping her up on the toilet bowl," Ms Hanis said with a chuckle. 
But the past week has also allowed Ms Hanis to know her grandmother better: They have been taking walks in the corridor of her flat, doing flower arrangements together and watching newly-added Bollywood films on Netflix. 
"I never knew my grandma's favourite actor is Shah Rukh Khan!" she said, referring to the renowned Bollywood actor. 
For Ms Josephine Tan, the public servant whose elderly mother has dementia, the past week has also been bittersweet.  
She has given her helper more time to rest as her family members are now at home and can take turns looking after her mother, whom she described as "very energetic".
In fact, the elderly woman has been walking around the house more often now, looking over her children's shoulders to see what they are doing on their laptops.
"My youngest son has been teaching his grandma how to watch Netflix on his tablet," Ms Tan said with a laugh. 
However, she added that working from home can sometimes "drive her crazy".
"Everyone will be sitting around the dining table and it can get very chaotic. My eldest daughter will be calling her boss and my mum will be screaming for my helper.
"At the same time, my son is trying to finish his homework and I'm trying to clear my pending tasks," she said.
But the madness aside, Ms Tan is happy that the "circuit-breaker" has brought the family together as they have more time to prepare and eat dinner, play board games and organise movie nights after everyone has logged off.
"Since all of us are staying at home all week… I think my mum is enjoying the circuit-breaker period the most," said Ms Tan.
KEEPING ACTIVE, HAVING FUN, GOING GLOBAL — ALL FROM HOME 
The Government has repeatedly stressed that the only way to reduce the number of Covid-19 infections is for Singaporeans to stay at home.  
With more people staying home now, the Government has said it will enhance digital fitness and entertainment services. 
More television and streaming content will also be made available here, the Infocomm Media Development Authority (IMDA) announced earlier this week. 
The IMDA initiatives could benefit Singaporeans like Mr Derrick Yeo, 35, who have gone on a quest to come up with interesting activities to fill their time. 
Mr Yeo has replaced his weekly visits to nightclub Zouk Singapore with its free livestream service called "Cloud Clubbing".
During the livestreams, viewers can watch dancers perform to the tracks played by a disc jockey. 
Asked which he likes better— clubbing in the virtual or real world — Mr Yeo said he does not have a preference. 
"I like both, if I am too lazy to go out, I can enjoy the music at home, but going to the club allows me to enjoy the vibes better," he added.  
Meanwhile, to help Singaporeans keep fit even as they stay home, Sport Singapore has called on the sport industry to create innovative home-based programmes in April and May as part of its annual GetActive! Singapore campaign.
Apart from these programmes, some Singaporeans are using video conferencing app Zoom — which is being used by many organisations for virtual meetings, although security concerns have emerged of late — to exercise or take part in physical activities at home. 
Ms Sue Seah, who is in her 30s and self-employed, said she had attended two online classes for Street Jazz and Urban Hip Hop with dance academy O School.
Viewers would follow the dance instructor's steps through a mass video call of up to 100 people. Both classes which Ms Seah attended were almost full.
"I think that in real life, the energy is really different… but the instructors have put in so much effort to make it interactive and fun so it is definitely better than having nothing," she said.
Ms Chloe Ng, 40, a senior financial services manager, started to host complimentary online yoga and High Intensity Interval Training classes this week for her friends and other mutual acquaintances. Each lesson has about 10 students.
She added that the classes are interactive and students can pose questions. But they had experienced a few technical difficulties during previous classes.
"If I am doing a class physically, I can just walk over and correct their postures immediately which is easier," she said.
For Mr Allan Ong, 45, who heads the Singapore Sport Stacking Association, the pandemic has not stopped him from organising a global event.  
Sport stacking  — also known as cup stacking or speed stacking — requires participants to stack and unstack cups in various formations as quickly as possible.
Last Sunday, the association organised a preliminary competition online by separating participants into different "rooms" on Zoom where one judge will be present. 
Some 50 competitors have signed up for this weekend's championship. 
Each of them will have their own timer which they would press before they start stacking and after they finish. 
Mr Ong said his biggest challenge is to convince spectators and competitors that they will have a good time virtually. 
"I think it's like online shopping. Before people try it, they all say they prefer to go to the physical store and try the clothes on. But when everyone is doing it, then it feels more fun," he said.