The Big Read in short: What to make of S'poreans' panic buying amid Covid-19 outbreak?
Each week, TODAY's long-running Big Read series delves into trends and issues that matter. This week, we look at what drove Singaporeans across the island to wipe supermarket shelves clean of daily essentials earlier this month, and what it says about the population's resilience in times of crisis. This is a shortened version of the full feature.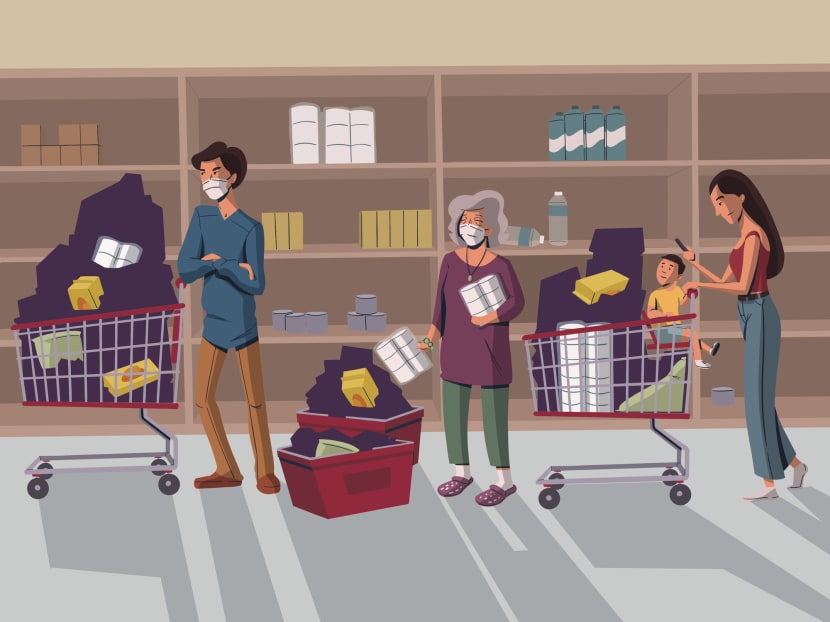 Each week, TODAY's long-running Big Read series delves into trends and issues that matter. This week, we look at what drove Singaporeans across the island to wipe supermarket shelves clean of daily essentials earlier this month, and what it says about the population's resilience in times of crisis. This is a shortened version of the full feature, which can be found here.
SINGAPORE — While Singaporeans have earned a reputation for being kiasu (Hokkien for the fear of missing out), the scene that played out on Feb 7 at supermarkets across the island was something no one has witnessed here before — not even during the Sars (severe acute respiratory syndrome) crisis in 2003 or the H1N1 pandemic in 2009.
Hours before, the Ministry of Health (MOH) raised the Disease Outbreak Response System Condition (Dorscon) alert level from Yellow to Orange.
The risk-alert level was raised after several novel coronavirus cases were detected in the Republic without any links to previous cases or travel histories to China.
To allay public anxiety, Prime Minister Lee Hsien Loong made a speech a day after the panic buying, assuring Singaporeans that there was no need to panic as the city was not being locked down, and there was ample supply of food for everyone. 
Now that a sense of normalcy has returned, questions remain to be answered: What caused all that panic-buying over that fateful weekend, which had left some quarters fuming — and embarrassed — over the behaviour of "ugly Singaporeans", and others to question whatever happened to decades of efforts aimed at building a resilient society?
And what does it say about Singaporeans, many of whom have stoically and quietly got on with their lives, despite the uncertainty and disruptions to daily life?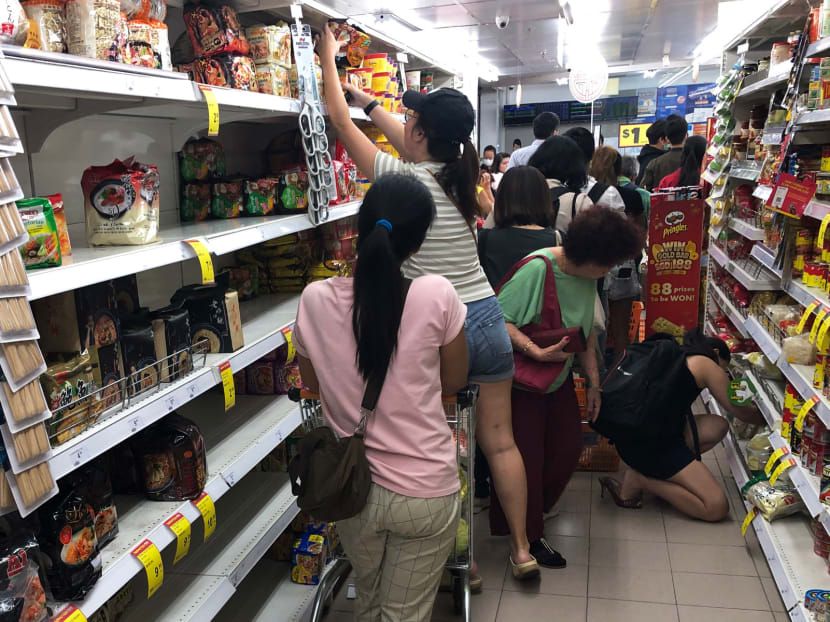 THE SITUATION ELSEWHERE
So far, apart from Singapore, there have been no reports of panic buying in places outside of China.  Residents in Thailand for example, which has 33 confirmed cases as of Friday, told TODAY that the situation was calm and there has been no run on daily essentials.
Some experts believe that events in Hong Kong, which was gripped by scenes of panic buying recently, had influenced Singaporeans' behaviour. 
Speaking to TODAY, Mr Wong Bai Chun, a Hong Kong citizen, said that two weeks ago, there was a brief but acute shortage of toilet paper and other paper goods in the territory, which was sparked by an Internet rumour that the Chinese spring holiday was being extended and there would be insufficient supplies of such products.
OTHER TRIGGERS
A spokesperson for the Singapore Psychological Society (SPS) council said this is a phenomena where our brains tend to focus more on negative information than positive ones.
"Our brains are hardwired to register negative stimuli more readily and also to dwell and worry on them for a longer period of time," the spokesperson told TODAY.
Self-preservation and groupthink
Whenever there is a life-threatening epidemic or emergency, the notions of safety, protection, and self-preservation usually come into play.
"Research suggests that when people are in panic, the thinking part of our brain gets hijacked by the emotional system and we start to act illogically," said the spokesperson. "Our ability to decide on our own is minimised."
The spokesperson added that people tend to follow others in the hope that the latter could get them out of a dangerous situation.
In Singapore's case, this could be a possible reason why people started to hoard or buy things impulsively if everyone else around them was doing the same, or if they were told to do so on social media platforms.
Mr Lars Voedisch, the managing director of public relations firm PRecious Communications, said the panic-buying is triggered by one or two initial incidents which then get amplified by social media.
"(This leads) to a snowball effect of more and more people thinking of it, then hearing from the first people acting on their fear, sharing about it and through that fuelling the whole panic," he said.
Singapore Management University sociologist Paulin Straughan said it did not help that the public was seeing these images circulated on social media late in the night. As a result, these became the abiding images for many Singaporeans overnight. 
"For the next 12 hours, the shelves remain empty (in their minds)," she said. "And that's 12 hours of festering, and it entrenches (the fear that there are no supplies)."
Agreeing with Mr Voedisch, she reiterated that while technology has helped to disseminate information a lot faster, it has similarly allowed misinformation to spread just as quickly as well.
This was not something that Singaporeans had to worry about during the past virus outbreaks, she added.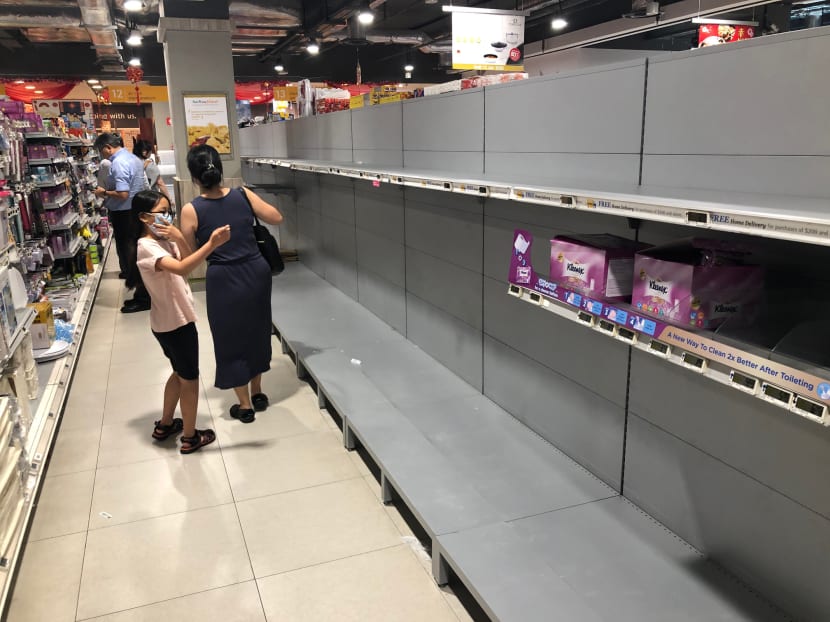 PUBLIC COMMS 'COULD HAVE BEEN BETTER' 
Communications experts told TODAY that the panic-buying in Singapore might have been avoided if the information disseminated by the authorities had been clearer.  
"The problem with the message was that it was too bureaucratic at the start," said Nanyang Technological University (NTU) Assistant Professor Liew Kai Khiun. 
"Much of the Government's message involved military terms (and) colour codes," said Asst Prof Liew, who teaches at the Wee Kim Wee School of Communication and Information (WKWSCI).
Prof Straughan agreed, noting that the definition of Dorscon Orange was not explained enough as well.
Dorscon is a colour-coded framework that shows the current disease situation. 
Orange refers to a situation in which a virus is spreading in Singapore but not widely, and is being contained. Previously, the risk assessment level was at Yellow, signifying that the virus was severe and could infect from person to person, but was chiefly occurring outside Singapore. The highest level, Red, indicates that the virus is spreading widely and can result in major disruption such as closing schools.
"Some people didn't know what it meant. All they saw was the visual," said Prof Straughan. "There are four levels. Green, Yellow, Orange and Red. Red is bad, everybody knows that right? Green is good. Now Orange. It is closer to Red than it is to Green. So visually, it lights up all your flags." 
Asst Prof Liew pointed out while the message from the authorities was accurate, it did not cater to the layman. To that end, they could have used dialect or Singlish to reach out more effectively, he noted. 
During the Sars outbreak in 2003, local sitcom character Phua Chu Kang was used to educate Singaporeans on the importance of washing their hands.  This, he said, was an effective way of reaching out to the public, and many people still remember it today.
A leaked MOH press release a few hours before the official Dorscon Orange announcement, which left many befuddled, might have also fuelled the public panic. 
The press release was circulated on social media and through messaging platforms such as WhatsApp.
Up till this incident, Prof Straughan felt that the Government had been doing well in being upfront with Singaporeans about the virus situation. But when the press release was prematurely leaked out, it created some confusion. 
She said it did not help that recipients of the leaked document were initially told by others that it was fake news, only to be informed by the authorities a few hours later that it was indeed true.  
Such contradictory information would have led some to question if the authorities were trying to hide something, she said. 
The authorities have yet to announce the source of the leak, but Mr Chan said on Feb 9 that the various agencies involved in tackling the virus will remind their staff that they have a professional responsibility not to prematurely share information that has not been finalised.
Despite these short-comings in public communications, some of the experts felt that Mr Lee's nine-minute long speech on Feb 8 went some way in restoring some sense of normalcy.  
The SPS council spokesperson said Mr Lee's message gave people very concrete actions that "handed back a measure of control to people whose sense of control felt threatened".
Mr Voedisch said having the Prime Minister step in to address the public helped, because it went beyond technocratic statements and directly addressed what people were concerned with.
"While authorities should not get emotional when communicating, they have to be empathetic appealing to the hearts and minds of the audience," said Mr Voedisch.
However, he was uncertain if an address by Mr Lee to the public at an earlier juncture would have helped. 
Instead, he said that the authorities should have foreseen the responses from the public as part of proper scenario planning with "ready-to-go action plans".
Also, they should have anticipated and addressed the public's concerns and fears across the different platforms, he added. 
Prime Minister Lee Hsien Loong in a recorded message which was televised a day after Singapore raised its Dorscon alert level to Orange. Photo: MCI
​HERE COMES THE GOOD
Still, despite the panic buying grabbing the headlines, Mr Chan and other government leaders took pains to point out that a large majority of Singaporeans had been "calm and rational". 
Many Singaporeans had come forward to thank the cashiers and supermarket staff constantly working behind the scenes to restock the empty shelves, Mr Chan noted.  
Countless others have also stepped in to do their part for their fellow citizens, with numerous ground-up initiatives started in the community.
For example, TODAY had reported about two primary school girls who used their pocket money to buy and deliver breakfast to doctors and nurses. On Valentine's Day which fell on Friday, community group StandUpForSG also gave out "love letters" to frontline healthcare workers.
QUIET RESILIENCE 
Away from the public spotlight and media glare, ordinary Singaporeans have got on with their lives, despite the disruptions and worries brought on by the Covid-19 outbreak. 
Scores of Singaporeans — such as taxi and private-hire drivers, as well as those in the retail and tourism industries — have seen their livelihoods taken a hit. Others have had to adjust to working from home as business continuity plans swung into place.
Cleaners, for example, are putting in longer hours while healthcare workers not only have to work longer each day but are also putting themselves at risk on the frontlines.    
A 23-year-old outbreak nurse who works with Covid-19 patients said that while her family understands the risks of her occupation, it does not stop them from worrying. 
"Most nurses are worried too, but it's our job and this is what we do for a living," said the nurse, who wanted to be known only as Sharmaine due to the sensitivity of her role.
When she was first assigned to handle suspected Covid-19 cases, Sharmaine said she was scared as no one knew what exactly they were dealing with. 
"But over time, I grew immune to it, even if a patient were to test positive for the virus. Now I don't feel so scared anymore."
However, she feels disappointed at the discrimination against healthcare workers shown by some Singaporeans, even as many others expressed gratitude for their work.
"It truly is demoralising when you hear of such incidents. We feel ostracised at times because all we want to do is perform our job and go home," she said. "But we continue to keep an open mind because we are the first line of defence."
Some businesses have had to adjust their operating models due to the outbreak.
Ms Jazz Chong, the owner and director of contemporary gallery Ode To Art, has noticed fewer people visiting the gallery as well as the Raffles City Shopping Centre, where the gallery is located.  
"With the virus outbreak becoming more severe, we have now decided to take the extra measure of bringing the art to our clients directly," she said. "If they like the work then it can remain in their home, making it extra convenient for them as they do not even have to leave their house."
Business owners like Ms Chong are hoping that people would continue life as normal, albeit taking the necessary precautions. 
Or as NTU's Asst Prof Liew put it: "We must have a courageous sense of normality and go on living life normally." 
Indeed, Prime Minister Lee noted on Friday that the Covid-19 outbreak is expected to last longer than Sars, with a greater impact already hitting the economy.
But he stressed: "We have to keep Singapore going and we have to keep making a living. Life has to go on."