TODAY20: The Big Read — Social stratification, a poison seeping into S'pore's housing estates and schools (May 27, 2018)
Over the past two decades, TODAY has played an active role in public discourse in Singapore. To mark our 20th anniversary this month, we are re-publishing 20 of our most impactful news articles over the years.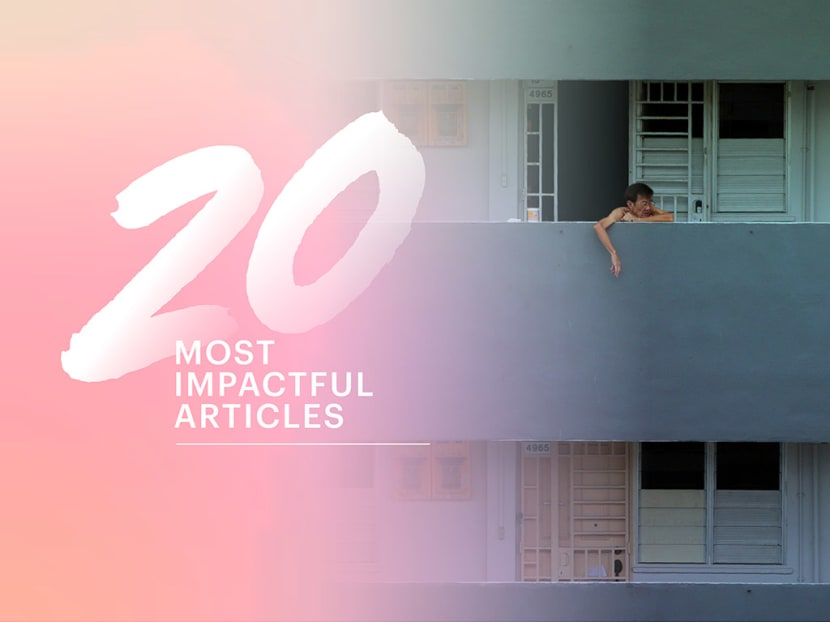 Over the past two decades, TODAY has played an active role in public discourse in Singapore. To mark our 20th anniversary this month, we are re-publishing 20 of our most impactful news articles over the years.
WHAT HAPPENED
The issue of social stratification in Singapore took centrestage in early 2018
Prime Minister Lee Hsien Loong warned that social stratification was starting to take root here and risked becoming entrenched 
During a five-day debate on the President's Address in May that year, several Cabinet ministers and other Members of Parliament weighed in on the issue
Then-Education Minister Ong Ye Kung said there was a "perceptible reduction" in social mixing in recent years
TODAY examined the issue in depth, looking at the effectiveness of housing and education, in particular, as policy levers to encourage social mixing
WHAT NEXT
The article generated a spirited public discussion, with TODAY readers also writing in to share their views
SINGAPORE — For years, policymakers in Singapore have been focusing on ways to narrow the income gap, as countries around the world seek to mitigate the side-effects of globalisation.
Social inequality has become a buzz phrase among national discussions, and the issue remains a work in progress.
Of late, however, a new phrase has entered the Government's lexicon: Social stratification.
It refers to an institutionalised system of social inequality — a dire situation that Prime Minister Lee Hsien Loong warned about in February, but one which is starting to take root and risks becoming entrenched, as several Cabinet ministers and other Members of Parliament (MPs) highlighted during the five-day debate on the President's Address earlier this month.
"The issues of mitigating income inequality, ensuring social mobility and enhancing social integration are critical," PM Lee had said in a written parliamentary reply. "If we fail – if widening income inequalities result in a rigid and stratified social system, with each class ignoring the others or pursuing its interests at the expense of others – our politics will turn vicious, our society will fracture and our nation will wither."
And among the various aspects of social stratification, it is the "perceptible reduction" — in Education Minister Ong Ye Kung's words — in social mixing in recent years that has gotten some worried.
National University of Singapore (NUS) sociologist Tan Ern Ser said: "The lack of social mixing may translate into a lack of empathy for and understanding of those who hail from disadvantaged families… leading to a reluctance to support policies aimed at improving the lots of the lower classes, and contributing towards their welfare."
This lack of mutual understanding could also lead to the "emergence of distrust between classes, even class tension", said Dr Tan, who co-authored the Institute of Policy Studies' (IPS) Study On Social Capital with IPS deputy director for research Gillian Koh and NUS sociologist Vincent Chua.
For generations, social mixing has been a hallmark of Singapore society, thanks to the housing, education and National Service policies which encourage mixing across groups of different race, income and family backgrounds.
But at least two of these three policy levers, which have carefully nurtured and reinforced the culture, are not working as well as before — or as they should be.
The IPS study, which was supported by the Ministry of Culture, Community and Youth, found that while there is social mixing between classes, "there seems to be a gap along two dimensions of social stratification, that of housing and education", Dr Tan noted.
Among other findings, the study — which was published last December — showed that on average, Singaporeans who live in public housing have fewer than one friend who lives in private housing. People who study in elite schools also tend to be less close to those in non-elite schools, and vice versa.
Make no mistake about it, the issue is receiving attention at the highest level: In a bid to "deliberately plan for a more equal and inclusive society", the Housing and Development Board (HDB) has launched three Build-to-Order projects — in Woodlands, Bukit Batok and Sengkang — with rental and sold flats within the same block.
The authorities will also continually renew buildings and infrastructure to avoid ending up in a situation "where certain parts of Singapore are left to degrade and we end up with deteriorated neighbourhoods or towns, inhabited largely by lower-income or elderly residents", National Development Minister Lawrence Wong said in Parliament during the debate on the President's Address.
Meanwhile, PM Lee told the House last week that the Ministry of Education (MOE) will work with Raffles Institution (RI) and other popular schools so that they never become "self-perpetuating, closed circles".
The Government has also stressed, on several occasions, the need to level the playing field from preschool in order to tackle inequality. To that end, it is doubling its annual spending on the preschool sector to S$1.7 billion in 2022.
In the Big Read this week, TODAY looks at how social stratification is taking root in Singapore's housing estates and schools, and what can be done about it.
HOUSING: RISK OF ENCLAVES
Moving into the Ang Mo Kio neighbourhood a decade ago after her divorce, Ms Fadillah Abdul Rahman, 45, was taken aback by the lifestyles of the "underdogs in Singapore's society", and was fearful her children might wind up with bad company.
She lives with two sons and a daughter in a two-room rental flat in Ang Mo Kio Avenue 6. Her eldest daughter has moved out after getting married.
True to her fears, her son, now 20, was admitted to a boys' home for several months for disciplinary issues.
Still, the single mother wants to give her children the freedom to hang out with kids in the community. She also gives them free rein to manage their studies. Her daughter, 10, attends Ang Mo Kio Primary school, which is about a 20-minute walk or 15-minute bus ride away.
Her eldest son, Mohd Zuhairi Zakariya, 21, works as a technician at a company providing wire bonding services in Yishun. From Mondays to Thursdays, he takes night classes at the Institute of Technical Education College Central and is working towards a Higher Nitec degree in mechanical engineering.
Ms Fadillah said her daughter often plays at home or the playground in their neighbourhood. Once in a while, she would take her to playgrounds further away, including those located near condominiums and private estates. But on such occasions, she noticed that there were hardly any children there from families living in the private homes. These children would probably play in the playgrounds located in their condominiums or be cooped up at home, she reckoned.
Within the Ang Mo Kio/Yio Chu Kang precinct, a private housing estate at Lentor Street is situated just 2.5km away from the block of rental flats where Ms Fadillah and her children are staying.
Homemaker Jacqueline Aw, 39, her husband and two daughters — aged two and six — are among the families living in the Lentor Street estate.
Her elder daughter is enrolled in a NAFA Arts Preschool, the first arts-theme preschool in Singapore. The child also attends various enrichment classes in abacus, gymnastics, athletics, piano, dancing, as well as English and the Chinese language.
Her girls do not play in the neighbourhood park, but instead enjoy going to the indoor playground at Safra in Toa Payoh and Punggol.
Ms Aw, who grew up in a rental flat and knows of friends and family who have lived or are living in such units, said she is happy to visit them if they invite her family. Nevertheless, the former flight stewardess noted that her family does not know anyone living in the rental flats at Ang Mo Kio Avenue 6.
Acknowledging her children's privileged background, she added that she tries to inculcate the right values in them, such as being grateful for what life has given them.
However, some families in Ang Mo Kio whom TODAY interviewed said they would steer clear of the rental flats. One resident, who only gave her name as Madam Tan, said she and her twins, both seven years old, will avoid going near the rental flats as the people there may be "less educated", and the environment looks a bit "scary". Madam Tan works in a bank and her family lives in a five-room flat in Yio Chu Kang.
The situation and prevailing sentiments among residents in Ang Mo Kio are mirrored across the island in various housing estates.
Rental flat residents, for example, told TODAY they have few opportunities to interact with Singaporeans from different family backgrounds because their day-to-day activities are often confined within their neighbourhoods.
The IPS study found that even though the vast majority of Singaporeans reside in public housing, private-home dwellers had more ties with others who live in private homes than with those who lived in public flats.
In 1989, the Government implemented the Ethnic Integration Policy to prevent racial enclaves, by ensuring that each HDB block and estate broadly reflected the Republic's racial proportion.
While the measure has largely met its aim, enclaves are now potentially forming along socioeconomic lines, experts said.
Prior to the Government's recent announcement, there were no HDB blocks designed to house both rental and sold units.
Flats under the public rental scheme are heavily subsidised to cater to needy households, whose total household income falls below S$1,500 per month and have no other housing options.
According to the latest General Household Survey in 2015, one- and two-room flats are congregated in the Bukit Merah, Kallang and Ang Mo Kio planning areas, while a larger proportion of private houses are found in Bukit Timah, Bedok and Hougang.
Figures from the Department of Statistics also show that while the proportion of Singaporeans living in condominiums has surged from 6.5 per cent to 15.6 per cent from 2000 to last year, the proportion living in one- and two-roomers has inched up from 5 to 5.8 per cent over the same period.
Noting the aspirations of homeowners who desire more privacy, for example, Singapore Management University sociologist Paulin Straughan said the growing proportion of gated communities could result in "unintended consequences", such as fewer chances for social mixing to take place.
LIMITS OF 'FORCED MIXING'
With a general decline of neighbourliness, more resources should be dedicated to organising community-based events such as block and street parties, in order "to bring people out of their sanctuary and mix in common spaces", Prof Straughan suggested.
Such community activities go some way in bridging social divides between the rich and the poor, residents and MPs said.
Over in the Jalan Kukoh neighbourhood in Bukit Merah, for instance, ground-up initiatives such as ReadAble and Catch Plus (Children and Teen Community Hub Plus) — which are targeted at students from low-income families — are often run by volunteers from more privileged backgrounds.
Ms Lyn Razali, who lives in a two-room unit along Jalan Minyak, said Catch Plus has helped her two daughters and herself widen their social networks. The after-school care programme is targeted at students aged seven to 16 from low-income families in the neighbourhood. It focuses on the academic and socio-emotional aspects of their development.
"Through these activities, we have befriended Singaporeans who live in condominiums, and they invite us over to their homes. But ultimately, we are brought together through the community (regardless of) financial status," said Ms Razali, 38, whose husband works as a driver.
The Catch Plus programme was the brainchild of Jalan Besar GRC MP Lily Neo, who looks after some lower-income households in the Jalan Kukoh area.
Dr Neo noted that "forced mixing" is helpful only if the individuals themselves continue to foster their relationships beyond instituted activities. "I feel some people may be more comfortable and at ease sticking with their own groups… We can try out different programmes, but when I leave it to them, would they hang out together? They may or they may not," she added.
Singaporeans whom TODAY spoke to had mixed views on the extent to which social mixing and integration could be instituted.
Public relations consultant Oo Gin Lee, 49, reiterated that it is "only natural" for people to interact with others with whom they share similar preferences and lifestyles — and these would likely still boil down to their spending powers, added Mr Oo, whose family lives in a condominium in Bukit Timah.
Ms Lim Shaw Hui, 45, believes that schools are society's best shot at promoting social mixing from young. The mother of two sons aged seven and nine said she made a deliberate decision to enrol her children in a neighbourhood primary school.
"It is too simplistic to think that hawker centres and playgrounds are sufficient to encourage mixing," she said.
SCHOOLS: THE GREAT SOCIAL LEVELLER BEING THREATENED?
While Singapore's schools are seen as the most effective social levellers, there is growing concern that so-called elite primary and secondary schools, coveted for their academic rigour, could be disproportionately attracting students from affluent families.
There is a need to relook some of the admission policies, some parents and experts said.
Mr Oo pointed out that affiliation schemes which prioritise certain students for admission because their parents are alumni, or because they themselves graduated from primary schools within the same family of schools, widen the divide between institutions.
Children whose families are living within a 1 to 2km radius are also given priority under existing policies. With some primary schools such as Henry Park Primary School, Singapore Chinese Girls' School and Methodist Girls' School located in or near a private estate, these schools tend to be "homogenised", said Prof Straughan.
Such a policy has also created an unintended vicious circle: The high demand for places at prestigious schools drives up prices of nearby homes, with well-to-do families snapping up these flats.
Speaking in Parliament last week, PM Lee cited his recent conversation with Mr Ong, where he was told that RI — which has a strong tradition of accepting students from diverse backgrounds, so long as they make the cut — has become "less diverse" over the years.
To address this, the new RI principal, Mr Frederick Yeo, has been speaking to parents of potential students in primary schools across Singapore, to encourage them to apply to RI.
To the principal's surprise, some of the parents told him they did not want to send their child there because they feared he would not be able to fit in with other more well-off students, PM Lee said. But PM Lee stressed that the parents' fear was unfounded — in reality, RI students still come from varied backgrounds, with 53 per cent of its students living in public housing, and all the students "get along confidently and comfortably".
In response to TODAY's queries, the MOE cited co-curricular activities (CCAs), inter-school camps and national school games as examples of opportunities that "provide common spaces for students from diverse backgrounds to forge friendships".
Eight in 10 schools today have a "relatively balanced mix" of students, with at least 5 per cent of students from both the top and bottom socio-economic quintiles.
"MOE is committed to an inclusive education system which ensures that all students, regardless of their background and abilities, are given opportunities and support to realise their potential," said a ministry spokesman.
Several popular schools whom TODAY spoke to, including RI, Hwa Chong Institution and Methodist Girls' School, also cited inter-school projects as platforms for students to interact with peers from various backgrounds.
However, most of these initiatives involve only a small group of students from each school.
Parents who have kids in both an elite school and a neighbourhood school told TODAY they have observed a stark difference in their children's social networks.
Mr Oo's eldest daughter goes to a popular girls' school in Bukit Timah, while her sister studies at a less well-known school in Telok Blangah. "Their friends are so different. My second goes to an average school, and you can see that there is greater diversity," he said. "When you look at (my eldest's peers), they are all rich. In the morning, the roads to her school are often congested because a larger majority of the parents drive their kids to this school."
At the same time, examples abound of children from less affluent families who were able to get into the elite schools — but the feeling among observers is that the odds could be increasingly stacked against those from less privileged backgrounds, and the onus is on school leaders to ensure the pathways remain open to all.
A parent, Ms Anne Soh, felt that students' socioeconomic backgrounds have a definite bearing on how well they do in schools. For example, those who are better off are exposed to enrichment classes from a young age, she noted.
Both Ms Soh, 47, and her husband work in a church, earning a total of about S$4,000 each month. They live in a four-room flat at Ghim Moh with two sons and a daughter.
Their eldest son, who is now 19, graduated from one of the top secondary schools and junior colleges here. Declining to be named, the son, who is a full-time national serviceman, said his friends from school came from "fairly similar" socioeconomic backgrounds, in contrast to his peers in the military. "In our society, it's hard to ensure mixing in schools when everything is based on academics… Because the richer you are, the more you can afford stuff like tuition," he said.
Ms Soh noted that at her second son's school, quite a number of students also come from well-to-do families.
However, the school leaders have placed a strong focus on taking in students with special needs and learning abilities, she said. They have instilled a culture of service to the community, and the students are encouraged to share the values with their family members, she added. For example, the students organise annual community service trips which their fathers are also invited to participate in.
Ms Lim suggested that schools conduct CCAs in clusters, based on their geographical locations, so that students with common interests can come together, despite their different backgrounds.
Pasir Ris-Punggol GRC MP Zainal Sapari mooted the idea of "community schools", which do away with cut-off points and affiliation priorities for admission. These schools could offer both primary and secondary education, he suggested.
"We need to let our children interact with people not only from different backgrounds, but of various academic aptitudes. Instead, now, we are encouraging social stratification at a young age by streaming them, labelling some as 'gifted'," he said.
IT ALL STARTS AT HOME
On her decision to enrol both her sons in a neighbourhood school, Ms Lim said she and her husband "wanted them in an environment where they would get to mix around and widen their social circles".
"We also did not want to put them in an 'elite' school because of the academic pressure," said Ms Lim, a part-time assistant director at Beyond Social Services.
Having come from a privileged background herself, Ms Lim said this was why she wanted to ensure her children are exposed to people from all walks of life.
Since young, her children would accompany their parents at fundraising events. They also visit and support a family living in a rental flat within their estate in Pasir Ris, said Ms Lim. These monthly visits over the last two years have helped her children forge a strong friendship with the other family's son, she added.
Associate Professor Chua pointed out that volunteerism is "an effective means to narrowing the inequality gap". "Networks are conduits for the flow of resources. Mentoring relationships (for instance, free tuition) are one example, they facilitate the sharing of resources, possibilities and synergies," he added.
Some Singaporeans from lower-income households reiterated that there are sufficient opportunities for people like them to rise from the lower rungs of society, as well as mix with people from different socioeconomic groups. It is up to the individual, they said.
Mr Mohd Zuhairi said: "We are what we are… It is about how you want to change your life. You got to be hardworking and have a positive mindset. There are opportunities, but you must know what you want your life to be."
Dr Tan stressed that family upbringing is critical: In a situation where a child is raised in a family which has "socialised him or her to have low aspirations, to not take education seriously, to feel incapable of doing better and to see himself as a victim of circumstances", the child is less likely to break out of his class background.
A SOCIETAL EFFORT
In his parliamentary speech, Mr Ong described tackling inequality as an "unfinished business".
He noted that Singapore, like other nations, had wrestled with the problem of inequality in its early days. But its journey from Third World to First had created new forms of inequalities, said Mr Ong, who also cautioned that social stratification could "poison" the society over time.
Overall, the experts said the situation in Singapore is far from dire, but there are signs of social stratification taking root — and these need to be nipped in the bud.
While Singaporeans had enjoyed "a fairly upward mobility" in the past, Prof Straughan cautioned against a growing discontent and unhappiness among a younger generation who may feel that it is "almost impossible for them to reach for the stars".
Agreeing, Dr Tan said that if the "class boundaries are not permeable" and the chances of moving up are slim, the lower classes may feel "a sense of hopelessness, discontentment and envy".
Given the absence of longitudinal data on the topic, "it is hard to say whether things are getting worse", said Dr Tan.
Nevertheless, the critical question is whether inequalities are "systematically entrenched", Prof Straughan reiterated.
Addressing the issue publicly, several national leaders have noted that social stratification is a risk for developed societies. PM Lee, for example, pointed out that "any society which has been stable for a long time tends to stratify", citing the entrenched notions of class and caste in the United Kingdom and India.
Assoc Prof Chua noted that "an all-out meritocracy in the latter stages will produce the kinds of divides we are seeing".
To bridge these gaps, government policies are one thing. But the public at large has a role to play as well, in terms of attitudes and mindsets.
Ultimately, "friendships are a combination of context and choice", Assoc Prof Chua said. "The important thing would be to complement one's social circles with bridges to others. The best networks are those that are rich in variety," he added.