The Big Read: When good neighbours are the community's first line of defence
SINGAPORE — Cabbie William Koo remembers how he returned home to his Tiong Bahru flat one day to find his elderly next-door neighbour lying prone on the ground.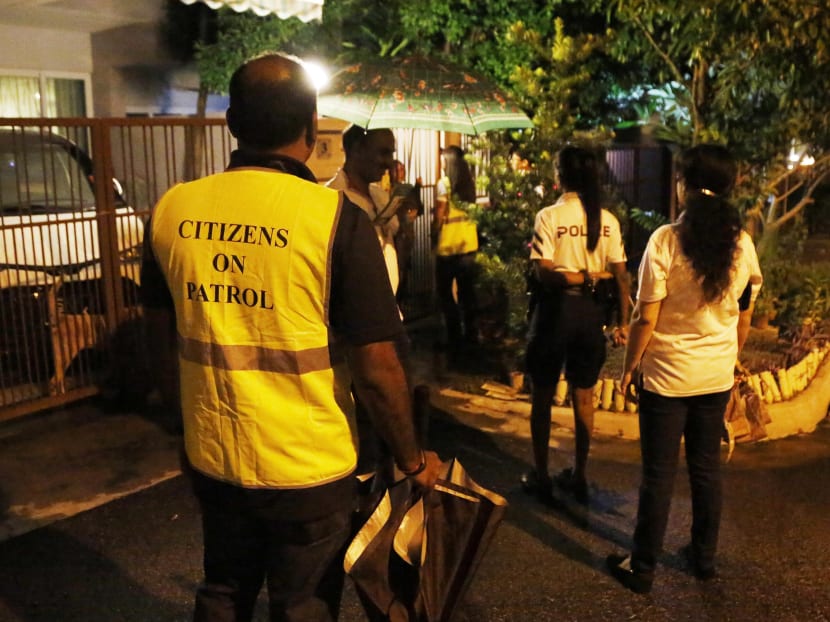 SINGAPORE — Cabbie William Koo remembers how he returned home to his Tiong Bahru flat one day to find his elderly next-door neighbour lying prone on the ground.
The metal gate of the neighbour's unit was bolted, although the front door was ajar. He called out repeatedly to the man, who was in his 70s, but he remained unresponsive. Mr Koo, 67, decided to call an ambulance, and the neighbour — who had suffered a stroke — received medical treatment in time.
Over at Redhill, housewife Rositah Raman's neighbours came to her aid last year when her inebriated son started hitting her with a chair. The widow, 64, lives with her son in a flat. "That time my son went out and drank beer, and came home very violent," she said. "My neighbours heard the noise and came into my house … (they) took the chair from his hand and brought him to the toilet to splash water on him."
Watching out for one another in the neighbourhood goes beyond lending a helping hand during emergencies. Often, it is about the simple acts: Whenever Mdm Zarina Begam's expatriate neighbours return to India, she waters the plants outside their Serangoon Central flat on their behalf. "Sometimes, my neighbour will pass me her house keys because her son has gone to play downstairs, and she needs to go out," said Mdm Zarina, a 60-year-old school bus attendant.
Much has been said about the inevitability of a terror attack in Singapore, and the litmus test will be how the community reacts the day after.
While many Singaporeans have lamented the demise of the "kampung spirit", it appears that community bonds here are fairly strong, based on TODAY's interviews with dozens of residents and a straw poll. And such bonds could also help prevent a terror attack, not just deal with the aftermath, experts noted.
Earlier this week, Home Affairs and Law Minister K Shanmugam reiterated that while it might not always be "within our control" to prevent a terror attack, the Republic can emulate how London and Paris reacted stoically in the wake of recent incidents in these cities. Adding that what is within one's control is how society reacts the day after the attack, he stressed the need to forge community bonds. "If we react in a divided way, if we react by pointing fingers, if we target a particular racial group or community, then we have lost, and the terrorists have won," he said on the sidelines of the Home Team workplan seminar.
WHEN NEIGHBOURS MAKE A DIFFERENCE
The TODAY straw poll of 100 residents found that six in 10 people know the name and occupation of at least one neighbour. Nearly half (48 per cent) felt they did not know their neighbours well, including one in 10 who said they do not know their neighbours at all. Nevertheless, an overwhelming majority (82 per cent) believed that it was important to get to know one's neighbours.
"It's good for everybody to know each other for safety and security. Your neighbours can keep an eye out for your house, when you go on holiday," said site coordinator Saifudin Hussin, 37. The Bukit Batok resident added that he would always notify his neighbours prior to taking overseas trips. Student Edric Lim, 23, pointed out that neighbours were the ones "living in the closest proximity" to him, unlike extended family members or friends.
"You never know when you'll need their help, especially since they are the people who are living in the closest proximity to you ... Being able to see a smiling face when you go off to school and get back home is nice too," he said.
The straw poll also asked respondents whether they were confident that their neighbours would help them in an emergency, and vice versa.
Money broker David Wong, 51, who has been living in Kembangan for a decade, conceded that he does not know his neighbours well, but he felt it was crucial to do so. "Sometimes when you're on holiday, they can look after your place," he said.
He lamented how times have changed, and technology has — in most instances — inadvertently diluted community ties. "When we were younger, we played with our neighbours. Now everybody has a handphone or a gadget to play with," he observed. Fresh graduate Vivian Lai, 24, echoed similar sentiments. "I'm inside my room most of the time, so we hardly have the opportunity to bump into each other," said the long-time Bukit Batok resident.
Around three in four respondents (77 per cent) believed that their neighbours would help them with emergencies at home. An even larger majority (87 per cent) said that they would do the same for their neighbours.
Retiree Lim Yong Hoh, 72, has been at the receiving end of his neighbours' warm-heartedness. "Definitely more than once," he said in Mandarin, recalling the occasions when he had been helped by his neighbours. Having lived alone in his three-room flat in West Coast for the last 34 years, the former hawker — who is unmarried — is well-acquainted with all his neighbours on the same floor. "I don't have any family, so my neighbours are like my family," he said.
Toiling for hours on end for four decades at the hawker stall which his late father had left behind has taken a toll on his body. "Because my hand lacks strength, I have problems carrying my groceries, especially when I buy too much," Mr Lim said. "When I bump into my neighbours downstairs sometimes, they will carry my groceries up for me."
He also recounted a time when "three to four" of his neighbours helped to carry a spoilt refrigerator out of his house, and offered to have it replaced for him — but he politely rejected the offer. "I may be old and weak … but I can't be dependent on others for help," he said. "But I really appreciate (their gestures)."
Mr Koo, the taxi driver who called an ambulance after seeing his neighbour motionless on the ground, recalled how when he was a child, his neighbours would leave their doors open, and he would look out their children to play with.
But this is no longer the case in neighbourhoods today. "In the kampung, if you had a stomachache, the neighbours will call an ambulance for you. Now, if I'm sick, I have a phone and I'll use it to call my children for help," he said.
While they are willing to help with simple favours such as giving away eggs or collecting parcels, the respondents of the straw poll said they draw the line at financial aid. "Even with your family, it's hard to ask. I don't think I would help my neighbours financially," said Dr Yar Kar Peo, a principal engineer residing in Toa Payoh. Respondents were also asked whom they would inform if they came across anything suspicious in their estate. Nearly seven in 10 said that they would inform their family (68 per cent) and the police (66 per cent), while four in 10 (39 per cent) would notify their neighbours.
HARDWARE MATTERS, TOO
While the onus is on residents to reach out to people around them, experts noted that the built environment has a role to play in fostering community bonding as well. "In order to encourage social interaction, the built environment needs to be safe, secure, age-friendly to children and elderly, and should evoke the pleasant ambience of a genteel residential neighbourhood," said Associate Professor Fung John Chye from the National University of Singapore's (NUS) School of Design and Environment.
In response to queries, the Housing and Development Board (HDB) said it has planned and designed its estates to encourage neighbourly interaction - in line with its mission "not just to build flats" but also to create communities.
For instance, void decks at the ground level of HDB blocks were introduced in the 1970s to provide spaces for residents to interact informally, or for planned activities. While void decks are still a common feature in new projects, the HDB noted that "their form and design have evolved in tandem with the needs of residents". For instance, Community Living Rooms, which are spaces furnished with seats and tables, are now created on the ground level to provide a community space for residents to mingle and chat. Such rooms can be seen at Skyville @ Dawson, a new generation public housing development in Queenstown.
"(Community Living Rooms) are … located along the main pedestrian thoroughfare leading to connecting linkways and footpaths," said a HDB spokesperson. "They may be located with letter boxes or near a lift lobby where residents frequent, to further increase chance encounters between neighbours."
Architect Siew Man Kok suggested the re-introduction of ground floor apartments, which are common in older HDB flats. "While it is good to have void deck for ventilation and social interaction, it is equally important that there is a sense of neighbourhood on the ground floor," said the 55-year-old who was named Designer of the Year at the 2015 President's Design Award. He added: "Residents staying on the ground floor will also become the social barometer of the neighbourhood, as their presence will add a natural sense of security to the area and their open doors would often indicate the safety and degree of neighbourliness."
The sight of outdoor furniture and residents milling around outside the ground floor units would be a "healthy sign", he said.
Over the decades, as cars and other vehicles became more prevalent in Singapore, interaction between neighbours in public housing estates have also been affected.
Assoc Prof Fung said: "Most HDB neighbourhoods (are) being fragmented by driveways for vehicular access, which segregate the residential blocks and impede seamless direct access to the amenities." He suggested the creation of a vehicle-free and easily accessible space in the middle of each neighbourhood to facilitate gathering and chance encounters among residents.
Apart from the built environment, NUS assistant professor Chen Yu noted the importance of individual efforts. "A vibrant neighbourhood should be a place where the residents (can) contribute in person, and a place where they feel attached through hands-on projects," said Dr Chen, also from the School of Design and Environment. "In my view, residents should be empowered to improve their neighbourhood, rather than (wait) for the professionals to design for them."
The HDB has introduced a slew of programmes and schemes for community bonding and participation.
For instance, the HDB Friendly Faces, Lively Places Fund launched last year gives residents up to S$10,000 to initiate a community-driven project that develops stronger identity in their neighbourhood. A total of S$500,000 has been set aside for such projects. The HDB Community Week also seeks to encourage residents to go beyond being a friendly neighbour by taking ownership of their community. It does so via an exhibition, and community-related initiatives or activities.
Members of Parliament (MP) TODAY spoke to emphasised the importance of building a strong community spirt, in order to withstand crises including terror attacks.
Hougang MP Png Eng Huat said: "Community living involves a lot of shared spaces, shared responsibilities, and shared values. When we care enough for these shared entities, a strong community bond will arise."
"This bond, built on mutual respect and understanding, will be the only thing left standing in times of crisis, especially when terrorists are bent on driving a dividing wedge between communities by killing innocent people in the name of religion," he added. "Only a strong and deep-rooted community can prevent such destructive effort from achieving its goal."
The Opposition MP lauded the Government's SGSecure campaign as a "good effort ... to prepare the community for the unthinkable eventuality".
Similarly, Tampines GRC MP Desmond Choo reiterated that SGSecure initiatives such as emergency preparedness exercises provide training for grassroots leaders and residents. "It is only with the continual support of the community that we can form a formidable bulwark against terrorism," he said.
In response to TODAY's queries, the police reiterated that the community plays a key role in enhancing safety and security in neighbourhoods. A police spokesman stressed the need for a "community-centric approach", in order to have a "more robust and sustainable strategy to deterrence and prevention of safety and security concerns". The spokesman added: "Members of the community can be effective eyes and ears on the ground, keeping a vigilant watch by looking out for and reporting suspicious items and activities."
To prepare Singaporeans for the fight against terrorism, the authorities launched the SGSecure campaign last year. Speaking during the launch in September last year, Prime Minister Lee Hsien Loong emphasised the need for the community to stay vigilant. He said: "While these programmes are important, they are structured events, they are exercises, they are planned ... Emergencies happen when we least expect them. Alertness must become a part of our daily lives."
The SGSecure campaign highlights the need to stay united, urging Singaporeans to "start by building strong ties with neighbours and community".
LOOKING OUT FOR EACH OTHER, AS FRIENDS DO
The police spokesman noted that the SGSecure movement is meant to "sensitise, train and mobilise" the community to prevent a terror attack, and to deal with it.
"We are encouraging the community to step up vigilance, report suspicious behaviour and items, learn first aid and other emergency preparedness skills, contribute towards maintaining our social cohesion and strengthening our national resilience," he said. Supporting the movement are existing programmes such as the Neighbourhood Watch Zones (NWZ) and Citizens-on-Patrol (COP).
The NWZ was revamped from the Neighbourhood Watch Scheme, which started in 1981 as part of a community policing strategy. The NWZ sees watch groups formed under the respective Residents' Committees (RCs) in the case of HDB estates, and Neighbourhood Committees (NCs) or Residents' Associations (RAs) in the case of private residential estates.
The COP scheme kicked off in 1999, with residents patrolling their neighbourhoods, and kept in the loop on prevailing security concerns.
Volunteers in both initiatives are trained to spot crime, and support the police's efforts in preparing the wider community to respond in a terror attack, said the police spokesman. "They are also encouraged to foster a cohesive and caring spirit with neighbours within the area, which will help establish mutual assistance among them, to support each other during a terror attack."
NUS sociologist Tan Ern Ser suggested setting up a structure comprising a network of designated community leaders who are "capable of organising and mobilising communities in the aftermath of an attack". To reinforce the importance of community efforts, Dr Kang Soon-Hock from the Singapore University of Social Sciences proposed highlighting examples where "a high-level of community vigilance has helped to prevent a tragedy from occurring in a community".
NUS sociologist Paulin Straughan stressed the importance of involving the whole community. "We are only as strong as the weakest link, so the entire community must be brought onboard," she said. "If we depend solely on the residents who have stepped up to volunteer, our reach will be limited."
While she cautioned against creating a climate of distrust — it is very important that "we do not ... create a vigilante community where we end up casting suspicion on each other", she said — Assoc Prof Straughan hoped the existing schemes would kickstart a "domino effect", with the volunteers going on to train others in the neighbourhood. "You do not have to be in the Neighborhood Watch group to be a part of the ground-up endeavor to keep your neighborhood safe," she said. This has already happened with the COP initiative in Sembawang Springs and Sembawang Straits private housing estates.
Started by the Sembawang NC more than a year ago, the initiative sees about 15 to 20 NC members patrolling a planned route and making door-to-door visits on the third Thursday of every month. But the initiative has since spawned similar efforts, with 40 to 60 residents organising themselves and patrolling their neighbourhood every week on their own accord.
"Initially it was just (NC) members, (but) now the residents themselves are actually doing it regularly on their own," said NC chairman Angeline Tan See Wee. "But they don't call themselves citizens on patrol, because it's so formal."
Every month, the COP group — accompanied by two to four policemen, and on occasion a few members of the Singapore Civil Defence Force (SCDF) — visits about 60 of the 900 to 1,000 private landed houses under the NC's purview for about two hours. "It's not just walking the streets, we actually go from door to door to tell them about the latest happenings, such as scam alerts and fire prevention (tips)," she said.
The informal resident patrol groups work independently from the COP team. Nevertheless, they share information from time to time on issues in the estates.
Mdm Tan, 43, a senior programme coordinator, said the COP initiative was started with the intention of deterring crime. For instance, the group had once acted on tip-offs received by the police about a room being sublet to many foreign workers. The COP team checked on the apartment, and subsequently handed the case over to the police. "When we, as neighbours, knock on someone's door, they will be more willing to open the door to us than if it were the police," she said. As the Sembawang COP initiative demonstrates, community vigilance and resilience go hand in hand with neighbours simply enjoying one another's company, and looking out for each other.
Over time, the patrols in Sembawang have evolved into an initiative that does more than just prevent crimes. It has "helped to foster community ties and encourage neighbourhood vigilance", Mdm Tan said. "From walks, they have now developed into quarterly potluck sessions when the neighbours will just come and host potluck sessions for the other neighbours." A group of residents also organised a trip to Batam about three weeks ago, while another "drove a convoy of cars" to a durian farm. "They are close to that extent now," she said. "(The patrolling) really brings the neighbours closer together."