HDB widens adoption of prefab to boost productivity
SINGAPORE — Prefabrication will play a bigger role in the Housing and Development Board's (HDB) efforts to boost construction productivity, which is on track to improve 25 per cent by 2020 from 2010 levels.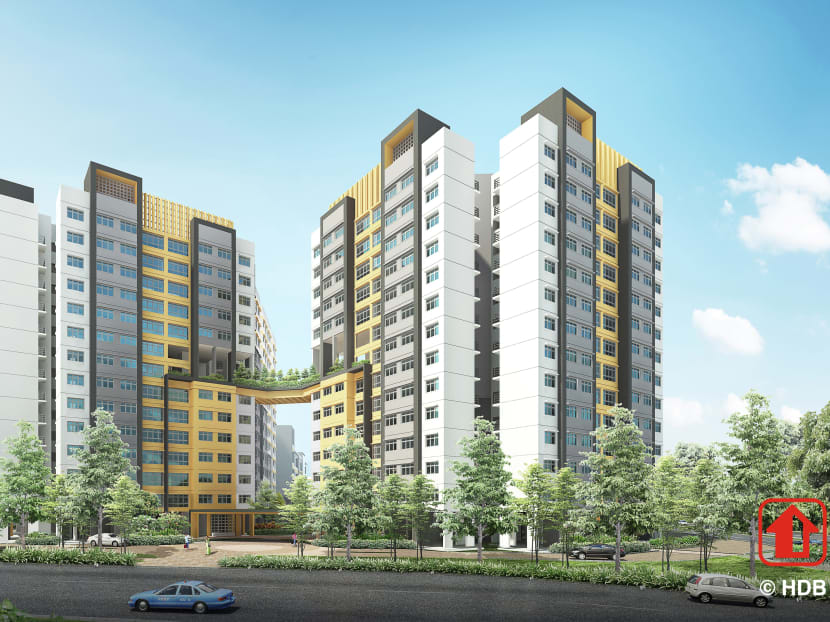 SINGAPORE — Prefabrication will play a bigger role in the Housing and Development Board's (HDB) efforts to boost construction productivity, which is on track to improve 25 per cent by 2020 from 2010 levels.
Productivity levels at HDB construction sites last year, defined as the amount of floor area completed per worker per day, was 12.3 per cent higher than in 2010, said the public housing authority.
By 2019, toilets in all newly launched public housing flats and rooms in about a third of housing projects will be built in a factory instead of the construction site, the HDB said.
Second Minister for National Development Desmond Lee announced the wider adoption of concrete "volumetric construction" in future HDB projects at a ceremony attended by HDB building contractors and architectural consultants on Wednesday (Sept 6).
Releasing more details, the HDB said shells of the bathroom units will be pre-fabricated and fitted with finishes - such as copper pipes, tiles, window frames and a waterproofing system - off-site, before they are taken to the work site and stacked onto a block.
This will increase the amount of floor area completed by one site worker per day by about 10 per cent.
In 35 per cent of its projects, other components of a flat (such as bedrooms, the living room, household shelter and kitchen) will be pre-fitted with floor and wall finishes, window frames and a base coat of paint in a factory, before being transported to the construction site, the HDB
This method, called pre-fabricated pre-finished volumetric construction (PPVC), will result in a 50 per cent bump in project productivity.
The HDB, Singapore's largest housing developer, said the pre-fabricated bathroom units and PPVC methods would be "game-changing".
The 12.3 per cent improvement in construction productivity from 2010 to last year has meant an increase from 0.439 to 0.493 square metres completed per man-day.
This was achieved through the use of precast walls and standardised fittings.
Such technologies will cost contractors more for now - but with no impact on flat prices, said the HDB.
Pre-fabricated bathroom units are expected to push construction costs of projects higher by one per cent.
The PPVC method will be 8 per cent costlier than conventional building methods, where workers hoist raw materials onto elevated blocks being built.
"These costs are expected to come down as the technology matures and the industry capacities and capabilities build up over time.
"The use of pre-fabricated bathroom units and PPVC methods will also translate to savings in terms of manpower," said the HDB.
Benefits from the off-site assembly of volumetric units include less wastage of materials and improved site safety, as fewer construction workers are required on-site. Volumetric construction in factory environment also means "more uniform and better quality workmanship".
The prefabrication journey has had its share of ups and downs.
The HDB had trialled at least two versions of pre-fabricated toilets in the past.
Fibre-reinforced plastic was used as a floor material in 10 blocks of Compassvale Link flats built in 2004, leading to water seepage issues.
Residents had to get their toilets renovated from scratch as the toilet floor of some units had started to creak and sag, while emitting bad smells as stagnant water had collected on the floorbed.
The HDB scrapped the material in 2006 and turned to thin ferro-cement, before settling on full concrete in 2011. The latter was piloted in the Fernvale Lea build-to-order (BTO) project, which started construction in 2012 and completed in January last year.
Concrete pre-fabricated toilets have been installed in some 14,000 units across 15 BTO projects so far. This technology will also be used in 60 per cent of flats launched this year.
In March this year, the PPVC method was used for the first time to construct 824 BTO units at Valley Spring @ Yishun.
This came more than two years after HDB tested the same volumetric construction approach - but without floor finishes or painting - in the building of 1,793 units in West Terra @ Bukit Batok, which is expected to complete by March next year.
The phased implementation of PPVC will allow the industry players such as building contractors, architectural consultants, and suppliers to build up their capability to "embrace the adoption of new methods and materials", said the HDB.
At the HDB Awards ceremony, Mr Lee also said HDB would embark on a research project with Nanyang Technological University to develop a Smart Integrated Construction System to "improve integration across the entire life cycle of a project, from design to supply chain, and to facilities management".
More information on this will be shared on Thursday.