S'pore, neighbours vow to fight terrorism together
SINGAPORE — The sharing of biometric information of known fighters and those convicted of terrorism offences between neighbouring countries, such as their fingerprints, is one area countries in the region will prioritise in fighting terrorism in South-east Asia, following an international meeting on counter-terrorism held in Bali on Wednesday (Aug 10).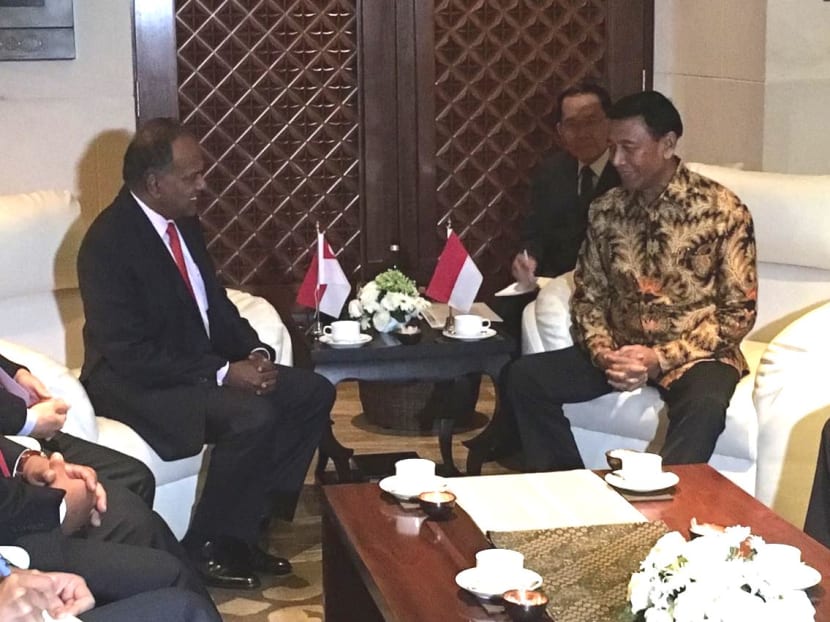 SINGAPORE/BALI — The sharing of biometric information of known fighters and those convicted of terrorism offences, such as their fingerprints, is one area countries in the region will prioritise to fight terrorism in South-east Asia.  
Singapore, Malaysia, Indonesia and other neighbouring countries will also work on sharing best practices in de-radicalisation and countering violent extremism, through regular institutionalised exchanges at the working level, said the Ministry of Home Affairs (MHA) on Wednesday (Aug 10), following an international meeting on the issue held in Bali.
Home Affairs Minister K Shanmugam and his Malaysian counterpart Dr Ahmad Zahid Hamidi had agreed that these two areas should be prioritised, during a bilateral meeting held on the sidelines of the International Meeting on Counter-Terrorism. 
The International Meeting on Counter-Terrorism was held alongside the Counter-Terrorism Financing Summit, and both were attended by representatives from more than 20 countries, including the United States, Russia, China and Australia. 
There were also representatives from Interpol and the United Nations.
The meetings come less than a week after six suspects were arrested by the Indonesian authorities over an alleged plot to launch a rocket from Batam to hit Marina Bay in Singapore, on Friday. 
The MHA said that Mr Shanmugam and Dr Zahid, who is also Malaysia's Deputy Prime Minister, had discussed the latest terrorism situation in South-east Asia, and what could be done to increase cooperation between the security and intelligence agencies of Malaysia, Indonesia, and neighbouring countries. 
Noting the threat posed by the estimated 1,000 fighters from Malaysia and Indonesia who have travelled to participate in the conflict in Syria and Iraq, and the several hundred other individuals previously convicted of terrorism offences in Indonesia who will be released from prison in the next few years, the two ministers had agreed that the two priority areas would ensure a "fruitful outcome and follow-up" to the International Meeting, said the MHA. 
Mr Shanmugam had also raised these two priorities during his call on Indonesia's Coordinating Minister for Political, Legal and Security Affairs, Mr Wiranto, later in the day.
In his speech at the International Meeting, Mr Shanmugam, commenting on the threat to South-east Asia posed by terrorism, said: "Some people say that as Isis (the Islamic State of Iraq and Syria, also known as IS) loses territory in the Middle East, it may shift its focus to South-east Asia and increase its terrorist activities around the world. We have to take this threat seriously." 
Dr Zahid, speaking to the media at the meeting, called for greater cooperation with other countries to effectively counter the terrorism rhetoric flooding cyberspace. 
"With the rapid development in information communication technology, Malaysia is greatly concerned over the use of the Internet and social media by terrorist groups to disseminate their stories, radical ideologies and rhetoric," Mr Zahid was quoted as saying by The Star. 
Malaysia is establishing the Digital Strategic Communications Division and Counter Messaging Centre to address the "narrative of the terrorists and extremists", said Dr Zahid, adding that the centre would be operational soon.
He also stressed the importance of border security to stop the movement of terrorists. "At our entry points, the Immigration Department monitors each and every one that passes (through)," noted Dr Zahid. 
The data is cross-checked against a suspects' list, which contains the names of persons subjected to travel bans by the Malaysian authorities, including terrorists and other criminals.
Mr Wiranto warned that serious attention needs to be paid to "lone wolves" as their attacks were impossible to predict and were a new challenge that nations need to anticipate. 
"Some of them are veterans of Syria and Iraq. Some have been recruited by Isis or are returning foreign terrorist fighters, and some others become radicalised by social media run by extremist groups," he added.
Addressing the increase in the frequency and severity of terrorist attacks globally in a speech at the summit on Wednesday, Australian Justice Minister Michael Keenan said individuals unknown to authorities were becoming quickly radicalised and carrying out violent attacks.
"International terrorism will be generational, it will confront us for decades to come," Mr Keenan said.
"We must work closely and in collaboration with regional and global partners to disrupt terrorism financing and to combat this threat." 
He added: "Large terrorist organisations such as Isis rely on networks and facilitators enabled by criminals, corrupt officials and others co-opted or wilfully blind to their endeavours both within and outside their territory." WITH AGENCIES