BioNTech to set up Covid-19 vaccine manufacturing plant in Singapore
SINGAPORE — BioNTech, the makers of the Pfizer-BioNTech Covid-19 vaccine that is used here, will set up its Southeast Asia regional headquarters, as well as a mRNA manufacturing facility in Singapore.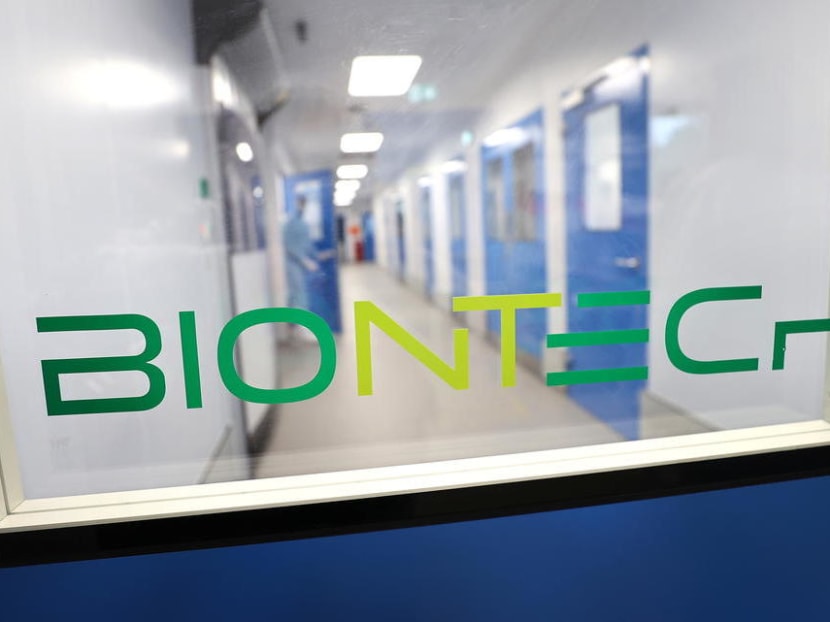 BioNTech said it aims to start building its new Singapore facility this year
The facility is expected to be operational by 2023, creating 80 jobs
The investment is in the "hundreds of millions" of US dollars, the firm said
Some vaccines made at the facility will go to Singapore residents, it added
SINGAPORE — BioNTech, the makers of the Pfizer-BioNTech Covid-19 vaccine that is used here, will set up its Southeast Asia regional headquarters as well as a mRNA manufacturing facility in Singapore. 
Construction of the facility is scheduled to start in 2021 — subject to approval by planning authorities — and the German biotechnology firm expects it to be operational from 2023. 
Up to 80 jobs in the domestic market here are likely to be created to support the new facility. 
In a media release on Monday (May 10), the company said that the new facility will provide regional and global supply capacity for BioNTech's products and allow it to respond quickly to address potential pandemic threats in the Southeast Asian region.  
The facility will leverage cutting-edge manufacturing and digital infrastructure. 
"It will be equipped to produce a range of novel mRNA vaccines and therapeutics for infectious diseases and cancer," it added. 
"The envisioned site will bring highly automated and end-to-end mRNA production capabilities across drug substance, drug product and fill-and-finish, with an estimated annual capacity of several hundred of million doses of mRNA-based vaccines depending on the specific vaccine."
Messenger ribonucleic acid, or mRNA, is a type of molecule that when injected into a human body, tricks it into producing some of the viral proteins itself, and therefore some of the virus' molecules.
Speaking on the investment at a media conference on Monday, Trade and Industry Minister Chan Chun Sing said that this would be the start of a long-term partnership between BioNTech and Singapore.
"In time to come, we hope to also strengthen our collaboration with BioNTech, not just in the production field but also perhaps in the research and development field as well," he said.
Professor Ugur Sahin, co-founder and chief executive officer of the company, who was also present at the conference, said that the expansion of its manufacturing facility would increase the supply of vaccines by "hundreds of millions of doses".
Mr Ryan Richardson, chief strategy officer of BioNTech, said that the firm hopes to establish a regional and even global supply for a range of vaccines and therapies beyond Covid-19.
Concurring, Mr Chan said: "Even for Covid-19, to be frank, we don't know how long this will last. But as soon as the facility comes onstream, we would be able to play a meaningful role for the rest of the region and the rest of the world."
Prof Sahin said that this expansion into Singapore provides an opportunity for the firm's manufacturing capabilities to serve parts of Asia and reduce global manufacturing burden.
He added, however, that building a manufacturing plant in Singapore will not help the global supply of Covid-19 vaccines in the next 12 months.
"The global supply can only be addressed by increasing the existing production capacity. We did that and we will continue to do that in the next 12 months."
Together with its partner, American pharmaceutical giant Pfizer Inc, BioNTech plans to deliver three billion doses by the end of this year, which is 50 per cent higher than what they initially announced.
Prof Sahin also said that a certain percentage of the vaccines made here will go to Singapore residents.
The company declined to reveal the exact size of the investment except to say that it is in the "hundreds of millions" in US dollars.
Prof Sahin said that the 80 jobs to be created from this investment is just a minimum number and that it could go up depending on how fast the facility is set up and its size.
He added that the company is in discussions with potential partners to acquire an existing building or an infrastructure with production capacity to accelerate the construction of this plant, and hope to have a clearer idea of its plans in the next 15 months.