Opening May 8, Bird Paradise at Mandai to entice visitors with kid-friendly interactive features, more walk-through aviaries
SINGAPORE — Visitors to Mandai's new Bird Paradise, which opens on May 8, will offer have opportunities than ever to get up close to their feathered friends with eight walk-through aviaries spread across the 17ha park.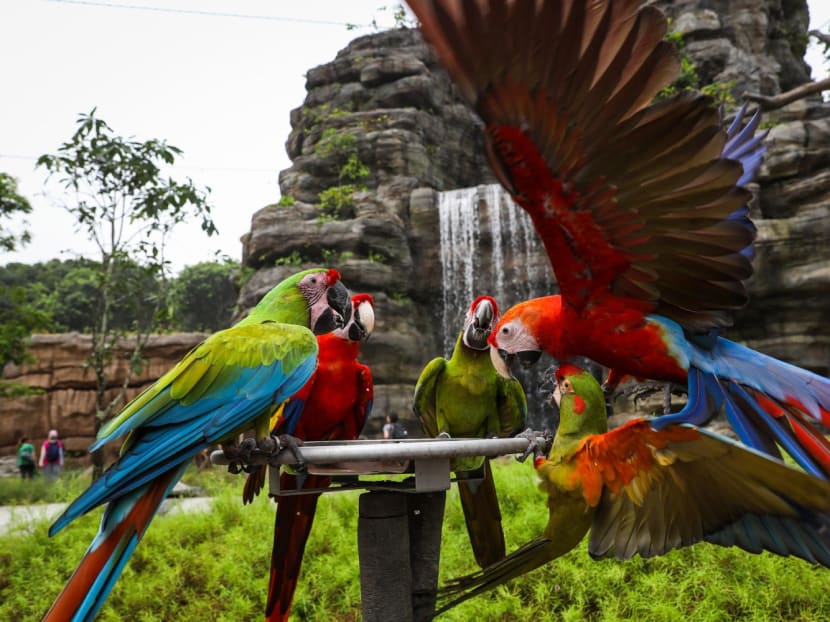 Bird Paradise, which opens on May 8, will take over showcasing the world's birds to the public from the much-loved Jurong Bird Park that closed in January
Employees at the new facility said that it has taken inspiration from the old park while enhancing its features with more interactive elements and themed habitats
Other improvements include child-friendly and multi-sensory experiences
Bird Paradise features eight walk-through aviaries where the public can get close to their featured friends, double the four at Jurong Bird Park
SINGAPORE — Visitors to Mandai's new Bird Paradise, which opens on May 8, will have more opportunities than ever to get up close to their feathered friends with eight walk-through aviaries spread across the 17ha park.
That is double the four walk-through aviaries at Jurong Bird Park, which closed on Jan 3 after 52 years of thrilling bird lovers from around the world.
Bird Paradise visitors will also for the first time be able to experience what happens behind the scenes as staff members care for the 3,500 birds housed in the park.
These are just some of the attractions at the Mandai precinct's avian addition to the existing attractions of Singapore Zoo, Night Safari and River Wonders, which are managed by the Mandai Wildlife Group.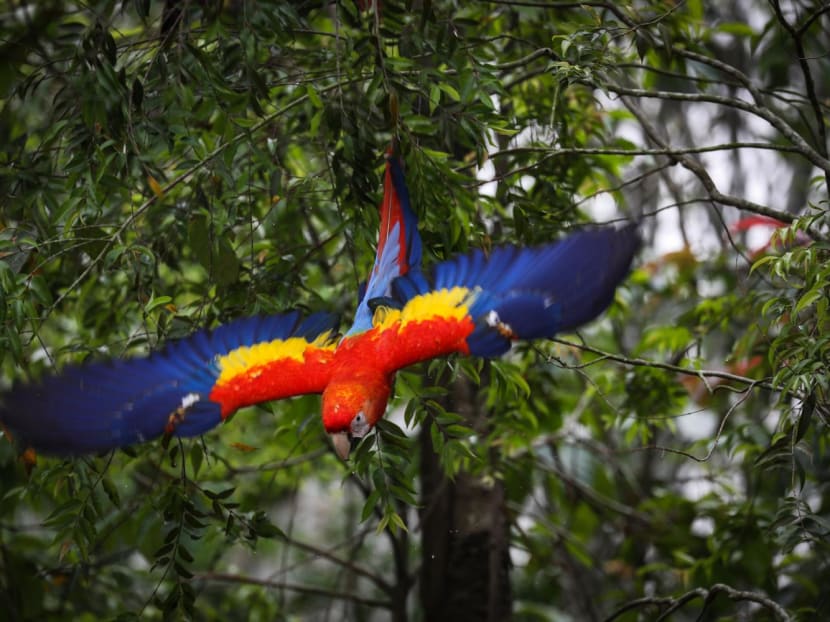 On Friday (April 21), Mandai Wildlife Group's chief executive officer Mike Barclay said: "While Bird Paradise is an entirely new park concept, we wanted to bring across the best elements of Jurong Bird Park and amplify them over here." 
One example of a concept that has been brought over from Jurong Bird Park and enhanced is the walk-through aviaries.
Bird Paradise's greatly expanded eight walk-in aviaries are each distinguished by a particular habitat and geographical location from where the birds hail.
Smaller aviaries at Bird Paradise include themed aviaries based on the Australian outback and the rainforests of Papua New Guinea, while larger aviaries include the Kuok Group Wings of Asia, an aviary with an Asian rice paddy hills theme.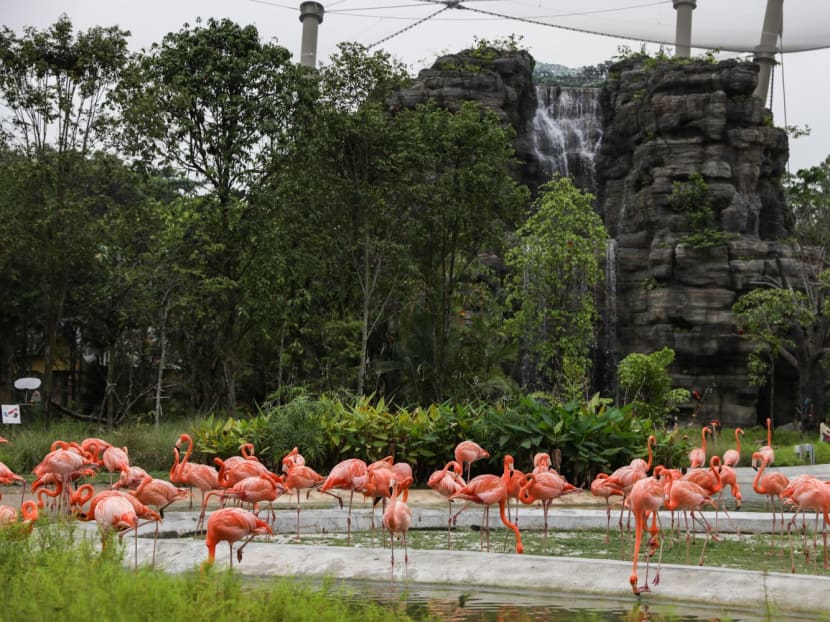 Ms Rucha Khanderia, deputy vice-president of attractions development at Mandai Wildlife Group, said: "Jurong Bird Park is, of course, an iconic park, but it was built 52 years ago.
"The display of animals back at Jurong was based on taxonomy, so you would see parrots together, hundreds of songbirds in one location, whereas the new park focuses more on the holistic environmental education."
Bird Paradise focuses more on how the birds "live within these environments, what kind of natural behaviours they display and also how, within the same environment, the different species interact", she added.
Bird Paradise keeper Jia Hao said that the larger aviaries also help to stimulate the birds and help to improve animal welfare.
"In our free-flight aviaries, birds are not as confined as they might have been in Jurong," he added. "We also have different feeding areas in aviaries, with stimulative feeding tools to keep them active and engaged."
Such tools include fruit being impaled on spikes, where macaws are encouraged to pick their meals off of them instead of being hand-fed.
For an extra charge, visitors will be able to gain access to exclusive back-of-house experiences.
The new "avian healthcare" backstage pass gives a visitor access to see the Bird Paradise veterinarians in action for S$118.40 on weekdays and S$148 on weekends.
Families with children can also expect an improved experience that caters to all the senses.
"As a design principle, we incorporated quite a bit of fun and playful bird inspired moments. These come in the form of large playgrounds and also smaller play pockets, tactile and digital interactives," Ms Khanderia said.
Bird Paradise also offers multi-sensorial experiences in between aviaries, where visitors may listen to calls of songbirds and make their own dawn choruses, or watch films on courtship dances.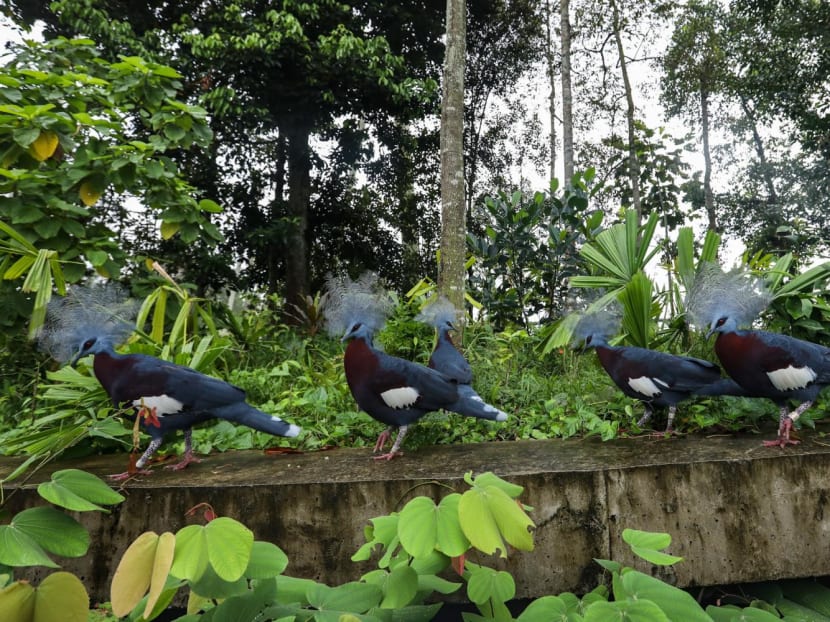 Members of the public may pre-book admission tickets and any add-on programmes from April 24, with visit dates from May 8, which is officially described as a "soft opening".
Friends of Wildlife members whose memberships do not extend to Bird Paradise can get their membership pro-rated and refunded, then buy a new membership with a 20 per cent discount.
Another option is to retain their current membership and get 50 per cent off admission to Bird Paradise from May to Oct 31.
This policy was clarified after letters were published in the forum page of national daily The Straits Times, where people registered their disappointment that Bird Paradise was not included in their membership.
TODAY reached out to Mandai Wildlife Group for comment on its membership policy but it declined to comment.