BlueSG refutes user's complaint about S$9,800 repair bill, says car was damaged after he let stranger drive it
SINGAPORE — Countering a man's public complaint on social media that he was being made to pay about S$9,800 for causing "very mild" damage to a BlueSG car, the electric-car-sharing company said on Monday (Oct 3) that the damage is "not insignificant".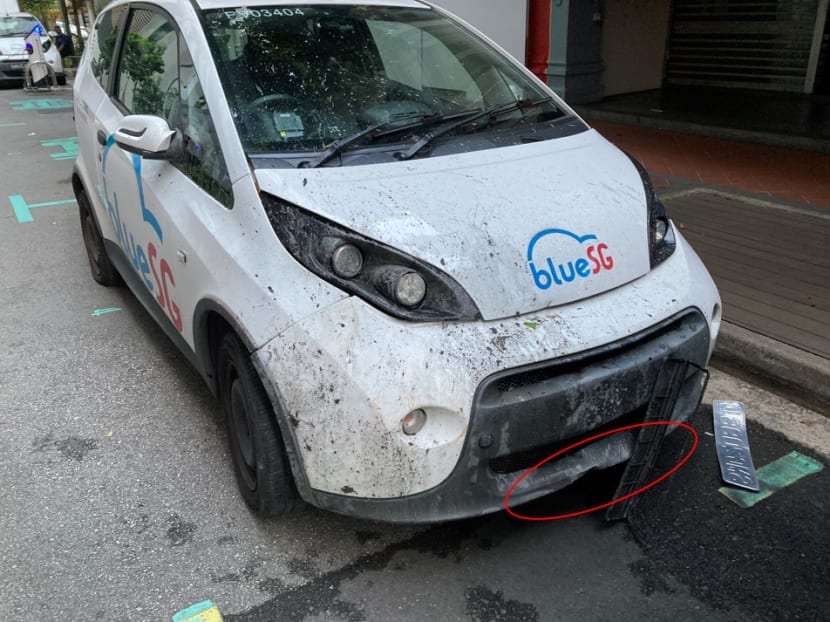 Mr Peng Yuan went on social media to talk about his experience renting a car from BlueSG
He claimed that he received an expensive repair bill for what he at first thought was very "mild damage" to the car caused during a mishap
Mr Yuan had trouble parking and allowed someone he did not know to help him
The other driver allegedly ended up hitting the rented car against a building wall
BlueSG said the damage caused to the car was not minor and it is mostly internal 
SINGAPORE — Countering a man's public complaint on social media that he was being made to pay about S$9,800 for causing "very mild" damage to a BlueSG car, the electric-car-sharing company said on Monday (Oct 3) that the damage is "not insignificant".  
Ms Jenny Lim, head of BlueSG's Singapore office, told TODAY in a video interview that there were "internal damages to the car, mounting up to the engine level", none of which would be outwardly visible.
She was unable to go into the exact details of the damage because she was speaking to TODAY from overseas and did not have access to the repair report from the workshop.
However, Ms Lim said that the car's in-camera footage had shown that the car was driven straight into the foot of a building, where a bin centre was located. BlueSG was unable to show the footage to TODAY.
Present as well during the video interview was Mr Kelvin Tay, chief executive officer of BlueSG. He is also the managing director of the department of future mobility for the Goldbell Group, a transportation company that acquired BlueSG last October.  
Last Thursday, the complainant, Mr Peng Yuan wrote an account of how the accident took place on the BlueSG Users Group on Facebook, and included photographs of the damaged vehicle, which was heavily soiled.
The photos showed that the vehicle's license plate had fallen off and there was a dent on its right rear rim. No other visible damages could be seen from the photos that were published.
NERVOUS ABOUT PARALLEL PARKING
Speaking to TODAY over the phone last Thursday, Mr Yuan, a 34-year-old engineer from China, said that the accident took place on Aug 18 while he was on his way to work at around 6.30am. He was driving along Stanley Street in the Central Business District, a one-way street in the Telok Ayer area.
Mr Yuan admitted that he had trouble parallel-parking his car perfectly into a designated BlueSG lot and would typically take his time to ensure that the vehicle does not jut out of the lot and inconvenience other motorists travelling down the narrow road.  
"But what was special that morning was that... a garbage truck (had appeared) beside me, and that put a lot of pressure on me (to get the car into the lot)," Mr Yuan said. He was anxious about not wanting to impede the flow of traffic.  
The driver of the truck offered to guide Mr Yuan into the lot, before he suggested taking over the wheels. Mr Yuan agreed to that.
"I somehow trusted him because I thought he is more experienced. That's my biggest mistake," Mr Yuan added.
Instead of stepping on the brakes, the man — who Mr Yuan claimed was a work pass holder — stepped on the accelerator instead, which sent the car rolling forward about 10m before it went over a kerb and into a garbage container mounted on the wall of a building.
In his social media post describing the incident, Mr Yuan did not mention the wall and the kerb.
Even though the car was not moving at a fast speed, Mr Yuan said that it was all over within two or three seconds and that he did not have time to shout.
The garbage truck driver, on his part, apologised to Mr Yuan and left him his name and phone number. He also offered to pay for any damages incurred.
TAKEN ABACK BY BILL
Based on his own inspections at the time, Mr Yuan was of the opinion that the damage the car had sustained was not very huge.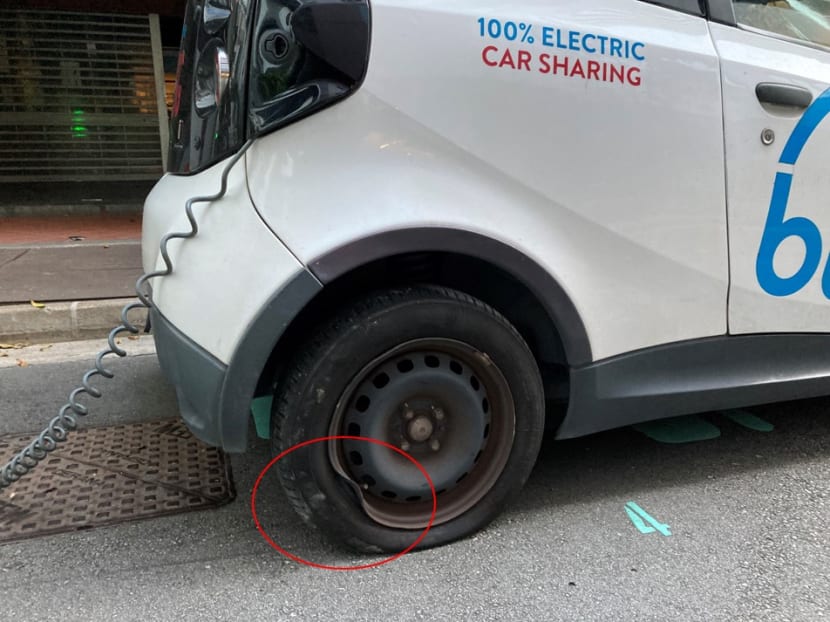 The next day, he reported the matter to BlueSG's accident reporting centre, operated by car repair and maintenance service company Indeco Engineers.
When he asked an employee at the centre how much he should expect to pay in repairs, he was apparently told that it may roughly be about S$1,000 to S$2,000.
This was why Mr Yuan said that he was shocked to receive a notice on Sept 12 showing that he was liable to pay BlueSG the following amounts:
Own damage repair costs: S$8,495.15
Administrative and goods and services tax charges: S$1,274.27
Third-party excess or repair costs (pending confirmation from insurers): Up to S$8,000
Mr Yuan claimed that he repeatedly tried to get someone from BlueSG to break down the costs for him, for the sake of transparency, but no one called him to do so.
He said that the bill was too much for him and he would feel guilty asking the garbage truck driver to share the burden with him since the truck driver would likely not be earning much.
"This huge amount really stretches my budget and is pushing me to the edge of being bankrupt," he added. 
To date, he said that he has not made any payments and has blocked BlueSG from making any deductions from his credit card.  
WHAT BLUESG SAID
In her conversation with TODAY, Ms Lim of BlueSG refuted Mr Yuan's claims that her company had not tried to contact him after the accident.
"To be fair to us, we contacted the customer many times, but he refused to pick up the phone," she said.
When TODAY approached Mr Yuan again on this point on Monday, he denied missing any calls. He also said that a BlueSG employee had called him last Friday, with the intention of scheduling a phone call with him on Monday but he said the call never came.
Ms Lim explained that the accident reporting centre's employee who attended to Mr Yuan was in no position to comment on estimated costs of repairs because the vehicle had yet to even undergo a thorough inspection at that point in time.
Mr Tay from BlueSG said that the firm has no control over how much the workshop, Indeco Engineers, charges for repairs.
He added that BlueSG has already paid Indeco Engineers for the repairs, so Mr Yuan must now pay BlueSG. 
And because of Mr Yuan's own admission that he had allowed another individual to operate the BlueSG car, which is in violation of the firm's terms and conditions, Ms Lim said that insurance cannot cover the costs of repairs.
Had that not been the case, Mr Yuan would only have to pay an excess amount of S$5,000.
As for the third-party charges, which refer to the cost of damages to the building caused by the crash, Ms Lim said that the building's owner is still assessing the cost of the damage with BlueSG's insurers and will send a bill later.
When told that all Mr Yuan was seeking was a breakdown of the repair costs, Ms Lim said: "We had no clue what he wanted."
She said again that her employees had tried contacting Mr Yuan several times and the company only learned what he wanted after he wrote about it on social media.
That said, she added that no motor insurance company will provide the insured client with a detailed breakdown of every cost incurred.
"But generally, if he had communicated with us, we will be okay to tell him what were the items that needed to be repaired."
Ms Lim added that if a customer has trouble making the payments for car repairs, BlueSG can allow the customer to do so in instalments — though this will be assessed on a case-by-case basis.
As for what is going to happen next, Ms Lim said BlueSG would want to have "ongoing engagement" with Mr Yuan. Ultimately, what the company does next is dependent on a further assessment by the company's insurers.