Brain cancer alters these 2 young adults' lives, including the way they eat, speak and read
SINGAPORE — Ms Vivian Tan used to be a competitive straight-A student and Mr Benjamin Lim was an avid cyclist holding down a packing job in the logistics sector.
Cancers affecting the brain and central nervous system are among the top 10 cancers affecting children and young people here
Two adults in their 20s talked about their experience battling a brain tumour and how it affected their lives
Ms Vivian Tan was diagnosed at the age of 11 and is now completing her studies at the National University of Singapore
Mr Benjamin Lim had to stop working due to an aggressive brain tumour that put him in a coma, but has not lost his sense of optimism
Both of them found support from the Brain Tumour Society Singapore and now tries to support other patients in need
SINGAPORE — Ms Vivian Tan used to be a competitive straight-A student and Mr Benjamin Lim was an avid cyclist holding down a packing job in the logistics sector.
All of these changed when they were found to have a brain tumour, which dramatically changed how they had envisioned their life would be.
Both in their 20s, Ms Tan and Mr Lim have endured painful and lingering side effects from their illness but soldier on to try and live a meaningful life, not forgetting to support others in need whenever they can.
For people under the age of 30 in Singapore, brain and central nervous system cancers are the third most common cancers affecting males and the sixth most common cancers affecting females, figures from the Singapore Cancer Registry show.
However, brain tumours can occur at any age.
Ms Tan, 21, and Mr Lim, 27, were among the patients, survivors and families who were at the Brainy Car Rally held recently on July 31.
Both were helping out at the charity drive hosted by Brain Tumour Society Singapore, which supports individuals and families affected by brain tumours.
The event returned after a four-year hiatus and offered brain tumour patients joyrides in Lamborghini cars. It also featured an experiential station simulating brain surgery and a talk by medical experts, among other activities.
In interviews with TODAY after the charity event, Ms Tan and Mr Lim talked about their experiences battling the devastating disease and how they are coping now.
RECURRING HEADACHES, FREQUENT FALLS
Ten years ago, Ms Tan was only 11 when she was diagnosed with a brain tumour. It was a year before she was supposed to take her Primary School Leaving Examination (PSLE).
The tumour was located near the pituitary gland, a pea-sized gland that controls growth and development, and the functioning of hormones.
Ms Tan's early symptoms were recurring headaches and frequent falls.
A routine eye check in school uncovered some vision problems, which an optometrist initially thought were due to strabismus (crossed eyes). However, her mother felt something was amiss and insisted on further tests, which eventually uncovered a brain tumour.
Ms Tan recalled her parents being very stressed by the diagnosis and her younger siblings were just aged three and seven then.
She herself started realising the extent of the suffering she would have to endure after the gruelling treatments of chemotherapy and radiotherapy began.
"There was a period when I got so afraid of going to the hospital because every time I was there, it meant that I had to go for treatments. I recall vomiting everything I ate due to the side effects. It was a painful process."
BEATING THE BLUES, FEELING ALONE
After her treatment, Ms Tan jumped back into her studies and insisted on taking her PSLE. "I didn't want to be left behind by my peers," she explained. 
Her body, though, could not keep up with her determination. Other than getting fatigued more easily, her reading speed, concentration levels and memory were affected, which made it difficult for her to cope with school work.
For example, she needed double time to read and study the same material. She also continued to get on-and-off headaches.
"When a teacher started a lesson, I'd listen and write down notes but there would be missing chunks in my notes because I would forget what she had said.
"My reading speed and lethargy have gotten better but I still have those missing chunks in my notes (now in university)," Ms Tan said. 
Formerly one of the top students in primary school, Ms Tan said that she used to be competitive and was academically driven before she fell ill.
Now, she has learnt that academic excellence is not everything.
"When the disease struck, I thought I would get treatment and then I'd be fine; I didn't expect the side effects and difficulties to linger.
"But over the years, I've understood that all these things in life are not as important as just being alive and being healthy.
"There were times when I felt so down but my mum reminded me that they've fought so hard for me to live, so why aren't I treasuring it?"
With hard work and support from her family, teachers and friends, Ms Tan managed to enrol in a degree programme in business administration at the National University of Singapore.
She is now doing an internship in the human resources unit of a manufacturing firm and will soon go on a four-month exchange programme in Canada.
With around 130 types of brain tumours, every patient and survivor has different side effects but all of them and their families go through similarly difficult and lonely journeys while living with the disease.
Ms Tan recalled feeling alone during her recovery and there was a lack of understanding from peers who thought that her fatigue and headaches were excuses she made.
"I remember having a bad headache in school and someone joked, 'Real or not, or are you faking it?', when I asked the teacher to let me go to the sick bay. He probably didn't mean it; it was something he could not understand. But that was hurtful," she said, visibly emotional. 
Brain tumour survivor Melissa Lim, founder and president of Brain Tumour Society Singapore, said that Ms Tan's experience is "very typical" of the challenges that children and young patients face.
There are many people who are not aware of how the disease affects patients and their families, Ms Lim said. "Not all schools are adaptable to allow individual differences in learning, so there is a lot of pressure on the children," she added.
Ms Lim is an adjunct lecturer with the NUS Business School and she met Ms Tan last year.
The undergraduate said: "It was through Brain Tumour Society Singapore that I connected with other brain tumour patients who are able to better understand my difficulties. It's very helpful for us to have mutual support."
Because I've gone through this, I'm able to support one of my NUS school mates who was recently diagnosed and has just completed treatment.

National University of Singapore undergraduate Vivian Tan, a brain cancer survivor
This month, Ms Tan has reached her 10-year mark of being in remission from the brain cancer and the journey has shown her that there may be a greater purpose in her suffering.
"Because I've gone through this, I'm able to support one of my NUS school mates who was recently diagnosed and has just completed treatment," Ms Tan said.
Now that getting As is no longer a priority for her, Ms Tan wants to "take things one step at a time and try to experience new things in life".
"I'm just grateful to be alive." 
Ms Tan would like to people to keep a look out for symptoms (see below) that may suggest a brain tumour.
In her case, the brain tumour would have caused even more serious problems if her mother had not gotten her eyes checked in time. There could have been permanent damage to vision and other body functions and, in the worst scenario, she could have died.
BRAIN TUMOUR: RISK FACTORS AND SYMPTOMS
The cause of brain tumours is not known and can occur at any age.
The National Neuroscience Institute in Singapore said there is no clear evidence that injury, chemical exposure, mobile phone use, environmental factors or mental stress can cause brain tumours.
Depending on the type of brain tumour, the symptoms may vary. Some common symptoms are:
Headaches that recur and get worse, especially in the morning
Nausea and vomiting
Seizures or fits
Unexplained drowsiness
Vision problems such as double vision, blurred vision or having trouble seeing clearly
Increasing difficulty with speech and hearing
Growing weakness in the limbs
Problems with hearing, balance and coordination
Marked changes in memory, concentration or alertness
Source: National Neuroscience Institute
FELL INTO A COMA 
For Mr Lim, who was diagnosed with an aggressive form of brain cancer known as glioblastoma in June last year, the symptoms started with intense headaches and not being able to move his left arm and shoulders.
His headaches worsened despite seeing a general practitioner and taking medications for migraine.
Two days later, he was rushed to a hospital's emergency department where he fainted and slipped into a coma for a week.
The months after he woke from his coma was rough.
"It was hard to accept (the diagnosis) and I could not face it," he said.
Mr Lim went through three major rounds of brain surgery as well as weeks of radiotherapy and chemotherapy, losing his ability to eat on his own and he was not able to walk properly at the time.
He also had recurrent severe urine infections when he was hospitalised.
RE-LEARNING HOW TO SWALLOW AND SPEAK
From being a fit and active young man whose physically demanding work required him to be on his feet for eight to nine hours, Mr Lim had to re-learn how to walk, talk and swallow after his illness.
Till now, his speech gets "tangled up" and does not flow as smoothly as before. He also has trouble gripping utensils properly using his left hand.
At the beginning, I was scared of having short-term memory loss (after the surgery and treatments). So I tried doing some questions from primary school mathematics textbooks.

Mr Benjamin Lim on one of his fears after he underwent brain surgery
However, his mind remains nimble.
"At the beginning, I was scared of having short-term memory loss (after the surgery and treatments). So I tried doing some questions from primary school mathematics textbooks.
"I can still solve them," he said with a smile.
One of the toughest moments in the past year was when he had to be fed through a naso-gastric tube for a few months during treatment.
"Seeing people eat good food while you're on an NG (naso-gastric) tube is very torturous," he said.
He had to re-learn how to swallow after being fed through the tube. During his recovery, Mr Lim was assessed by a speech therapist and had to pass several chewing and swallowing tests before he was allowed to eat porridge.
So, he was really happy when he finally got to eat some of his favourite hawker food such as fried carrot cake and bak chor mee (minced pork noodles).  
One of the first hawker dishes he ate — around half a year after his diagnosis — was lor mee (braised noodles). He recalled that "it tasted great".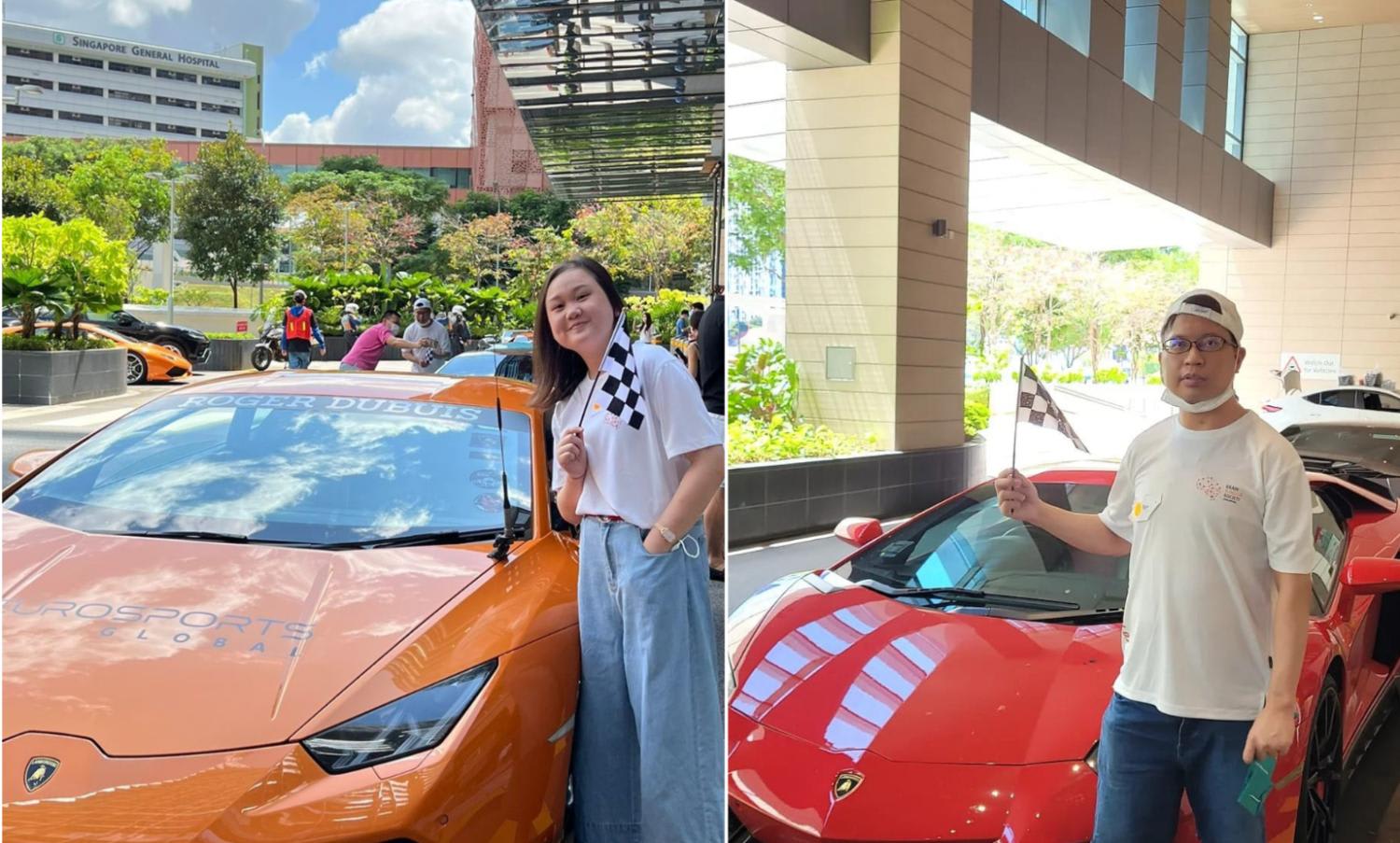 Not being able to return to work was another blow for Mr Lim, but he did not want to sit around and mope, so he decided to join a support group under Brain Tumour Society Singapore to learn more about brain tumours and the people who suffer from the disease.
Through the society, Mr Lim was referred to serve as a volunteer at Oasis@Outram, a newly launched day hospice located at Outram Community Hospital. The space has an in-house cinema, offers horticulture and baking sessions as well as facilities such as a mahjong room, a spa and a bar.
As a "buddy" and patient volunteer, Mr Lim is paired with new patients to introduce them to the day hospice. On a typical day, he wheels patients around the facility, chats with them and helps out in any way he can.
On why he chose to volunteer his time there, Mr Lim said that he finds it meaningful to spend time interacting with and supporting people with terminal illnesses.
"Wheeling the patients around also helps train and improve my stamina," he said.
He is now awaiting results from an magnetic resonance imaging (MRI) scan to ascertain if his condition is stable.
Although his illness has forced him to put life on hold in the past year, Mr Lim is hopeful that he would be able to return to the workforce in the future.
"I can't go back (to work in logistics), but I hope to get a full-time job, perhaps in administration, in the future."