Breast cancer survivor thought she 'could live with one breast', but later felt incomplete
SINGAPORE — When Ms Serina Hassan was diagnosed with early-stage breast cancer in 2014, she chose to remove her right breast despite having the option to keep it.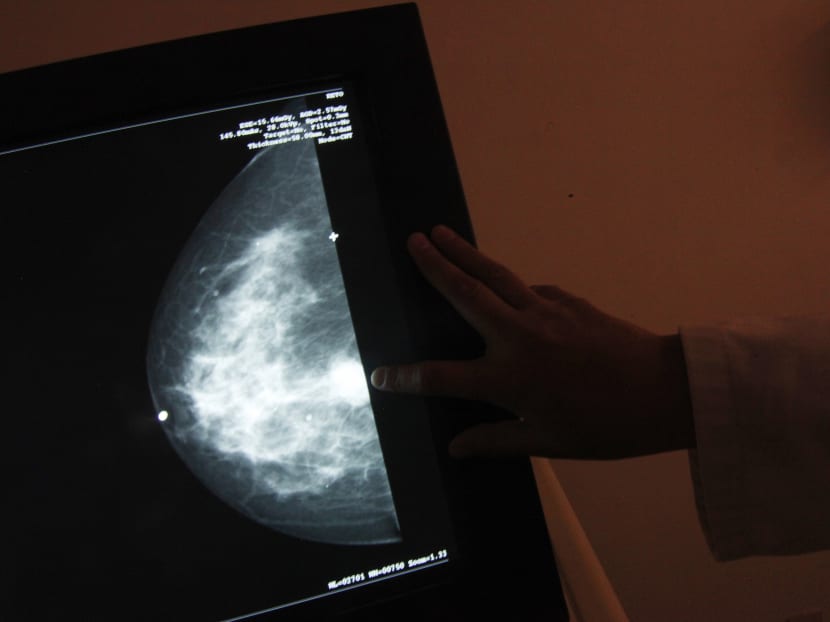 SINGAPORE — When Ms Serina Hassan was diagnosed with early-stage breast cancer in 2014, she chose to remove her right breast despite having the option to keep it.
She wanted to "totally get rid of" the disease.
"At the time, I thought I could live with one breast. How I looked wasn't a priority. If I were younger, single or had not completed my family (at the time of diagnosis), I might have thought and felt differently," said Mdm Serina, 48, a freelance nurse with four children.
She also declined to have her breast reconstructed at the time.
Her pragmatic attitude towards treatment is not uncommon among breast cancer patients here.
Only 30 to 40 per cent of those eligible for breast-conserving surgery in Singapore opt for it, said Dr Veronique Tan Kiak Mien, senior consultant at the National Cancer Centre Singapore's (NCCS) division of surgical oncology.
Most opt for a mastectomy.
This is despite strong evidence to show that breast-conserving surgery offers similar overall survival rates as a mastectomy for patients with early-stage breast cancer, said Dr Tan, who led a study published this month of 91 patients at the NCCS.
Published in the British Journal of Surgery (Open), the study looked at factors influencing treatment decisions of patients who were eligible for breast-conserving therapy but who chose a mastectomy without reconstruction.
The main reasons given by local patients surveyed include fear of cancer recurrence, the perception that health outweighs breast retention and possibility of a second surgery.
"These findings are important because it reveals the psyche of our local patients. Despite good evidence of the safety of (breast-conserving surgery), and being informed of such safety by their breast surgeons and breast-care nurses, many patients still decide to remove their breasts," said Dr Tan, who is also the head of SingHealth Duke-NUS Breast Centre.
In contrast, 70 to 80 per cent of women in the West will opt for breast-conserving surgery if given the choice, while in some parts of Asia, the rate ranges between 60 and 65 per cent.
BREAST RECONSTRUCTIONS A LESS POPULAR OPTION
The study also found that patients declined reconstruction after mastectomy due to factors such as their perception of "old age", concerns about having two sites of surgery and financial cost.
"Patients would frequently say 'I'm so old already, no need to make a new breast', 'I'm so old, why go through the trouble, who is going to see?' or some variation of the same theme," said Dr Tan.
The patients' ages range from the late 40s to 70s, so "it is a self-perception of age rather than an absolute (age)," she said.
While the take-up rate for immediate breast reconstruction has inched up over the years, it remains the less popular choice among mastectomy patients.
The proportion of immediate post-mastectomy reconstructions seen at NCCS and the Singapore General Hospital rose from 18 per cent in 2012 to 22 per cent last year.
Delayed reconstructions formed only 3 to 5 per cent of breast reconstructions, said Dr Tan.
Age is known to be a major factor affecting one's decision regarding reconstruction, said Dr Esther Chuwa, consultant breast and general surgeon at Gleneagles Hospital. Older women are less likely to consider reconstruction as a "necessary" part of breast cancer treatment.
In Singapore, about a quarter of women diagnosed with breast cancer are considered young, in the under-44 age group.
ONE IN FIVE REGRET MASTECTOMY DECISION
Dr Tan said many patients with a simple mastectomy live full and active lives, with no self-image or quality of life issues while living with one breast.
But not all do.
A substantial number of mastectomy patients in the Singapore study regretted their initial decision, despite having adequate pre-op preparation and counselling.
Given a second chance, one in five patients (19.8 per cent) in the study felt they would choose breast-conserving therapy. A similar proportion felt that their quality of life worsened after mastectomy.
Receiving a breast cancer diagnosis can be psychologically and emotionally distressing for the affected person and loved ones, and there is no one-size-fits-all approach to breast cancer and its treatments, said Dr Jendana Chanyaputhipong, a breast surgeon at PanAsia Surgery Group.
While treatment decisions are highly personal, fear and anxiety as well as confusion and misconceptions about surgery options can affect the decision-making process.
Dr Tan said patients eligible for breast conserving surgery may make a hasty decision to have their entire breast removed due to the initial fear and anxiety from their diagnosis.
"This may not be necessary. Many early breast cancers are cured by removal of the cancer and allowing the patient to keep her breast," said Dr Tan.
Some have concerns about the safety of immediate breast reconstruction after a mastectomy. But studies have confirmed that cancer treatment outcomes are unaffected because it does not significantly delay the time to adjuvant treatment, said Dr Jendana. Safety is hence not compromised, she said. Adjuvant treatment is additional treatment given after the main treatment.
For breast cancer patients, delays in adjuvant therapy are associated with decreased survival, she said.
The co-founder of a non-profit group hopes for a mindset change.
More breast cancers are being detected and treated early, said consultant plastic surgeon Chia Hui Ling, the co-founder of Breast Reconstruction Awareness Singapore (Bras), which provides support and resources on breast reconstruction and oncoplastic surgery to breast cancer survivors.
"Many survivors are treated successfully, and they go back to their normal lives after cancer treatment. Restoring their breast(s) with reconstruction or oncoplastic surgery is important in this rehabilitation and for them to get back their self-confidence and the quality of life they deserve," said Dr Chia.
If a mastectomy is planned, most breast surgeons will suggest suitable patients see a plastic surgeon who can explain the reconstructive options, she said.
"Whether patients choose reconstruction or not should be based on facts, and not unfounded reasons or fear of the unknown. These restorative surgeries may not be suitable for all. But those who are (suitable) should know (options) are available and be well-informed of their choices," said Dr Chia.
A year after her mastectomy and chemotherapy, Mdm Serina went under the knife to reconstruct her breast using tissue from her belly. She had found using a breast prosthesis a hassle and could not shake off a sense of loss after her mastectomy.
"My husband was okay with the way I looked but for me, it wasn't about looks. I didn't like the inconvenience of having to remove and re-attach my prosthesis up to five times some days. Also, I felt that I was lacking something and not complete," said Mdm Serina, who paid around S$30,000 as an unsubsidised patient.
Currently still on follow-ups, Mdm Serina has shared her experience with other breast cancer patients at Bras' events.
"I am happy with my decision… After all that I've been through on my cancer journey, it gave me a sense of closure," she said.
KNOW YOUR SURGERY OPTIONS
Patients with early-stage breast cancers often have a choice of surgery. They may choose breast-conserving surgery, mastectomy to remove the whole breast or a mastectomy followed by immediate breast reconstruction in the same surgery, said Dr Veronique Tan from the National Cancer Centre Singapore.
There is also the option to delay breast reconstruction until after completion of cancer treatment.
Breast-conserving surgery
The cancer is removed while leaving the breast intact. Some surrounding healthy tissue and lymph nodes may be removed. Radiation therapy is required to treat the remaining breast.
There is strong evidence from the last three decades to show that breast-conserving therapy allows for similar overall survival to a mastectomy in early-stage breast cancer – with the added benefit of retaining the breast, said Dr Tan.
However, this option is not suitable for certain patients, such as those with widespread disease and large tumour size relative to breast size. Patients who refuse or are unable to undergo radiation therapy are also not suitable, said Dr Jendana Chanyaputhipong of PanAsia Surgery Group.
This is recommended if the patient has several cancers within the breast, or if the cancer is too large to reasonably conserve the breast. Patients sometimes choose to have a mastectomy if they have a genetic mutation that predisposes them to cancer, or if they wish to avoid radiation therapy (that goes with breast-conserving surgery) or the possibility of needing a second surgery, said Dr Tan.
A new surgical technique known as the minimal scar mastectomy is now available for select breast cancer patients who require a mastectomy without reconstruction. Developed by the KK Women's and Children's Hospital, it allows suitable patients to conserve their nipples and areolas with a minimal scar.
Immediate and delayed breast reconstruction after mastectomy
If a mastectomy is planned, most breast surgeons will suggest thatsuitable patients see a plastic surgeon who will explain reconstruction options, said consultant plastic surgeon Dr Chia Hui Ling.
Patients should also be aware that breast cancer reconstruction is considered a medical procedure, said experts. It is covered by Medisave and standard insurance as part of the cancer treatment regime, said Dr Chia.
Breast reconstruction can be immediate or delayed. The aesthetic outcome is better for patients who undergo immediate breast reconstruction as the native breast skin and nipple may be preserved, said Dr Tan and Dr Jendana.
"It is more practical and cost-effective as it is done in one, rather than two, operations and the patient derives immediate psychological benefit. With delayed breast reconstruction, surgery is performed after completion of cancer treatment and may be several years after," said Dr Jendana.
She said delayed reconstruction may be preferred in certain groups of patients. They include those with aggressive tumour biology or who have planned post-mastectomy radiation therapy (which can adversely affect the appearance of the reconstructed breast). Some may not be emotionally ready for reconstruction or may be older patients who have higher body mass index, smoking history or significant medical conditions.