Budget 2019: Foreign worker quota in services sector to be cut gradually to 35% by 2021
SINGAPORE — The Government will be reducing the foreign worker quota for the services sector over the next two years in an effort to push companies to double down on restructuring and raising their productivity.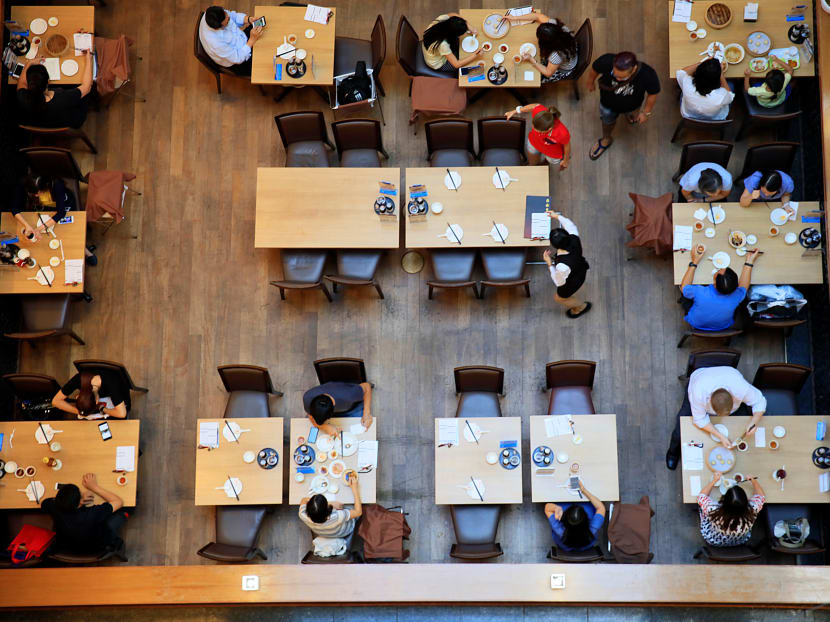 SINGAPORE — The Government will be reducing the foreign worker quota for the services sector over the next two years in an effort to push companies to double down on restructuring and raise their productivity.
Finance Minister Heng Swee Keat announced in his Budget statement on Monday (Feb 18) that the Dependency Ratio Ceiling for the services sector will be cut from 40 per cent to 38 per cent on Jan 1, 2020, and to 35 per cent on Jan 1, 2021.
The authorities will also reduce the share of S Pass holders that firms in the services sector can hire — from the present 15 per cent to 13 per cent on Jan 1, 2020, and then to 10 per cent on Jan 1, 2021.
The Dependency Ratio Ceiling and the S Pass quota system will remain unchanged for all other sectors.
Mr Heng said that while some firms have done well to deploy their workers efficiently, productivity growth has been uneven across sectors.
The manufacturing sector has done well, for example, but some segments of the services sector, such as food and beverage and retail, remain very labour-intensive.
The number of S Pass and Work Permit holders in the services sector has risen by about 3 per cent yearly, or 34,000 in the last three years. The growth in S Pass holders in services is the highest in five years.
"If this trend persists, foreign manpower growth will be on an unsustainable path," Mr Heng added.
The services sector comprises industries such as wholesale and retail trade, information and communications, and accommodation and food services.
In 2017, it consisted of nearly 196,700 establishments. As of June 2018, the sector employed 1.8 million Singaporeans and permanent residents 15 years old and older, based on government statistics.
Mr Heng said that the Government needs to act decisively to manage manpower growth in this sector and encourage firms to revamp their work processes, redesign jobs and reskill their workers.
"Relying on more and more foreign workers is not the long-term solution — other economies are developing, too," he said.
What Singapore needs is a sustainable inflow of foreign workers to complement its workforce as Singapore workers upgrade themselves and the country builds deep enterprise capabilities, he added.
He cautioned: "Our workforce growth is tapering, and if we do not use this narrow window to double down on our restructuring, our companies will find it even harder in the future."
The Government is announcing the cuts in the foreign manpower quota about a year in advance to give firms time to prepare, Mr Heng said.
For firms with a workforce which exceeds the new limits, the Dependency Ratio Ceiling will be applied to them when they apply to renew permits.
Today, more than six in 10 firms in the services sector which hire at least one S Pass or Work Permit holder operate below the new thresholds.
PRODUCTIVITY SUPPORT
To help companies adjust to the changes, the Government will extend support under the Enterprise Development Grant for three more years until March 2023. The grant funds up to 70 per cent of projects to strengthen business capabilities, operational efficiencies and internationalise.
The enhanced support was originally due to lapse after March 2020.
It will also extend enhanced support under the Productivity Solutions Grant to March 2023. This grant offers up to 70 per cent of funding support to nudge companies to adopt off-the-shelf productivity solutions and technologies.
To upskill workers, the Productivity Solutions Grant will be expanded to include a component which subsidises up to 70 per cent of an eligible company's out-of-pocket training expenses, capped at S$10,000 a company. This will also run until March 2023.
Apart from these, firms may continue to apply for extra manpower flexibilities in certain cases, Mr Heng said.
For example, they may bring in foreign workers with specialised skills in demand internationally, on a case-by-case basis, if they still face a crunch after having accorded fair consideration to Singaporeans.
Under the Lean Enterprise Development Scheme, which supports firms undergoing a transformation to become more manpower-lean, transitional labour flexibilities could also be considered if firms need more short-term resources to move to new operating models, Mr Heng added.
As for the marine shipyard and process sectors, the authorities will defer increases in foreign-worker levy rates — announced previously — for another year because these industries have only begun to show early signs of recovery.
NEW HIRING SUPPORT PROGRAMMES
To help workers land jobs in new growth areas, Mr Heng said that the Government will launch new Professional Conversion Programmes this year in blockchain, embedded software and prefabrication.
Professional Conversion Programmes are targeted at professionals, managers, executives and technicians, including mid-career switchers, who wish to convert their skills to move into new sectors with brighter prospects.
The Career Support Programme, which offers employers short-term wage subsidies to encourage them to hire retrenched or unemployed workers, will also be extended for two years till March 2021.
OTHER EFFORTS
As firms transform, benefits must be passed on to workers, Mr Heng stressed.
From April 1, 2020, all transformation efforts that are supported by the Enterprise Development Grant must include "positive outcomes" for workers, such as salary increases.
He said that the labour movement and its unions are investing extra effort and resources to support firms and their workers in this endeavour.
The Government is also launching a new Global Ready Talent Programme, aimed at building a pipeline of "global-ready talent" for Singapore enterprises, help young Singaporeans excel on the world stage and support homegrown companies with overseas expansion.
The programme will support students taking up internships, both at home and abroad, with stipends and allowances, for instance. It will also support homegrown firms that want to send young Singaporeans on job postings in key overseas markets.
Mr Heng said that workers need to embrace upskilling and reskilling, and make the most of new opportunities here and overseas.
Companies must step up efforts to train and redesign jobs for their workers, to continue the steady progress recorded through the years.
Last year, he noted, the proportion of residents in the workforce who took part in job-related structured training or educational activities rose to 48 per cent, compared with 35 per cent in 2015.
"Our ultimate goal is to enable our people to continue to have good jobs and opportunities, and to be at their best," Mr Heng said.
An earlier version of this article stated that the number of S Pass and Work Permit holders in the services sector had risen by about 34,000 people annually in the last three years. This is incorrect. The number of such workers has risen by about 34,000 in total over the past three years. We are sorry for the error.