Budget 2020: Car dealers, buyers doubtful over new measures to boost sales of electric vehicles
SINGAPORE — Car sellers and buyers are not completely convinced by new measures announced by the Government on Tuesday (Feb 18) designed to make electric vehicles (EVs) more attractive to buyers.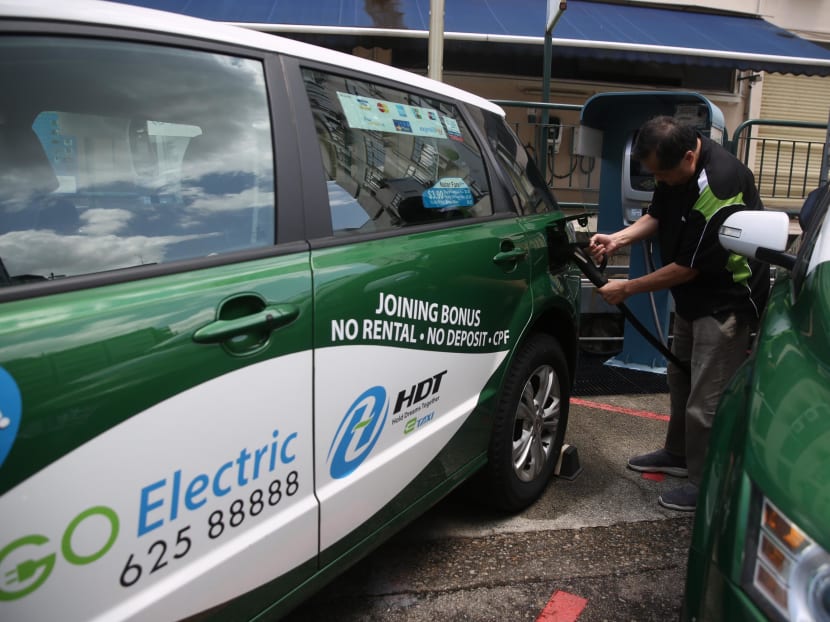 SINGAPORE — Car sellers and buyers are not completely convinced by new measures announced by the Government on Tuesday (Feb 18) that are designed to make electric vehicles more attractive to buyers.
Most sellers and buyers interviewed by TODAY said that the rebate announced in the Budget will not be enough to persuade people to make the switch to electric cars.
Some were also unsure if there will be adequate public charging infrastructure for such vehicles, despite the Government's plan to boost the number of charging stations.
On Tuesday, Deputy Prime Minister and Finance Minister Heng Swee Keat said in his Budget statement that under an early adoption scheme for electric vehicles, buyers will get a rebate of up to 45 per cent on the additional registration fee, capped at S$20,000.
This incentive will be rolled out from January 2021 for a period of three years.
The Government will also expand the public charging stations for electric vehicles, from 1,600 today to about 28,000 by 2030.
Mr Heng said that to better reflect the current trends in vehicle efficiency, the Government will revise the road tax methodology for cars from January 2021. "This will lead to an across-the-board reduction in road tax for electric vehicles and some hybrids." 
With these measures, the Government aims to phase out internal combustion engine vehicles, and have all vehicles run on cleaner energy by 2040 as part of its efforts to combat climate change.
REBATES 'NOT BIG ENOUGH'
Mr Neo Nam Heng, chairman of diversified motor group Prime, said that he did not expect a "big swing" towards vehicle buyers taking up electric cars because the incentives provided are not big enough.
"Given the cost of an electric car, the rebate that the Government is giving and the additional road tax that the Government will apply will not be enough to convince users to move on from conventional cars."
Echoing Mr Neo's view, car owner Raj Rama said that while he appreciated that electric cars are environment-friendly, the rebate was still not enough to convince him to consider buying one.
"The Government will need to do much more to get us to drive electric cars," the 59-year-old logistics operations manager said, pointing out that electric cars tend to be pricier than comparable petrol-run ones.
The cost of electric cars are considerably higher than their hybrid or petrol counterparts. A fully electric Hyundai Ioniq, for instance, costs S$151,999. In comparison, a hybrid version of the Ioniq costs S$106,999. A Hyundai Accent, which runs on petrol, costs a much lower S$66,999.
Mr Neo said that the take-up rate for other forms of clean-energy cars, such as cars running on compressed natural gas (CNG) and hybrid cars, have also been low despite efforts by car dealers to sell them over the last two decades.
The Land Transport Authority's annual vehicle statistics for last year showed that of the 630,596 cars plying the roads here, only 1,120 (or 0.2 per cent) are fully electric while 36,191 (or 5.7 per cent) are petrol-electric hybrid cars. More than 90 per cent, or 574,967, are petrol cars.
Mr Neo said that the low take-up rate for CNG and hybrid cars persisted despite higher rebates offered by the Government for them.
Under the enhanced Green Vehicle Rebate scheme in 2005, for instance, buyers could claim a rebate of 40 per cent off the additional registration fee, without any cap. This is unlike the rebate for electric vehicles which is capped.
For Mr Raymond Tang, managing director of Yong Lee Seng Motor, whether the latest rebates offered by the Government will be enough to entice consumers depends on the continuation of the Vehicular Emissions Scheme (VES).
Under this scheme, those who buy cars that are "cleaner" can get rebates of up to S$20,000, which can be used to offset the car's additional registration fee.
Conversely, cars with higher emissions of pollutants face a surcharge of up to S$20,000.
Last year, the Government announced that it would extend the VES from December 2019 to the end of this year. It is unclear if the scheme will continue into 2021.
Mr Tang said that if the VES does not continue next year, the rebate that buyers will receive for electric vehicles will be less attractive than the rebates that they receive from the VES.
An electric car with an additional registration fee of S$40,000 will receive a rebate of only S$18,000 — lower than the S$20,000 rebate that it could potentially receive under VES.
He added that electric vehicles will be more attractive to consumers only if the rebates offered under the new early adoption incentive are made in addition to rebates available from the VES.
When asked if rebates under the VES would be granted to buyers on top of that from the new early adoption incentive, a Land Transport Authority spokesperson told TODAY that they are different schemes, without elaborating on whether both could be claimed by a single car buyer.
LUMP-SUM ROAD TAX COULD DETER BUYERS
Although Mr Heng said that the revised road tax may result in a lowered road tax for electric vehicles and some hybrids, he acknowledged that a new lump-sum tax of S$700 being introduced for electric vehicles to partly account for the loss in fuel excise duties may result in a higher road tax for some electric models.
For example, a back-of-the-envelope calculation shows that the road tax for a Hyundai Kona Electric will fall from S$2,244 a year to S$1,447, a difference of S$797. However, the full amount of the lump-sum tax, which will kick in by January 2023, will negate most of this difference.
"However, buyers can expect to enjoy substantial cost savings because of the significant early adoption incentive," Mr Heng said.
Despite Mr Heng's assurances, Mr Neo Tiam Ting, director of Think One Group, which provides new commercial and parallel imported vehicles, said that the lump-sum tax will deter potential buyers of electric vehicles because the savings will still be offset by the cost of charging the cars as well as parking fees.
CHARGING POINTS A BUGBEAR FOR CONSUMERS
Consumers and sellers also told TODAY that the lack of public charging infrastructure remains a hurdle in convincing consumers to switch to electric cars.
Mr Mike Wee, the owner and director of Mayfair Motoring, said that while it is cheap to charge electric cars, the charging points remain inaccessible.
Coupled with high road tax and the price of such cars, these factors will continue to deter buyers until a couple of years after the changes take effect, he said.
Mr Raj the car owner said that he would consider buying an electric car when more charging points are available in Singapore, but added that he thought the Government's promise to have 28,000 such stations here in 2030 was "a long time away".
Until then, Mr Raj is unsure when exactly Singapore would have enough charging points for him to feel it is convenient to drive an electric car.
He was also concerned that he would be unable to find charging points when he drives to Malaysia, which he visits regularly.
Mr Shafizan Haneez, 31, a full-time private fireman and a part-time Grab driver, expressed similar concerns, saying that he drives to Malaysia occasionally.
Though he admitted that it may be cheaper for him in the long run to drive an electric car instead of one that runs on petrol, he said that the rebate would have to be somewhere in the range of S$50,000 for him to seriously consider it.
However, one buyer told TODAY that the new measures may be enough to nudge him towards putting down money for an electric car.
Mr Yang Zhi Wei, 30, a business analyst, who is looking to buy his first car next year, said that he is seriously considering buying one after hearing about the rebate.
The only thing he is concerned about — even though there are long-term savings with an electric car — is that such a car's overall cost will still be higher than that of a Mazda or Toyota family car that he initially considered.