Budget 2022: Govt to strengthen 'collective risk sharing' and social compact, with the better-off contributing more
SINGAPORE — To give Singaporeans more assurance in managing uncertainties in the coming decade, the Government will strengthen the country's "system of collective risk sharing" as its charts a new way forward, Finance Minister Lawrence Wong said in his Budget 2022 speech on Friday (Feb 18)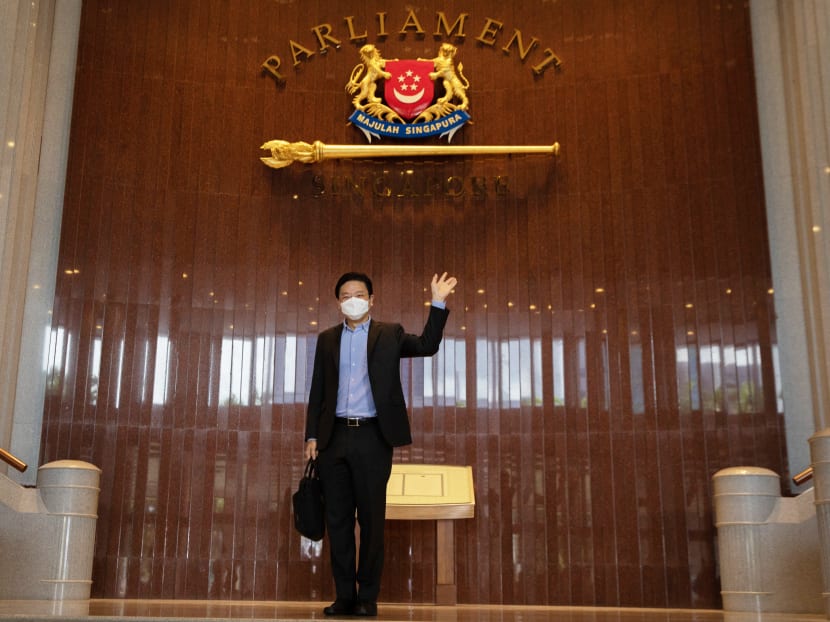 Finance Minister Lawrence Wong presented the Budget to Parliament on Feb 18
He described a social compact for Singapore in which every Singaporean has a stake in society, and that "everyone's contributions matter"
Singapore will not follow the approach of welfare states in Europe, he said
However, the Government will need to invest more in people and social infrastructure in the coming decade 
SINGAPORE — To give Singaporeans more assurance in managing uncertainties in the coming decade, the Government will strengthen the country's "system of collective risk sharing" as its charts a new way forward, Finance Minister Lawrence Wong said in his Budget 2022 speech on Friday (Feb 18)
Presenting this year's Budget, which Mr Wong said will "make significant enhancements to our tax system", he described a social compact for Singapore in which every Singaporean knows and feels that he has a stake in society, and that "everyone's contributions matter".
 
"We want to uphold that sense of obligation to each other and strengthen the assurance that, whatever the challenges we face, we will always have each other's back," he said in his Budget speech titled Charting Our New Way Forward Together.
He noted that a different social compact can be found in welfare states in Europe and the Nordic countries, which have much higher levels of state-financed welfare provisions to meet citizens' needs "from cradle to grave".
"Their governments typically spend well above 30 per cent of their gross domestic product (GDP). To fund such spending, they impose high income taxes, usually much higher than 30 per cent, even for the middle-income group, as well as consumption taxes that range from 20 to 25 per cent," Mr Wong said.
"We do not intend to adopt the European model of comprehensive universal welfare and high taxes." 
Excluding Covid-19 expenditure, Singapore's government expenditure today stands at S$88 billion, or about 18 per cent of GDP, which Mr Wong said is probably the lowest among more developed economies, but which also produced better social and economic outcomes than most.
Even so, Singapore will have to do more to preserve and strengthen people's unity and its social compact as society ages and faces new stresses, he added.

By 2030, government expenditure is expected to increase to more than 20 per cent of GDP, most of it in healthcare.
Singapore's social spending — which includes healthcare and education expenditure — nearly doubled from S$17 billion to S$31 billion in the last decade and now takes up close to half of the annual Budget.
"The increase has gone to programmes that have made a difference in Singaporeans' lives, like higher subsidies in our healthcare system and in tertiary education, as well as schemes like SkillsFuture, Workfare, and the Silver Support (Scheme)," Mr Wong said.
In the coming decade, the Government will be investing more in people and social infrastructure, sparing no effort to ensure access to world-class education and healthcare, affordable housing, good jobs, and peace of mind over retirement, he added.
"These plans require additional spending," Mr Wong reiterated, stressing that such expenses are recurring and not temporary.
"Given this, it would not be right to dip into our reserves to meet these new needs. We must husband our reserves for use in major crises and emergencies, as was necessary during the (2007) global financial crisis, and especially in the last two years," he said, adding that this would ensure a steady income stream for the present and future generations.
The Net Investment Returns Contribution (NIRC) has provided an average revenue stream of around S$17 billion each year, which means that for every dollar spent on public services, 20 cent is funded through the NIRC, Mr Wong said. 
The NIRC framework allows the Government to spend up to 50 per cent of the net investment gains from its reserves in the annual Budget.
On the other hand, tax adjustments will help to raise extra revenue and contribute to a fairer revenue structure.
"This means that everyone chips in and contributes to a vibrant economy and strengthened social compact, but those with greater means contribute a larger share," he said, adding that the Government is mindful of the impact of increased tax on households and businesses.
"Moving to net zero emissions will be a very costly affair for Singapore... but it is a cost we cannot afford to skimp on, for it is existential."

Finance Minister Lawrence Wong
DEFINING CHALLENGES OF OUR TIME
Mr Wong said that while Singapore's economic prospects are good, it will have to contend with new external challenges and adapt quickly to a new environment.
The rivalry between China and the United States, for example, heralds "a new era of greater contestation for influence" that could erode the rules-based multilateral system that has been so crucial to Singapore's success, he said. The pandemic, too, has accelerated digital disruption.
And even though social inequality in Singapore, as measured by the Gini coefficient, has improved, the country cannot stop its efforts to strengthen its social compact, he said.
Besides helping workers and firms here to deal with competition, and other growing economic and employment-related risks, Mr Wong highlighted how Singapore is one of the fastest ageing countries in the world.
"Ageing will mean an inexorable rise in demand for healthcare and social care," he added, noting that Singapore's means to provide will come under strain as the ratio of the working population to aged dependents decreases.
On top of these, the country must also take decisive steps to join the global effort in tackling climate change.
"Moving to net zero emissions will be a very costly affair for Singapore, a built-up city-state with very limited scope to tap renewable energies," Mr Wong said. "But it is a cost we cannot afford to skimp on, for it is existential."
These changes — brought about by the pandemic, by rising geopolitical contestation, climate change and an ageing society — are the "defining challenges of our time", Mr Wong added.
"They call for robust policy responses to reinforce our resilience and retool our capabilities for the future." 
Most of all, Singaporeans must continue to stand united as one to overcome these major tests and trials, Mr Wong urged.
"This is why it is more important than ever to renew and strengthen our social compact, and to reaffirm our values and what we stand for as a nation."
Budget 2022 is therefore "a first step" in doing so, in order to realise the vision of a fairer, more sustainable, and more inclusive society, said Mr Wong.
"It is about giving Singaporeans the confidence to embrace the change that lies before us, so that we can grow into an ever stronger economy and nation and an ever more secure society and home," he added.
In a Facebook post following Mr Wong's speech, Prime Minister Lee Hsien Loong said that this year's Budget will lay the basis for "sound and sustainable government finances, post-pandemic and beyond".
"We are building a greener and more sustainable city, transforming our economy to create good jobs for Singaporeans, expanding our healthcare system for an ageing society, and strengthening social programmes so that no one is left behind," Mr Lee said.
"The Government needs reliable and adequate revenues to realise these long term goals."
Urging Singaporeans to support the Budget, he added: "We are making these moves now, to secure the future for generations to come."