#trending: Off-duty bus driver piggybacks elder onto bus, misses his stop to help him alight
A senior bus driver is seen piggybacking an older man in a photo posted on SBS Transit's Facebook page. The public bus operator said that it "salutes" the bus driver for coming to the elder's assistance.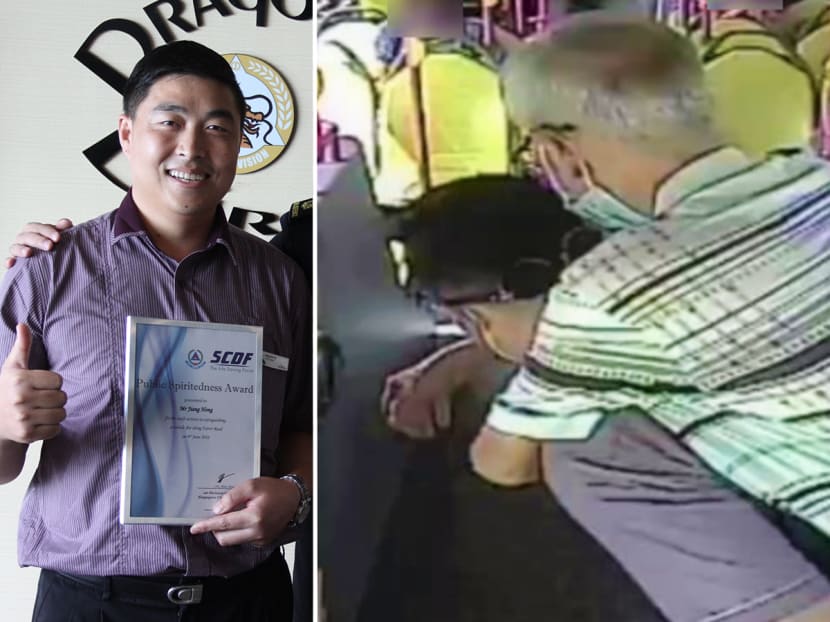 An off-duty bus driver helped to piggyback an older man who had difficulties boarding the bus
Bus driver Jiang Hong also stayed past his intended stop to help the man alight the bus safely
In 2016, the same bus driver was awarded the Public Spiritedness Award by the Singapore Civil Defence Force for helping a motorist put out a car fire
SINGAPORE — Bus driver Jiang Hong was waiting for his bus at Hougang Central Bus Interchange when an older man approached him for help.
The senior had difficulties walking and needed help to board the bus service 132. The 44-year-old bus driver, who was off-duty at that time, offered to piggyback the man up the bus, with the assistance of another bus driver.
Though his stop was before the elder, Jiang Hong reportedly decided to miss his stop so that he could help him alight safely. 
"The uncle looked really weak and I was worried about him being able to get back home safely on his own. This was why I decided to stay on the bus with him," Jiang Hong said in response to TODAY's queries.
The heartwarming encounter, which happened on July 11, was relayed to bus operator SBS Transit by the senior and later recounted on SBS Transit's Facebook page on Monday (Sept 5).
The Facebook post received an outpouring of praise from social media users who applauded Jiang Hong's public spiritedness. 
A Facebook user commented: "Bus captain Jiang Hong — you make us proud by being kind, caring, helpful to a stranger. We need more people like you in Singapore. Thank you for being a great example!"
Another said: "The bus captain deserves a special award for his outstanding help to the disabled old man." 
The Facebook post received 1,100 likes at the time of this article's publication (Sept 7).
SBS Transit concluded its Facebook post by commending Jiang Hong for his readiness to help: "Although Jiang Hong was not on duty then, this did not stop him from showing kindness and going the extra mile to help someone in need. He had acted as the uncle's sunshine when his sky was grey."
When asked what spurred him to help, the bus driver replied: "I believe that we should always be helpful if it is within our ability to do so. Looking out for one another makes our community nicer, warmer and more caring."
RECEIVED AWARD FOR PUTTING OUT FIRE
This was apparently not Jiang Hong's first commendable public act of kindness.
The Sichuan-born bus driver, who has been with SBS Transit for close to eight years, was given the Public Spiritedness Award by the Singapore Civil Defence Force in 2016.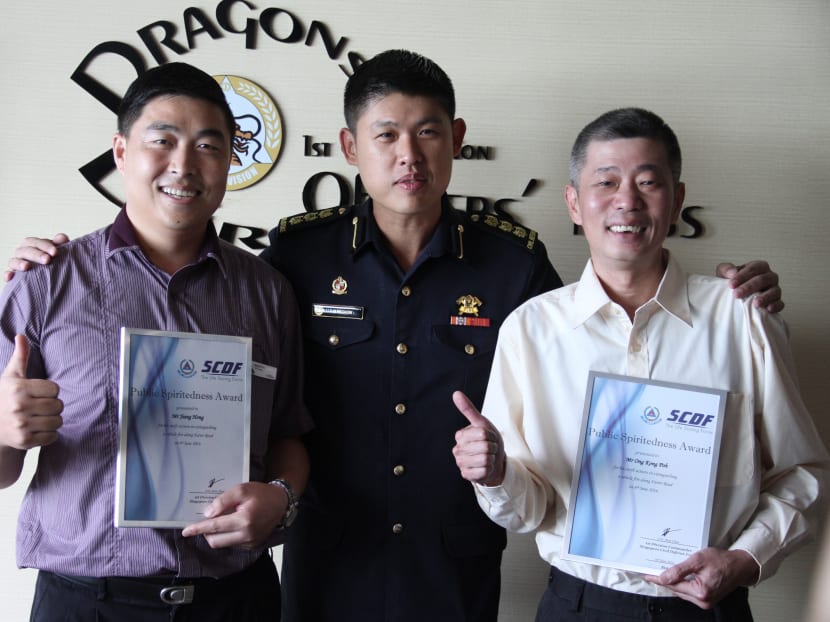 In that incident, Jiang Hong stopped his bus to help a man whose car was caught on fire.
He rushed out from the bus with a fire extinguisher to put out the fire, even though the bus was full of waiting passengers and there was traffic queueing behind. 
The courageous act earned him the title of "Captain Courageous without the Spandex" on SBS Transit's Facebook page. 
When asked why he decided to help, Jiang Hong simply said: "I knew I could help, so I did."