Bus, train fares for adults to go up by nine cents from Dec 28
SINGAPORE — From Dec 28, adult bus and train fares will go up by nine cents, while fares for students, senior citizens, persons with disabilities and low wage workers will increase by four cents.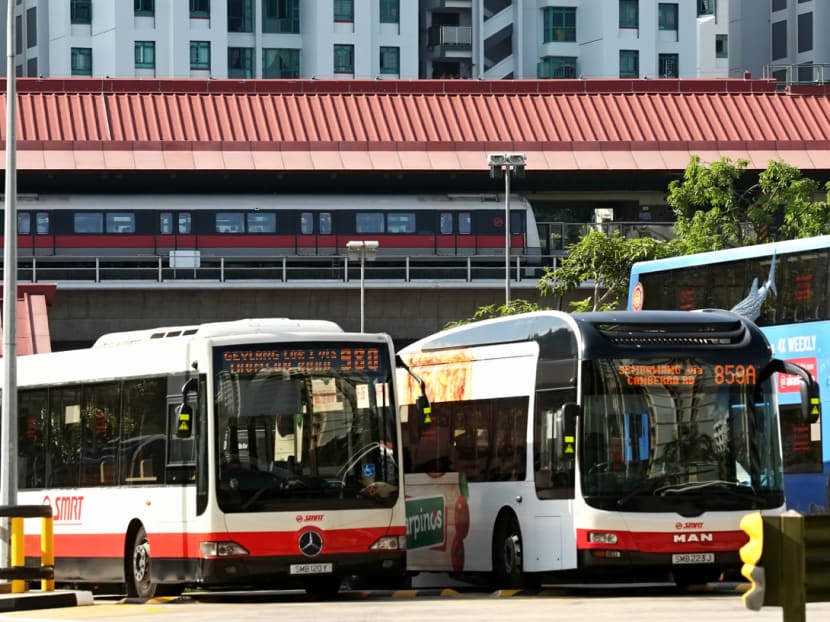 SINGAPORE — From Dec 28, adult bus and train fares will go up by nine cents, while fares for students, senior citizens, persons with disabilities and low wage workers will increase by four cents. 
The increase in adult card fares by nine cents will impact up to 3.2 million daily journeys or about 65 per cent of all journeys made on public transport. However, one in two commuters will pay no more than an extra four cents under the hikes.
The cost of adult monthly travel passes, which allows for unlimited travel on buses and trains, will also increase to S$128 from S$120. The Public Transport Council (PTC) said that there are about 13,000 commuters with such concession passes.
Other monthly concession passes will also cost between S$1 and S$5.50 more.
Additionally, cash fares and single-trip tickets will go up by 20 cents for each journey. 
In announcing these changes on Tuesday (Oct 8), PTC also had some good news for polytechnic and diploma students, who now pay adult fares. 
From Dec 28, they will pay student concessionary fares, capped at S$0.63 each trip, down from the maximum of S$2.17 now. This move will benefit some 80,000 students. 
PTC said that it was allowing a 7 per cent increase in fares this year given the surge in energy prices as well as an increase in inflation and wages. 
This is the highest increase since 1998 and also the maximum allowable fare adjustment quantum for this year's fare review exercise based on the new fare formula, which was changed last year.
The new formula — which will apply until 2022 — takes into consideration the network capacity factor, which calculates the difference between commuter demand and transport supply. This increased by 1.6 per cent. 
'CAREFULLY CALIBRATED BALANCE' 
PTC chairman Richard Magnus said that in deliberating this year's fare adjustment, it "sought to reach an equitable and carefully calibrated balance".
He said that on the back of improving service standards and rail reliability, the costs of running public transport have gone up, primarily due to the rise in energy prices worldwide.
"Energy prices, having rebounded 26.2 per cent in 2017, further increased by 32.3 per cent in 2018. The Wage and core Consumer Price Indices in the fare formula have also increased over the past year by 3.5 per cent and 1.7 per cent respectively," he said.
Mr Magnus added that public transport operators SMRT and SBS Transit have continued to incur financial losses for their rail operations.
"In the latest financial year, SMRT rail losses have widened to S$155 million, while SBS Transit's train division as a whole also lost tens of millions of dollars." 
In its application to PTC, SBS Transit said that it has faced significant cost pressures since 2013 as a result of the Downtown Line.
For SMRT, it applied for a fare adjustment saying there have been intensified and comprehensive maintenance efforts. 
Mr Magnus said: "For public buses, bus fare revenue is ultimately channelled to the Government and used to offset bus operating subsidies, estimated to be about S$1 billion a year currently.
"Running a reliable public transport system is costly, and we have to strive towards a more sustainable financing model." 
PTC said that the overall fare adjustment will translate to an increase in fare revenue of about S$132.5 million a year. 
The increase in annual revenue for SBS Transit Rail and SMRT Trains is about S$18.8 million and S$40.2 million respectively.
Bus fare revenues will also increase by about S$73.5 million.
IMPACT ON LOW-INCOME GROUP
To cushion the impact of the fare hikes for lower-income groups, PTC has mandated that SMRT and SBS Transit contribute a total of S$3.89 million to the Public Transport Fund, which helps subsidise fares for low-income individuals. 
The Government will also top up around S$6 million to the fund.
Some 450,000 Public Transport Vouchers worth S$50 — totaling S$22.5 million — will be given out in the largest exercise so far.
Last year, 300,000 vouchers worth S$30 were disbursed. The Government has revised eligibility guidelines for the vouchers to cover around one in five households, compared to one in 10 previously.
Over the next five years, the Government is expected to spend close to S$1 billion to renew rail operating assets and another S$1 billion to subsidise bus operations every year — translating to more than S$1 in fare subsidy for every journey.
Transport Minister Khaw Boon Wan, who posted on Facebook on Tuesday, said that when fares are adjusted downwards, for example in recent years, the PTC's job is "relatively easy", but when fares need to go up, PTC's job "becomes more challenging".
"In any fare adjustment, we try to keep the increase as low as possible so that it affects as few people as we can," he wrote. 
FARE HIKES 'LARGELY ANTICIPATED'
Associate Professor Walter Theseira, an urban transport economist from the Singapore University of Social Sciences (SUSS), said that the fare hike was not surprising and largely anticipated due to the substantial rebound in energy prices.
Asooc Prof Theseira, who is also a Nominated Member of Parliament, said: "(Energy prices) went up by more than 30 per cent and since 10 per cent of that went into the fare formula, this accounted for the fairly substantial fare increase."
Transport specialist Terence Fan of the Singapore Management University similarly said that this round of fare revisions "are coming off from a base of low-energy prices". 
"So with energy price increase, of course we're going to see fare increases," he added.
Looking ahead, Assistant Professor Fan said that the "factor to watch out for" is the increased capacity of the network over the next couple of years.
"There are some new stations opening, especially with the opening of the Thomson-East Coast Line, (so) over the next couple of years, that factor will likely increase and therefore, I do expect some fare increases, although we are not sure about the actual percentage increase."
He added that this is why existing concessionary plans, the morning off-peak travel discounts and support for the lower-income group via transport vouchers will become even more important, as they are ways for commuters to "avail themselves of lower fares".
One commuter, Mr Arthur Tay, 32, said: "I do understand fuel prices and inflation are always going to be a concern for operating costs, and we as commuters have to bear a part of that cost."
However, he still wanted more transparency from operators about how they would later use the increase in revenue to further improve services.
Mr Tay, who works in the finance industry, takes about six trips on buses and trains each day, and expects to pay about S$4 more a week with the impending price increases, which he can still "stomach".
"To me, I just need to get where I need to be and public transport is my main mode of transport. It's not costing me more than S$2 a trip on average yet, so I think it's still reasonable."
Another commuter, Ms Olivia Ng, a content strategist, who is in her 20s, said: "The fare hikes are quite expected, in my opinion, due to inflation and rising costs of living.
"It's something I've come to accept as there is not much I can do about it. I would try ways to save, such as travelling to work during off-peak hours to get the pre-peak discount if possible."