#trending: Musician's busking performances at The Cathay turn into mini concerts
SINGAPORE — Crowds have been flocking to The Cathay to catch musician Jeff Ng's performances there every Saturday. Spectators are seen waving flashlights from their mobile phones, concert-style, in a viral TikTok video posted on Saturday (June 11).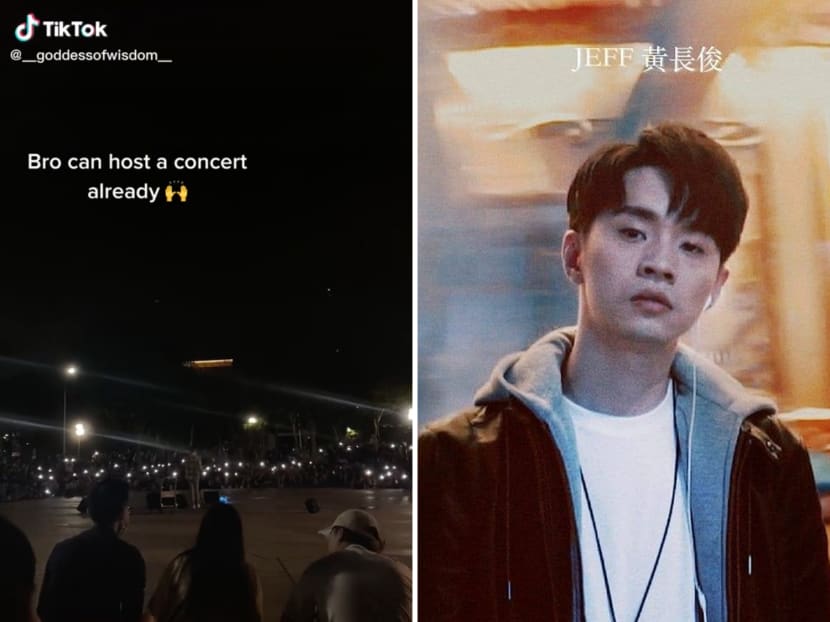 SINGAPORE — One talented busker's weekly performances at The Cathay have been going viral on TikTok, with videos showing crowds of spectators waving flashlights from their mobile phones as if at a concert.
The singer who managed to attract such a large crowd was musician, performer, and music instructor Jeff Ng. The 32-year-old, who has been busking since 2018, told TODAY that he used to be the resident busker at the now-defunct Chinatown Food Street. However, when the Covid-19 pandemic hit, he was forced to stop his performances.
He began busking again at The Cathay last month after he passed his busking auditions and now performs there every Saturday from 7.30pm to 10pm.
In one TikTok video posted by a spectator on Sunday (June 12), which amassed more than 112,400 views, online users likened Mr Ng's performance to a concert, with its sea of waving lights. He was singing the theme song of popular 1995 telemovie Cupid Love.
Other TikTok users agreed, saying that they had mistaken the busker's performance for a concert or festival.
"Thought it was Korea or Taiwan," one remarked. 
Mr Ng first began to notice an increase in spectators every week when he picked up busking again in the first week of May, stating that "the increase has been exponential".
"I feel pleasantly surprised as I was unsure how the crowd would respond after a two-year hiatus from busking," he told TODAY.
Likewise, online users have been heartened by the visible response Mr Ng has been receiving, calling for more support for the arts scene here.
"It was really adorable with the people cheering him on," one TikTok user who had caught his live performance noted.
"It's so wholesome to see Singapore opening up again," another commented.
It appears that Mr Ng's fanbase is growing. A video of him performing Jay Chou's Qi Li Xiang, posted on his TikTok profile last Saturday (June 11), has gathered more than 201,800 views.
Viewers were full of praise for his vocals and keyboard playing. Some have commented that his soulful voice sounds similar to that of Singapore Mandopop star JJ Lin, and many are eager to catch his next busking performance.
One TikTok user even suggested that he might soon move on to bigger venues: "Next busking venue: Singapore Indoor Stadium."
As for Mr Ng, he is grateful for all the support he has been receiving from friends and fans, both at his live performances as well as on his social media. Spectators have also approached him to perform at their weddings and events.
"As more and more people started to come and also participated in the sing-alongs, I felt really heartened and humbled," he added. "I am glad that I was able to brighten their nights with my music."