'Cacophony' of mynah birds a headache for some Potong Pasir residents
SINGAPORE — Some residents who live in a few condominiums in Potong Pasir have been putting up with noisy neighbours for the last two years and they cannot do much against the nuisance.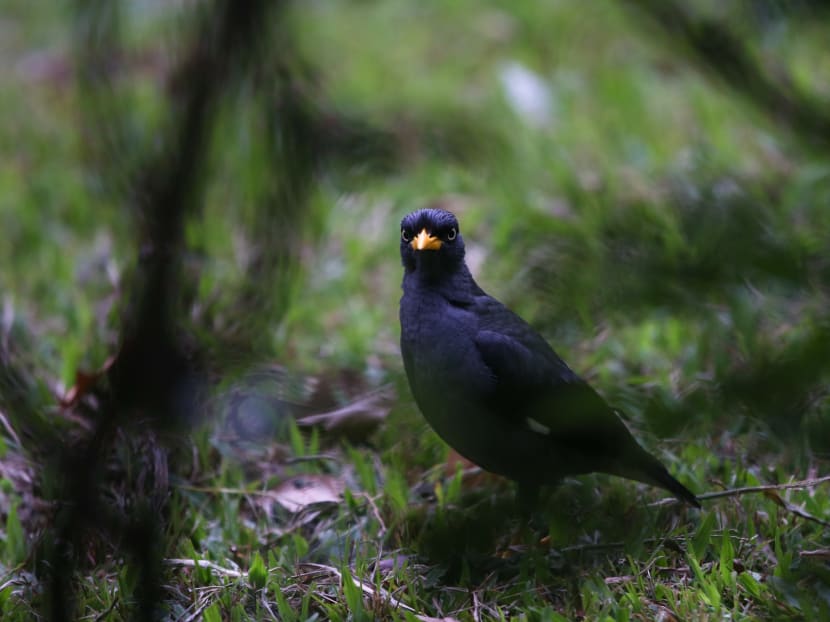 SINGAPORE — Some residents who live in a few condominiums in Potong Pasir have been putting up with noisy neighbours for the last two years and they cannot do much against the nuisance.
That is because the "troublemakers" are the javan mynahs, a species of small black birds with yellow beaks that are common in Singapore. They go "home" to roost in the trees less than 50m away from the residents' apartments every evening and create a din.
A 60-year-old resident at Sennett Residences condo, who wanted to be known only as Mr Tay, said that the noise is "horrible" in the mornings and late at night.
"Whenever there is a public announcement from the MRT station nearby, or a driver honks his car horn, that is when it will set off a cacophony (of loud bird calls)."
Mr Tay, who works in the services line, said that he has seen the birds fly together in "big flocks" on several occasions. "It has been troubling my son. We moved in two months ago, and he's complaining about how the birds wake him up before his alarm every day."
While Mr Tay has raised the issue to his condominium's management, he decided against bringing it up to the constituency's grassroots leaders, saying that his priority is to first settle down in his new neighbourhood.
The disturbance is irritating residents living at two other nearby condos as well, the San Ritz Condominium and the Venue Residences and Shoppes.
Mr Sitoh Yih Pin, Member of Parliament (MP) for the Potong Pasir ward, told TODAY that he has received email messages from these residents over the last one-and-a-half years, and he has been "on the ground" speaking to them about the birds.
"The noise is definitely loud, so I understand when my residents say they get woken up before their alarm clocks ring and are not able to hear the sounds from their television sets."
The innumerable complaints he received led him to file a Parliamentary question, which was addressed by Minister for National Development Lawrence Wong on Monday (Aug 6).
Mr Wong said that the Agri-Food and Veterinary Authority (AVA) has worked with the National Parks Board (NParks) to prune the trees to discourage birds from roosting in the neighbouring Upper Serangoon Road area.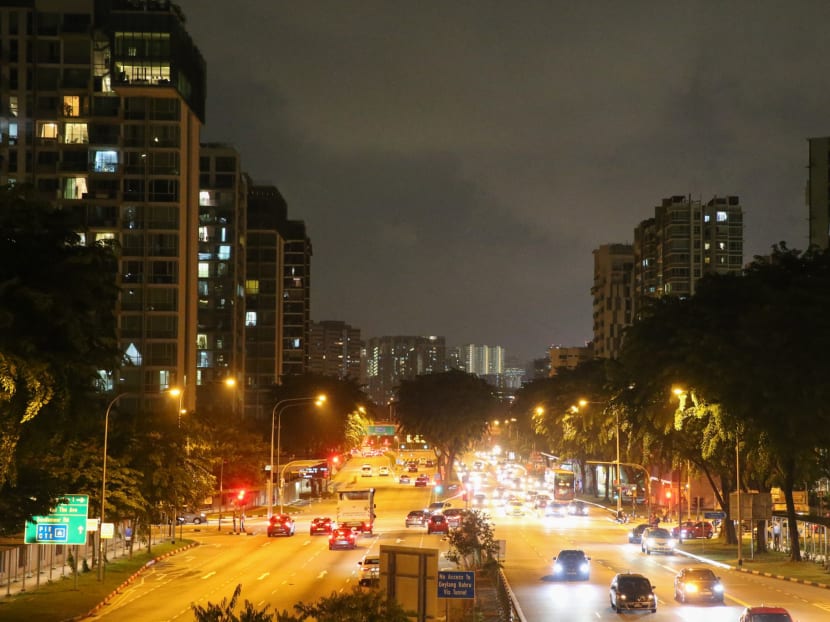 AVA also conducted a four-day laser trial in September last year. Laser beams are aimed around the birds to scare them away and disperse them.
However, an AVA spokesperson told TODAY that the method worked only when officers were "present daily" to point the lasers during the time periods that the mynahs returned to roost. "It was also possible that the mynahs would become desensitised to the lasers following repeated application," she added.
When TODAY visited the area on Tuesday, about 50 birds began to flock to the trees across the Sennett Residences at around 7pm. They began squawking, but the noise started to abate at around 7.30pm. By 7.45pm, it was all over.
TRIAL AND ERROR
Noise from mynahs has been bothering many residents across the island for years. From Clementi to Yishun, Changi Airport to Orchard Road, there have been complaints about the racket and droppings from these and other birds such as crows.
In the case of the shopping belt at Orchard Road, when buildings were redeveloped and trees were cut down, the mynahs had to seek new places to rest.
In various areas and at different times, sonic devices, tree pruning, hot gel applied to tree branches, repellents, lasers and even a hawk on loan from Jurong Bird Park to scare away the mynahs have been used by the authorities to deter birds from roosting. In areas around Bukit Timah Plaza, for instance, the AVA tried using chemical deterrents.
It is bothersome enough for MPs to raise the matter at parliamentary sessions occasionally. In January this year, Mr Gan Thiam Poh, MP for Ang Mo Kio GRC, reported on behalf of his constituents that the mynahs were "noisy" and raised the suggestion of planting another species of trees.
In response, Mr Koh Poh Koon, Senior Minister of State for National Development who was speaking on behalf of Mr Lawrence Wong then, said that "it is not about deploying more and more technology", adding that no scientific method will deter birds from going back to sources of food.
Using technology may mean extra spending by the town councils managing the housing estates, which means conservancy charges paid by residents would have to be taken into account. In the long run, "it is more cost-effective and durable" to deter "uncivil behaviour", Mr Koh said then.
For the longest time, the AVA has said that improper food disposal at eating establishments, uncovered rubbish dumps, littering, and irresponsible feeding of birds and stray cats can attract mynahs and strengthen their presence. This was the finding from a study on mynahs that it commissioned previously.
While NParks will continue with regular tree pruning, AVA said that the public can play a part by maintaining the overall cleanliness of their environment and not feed wild birds.
BIRDS NEED A HOME, TOO
Research data from 2016, published by the IUCN Red List of Threatened Species, which compiles a comprehensive inventory of the global conservation status of plant and animal species, estimated the javan mynah population to be 168,000 in the year 2000.
While the species is abundant in Singapore, its numbers have plummeted in neighbouring regions such as Java and Bali in Indonesia, and it is listed as "vulnerable" on the IUCN List.
Some residents at the Potong Pasir condos such as Ms Vasmi Priya said that while the birds do "sing" — sometimes "badly" — the noise is bearable and the birds should not be chased away.
"They are birds, and the trees are their homes, too. Honestly, I think the noise from the traffic is much worse," the 28-year-old housewife said.
Mr Sitoh is aware of this other source of noise pollution and said that he has notified the Land Transport Authority about it and they will continue to work out solutions together.
The noise from traffic was also flagged by residents in the Venue Residences and Shoppes, about 300m away from Sennett Residences. These condos are located close to the Pan-Island Expressway.
As for the mynahs, the AVA said that bird-related issues are "often complex" and there is no standalone solution. It involves the joint efforts of town councils, government agencies and members of the public to mitigate and manage such issues.
It will therefore continue to work with the relevant stakeholders to find effective measures in managing this matter.