Cancer at the age of 6, PSLE at 12: Girl says studies give her 'sense of comfort'
SINGAPORE — Emma Tatyana is just 13 years old but she has spent more than half her childhood battling a rare tumour called ganglioglioma, which occurs in the central nervous system.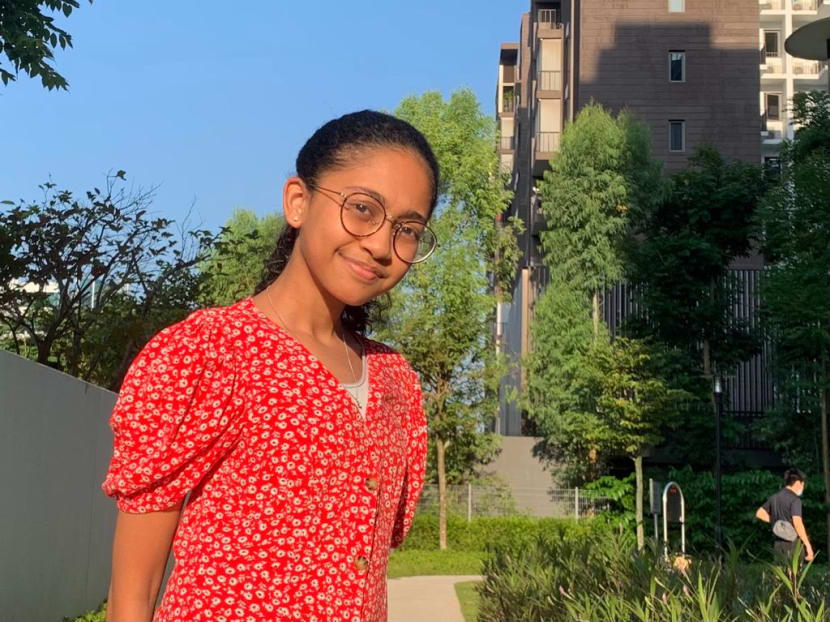 Emma Tatyana was diagnosed with a rare form of cancer at the age of six
KKH has seen only around 10 cases of ganglioglioma in the past 20 years
Emma suffered nasty side effects from chemotherapy and lost the use of her legs at one point
Focusing on her studies gave her a "sense of comfort"
She passed her PSLE in 2020, scoring three As and a B
SINGAPORE — Emma Tatyana is just 13 years old but she has spent more than half her childhood battling a rare tumour called ganglioglioma, which occurs in the central nervous system.
Her tenacity at such a young age could be an inspiration for those who are anxious about sitting for the Primary School Leaving Examination (PSLE) this time of the year.
For despite being so ill during her primary school years and not being able to use her legs at one point, Emma took the PSLE last year and scored three As and a B.
"Having cancer is one more thing I have had to deal with as a student but I try not to let it affect my grades," she said.
"The cancer could affect my body and my body image but I would not let it affect my studies. Putting hard work into my studies is 'all me'. Knowing that this part of me is untouchable gives me a sense of comfort.
"For the children taking their PSLE soon this year, my advice is to work as hard as you can, while you can. Then, after your last paper is done… you can have fun," the Singaporean teenager said. 
FEW CASES SEEN AT KKH
Emma is undergoing treatment at KK Women's and Children's Hospital (KKH).
Dr Soh Shui Yen, the head of haematology and oncology service at KKH's department of paediatric subspecialties, said that ganglioglioma usually occurs in the brain but can sometimes be found in the spine.
The KKH Children's Blood and Cancer Centre has seen just over 10 children with ganglioglioma in the past 20 years. That is fewer than one case a year.
Dr Soh, a senior consultant, said that the centre sees an average of around 100 new cases of childhood cancers each year.
In the majority of childhood cancers, there is no identifiable cause.
Spinal ganglioglioma, which Emma has, is "very rare", she added.
Symptoms may appear as back pain or an abnormal spine curvature.
In more advance cases, the patient may develop neurological deficits such as weakness and numbness.
They may also experience bowel or bladder control difficulties.
Before she was diagnosed at the age of six, Emma had been experiencing frequent falls.
At first, Emma's mother thought that the girl was being careless or clumsy.
Her mother, 45, a teacher who wished to be known only as Madam Farlinah, said: "The alarm bells rang when she could not move her neck. One night, she was crying in bed and could not sleep."
Scans later showed a tumour in the girl's spinal cord. 
Emma said: "Being quite young at the time, I didn't fully understand the meaning of the diagnosis and how bad the problem was. But looking at my family's reaction, I knew it was something bad."
COMPLICATIONS FROM SURGERY
After the diagnosis, Emma underwent surgery to remove the tumour, in order to relieve pressure on her spinal cord.
The operation took 15 hours.
However, the tumour could not be entirely removed due to its location in the spinal cord.
Although surgically removing the tumour completely is the treatment of choice for gangliogliomas, it may not be possible if the tumour is located in challenging anatomical sites, Dr Soh said.
"Systemic therapies such as chemotherapy or targeted therapies are used if there are concerns with disease progression.
"While gangliogliomas generally have excellent survival outcomes, patients will need ongoing monitoring and treatment to control the condition and reduce the risk of functional impairment," she added.
Mdm Farlinah said that complications occurred during the surgery and Emma could not walk for about half a year.
"It was really scary because I did not know how long it would take for my daughter to walk again."
For Emma, losing control of her legs was one of the most difficult moments in her cancer battle.
"It's like you are able to walk all your life but suddenly you can't anymore and you're in a wheelchair. That was the point when I felt quite defeated," the teenager said.
With intensive physiotherapy and a huge dose of determination, she regained the use of her legs after half a year.
"I remember the doctor telling me that I could walk again if I did my physiotherapy and practised. I held on to that hope and put my all into it," she said.
FRIDAYS WERE THE WORST DAYS
For one-and-a-half years after her diagnosis and surgery, Emma underwent chemotherapy.
She recalled: "The other major down part was missing school every Friday due to chemotherapy. Most students would look forward to Fridays because the weekend was coming but I dreaded it.
"It was the day I would feel the most sick and tired, and I did not have any control over it."
She had hair loss, fatigue, nausea and vomiting as punishing side effects from the chemotherapy.
"After chemotherapy on Friday, Saturdays were reserved for me to puke my guts out.
"But the highlight of my week — going out with my mum and grandparents on Sundays when I felt better — would keep me going.
"I think that's what I have been holding on to — the idea of 'what it can be' would always pull me out of the pain in the present."
ANXIETY IN SCHOOL
Emma stopped attending mainstream school in Primary 1 while on chemotherapy and went through a schooling programme by the Children's Cancer Foundation, where she was given learning support and a chance to socialise with other children who have cancer.
This arrangement was temporary while she received treatment.
She returned to mainstream schooling during Term Four in Primary 2 but experienced social anxiety.
"Going back to school, you think everything would be back to normal. I did not have as much hair as everyone else (due to the side effects of chemotherapy) but I thought I was like every kid in school. I guess that's not true for them," Emma said.
Mdm Farlinah said that it pained her to see her daughter endure strange looks from others in school.  
A single mother, she juggles work and caring for Emma with the support of a domestic worker.
"Emma was stared at while in school because of her hunched back (the abnormal spine curvature is due to the spinal tumour). She had to go through a period of adjustment but eventually managed to assimilate into mainstream school."
TUMOUR GREW AGAIN
Financially, it has been tough on Mdm Farlinah, who pays around S$5,000 every month now for Emma's targeted therapy after deductions from her Central Provident Fund account through MediSave and MediShield.
"I didn't buy health insurance for her when she was born. If there is one thing I can advise any parent, it would be to get insurance for your child," she said.
Emma is now on targeted therapy, a type of treatment that attacks specific genes or proteins that are helping the tumours grow and spread.
Even though the tumour shrank after the post-diagnosis chemotherapy treatments and appeared to be under control, it started growing again when she was in Primary 5.
Mdm Farlinah is just grateful that her child is alive.
"I see that my daughter is very determined to try new things in spite of her illness.
"I want the best for my child and that doesn't change whether she has cancer or not.
"I also want Emma to know that it's up to her to not be restricted by her illness."
Now in Secondary 1, the teenager is worried about what the future holds, but her hope at the moment is to be "as well and as happy as I possibly can".
She said that talking to her mother about her feelings and fears helps.
"I'm just taking it one step at a time. I can't do anything about my illness except to do what the doctors recommend and what is best for my body," Emma said.
"I've also learnt to accept that having cancer is not my fault. And I think that all children facing cancer should recognise and accept that."